Puttanesca Sauce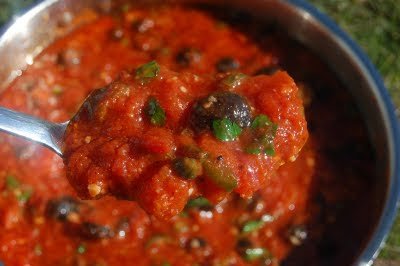 Recipe #15 in my 40 Day Challenge
There is nothing like a a homemade sauce for pasta! Red, white, simple, complex, creamy or not it just sings with flavor. Whipping up a wonderful sauce really does not take much time at all , just some good ingredients and a little bit of love!!
Did you know the name Puttanesca comes from the Italian ladies of the night from long ago...kinda funny!
This is a favorite sauce of both my my sister and my husband. When I first started dating my husband, often we would go to a neighborhood restaurant for dinner.
Just about every time we did, my sister and my husband would order the Pasta Puttanesca. I however had no interest in it (I am kind of funny about black olives in my food). I decided to whip up some of the sauce last week as a surprise for the two of them. It was easy, it was delicious, even mu brother in law (who eats like 2 vegetables on the planet)loved it! My sister then requested I whip up a big pot of it for her daughters 7th birthday party that weekend - and I did...I ran out the back door and took a quick picture of the pot of sauce before I let the folks have at it lol!
This sauce is LOADED with flavor - and you of course can customize it to your taste!This WILL be a new staple sauce in my house for sure...and my husband is quite happy about that!
Puttanesca Sauce
-adapted from Jim Fobel
3 TBS olive oil
2 large garlic cloves, minced
¼ cup chopped fresh parsley
1 large fresh jalapeno, finely chopped (I used the seeds for heat as well)
1 can large black olives, sliced into rings
2 teaspoons anchovy paste
3 TBS capers (or what the heck, throw in the whole jar...they are small)
1 can (28 oz) whole tomatoes (the best you can find, cut into chunks
1 teaspoon Kosher salt
1 teaspoon sugar
1 teaspoon Cajun seasoning (optional - we like things spicy)
12 ounces of spaghetti or linguine
In a large pot, pour in the olive oil and set over low heat. Add the garlic and sizzle gently until softened (1-2 minutes). Add in the parsley and jalapeno and increase the heat to medium. Add in the olives, anchovy past, capers (and anchovies if you are using)and stir for 2 minutes. Add in the tomatoes, sugar, salt, Cajun spice and continue to cook for 5 minutes.
Serve with pasta and some grated Parmesan cheese.
Options: If you dig anchovies, add in 1 2oz can of flat anchovies, chopped. In place of the Cajun seasoning, add in red pepper flakes to your taste. Add in a few stalks of green onions/scallions chopped (saute w/ the garlic).
Enjoy!!