When fall rolls around I am all about comfort foods. From soups to pot pies, I embrace fall! I have also been churning out my very popular Apple Pie Moonshine and a few other fun fall drinks like this crisp and delicious Applejack Mule.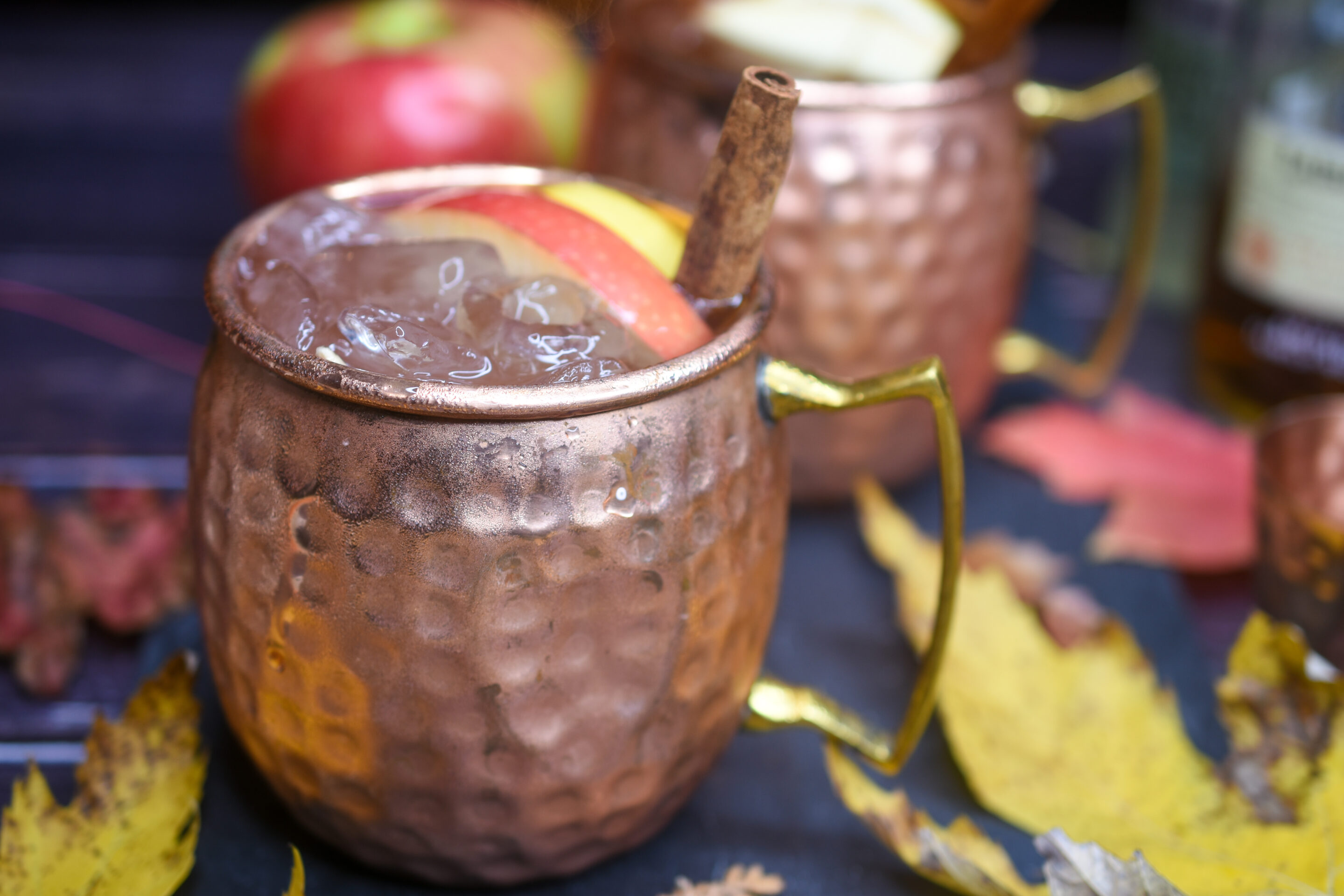 This fall mule cocktail recipe is so easy to whip up!
It's full of the delicious flavor of apples, with a kick of spice from the ginger beer. It is a perfect fall drink recipe. And a great Thanksgiving drink recipe.
Ingredients
Ice
Lemon
Laird's Applejack
Ginger beer (Fever-Tree)
Garnish options, apple wedges, lemon slice, cinnamon stick
As a foodie, you know I LOVE Thanksgiving! My daughter Samantha (who is usually by my side when I cook) thinks Thanksgiving is just as exciting as Christmas!
She always wants us to host, so she can cook like a ninja by my side and of course taste as she goes along.
I can never decide if she what excites her most the idea of eating all of the food on Thanksgiving, hosting and having everyone over or the cooking . It's probably a combination of all 3!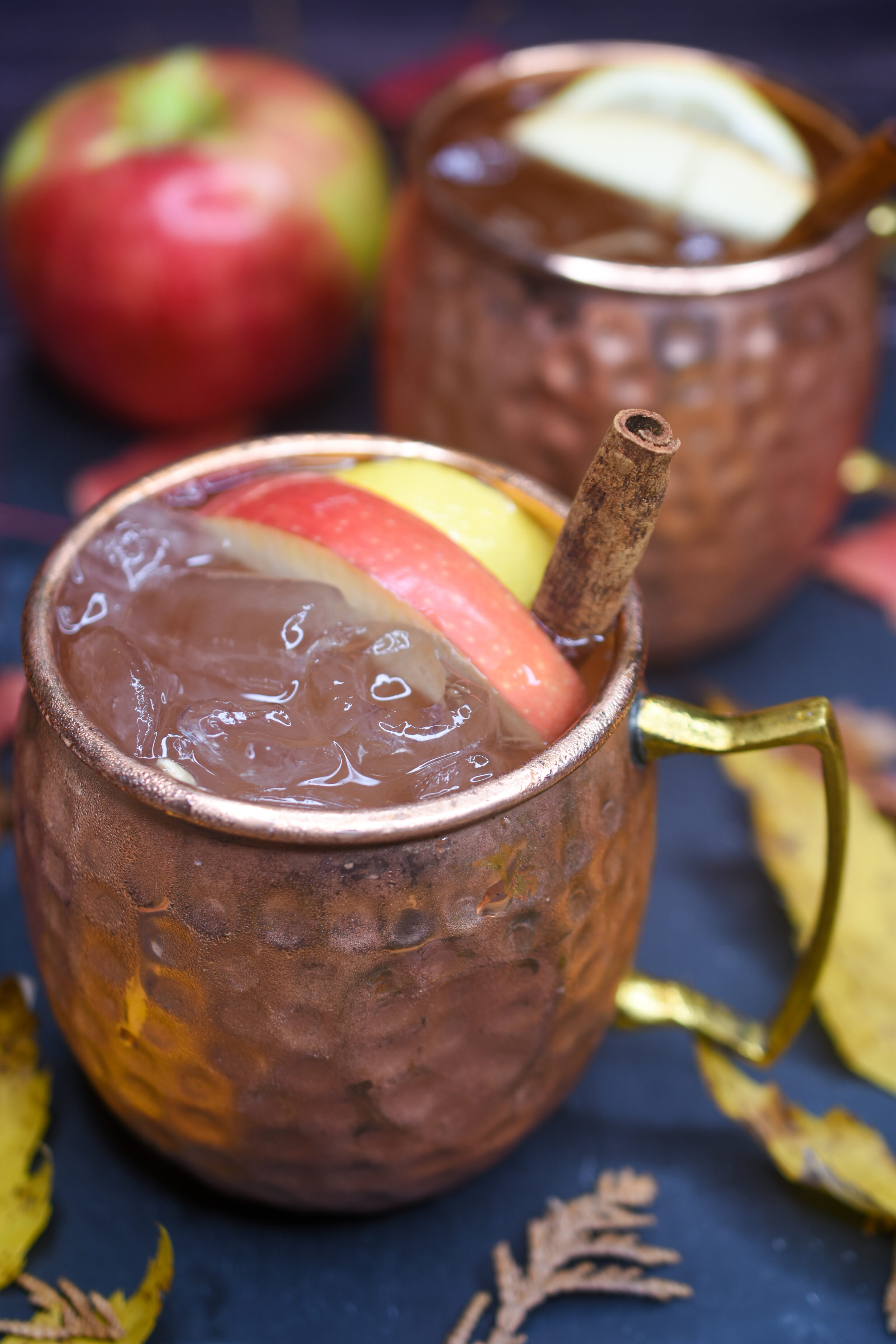 When Samantha was 8, she stunned me when she literally saved my butt as I prepped for our Thanksgiving dinner.
I was hosting a lot of people and was not going to be ready. My girl said "mom, I can do this one" and independently took over one dish and then another. I will never forget her eagerness, focus and the results! (I love you my Little Chef!!)
Tips
Use lots of ice
Make just as you serve
No shaking necessary, a stir and you are set.
Fresh lemon works better vs the traditional lime in a mule. Think apples and lemons.
Use as much or as little Lairds in each drink as you prefer.
A slice or two of apple (or a fee chunks) and a cinnamon stick garnish are a nice touch!
I hope your try super easy and tasty Applejack Mule recipe, it's full of flavor and perfect for this time of year!
I enjoy making it with Fever-Tree Ginger Beer, which is a non-alcoholic mixer you can pick up at many grocery stores. It's delicious! For more of a kick, you can certainly use Ginger Beer that contains actual beer.
Copper mugs like this are fun to make this fall Moscow mule recipe however, if you don't have them, no problem. Use mason jars and jazz them up with cinnamon and sugar in the raw or brown sugar rim as pictured below.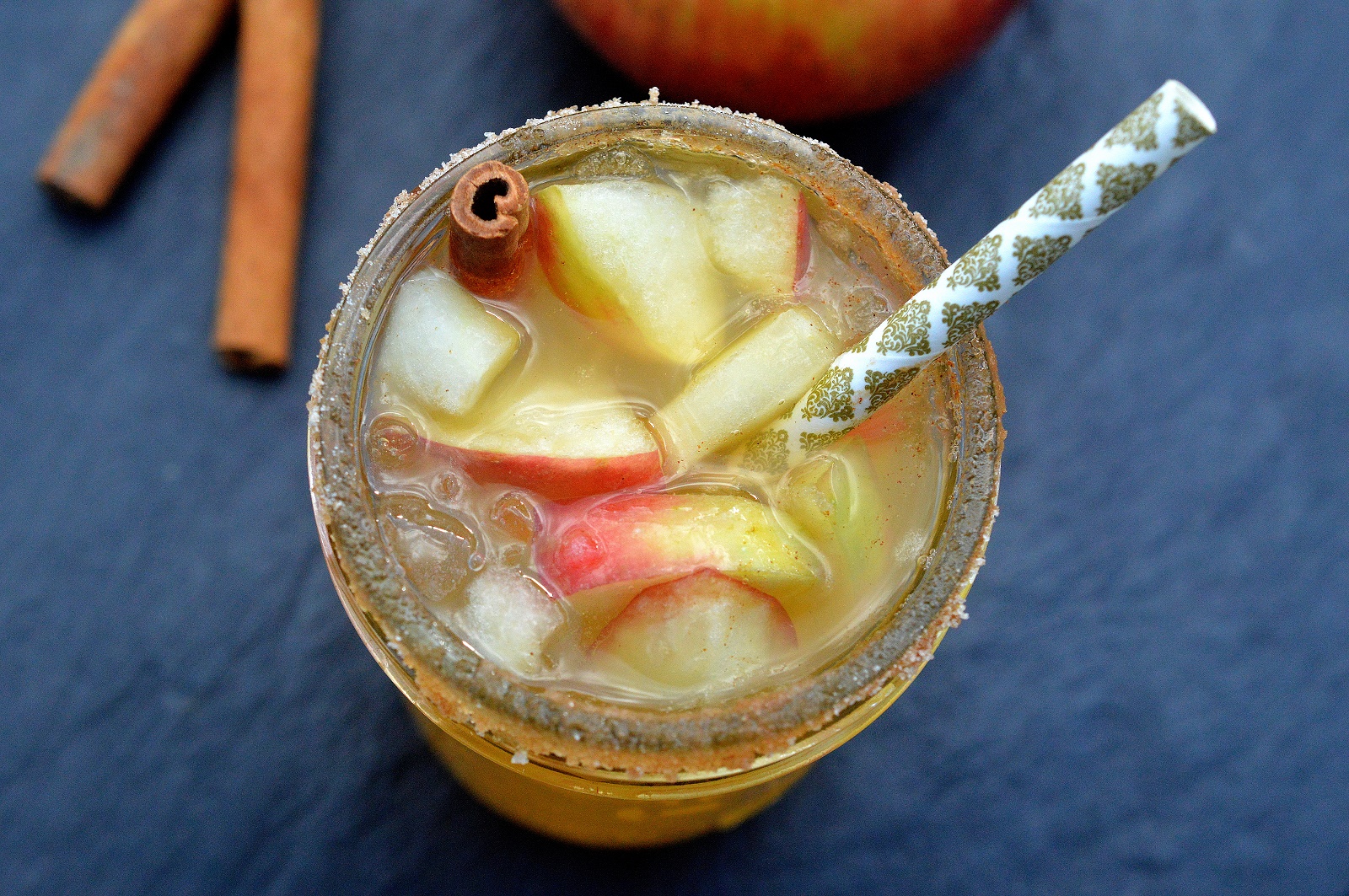 Definitely check out the Liard and Company story. It was founded by Alexander Laird who came over from Scotland in 1698.
Apples were everywhere here in America so he took the experience he had from his homeland and put it to use with apples. George Washington even wrote to him asking for his "cider spirits" recipe.
I love it when business survive for hundreds of years. The story of how his later geriactions kept (and keep) it going is fantastic!
Thanksgiving season recipes to try
I hope you enjoy your Thanksgiving! - Colleen
Originally published 2016, updated 2022 with images and text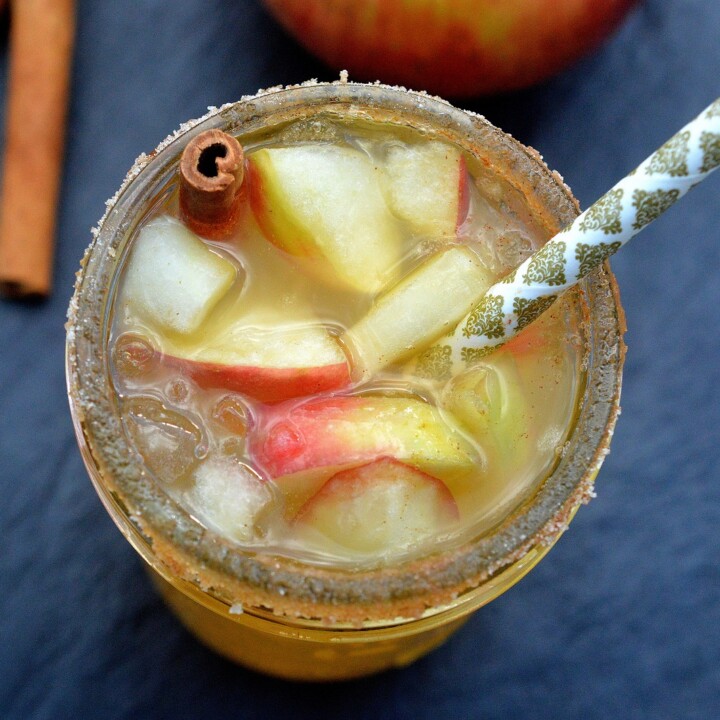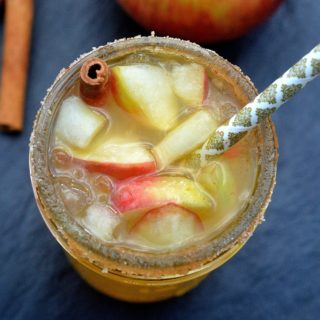 Applejack Mule
If you enjoy a Moscow Mule, you will like this fall cocktail recipe. An Applejack Mule is a delicious fall cocktail recipe using Liard's Applejack made by America's oldest distillery. Makes a great Thanksgiving drink as well.
Ingredients
Ice

Squeeze of fresh lemon

4

oz

Liard & Company Applejack

more or less to taste

16

0z

Fever-Tree Ginger Beer

Or your favorite Ginger beer

Apple slices

Lemon slices

Cinnamon sticks
Instructions
If you do not have copper mule cups, no problem. To make the drinks festive, rim your glasses with a mixture of cinnamon and sugar, by first dipping the rims in water, shaking it off and then quickly dipping the rims in the cinnamon sugar mixture

Add enough ice to fill the glass halfway

Add 2 oz Applejack, stir well

Fill to brim with Ginger beer

Stir, garnish with a cinnamon stick and straw and serve.
Notes
As always taste and adjust for your preference/tolerance for alcohol and sweetness.
You can choose to use Fever-Tree Ginger Beer for this which is such a great mix-in. It is non-alcoholic and available at many grocers. You can also choose to use straight up Ginger beer for this, your preference and tolerance for alcohol.
You can also choose to chop up an apple and muddle some chunks into your cup/mug as well. 
If you enjoy a Moscow Mule, you will like this fall cocktail recipe. An Applejack Mule is a delicious fall cocktail recipe using Liard's Applejack made by America's oldest distillery.
Nutrition
Serving:
2
servings
Calories:
240
kcal
Sodium:
1
mg
Potassium:
0.1
mg
Calcium:
0.2
mg
Iron:
0.01
mg
Follow me on Tik Tok for 1 minute videos