Some evenings, we all struggle with getting a meal we feel good about feeding our families on the table, especially if we are crunched for time. This Blackened Pork Tenderloin is so darned delicious and it's fast to make too!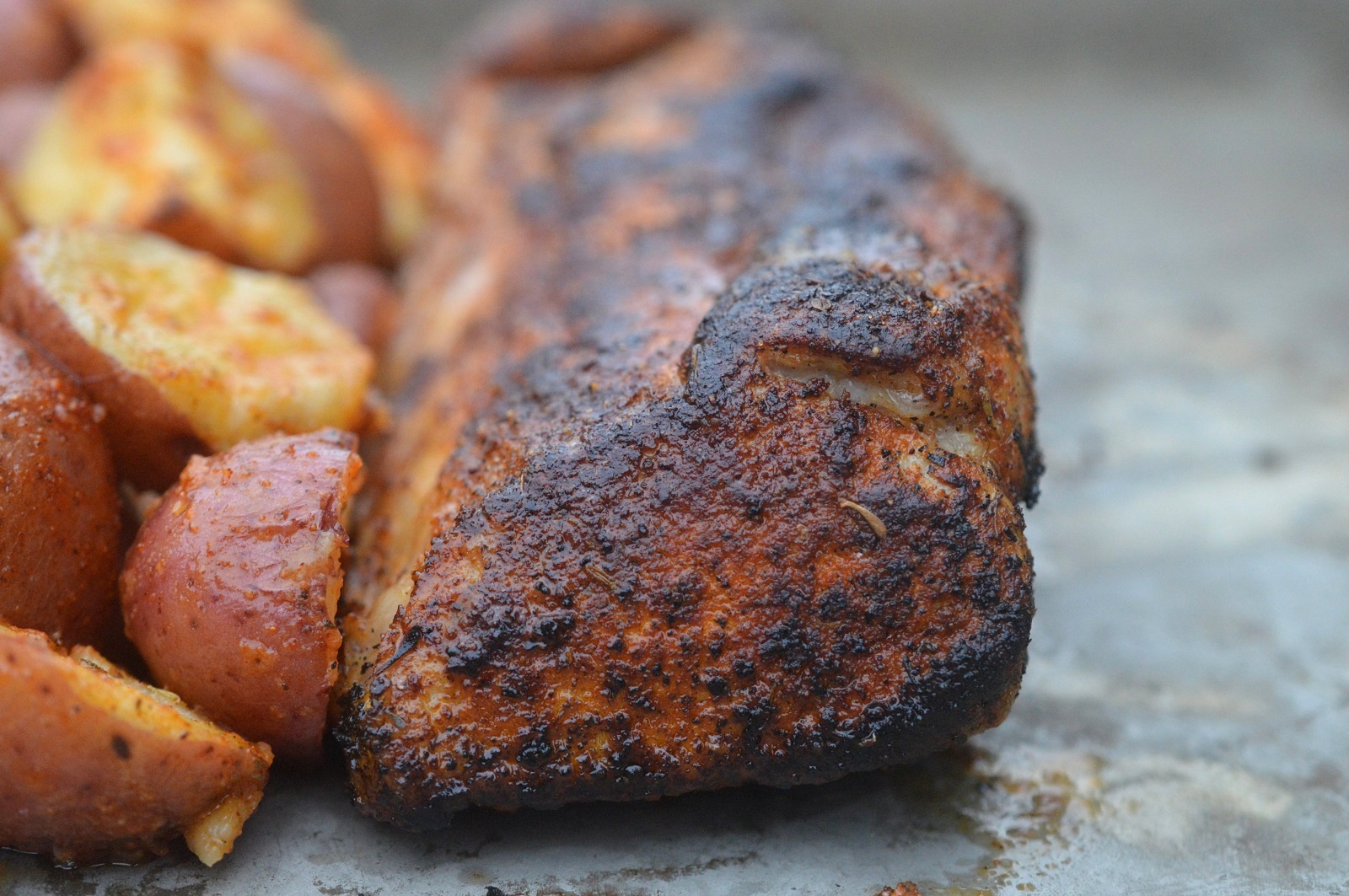 This Blackened Pork Tenderloin is perfect for weeknight meals. You can make it in about 25-30 minutes or less depending on its size. Put one of the kids on salad duty and add a vegetable or starch and you have a quality meal. If I were you, I'd make an extra tenderloin for leftovers. Slicing it up and eating it cold what I like to do. You can also make sandwiches, add strips to a salad or simple reheat.
Often I will undercook a second pork tenderloin, just a bit, so that when I reheat it, it's perfect!
I could eat pork tenderloin 3x's a week, no joke! Yummmm!
Why Did I Pan Sear The Pork Tenderloin Before Baking?
I pan seared the pork tenderloin before finishing it off in the oven for two reasons. First searing it before roasting it in the oven (to cook it through), keeps the pork juices "in" which results in a moist and delicious piece of meat.
Second, I love a good sear on both pork and beef. I am all about the contrast a nice crust adds as well as the flavor it yields. AND...Bonus! Searing the pork tenderloin first, in this case, shortens the overall cook time.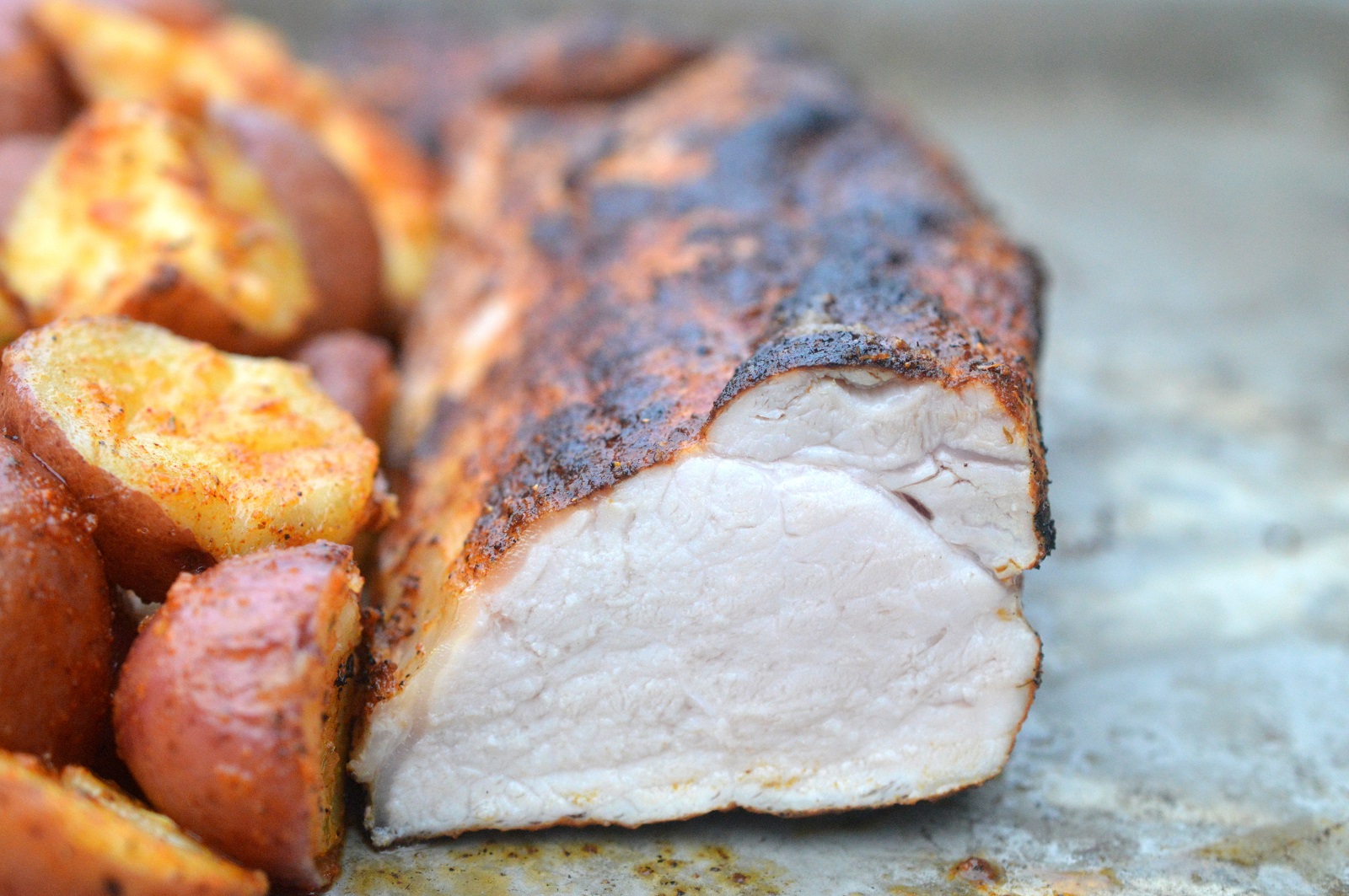 What Is Pork Tenderloin?
Not to be confused with the much larger pork loin, the pork tenderloin is similar to the filet mignon cut of beef. Pork tenderloin is long and thin with little marbling. It is a lean, tender cut of meat, typically weighing 1 ¼ to         1 ¾ pounds. A quick cook is perfect for a pork tenderloin vs a tougher cut of meat that you need to cook slow and low.
What's The Best Way To Cook Pork Tenderloin
Remember to allow your meat to sit on the counter at room temperature for 30-40 minutes. The Pork Checkoff says the internal temperature you want to aim for when it comes to a pork tenderloin is 145-160, with a 3-minute rest. I opt for the lower end of that scale since tenderloin is typically only about 2 inches in width.
How Do I Make Blackened Pork Tenderloin?
The beauty of this Blackened Pork Tenderloin recipe is that it is quick and easy to make and in my opinion full of flavor. First, as with any meat, you want to allow the pork to sit on your counter for 30 minutes or so to come up to room temperature. This allows for a more even cook. Pat your pork dry, season with salt and pepper and then rub it down, coating it with blackening seasoning.
You want a hot pan to get a good sear, so add 1 TBS or more or so of grapeseed or olive oil (more for 2 tenderloins), get it hot...just until the oil begins to shimmer (like I have shown on my Instagram Stories). Next, all you do is sear each side (yes, even the two side ends...for extra flavor) for 2 minutes...ends for 1 minute. Then pop it in a 350-degree oven for 15 minutes or so to finish it off. Once the internal temperature reaches 145-50, pull it out and allow it to rest for 3-4 minutes. Slice and serve.
Cook time will vary based on the size & thickness of your tenderloin(s). And like I said above, cook two. The leftovers are great! Plus often plain pork tenderloins are sold in packs of 2.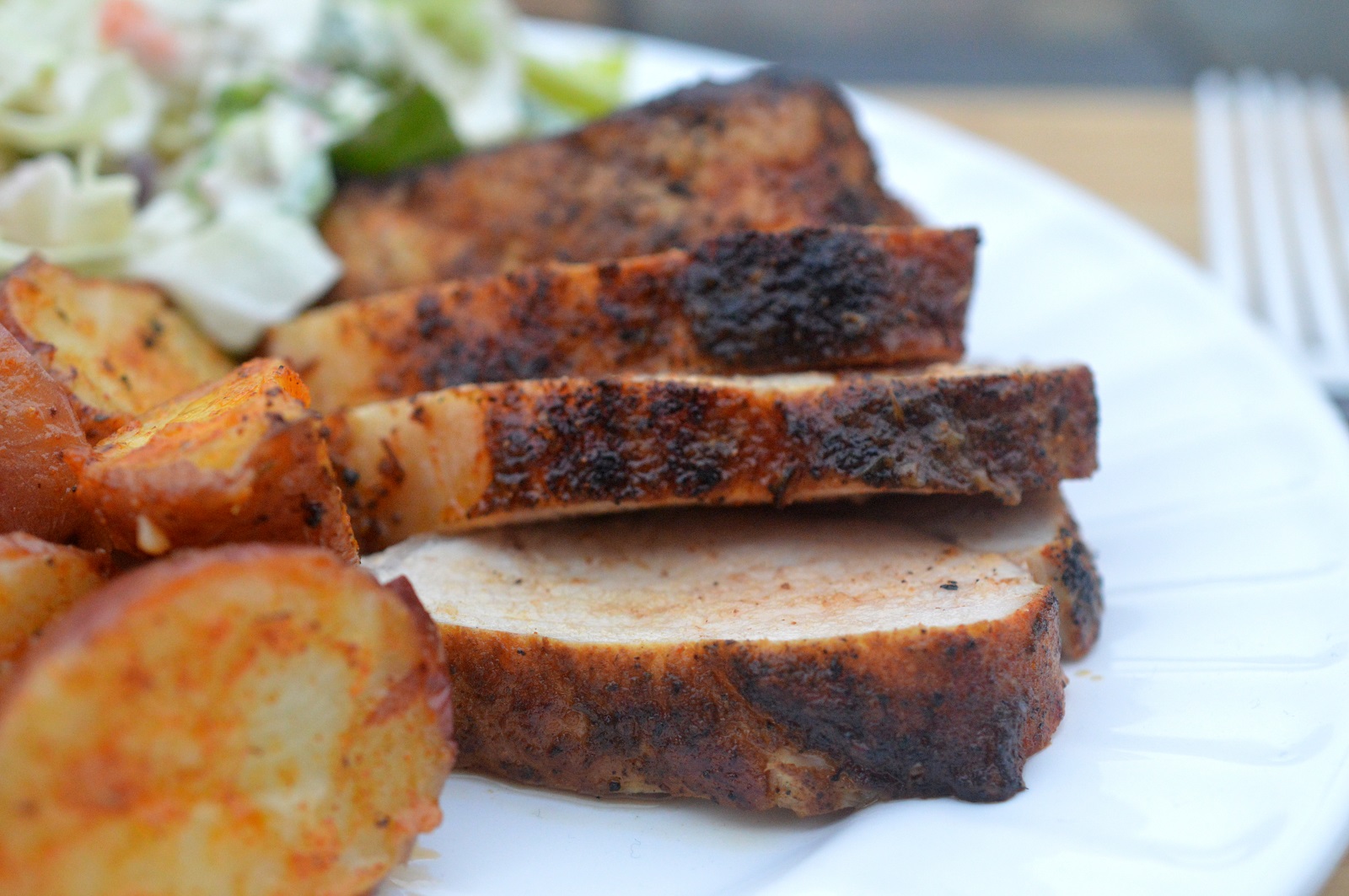 I hope you enjoy this Blackened Pork Tenderloin recipe as much as I do! Show me yours by Tagging me on Instagram @soufflebombay or #soufflebombay!
Pork is so versatile and flavorful, some of my favorite recipes made with pork are:

Asian Pork Meatballs in a Ginger Honey Glaze (GF)
Asian Pork Burger Change up your burger game!

Pork Loin Good Enough To Serve Gordon Ramsay!! AKA Bacon Wrapped Pork Loin in a DELICIOUS Glaze
Lemon Pepper Pork Chops (such a FAST weeknight meal)

Slow Roasted Pork Belly over Jalapeno Slaw
Enjoy!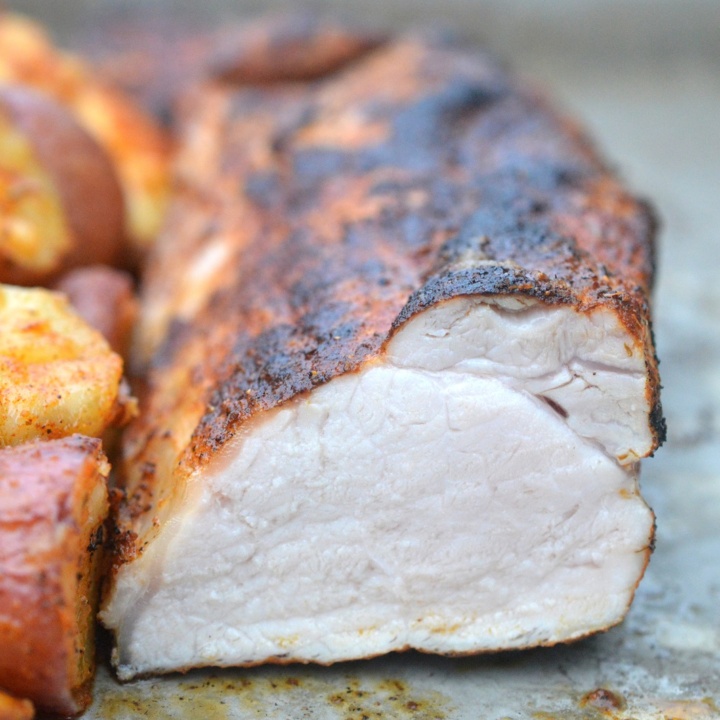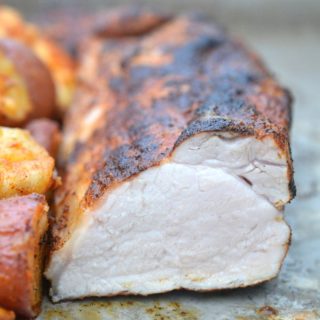 Blackened Pork Tenderloin
Fast & Easy recipe for Blackened Pork Tenderloin that is moist, full of flavor and perfect for any day of the week!
Ingredients
1

or 2 pork tenderloins

Salt & black pepper

Blackening Season

about 2 TBS per tenderloin

2

TBS

grapeseed or olive oil
Instructions
Allow your pork tenderloin(s) to sit on your counter (unopened) for 30 minutes to come to room temperature and allow even cooking.

Just before cooking, pat the tenderloin(s) dry, season with salt and pepper and then season with blackening season, patting it on.

Preheat your oven to 350 degrees.

In a large skillet or griddle, heat 1-2 TBS of oil (just enough to cat your pan lightly) until it gets hot. I can always tell when the oil begins to have tiny "waves" or shimmer. Add your seasoned pork tenderloin (you should hear it hit the pan with a nice sizzle.).

Cook each side for 2 minutes, then using tongs, allow the short side of each end of the tenderloin to sear for 45-60 seconds. Adding a small amount of additional oil if needed.

Quickly place the meat into a baking dish or pan and finish it off in your preheated oven. For 15-25 minutes (depending on the size of your tenderloin) or until internal temp reaches 145.

Remove pork, allow it to sit on the counter for 4-5 minutes, slice and enjoy!
Nutrition
Serving:
6
g
Calories:
142
kcal
Protein:
22
g
Fat:
5
g
Saturated Fat:
1
g
Cholesterol:
62
mg
Sodium:
258
mg
Follow me on Tik Tok for 1 minute videos