Twice Baked Potatoes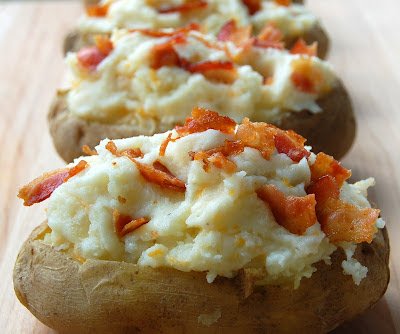 I think I fell in love with potatoes when I was 15, it was the summer I spent in Ireland with my Grammy (who would visit her friends and relatives over there often). Which by the way was the best summer of my life…running amuck amidst the peaceful and unbelievable beauty of the farmlands of Ireland, meeting genuinely nice and wonderful people, tasting new foods and absorbing a new culture. It was so simple compared to my Philadelphia, PA life…yet so very perfect! It was one heck of a summer and I dream of giving my kids the same chance one day.
Potatoes would show up there for breakfast, lunch, dinner and of course the many tea times during the day. My favorite appearance of the potato however was the almost nightly potato fry which would happen around 10 pm. DE-lic-ious! And let me just say that the Irish know how to hang! Boy, do they go to bed late every night! I guess they don't want to miss a minute of life 🙂
I think I include potatoes, in some form, in most of the large parties we host. They are easy and often can be made ahead and it seems everyone just loves potatoes.
One dish I love to make is twice baked potatoes. I can make them ahead and easily reheat them when ready. It's a dish folks love and it takes pressure off of me while folks are here.
I make them large for dinner parties and barbecues and small for larger parties. The kids go crazy for the tiny ones.
You need to have some patience for the small ones though…the scooping of all those tiny potatoes takes some time lol!
As far as a recipe goes, you just need to add the below ingredients based on how much you are making – just keep adding until you are happy with the taste. These I make thicker that a typical mashed potato.
You can take twice baked potatoes anywhere you what to…go fancy or go traditional. I found however the traditional go over better at a party. The key is to really flavor them up. You want every bite to be a punch of decadent flavor! No one should feel the need to season their potato
If I am making appetizer potatoes, I look for the smallest potatoes I can find. I go to where I can pick the loose ones myself (Wegmans usually) and generally buy 2 for each guest, plus an extra 10 for extra filling if needed.
If I am making them for a dinner, I buy the largest potatoes I can find.
Maybe I love potatoes because they are versatile, or because they are a vehicle for butter (mmmm-mmmm-mmmm) or maybe I love them because they instantly transport me back to an incredible summer filled with amazing adventure 🙂
Twice Baked Potatoes
As pictured
Baked potatoes
Butter (room temp)
Milk
Kosher salt
Pepper
Cheddar cheese
Bacon
Bake your potatoes as you normally would. Allow them to cool for at least 30 minutes. Working with one potato at a time, use a sharp knife to slice off the top 1/8 of the potato. You want to slice off the top to allow a large opening – almost the size of the potato itself. Next take your knife and cut a perimeter around the potato – short of the edge. Then using a spoon begin scooping out the potato being careful to not crack the skin. You want to leave a small wall of potato, so you are not scraping down to the skin. Scrape any potato off of the top pice you cut as well, then discard that piece of skin. As you remove potato, place it (the filling) into a good sized bowl.
Once you are finished scooping out the potatoes, add butter, milk, salt and pepper and mash it well. Add the milk carefully, you don't want runny potato filling, you want it a little on the thicker side. Once you are happy with your flavor and consistency. Add in some of the cheese and bacon. Fill the potatoes and top with some additional cheese and bacon.
*I don't go crazy with the cheese, just enough to give it some flavor. But the bacon is a different story…lol! Just sayin'!
When serving time is close, reheat the potatoes in batches in your microwave or oven. Just enough to get the hot again.
Additional ideas after you make your basic potato filling with butter, milk, salt and pepper:
Blue Cheese and chives
Caramelized onions
Goat cheese (with or without onion)
Shallot, white cheddar, sour cream
Brown butter and wilted scallion segments (yummmmm)
Garlic
Horseradish

Like I said earlier – go crazy and add anything you like in your potatoes into these!
Enjoy!!