Asian Salad with Fried Calamari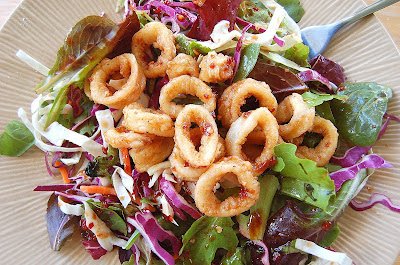 I have a deep fryer that I pull out from time to time, mostly to make fried calamari. My whole family loves fried calamari. It's funny to me that my kids began eating it very young...Believe me they were picky like most kids are, but they would happily pop squid in their mouths, no questions asked...something many adults I know want no part of lol!
I don't use the deep fryer too often...but when I do...yummo!!
Over the years, I have also made Fried Ravioli, Coconut Shrimp, Bang Bang Shrimp, Banana Fritters and Fried Chicken, but my favorite use for the deep fryer has got to be fried calamari!
Often, when eating out, we will order up a plate of fried calamari as an app only to be disappointed by either the rubbery quality of the calamari, mushy calamari (cringe), or lackluster calamari. Maybe its me...but I get disappointed with marinara sauce as the only choice for dipping fried calamari. When I'm out to dinner, I want to be wowed, and I want a dish to be crave worthy...something that makes me think about it and makes me HAVE to have it again or want to replicate it at home. Give me an wonderful aioli for dipping, toss them with banana pepper rings, spice it up, give me something interesting!
Years ago, while out to lunch, we had an amazing calamari tossed with a sweet and spicy sauce. I replicated it soon after we had it and have been smitten ever since. Here, I use it and toss it with a salad...this is a favorite lunch salad of mine!!
This is also a favorite app of both mine and those in my life, to make the app, just make the fried calamari and serve the sauce alongside for dipping...mmmmmm!
Asian Salad with Fried Calamari
This serves 2 as a lunch salad
Dressing
4 TBS chili with garlic sauce (found in most Asian sections of grocery stores)
4 TBS honey
1 teaspoon Asian sesame oil
Place the above ingredients in a tightly sealed mason jar and shake vigorously, shake again just before pouring onto the salad and calamari.
*The sauce ingredients above are just a guide...play with it and get the taste to your liking before you toss the calamari with it, we all have different preferences for heat.
Salad
Many supermarkets sell pre-packaged bags of Asian slaw, you can use that or you can shred a salad yourself by using Napa cabbage, red cabbage and carrots. In both cases I fill out the salad a bit with a handful of greens, usually a spring mix.
I use the pre-packaged if it is just for me or me and my husband since the alternative is way to much food. When entertaining a crowd, I use the fresh ingredients and shred them down myself...it's just as good either way.
Fried Calamari
¾ pound of calamari tubes
1 cup of club soda
1 cup flour
A couple dashes of salt and pepper
Vegetable oil for frying
If necessary rinse your calamari clean and blot dry. Slice the calamari tubes into rings about ¼ inch wide. Place the calamari rings into a bowl and cover them with the club soda, stir until all are submerged. Let sit for 10 minutes.
Meanwhile combine the flour, salt and pepper. Set aside.
Drain the calamari, blot dry.
Dredge the calamari, one at a time, in the flour mixture and set on a plate until ready to fry.
Heat your fryer to 375, once it is hot and ready place half of the calamari into the basket and fry for about 2 - 2 ½ minutes or until golden and crispy. Don't overcrowd. Place calamari on a paper towel lined plate and blot gently.
Repeat.
Toss the calamari with ⅓ of the prepared dressing. Toss the salad with dressing to your liking, then combine the two and enjoy!!!