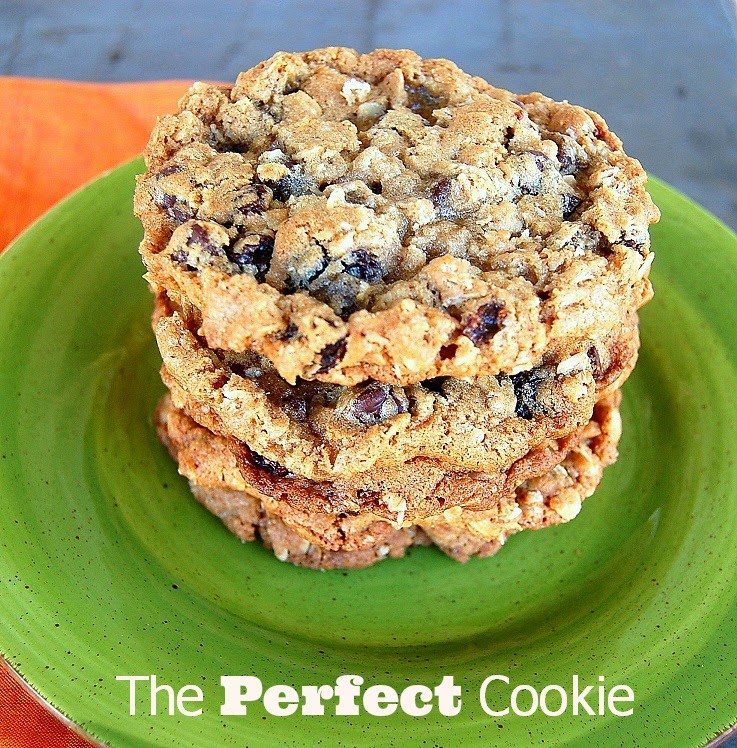 Raise your hand if you have a favorite cookie…I mean who doesn't have a favorite cookie, right??
For many of us our favorite cookie was probably introduced to us as a child and made by someone we love. A cookie, especially one that has been with us over and over again throughout our life, is an instant time machine. One bite, one smell will instantly transport you back in time. I love that!
These cookies are my husband's favorite. My son adores them as well, but being 11, I would say he has to many favorites to at this stage in his like to crown one his #1. These are in his (and my) top 3 though!!
First, these GIANT cookies make your house smell in-cred-ible! They are easy to make, easy to customize, taste amazing warm and just as good 3 days later (if they last that long). I am not a make-something-and-freeze-it-kind-of-girl. But, when it comes to these cookies, I often make a double batch and do just that. That way, whenever I feel like treating my family or unexpected guests drop by, all I have to do is turn on the oven and pop a half-dozen in and in no time everyone will be embraced in a warm cookie hug from me. Perfection!
These cookies hail from one of my favorite cookbooks Perfect Recipes for Having People Over by Pam Anderson. If you are in the market for a good cookbook…one that I guarantee you will make a number of recipes from (and everyone will love them). This is the one. One of the best things about this book and what separates it from the pack are Pam's notes after each recipe on how far you can make it ahead, how you can vary it, what to serve it with and what to do with the leftovers. I can't say enough good things about this book. It's in my top 3 of favorite cookbooks…evah! Pam, thanks for the cookie and the incredible cookbook!!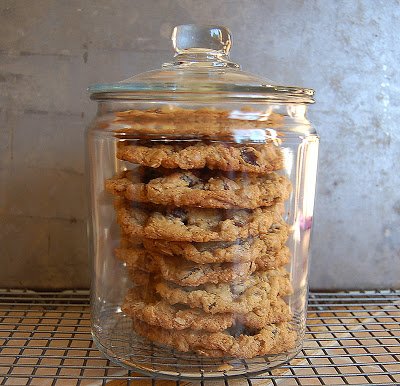 I've said it before and I'll say it again…to me, a full cookie jar is a gift of pure love from the baker to those that reach their hand in, grab one, and enjoy it bite after bite! When they day arrives to plan/start our kitchen renovation….the one thing I am sure of is…where my cookie jar(s) will go will be a focal point. It just makes me happy to bake up what I consider pure love from me…TO…my family (and I like chomping down on them as well).
1 1/4 cups flour
1/2 tsp baking powder
1/4 tsp baking soda
Dash of salt
3 cups old-fashioned oatmeal
2 eggs
1 1/2 tsp vanilla
1 3/4 sticks of butter, very soft
2 TBS vegetable oil
1 cup sugar
1 cup brown sugar
1 cup raisins
3/4 cup chocolate chips
Preheat oven to 350 degrees
Mix together the flour, baking powder, baking soda and oatmeal. Set aside
In a large mixing bowl, combine butter, oil and sugar and blend until creamy. Add in the eggs and vanilla, blend until combined. Add in the flour/oatmeal mixture and blend until combined. Add in the raisins and chocolate chips. Mix well.
On parchment paper lined baking sheets, use an ice cream scooper to scoop out the cookie dough. (The kids love this part) Cook 6 to 8 cookies per baking sheet, don't crowd them. If you don't have an ice cream scooper, measure about 3 tablespoons of dough per cookie – you want these big.
Bake for 16-18 minutes or until golden brown.
For freezing, scoop out the dough, place the "balls" on a plate or cookie sheet. Pop it into your freezer for an hour, then just throw them into freezer bags to store until ready to use (up to 6 weeks). When ready to use just thaw for 10 minutes and bake at 350 degrees on a parchment lined baking sheet for 16-18 minutes or until done.
Notes: Feel free to customize these to your tastes by substituting or adding in dried cranberries, nuts, coconut, cinnamon, cardamom or whatever flavor profiles you enjoy most!

Enjoy!