These Apple Cider Biscotti are delicious and different. If you enjoy biscotti, you need to give these a try!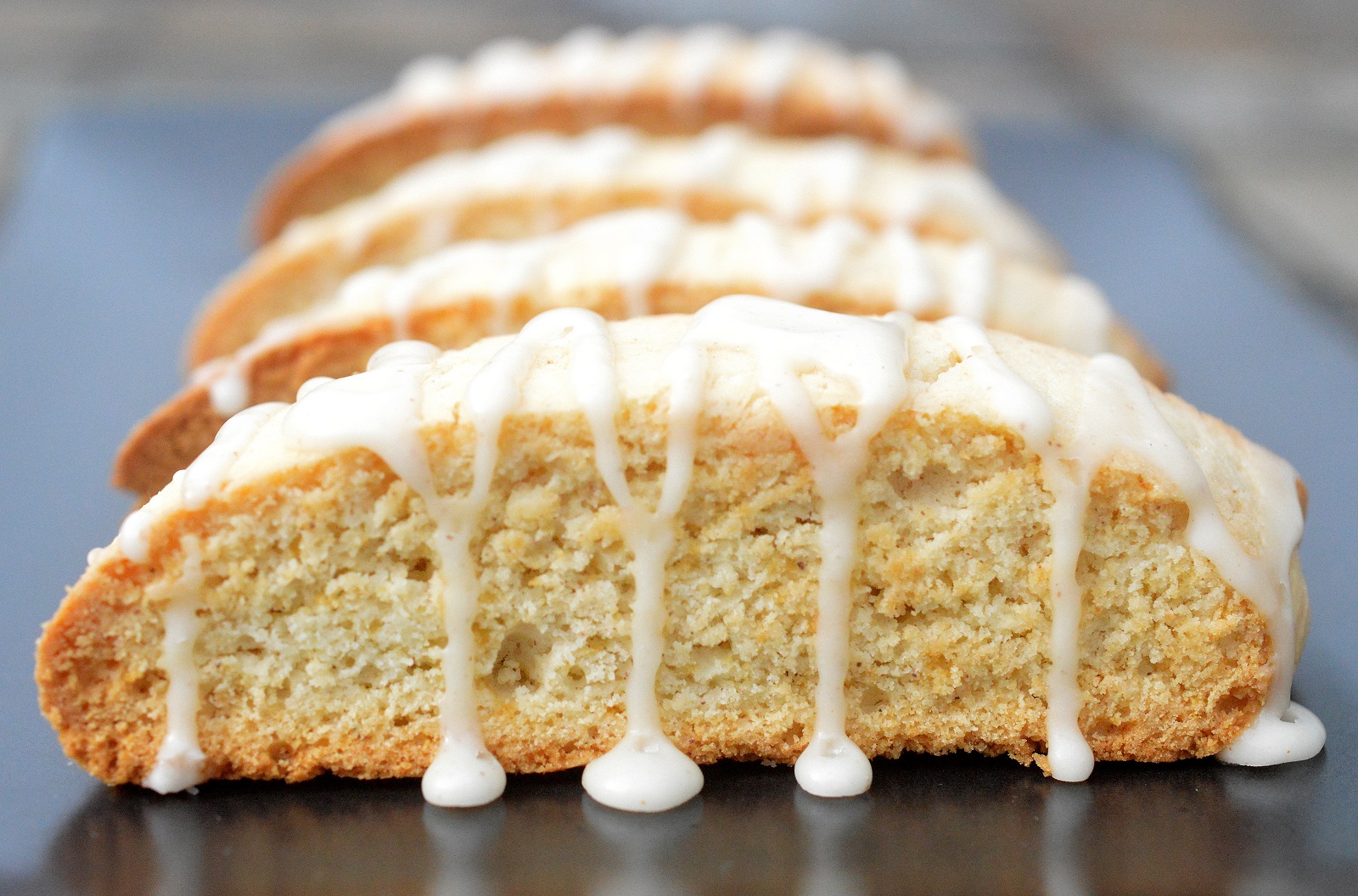 I get so excited when I search for a recipe concept I have or something I made and it isn't "out there". These Apple Cider Biscotti fall into that area.  If you enjoy Biscotti you need to make some of these for yourself. Then give some to a friend or a family member. They will love you a little extra for that!
I love cookies…like really love cookies (homemade cookies that is)! I may blue and furry with jiggly eyes and go by the name of Cookie Monster in an alternate dimension, I wouldn't be surprised.
My whole family loves cookies (I mean…how could they not with a cookie lover as the matriarch of the family). I have shared with you previously how I try to keep the cookie jar full, especially when I am not home as a delicious symbol of my love for my family. And yeah, I eat a lot of them myself too.
My son Connor digs cookies as much as I do. I always smile when I hear the glass lid being replaces over and over again after a fresh batch goes in the jar (literally…as I type this, I heard the jar lid go back on 3 times because of these biscotti, lol! Connor is the only other person home at the moment. Love that boy!).
Last year I made Eggnog Biscotti and Connor went crazy for them. When I had the idea for an Apple Cider Biscotti, it was right before he got his braces on and I felt guilty, thinking he wouldn't be able to eat them. However yesterday was day 7 and he was able to get 3-4 of these Biscotti down. He really likes them, these are Connor-approved!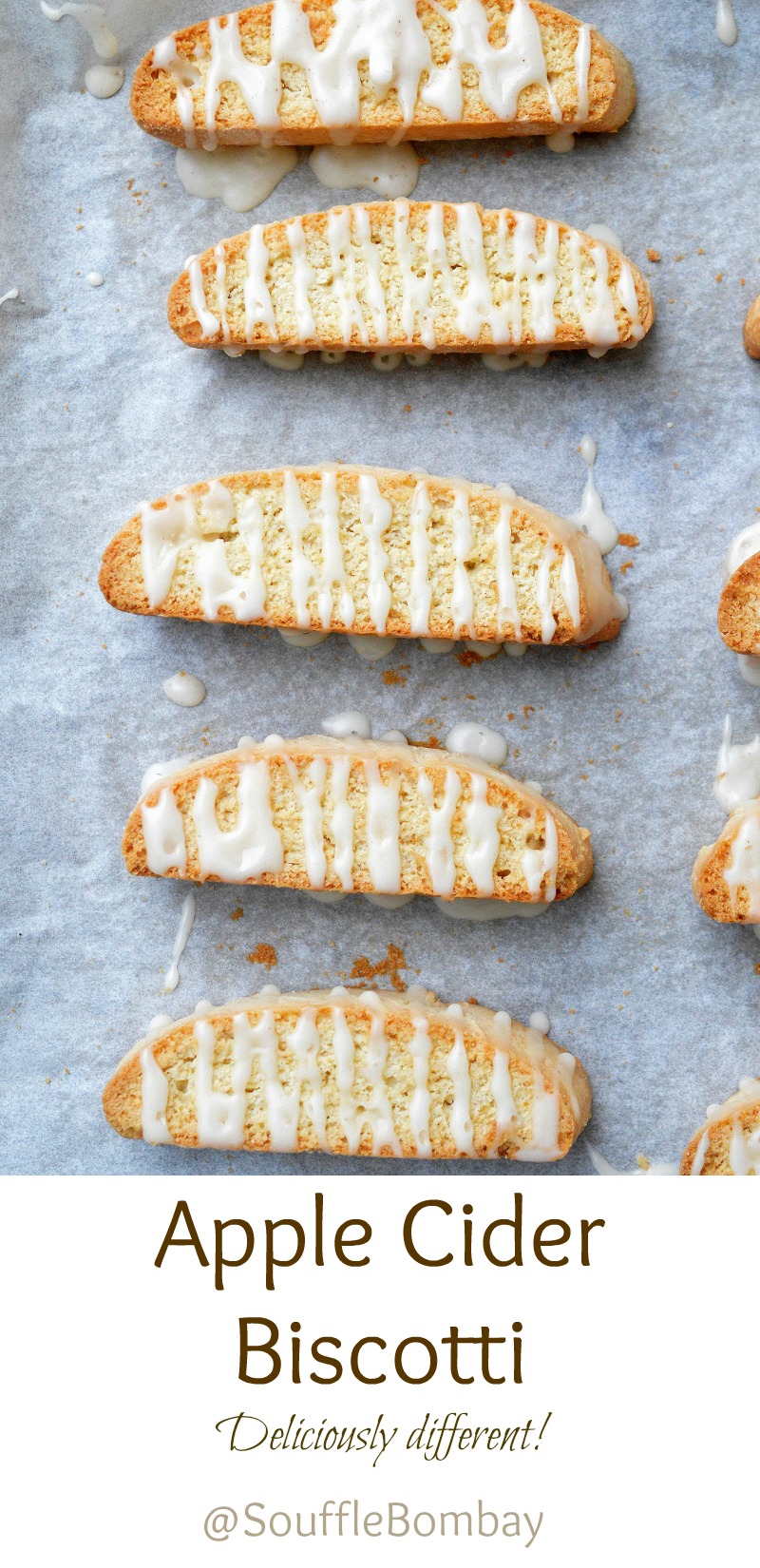 If they are good enough for Connor, I hope they are good enough for you 🙂
These Apple Cider Biscotti are a great addition to your holiday cookies, make a great food or hostess gift or will make  a perfect cookie for your cookie jar! Just because!
If you too are a cookie monster…check out my Cookie Board on Pinterest, or my all of my cookie recipes on my website.
Enjoy!!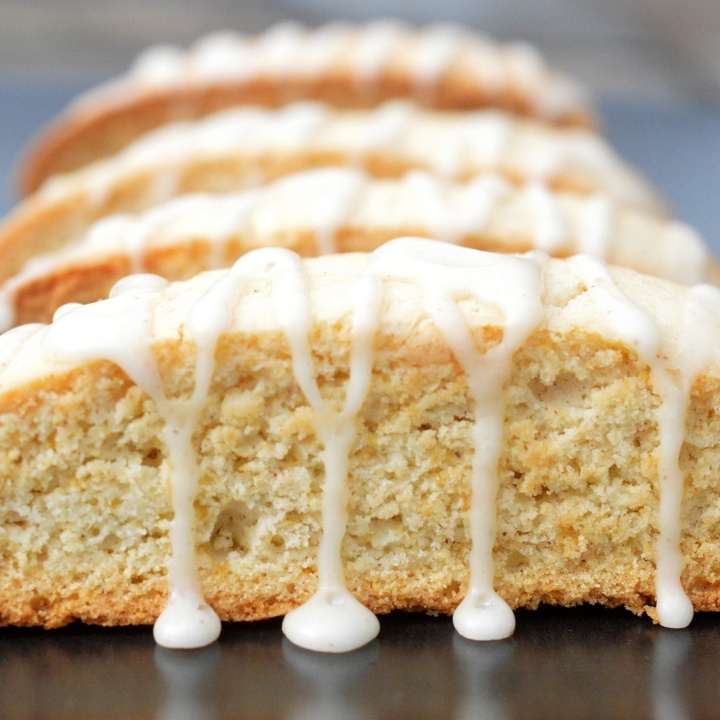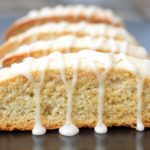 Print Recipe
Apple Cider Biscotti
Ingredients
½

cup

butter

1 stick, softened

1

cup

granulated sugar

2

eggs

1/4

cup

plus 1 TBS apple cider

3¼

cups

all-purpose flour

2

teaspoons

baking powder

1

teaspoons

ground cinnamon

A pinch of nutmeg

½

teaspoon

salt

Apple Cider Glaze

1

cup

powdered sugar

2

TBS

apple cider

more if necessary

Pinch

of cinnamon
Instructions
Preheat oven to 350 degrees.

In a large bowl, combine butter, sugar, and eggs with a mixer (using a paddle attachment if you have one...if not no worries) for about 1 minute or until well blended. Mix in apple cider and and mix until just blended.

In a separate bowl, combine flour, baking powder, nutmeg, and salt. Working in small batches, mix the flour mixture into butter mixture until all of the flour mixture has been added to the butter mixture and is well blended.

Divide dough in half on a floured piece of parchment paper. Shape each dough-half into a long roll shape, about 12-14" long.

Carefully lift rolls onto a baking sheet, 3-4 inches apart from each other. With your fingers, press down on each "log" so that they end up being about a ½" high.

Bake for 25 minutes or until golden brown.

Carefully lift the parchment paper from the baking sheets and place on your cooling racks.

Set aside your baking sheet, as you will use it again.

When biscotti had cooled enough to handle, yet are still warm, carefully move them to a cutting board and cut crosswise slices (approximately ½" in size).

Place slices, cut side down, back on original baking sheet. Bake for 10 minutes. Then remove from oven and turn slices over. Bake for another 10 minutes or until somewhat firm and lightly browned.

Transfer to wire racks to completely cool, with tops facing up.

For Glaze

In a small bowl, mix together powdered sugar, apple cider and cinnamon. If needed, add more cider or powdered sugar to achieve desired consistency (you don't want it too runny, since you want it to firm up on thebBiscotti).

Glazing:

Space biscotti pieces no more than ½ inch or so apart from each other on either a wire rack or parchment paper (hello easy clean-up) dip a metal whisk into the glaze, allowing some of the excess to drip off. Then quickly drizzle back and forth, back and forth across sections of your Biscotti Continue until they are glazed as you like. You can also place glaze in a small plastic baggie, snip off one end and drizzle the glaze from there, your choice.