If you enjoy either tofu or easy air fryer recipes, I think you'll become smitten with this Crispy Air Fried Tofu! It's such a simple recipe to make and in my opinion it turns out as good or better than a restaurant appetizer. Winner!!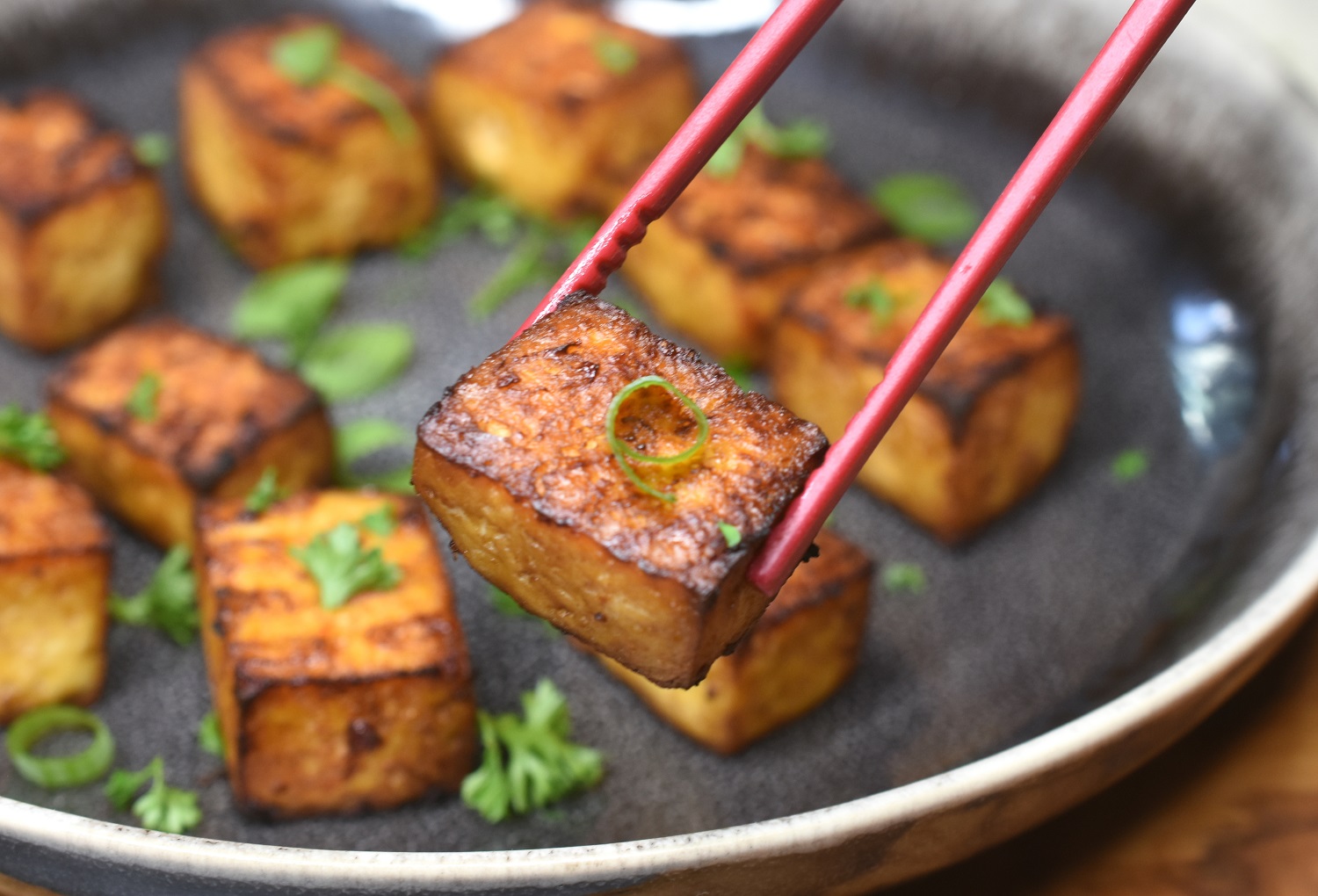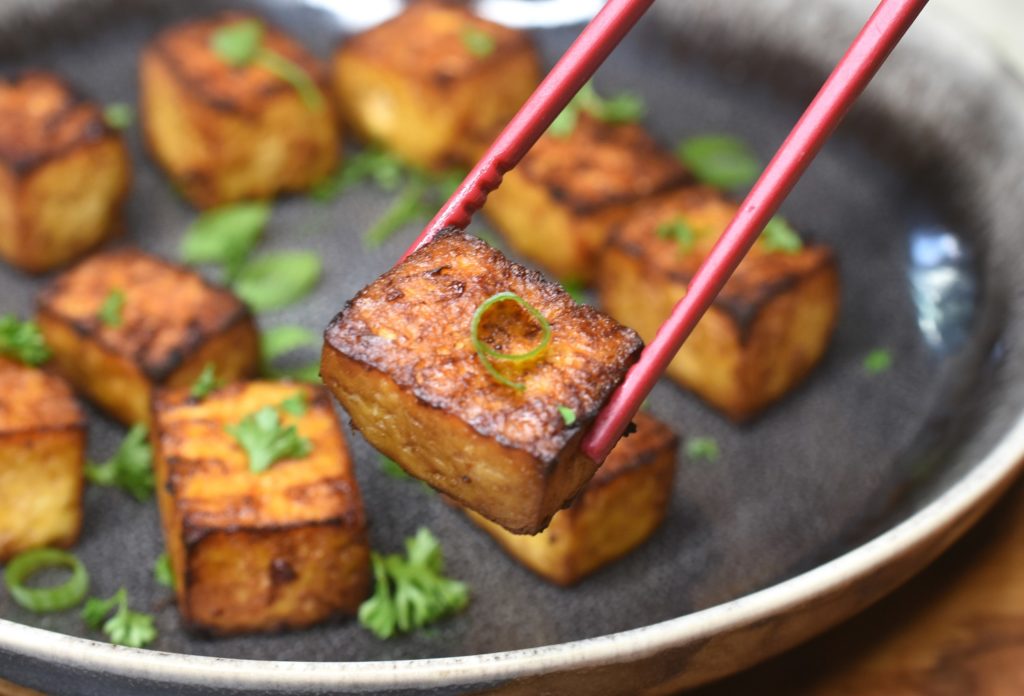 My daughter Samantha has always loved the tofu in miso soup, so much so that we began making at home last year. Since she is allergic to most meats we have been experimenting more with tofu at home.
I had the idea to make her a crispy tofu dish recently and tinkered with different methods. Air frying was hands down the best result both in taste, texture and ease of preparation.
This recipe is so easy that even a young teen like my daughter can make it on their own.
The foundation of this Crispy Air Fried Tofu recipe is so simple, yet you can then take it and do so many things with it. For example, I drizzled my portion with honey and I loved it! I then decided that for me a Sriracha-honey drizzle would be the way to go, since I adore a sweet and spicy flavor profile.
Variations
Samantha really enjoyed this air fryer tofu recipe just as pictured, which of course made me so happy! You can however enjoy this recipe for Crispy Tofu over a simple salad, Asian flavored noodles or over rice.
What is Tofu?
Tofu (or bean curd) is a protein rich low calorie food derived from a plant (soybeans) that are curdled and then pressed into blocks. Tofu easily takes on the flavor of what you cook with to flavor it.
A great choice for vegetarians and vegans for protein.
A ingredient staple in Chinese and Thai cooking.
A good source or antioxidants, often touted as anti inflammatory. A good source of zinc, magnesium, calcium and iron.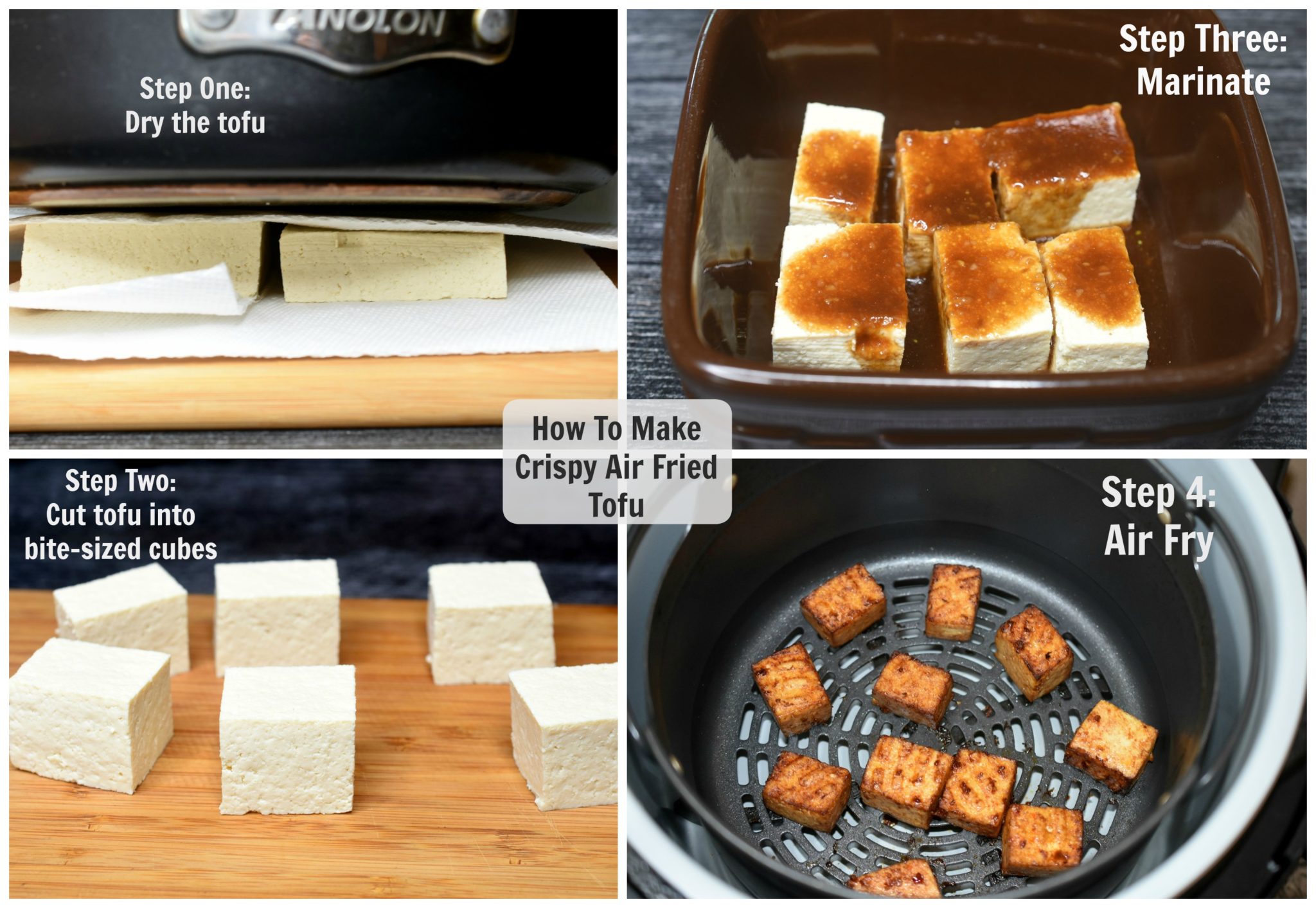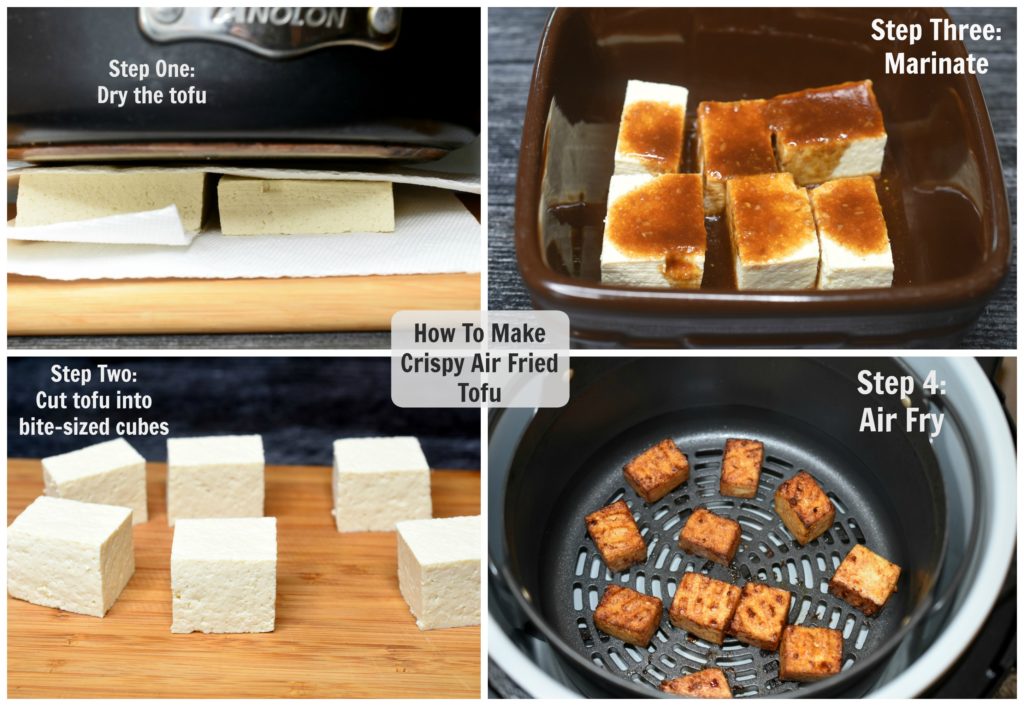 Ingredients
block of extra firm or firm tofu
soy sauce
sesame oil
honey
chili with garlic sauce
grapeseed, avocado or olive oil
Tips For Success:
Gather the ingredients before you begin: Firm tofu, soy sauce, sesame oil, chili with garlic sauce, honey and grapeseed or olive oil.
As you know, tofu is sold packed in liquid to keep it fresh and moist, before cooking dry your tofu by setting folded paper towels below your tofu block and above it and then setting a heavy pan or cutting board on top. Allow it to press our much of the moisture for 20-25 minutes.
Prepare your marinade as your tofu sits draining.
Preheat your air fryer for 3-4 minutes to get it hot before you begin, this way your tofu will cook and crisp faster.
Adding just a bit of honey to your marinade not only lends a subtle sweetness, it helps crisp it up.
Enjoy just after air frying.
Chili Garlic Sauce is one of my favorite ingredients for sauces, marinades and more. It adds incredible flavor. This is what it is. Find it on Amazon or in your grocers Asian food section.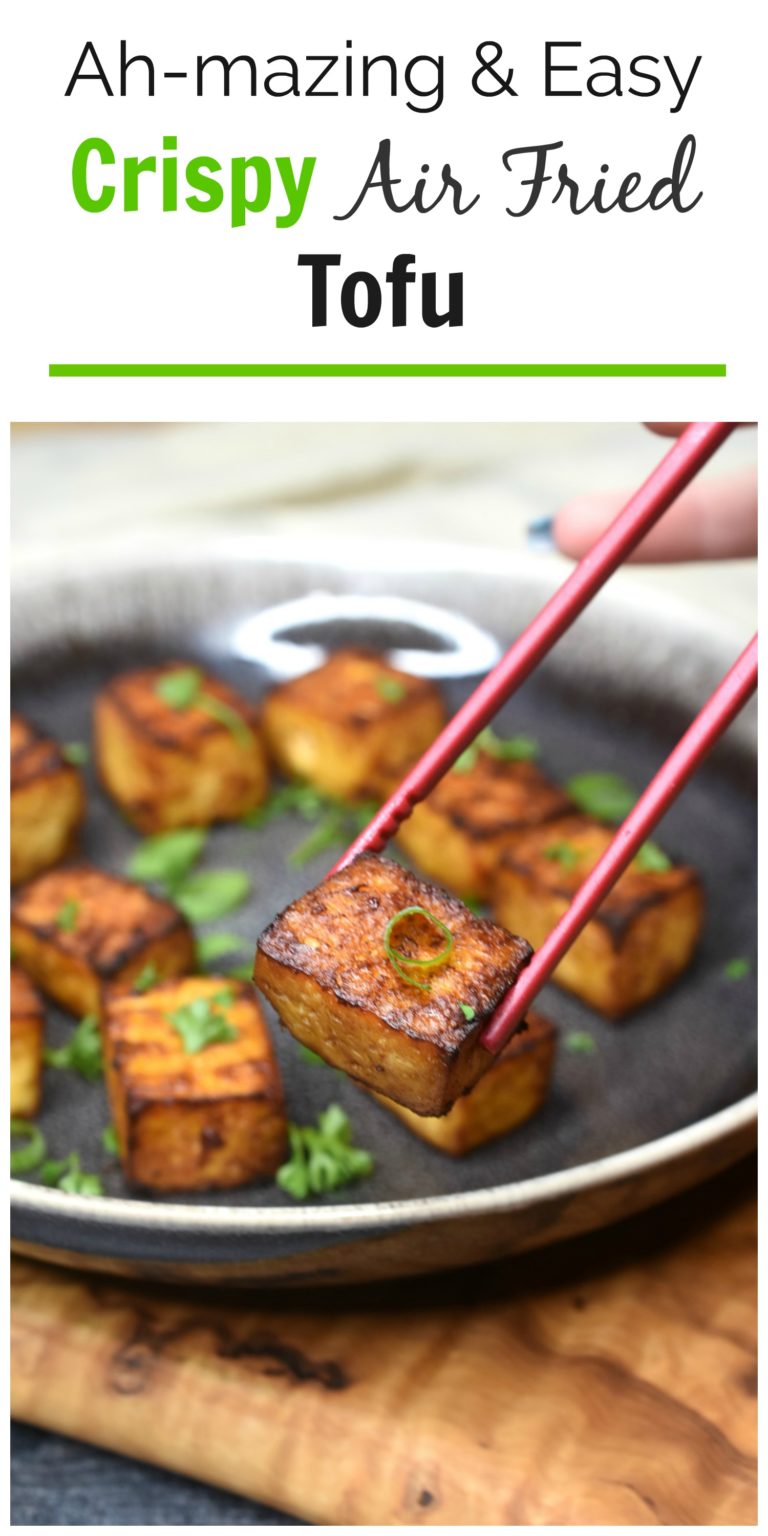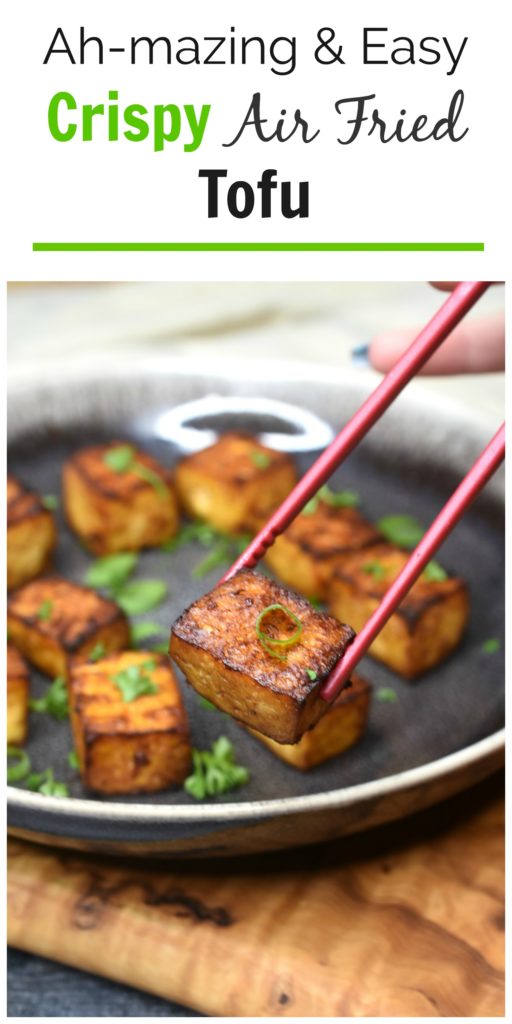 I hope you try this recipe out and love it as much as we do! Tag me on Instagram with your creation. Follow me on Facebook for all sorts of fun recipes!
If you enjoy vegetarian recipes one of my favorites happens to be my Zucchini Cakes, take a look!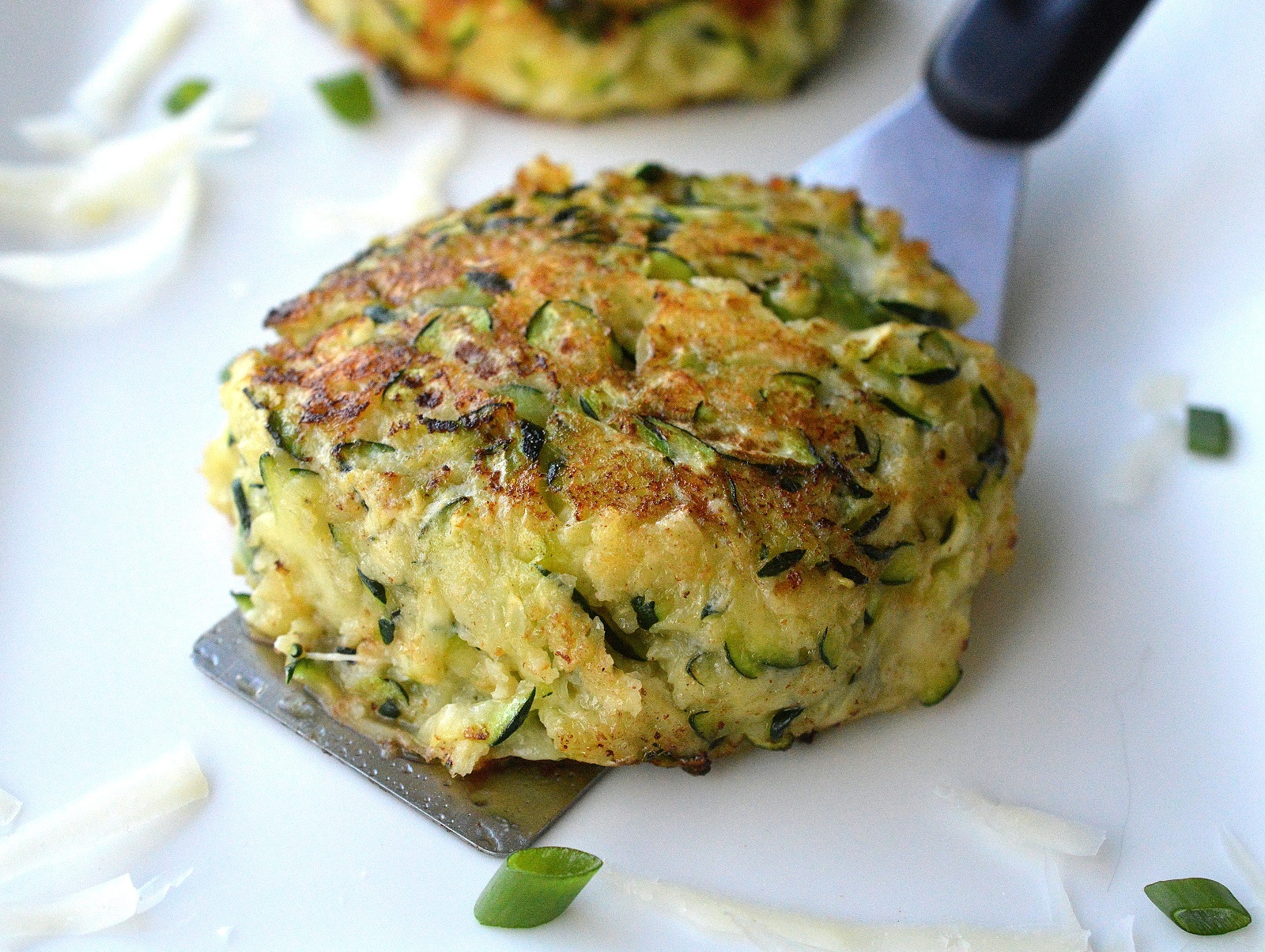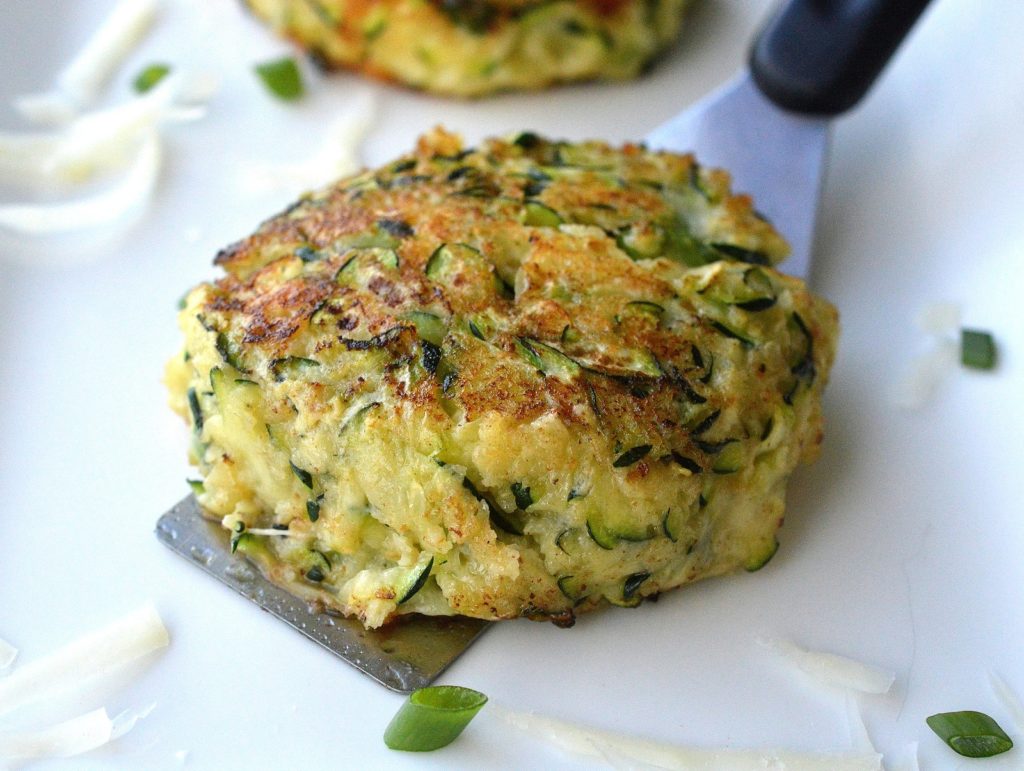 Vegetarian recipes to try:
Tomato Detox Soup - This good-for-you soup recipe may just be the BEST Tomato Soup recipe you have made yet!
5 Ingredient Hot Onion Dip - Everyone (and I mean everyone) will ask for this recipe!
Air Fryer Potato Skins - Crispy, addictive and easy! Reducing food waste never tasted so good!
Crispy Oven Smashed Potatoes - OMG delish!
Enjoy!
Since I am not an R.D. nutritional data is provided by a nutritional calculator. Originally published in 202. Updated January 2023 with additional text, etc.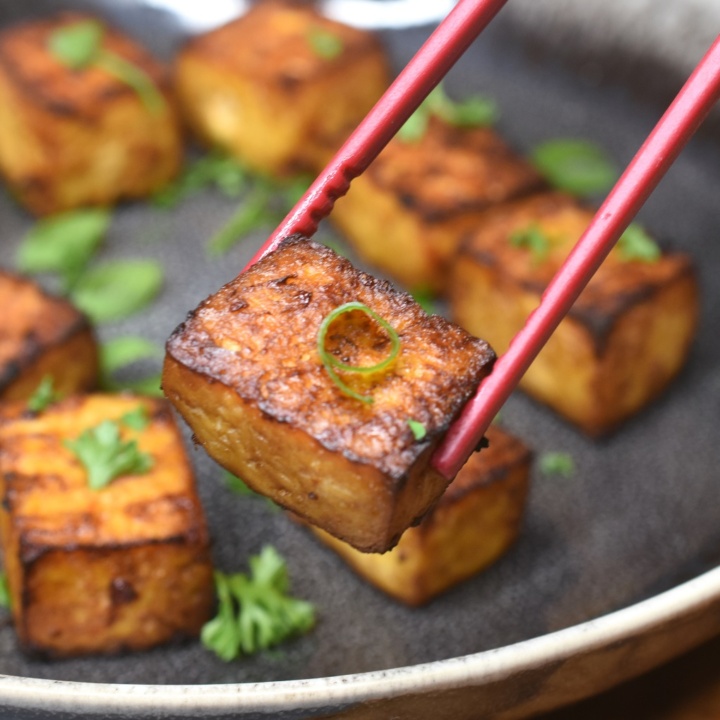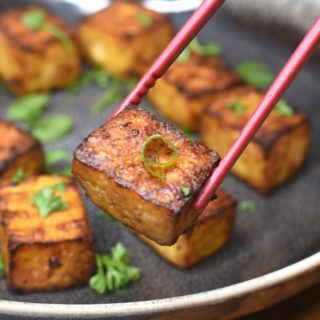 Crispy Air Fried Tofu
Even if you think tofu is not for you, this easy Crispy Air Fried Tofu recipe with Asian flavors may just change you mind, its that delicious!
Ingredients
1

pound

block of extra firm or firm tofu

3

TBS

soy sauce

1

TBS

sesame oil

1

teaspoon

honey

more to taste

½

TBS

chili with garlic sauce

1 ½

TBS

grapeseed or olive oil
Instructions
Set tofu between folded paper towels (on top and on bottom) and place a heavy wood cutting board or pan on top. This will help press out liquid. Allow it to sit for 20 minutes, changing the paper towel halfway through if necessary.

As tofu sits to dry, combine marinade ingredients. Mixing the soy sauce, sesame oil, honey, chili with garlic sauce and oil together with either a whisk or by shaking it in a mason jar (with lid) to emulsify. Set aside.

Once tofu has most of the liquid pressed out, cut it with a sharp knife into bite-sized pieces by first cutting your block into 3 or 4 strips and then cutting those into squares or rectangles.

Place tofu pieces into a shallow dish, pour marinade over them and use chopsticks or small tongs to turn them to ensure even coating. Allow them to sit for 10 minutes (or up to 30 minutes).

Air fryers vary, if yours has a preheat option set it for 4-5 minutes. If it does not, just start it empty and let it run for 3-4 minutes at 350. Then carefully place your tofu (using tongs) into the basket, you don't want them touching one-another. allow space between each for the air to circulate. (You will most likley be making two batches, depending on the size of your air fryer). Set your air fryer to 400 degrees F and set the timer for 13 minutes.

Halfway through the cooking process, gently and quickly turn your tofu.

Remove from air fryer, plate and if you wish, drizzle with just a bit of honey. Garnish with scallions, cilantro or parsley and enjoy! Serves 4 as an appetizer or two as an entree.
Notes
If you do not enjoy any spicy heat at all, you can omit the chili garlic sauce and instead substitute garlic paste or minced garlic. If you like things spicy, go ahead and add more chili garlic paste OR add a drizzle of sriracha to the finished dish, or better yet a drizzle of sriracha honey...Yum! 
Nutrition
Serving:
4
g
Calories:
188
kcal
Carbohydrates:
5
g
Protein:
12
g
Fat:
14
g
Saturated Fat:
2
g
Sodium:
863
mg
Potassium:
29
mg
Fiber:
1
g
Sugar:
2
g
Calcium:
144
mg
Iron:
2
mg
Follow me on Tik Tok for 1 minute videos