Who else loves grilling all sorts of foods? BBQ Pizza is no exception. The next time you are in the mood for a pizza, head to the grill! Grilled Pizza is delicious! Just grab pizza dough, ground meat, cheese, sauce and some veggies and you are good to go!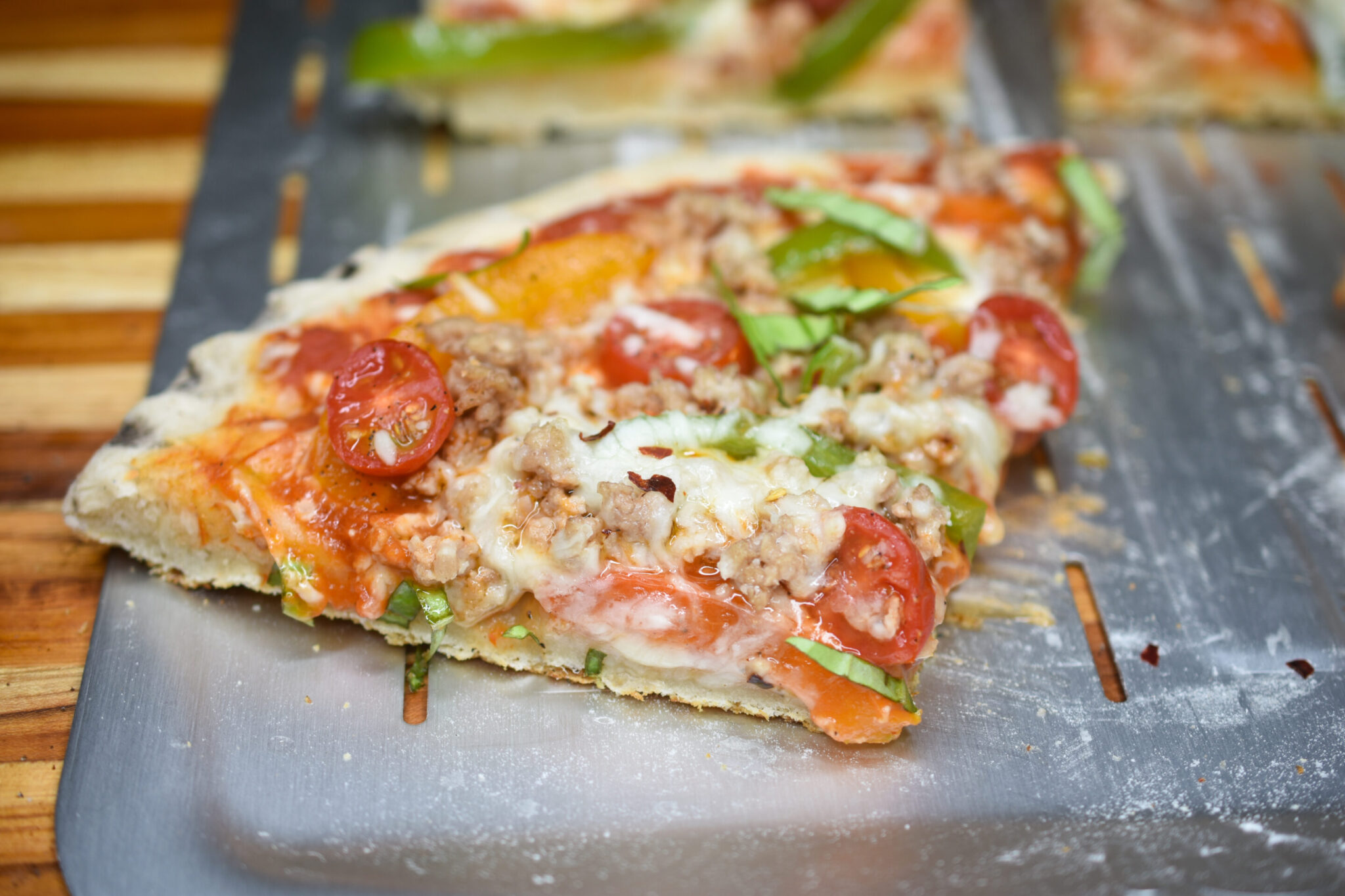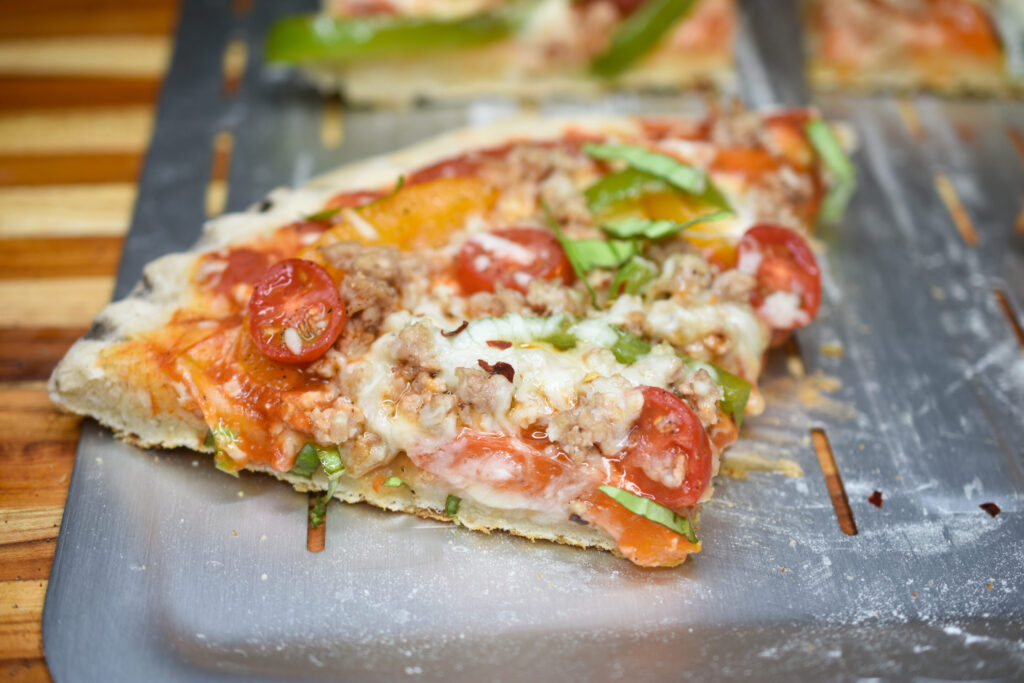 Grilling a pizza is easier than you think. The keys are having your ingredients prepared ahead of time and making sure you have cleaned and oiled your grill gates before firing it up. Today I chose ground veal for part of the pizza topping, however ground beef or chicken will work as well.
Veal is a low-calorie, nutrient dense meat loaded with protein. It makes a delicious topping for pizza and the various cuts of veal can be used in a multitude of recipes.
This is a sponsored post for Veal Discover Delicious, funded by Beef Farmers and Ranchers.
Common Cuts of Veal
Veal Chops - delicious pan-fried or on the grill. Veal chops come in either a loin cut or a rib cut.
Veal Shanks - the star of Osso Buco. The fall of the bone meat combined with the incredible sauce and vegetables makes it a favorite order at Italian restaurants as well as at home on Christmas or New Year's Eve.
Ground veal - used in stir fry's, as part of meatball and meatloaves and in meat sauces.
Veal Cutlets - Perfect for a quick pan-fried meal, breaded or not. Stuffed or in salads such as Veal Milanese.
If you are not familiar with cooking veal, visit Veal.org for all sorts of recipe inspiration as well as veal nutrition information and more.
Why You'll Love This Grilled Pizza Recipe
First of all, who doesn't love pizza? It is so incredibly versatile! You can turn just about anything into a pizza! And pizza on the grill is so fun and tasty to make!
Summer calls for grilling and lots of it! It's easy to make a BBQ Pizza on your grill and bonus! You won't be heating up your kitchen and you get to enjoy being outdoors.
Grilling anything lends a great flavor and texture and pizza is no different.
Using ground veal as a topping for this BBQ Pizza recipe lends a light and delicious flavor, plus veal is nutritious and nutrient-rich. It's always a great protein choice.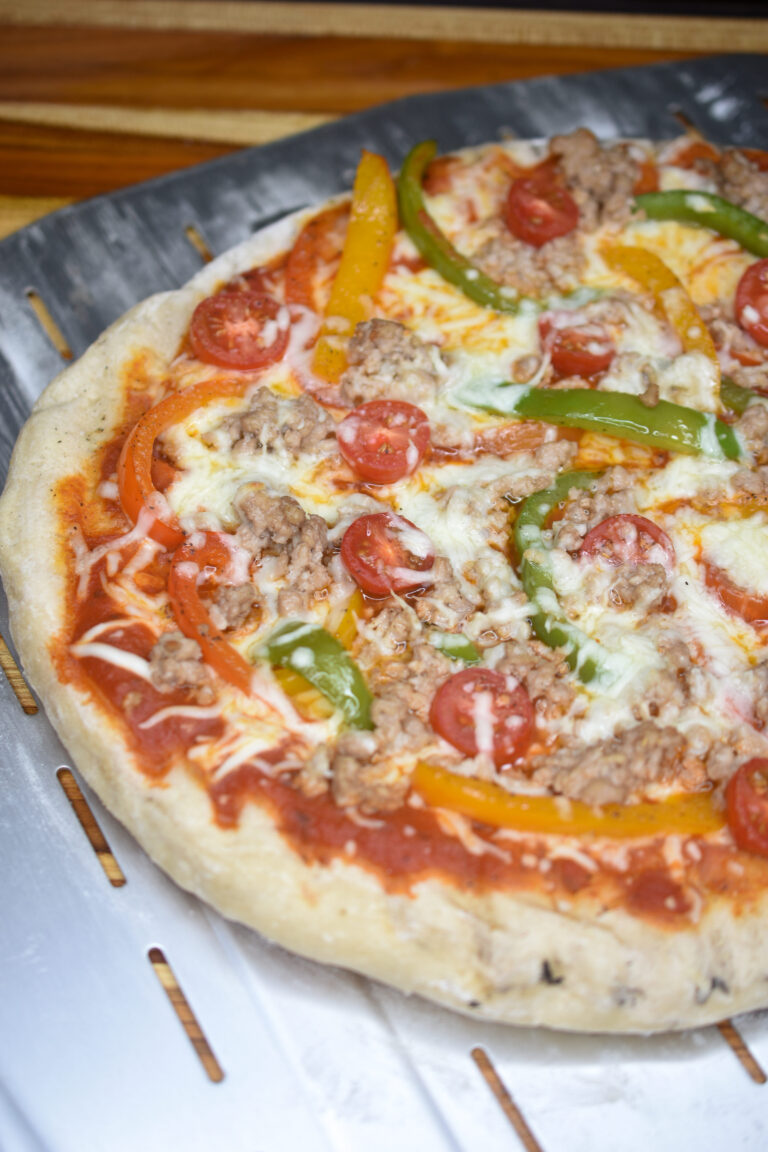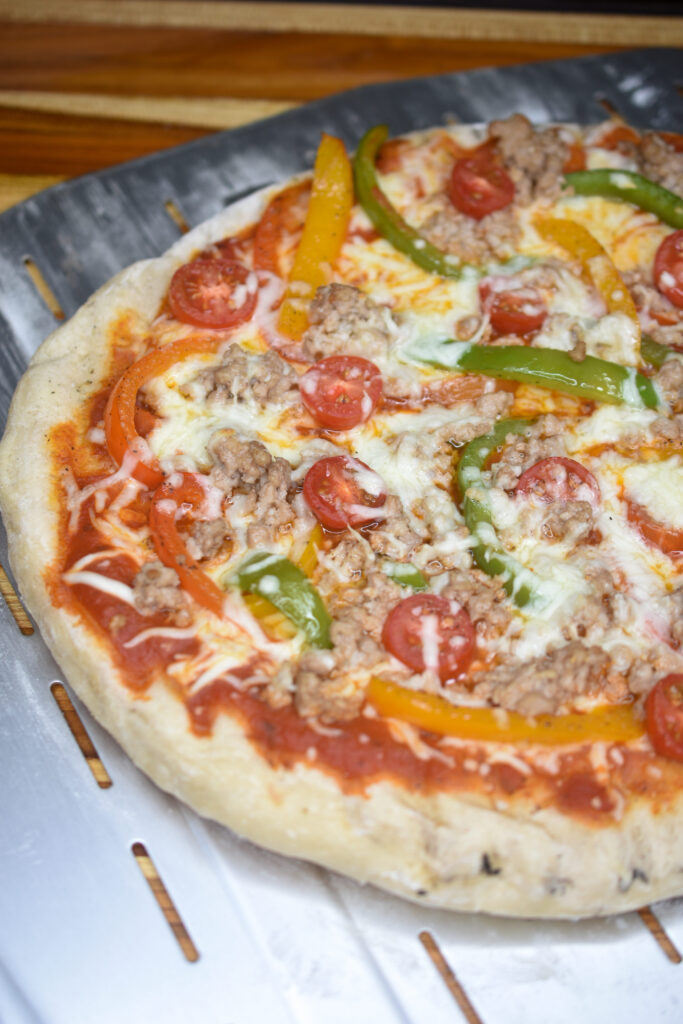 Pizza Ingredients
Pizza Dough (homemade or store bought)
Ground veal or ground meat of your choice
Peppers
Pizza sauce
Mozzarella cheese
Tomato halves
Optional red pepper flakes, basil leaves
Equipment
Grill, pizza oven or oven
Tips Grilling Pizza
Have all of your ingredients ready to go and organized before you begin
Prior to turning your grill on, make sure the grates are mostly free of debris and well oiled with cooking oil
When ready to begin cooking, preheat the grill to high, once hot, place dough onto grates. After a couple minutes lower heat just below dough to low or off and continue cooking on indirect heat until dough is done to your liking.
BBQ Pizza Variations
Add jalapeno slices, sautéed onions, scallions or any additional vegetable toppings you desire.
Instead of topping with loose ground meat, form veal into small meatballs, pan fry, and top with mini meatballs.
Swap ground veal for ground beef or chicken
Swap pizza sauce for BBQ sauce.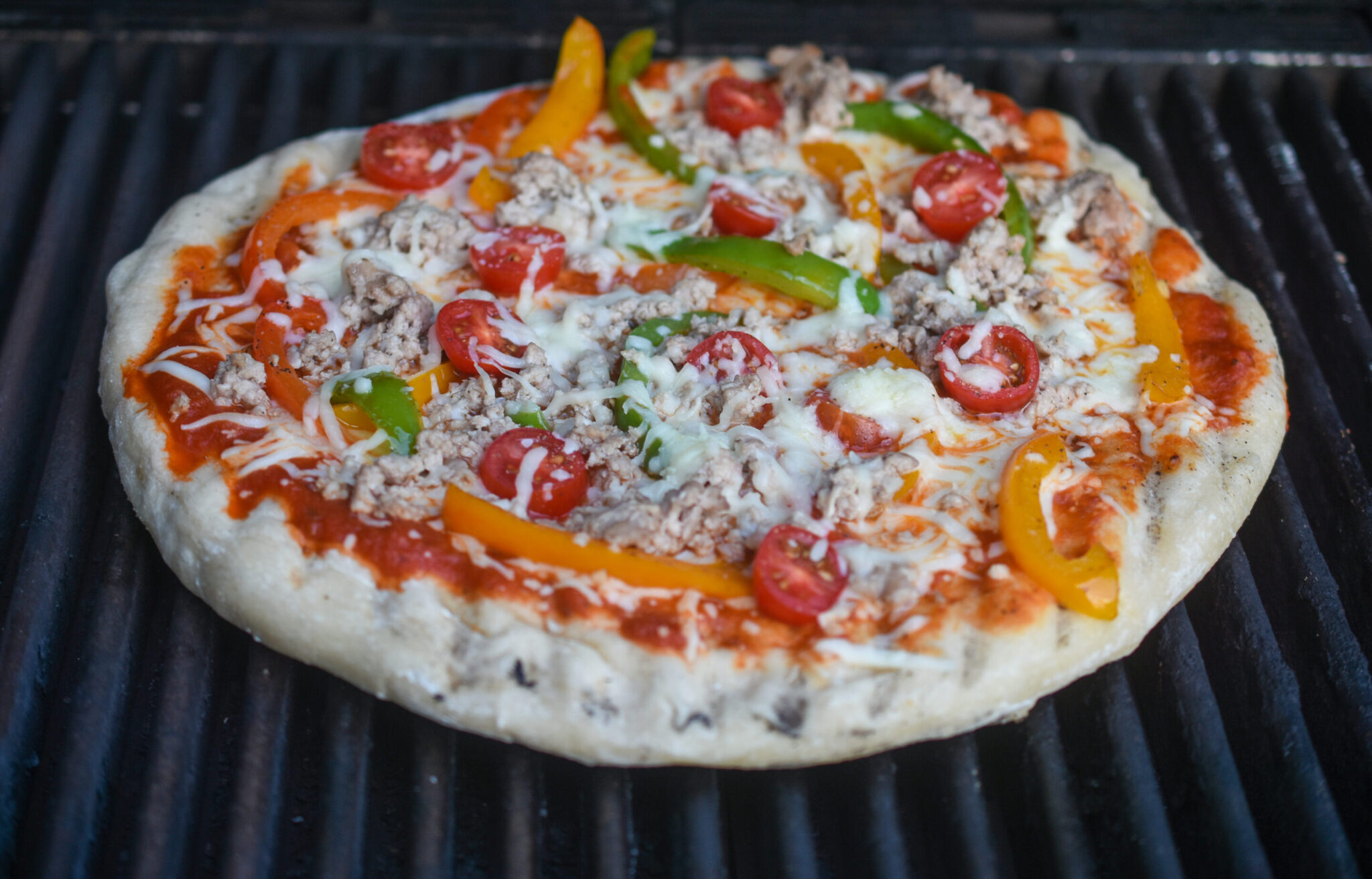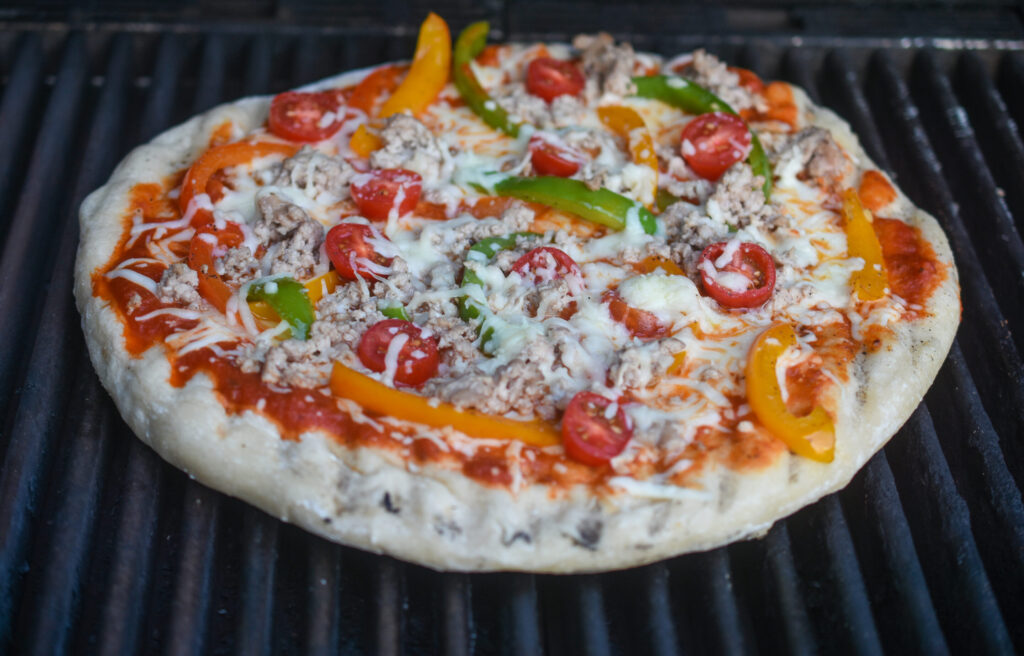 Veal 101
Contrary to popular belief, today's veal is raised in airy barns, full of light and fresh air. The calves have plenty of room to move about.
Practices such as castration, dehorning, and tail docking are not necessary in the raising of veal. Additionally, hormone implants are not permitted for use in veal production.
Veal calves, for the most part, are sourced from dairy farms. (dairy farmers sell their male calves since they are in the business of producing milk which male cows cannot do).
Like humans, when a cow is born they are born with little to no immunities. For that reason during the first 6-8 weeks of their life both female dairy calves and male veal calves are housed in individual pens.
When veal is harvested, just about the whole animal has a use. Heart sacks are used by hospitals to create life-saving heart valves. Bones are used for mineral supplements, collagen is used for plastic surgery, hides for leather goods and blood for medical testing (Example; Strep testing).
The veal industry also has an amazing animal traceability program. They can trace each calf from the dairy farm they were born on all the way to the package of meat in the store or at the restaurant.
If you are looking for a meatless grilled pizza option, try this Grilled Caprese Pizza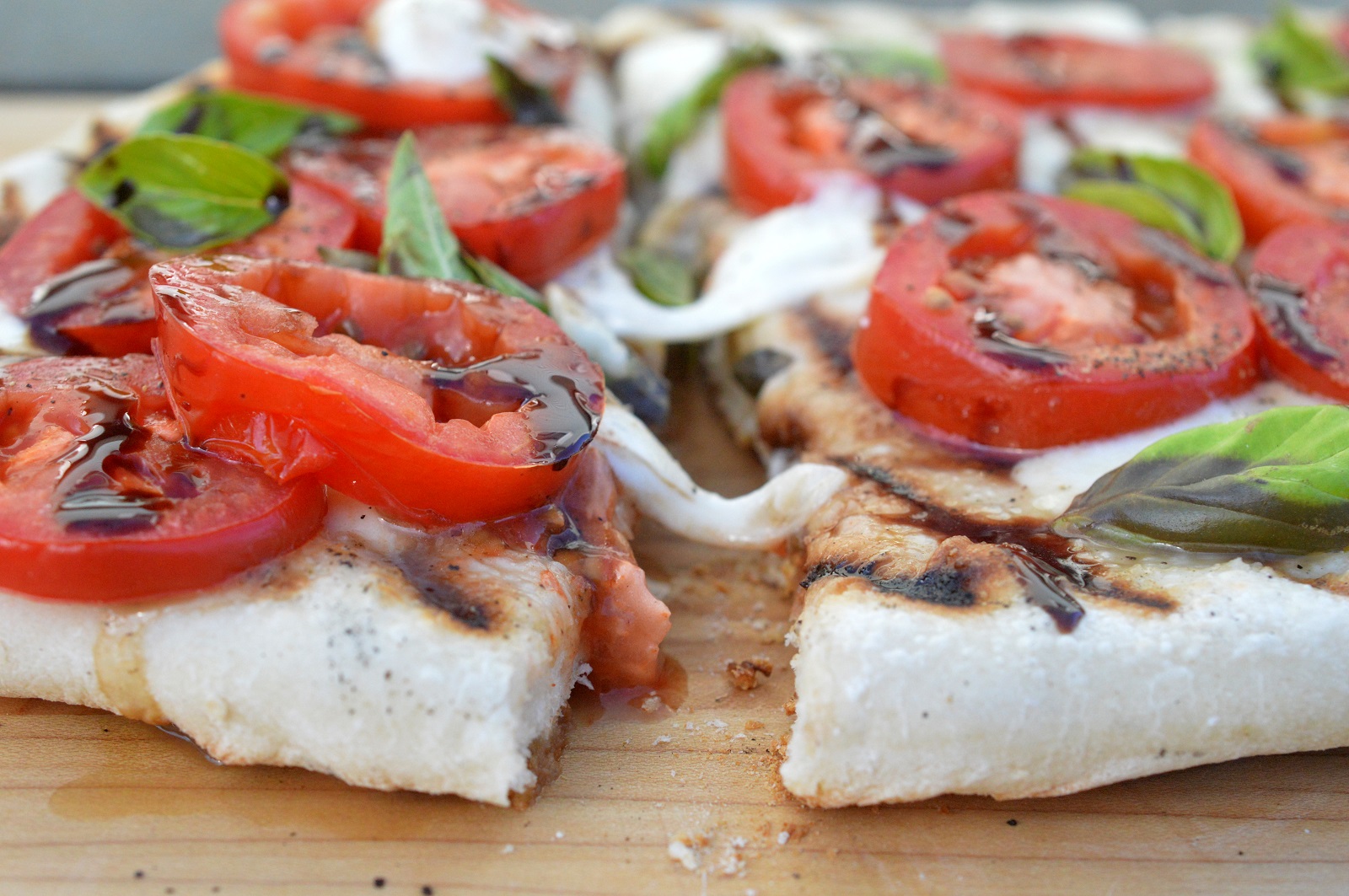 More Veal Recipes
Or these BBQ Recipes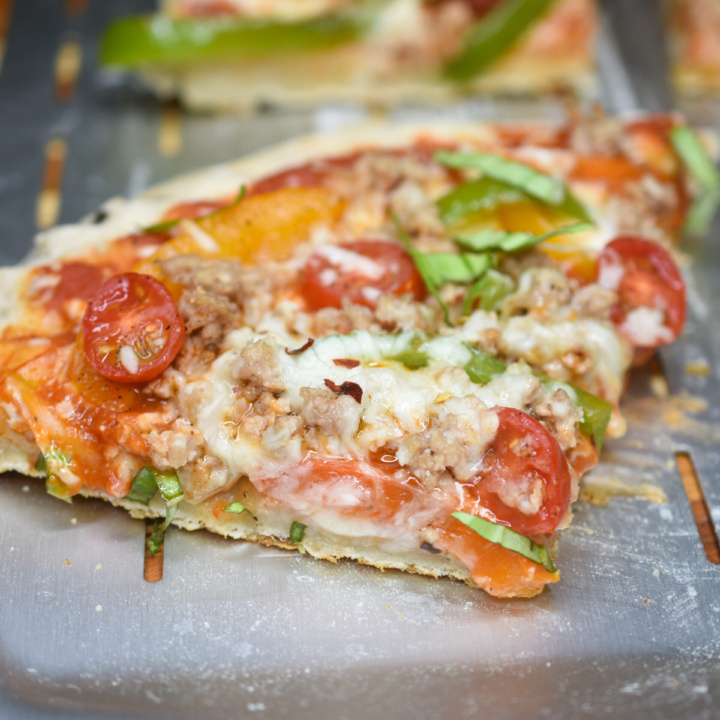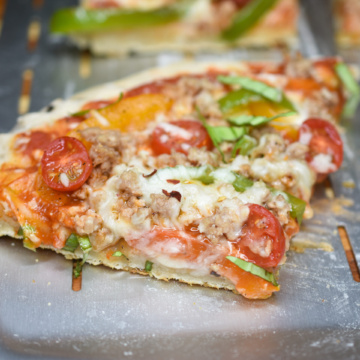 BBQ Pizza
Grilling a pizza is easy, tasty and bonus it doesn't heat up your kitchen in the warmer months! Try a Grilled Pizza next pizza night!
Ingredients
For Garlic Oil
¼

cup

grapeseed or olive oil

2

cloves

garlic

Salt & pepper

Optional red pepper flakes for added heat
For Pizza
2

disks of pizza dough

2

large peppers sliced into strips

seeds removed (red, orange or green. Your preference or a mix)

1

clove

garlic minced

1

pound

ground veal

Salt & pepper

Pizza sauce

Mozzarella cheese

as much or as little as you enjoy

1

cup

halved grape tomatoes

Fresh basil
Instructions
Combine ingredients for garlic oil in a small ramekin or bowl and let sit for flavors to combine. If you are in a rush, use the back of a small spoon and "mash" the garlic pieces a bit to expedite the flavoring.

Oil your grill grates and then preheat your grill to high.

Heat a pan, add a couple teaspoons of the garlic oil and saute your peppers for a few minutes. Add in garlic and season with salt and pepper. If you want a little kick add in red pepper flakes. Cook until peppers are just wilted (or to your preference). Remove peppers to a bowl and set aside.

In the same pan, add another couple teaspoons of the garlic oil and cook the ground veal until just done. Remove from heat, drain off any liquid cover and set aside..

Shape pizza dough into a typical pizza shape or rectangle flatbread shape. Brush with a little of the garlic oil and season with salt and pepper (and if you like, red pepper flakes).

Place dough directly on grill grates (one at a time or both) oiled side UP. After a couple minutes turn burners below dough to low or off (depends how hot your grill runs. Finish cooking pizza dough until done to your liking. Top of the dough will begin to bubble up.

Once dough is mostly done cooking, remove onto baking sheets or platter, flip the pizza crust so that the grilled side faces UP, that is the side you want to put your toppings on.

Lightly brush grilled side with garlic oil, spread pizza sauce onto crust, top with some cheese, veal, peppers and tomato halves. Add a bit more cheese if you like and return to the grill (closing the lid) just until the cheese is melted.

Top with basil, oregano or red pepper flakes, cut and enjoy!
Notes
Calories/Nutritional information will depend on how big your slices are and how much and what you choose to top your pizza with. The above is only an estimate based off of what I did, cutting each pizza into quarters, serving 4 people 2 slices each.
Nutrition
Serving:
6
servings
Calories:
524
kcal
Carbohydrates:
65
g
Protein:
25
g
Fat:
18
g
Saturated Fat:
4
g
Polyunsaturated Fat:
2
g
Monounsaturated Fat:
9
g
Cholesterol:
62
mg
Sodium:
1007
mg
Potassium:
373
mg
Fiber:
3
g
Sugar:
10
g
Vitamin A:
354
IU
Vitamin C:
36
mg
Calcium:
21
mg
Iron:
4
mg
Follow me on Tik Tok for 1 minute videos