Grilled food is pretty much my favorite overall type of cooked food. I mean, you can grill just about anything, breakfast, lunch, dinner or dessert! If you have yet to try your hand at making a Grilled Meatloaf, you don't know what you are missing!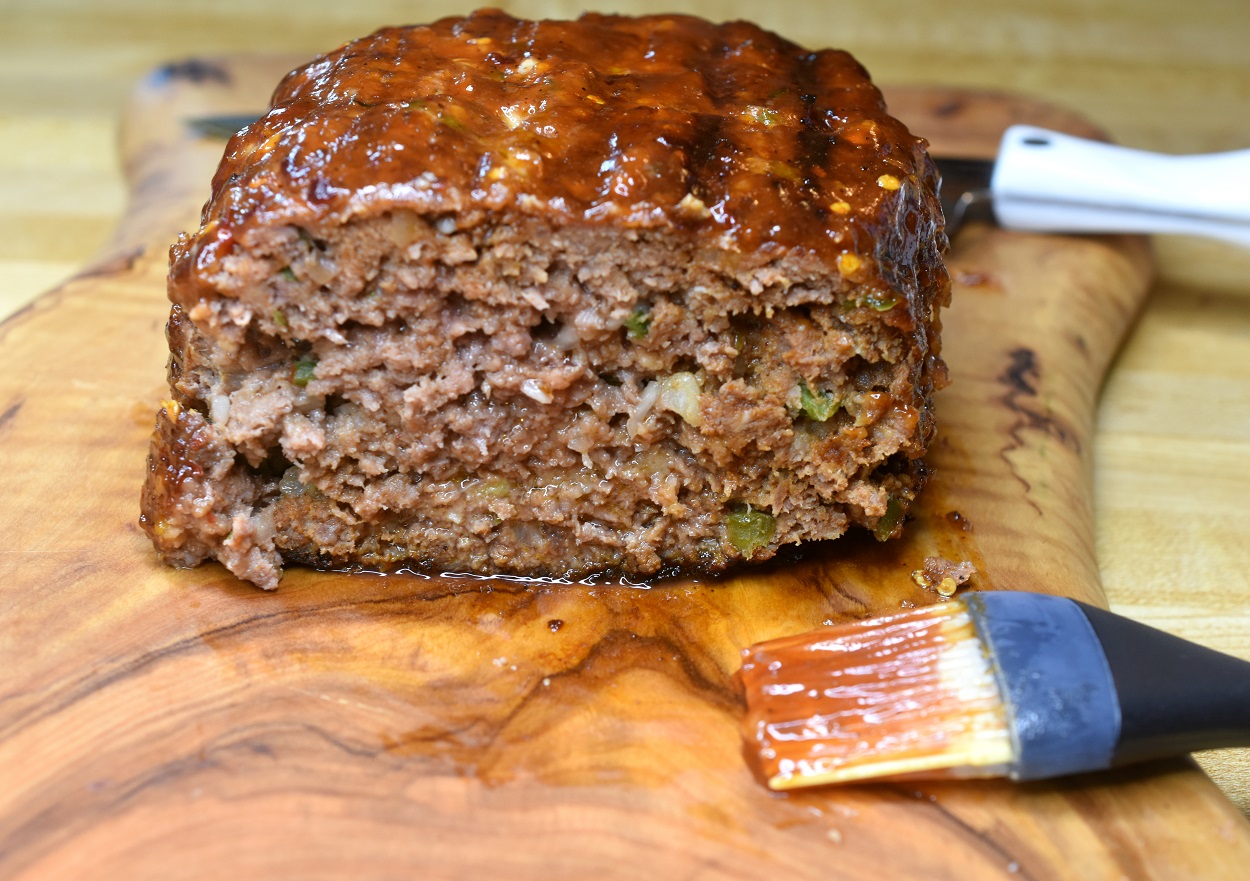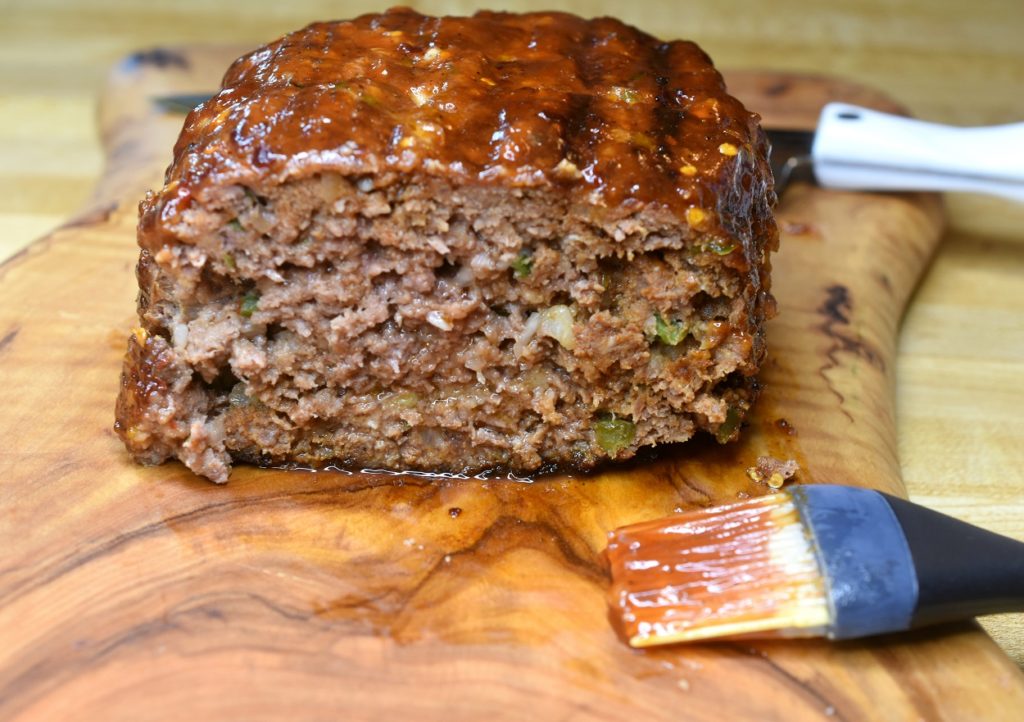 My husband really likes meatloaf. However my teen son, well he' s bonkers for it and considers meatloaf its own food group, lol! Which is why I make meatloaf in a variety of ways as well as often.
My sons favorite meatloaf has always been one where I sauté a good amount of onions, jalapenos (and/or poblano's or green or red peppers), season them well and then add them into the meat mixture already partially cooked.
You really can't go wrong when making a grilling a meatloaf. Add just about anything to it and it should work out. The trick is to season your mixture well (a bland meatloaf is so not worth eating) and inject as much flavor into it as possible by what you add to it.
I also enjoy making meatloaf (for me) with diced sautéed sweet potatoes, carrots and onions. It's so delicious and different. You get a nice sweet flavor from the veggies. Y-U-M!
How To Make Meatloaf On The Grill
When it comes to grilling a meatloaf, the best way to approach it (and the easiest way) is by making your meatloaf and then grilling it on foil. Double or triple up the foil or use heavy duty foil. Give it a quick spray of Pam or whatever you choose to use, place your formed meatloaf on the foil, mostly "open" and then place it on the grill.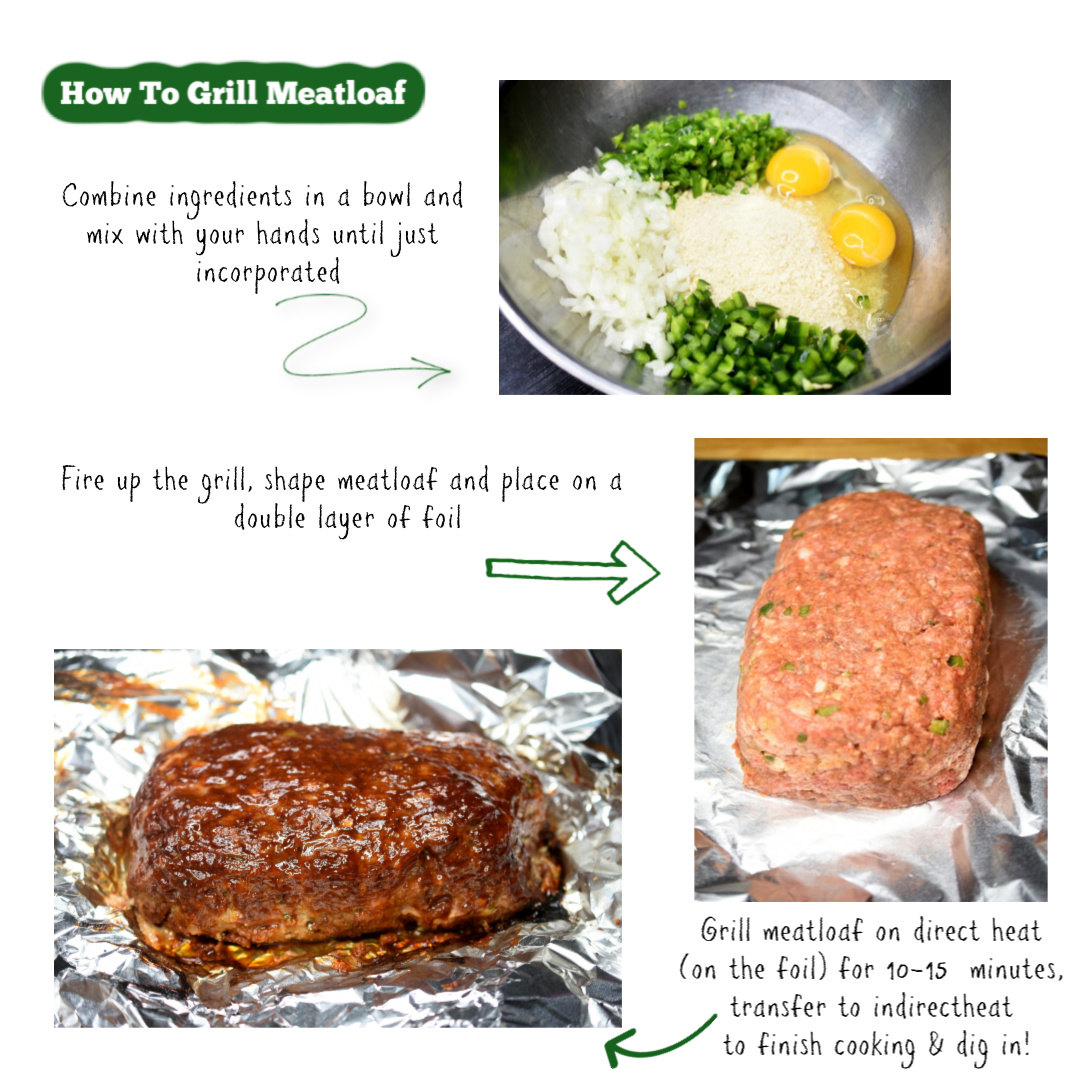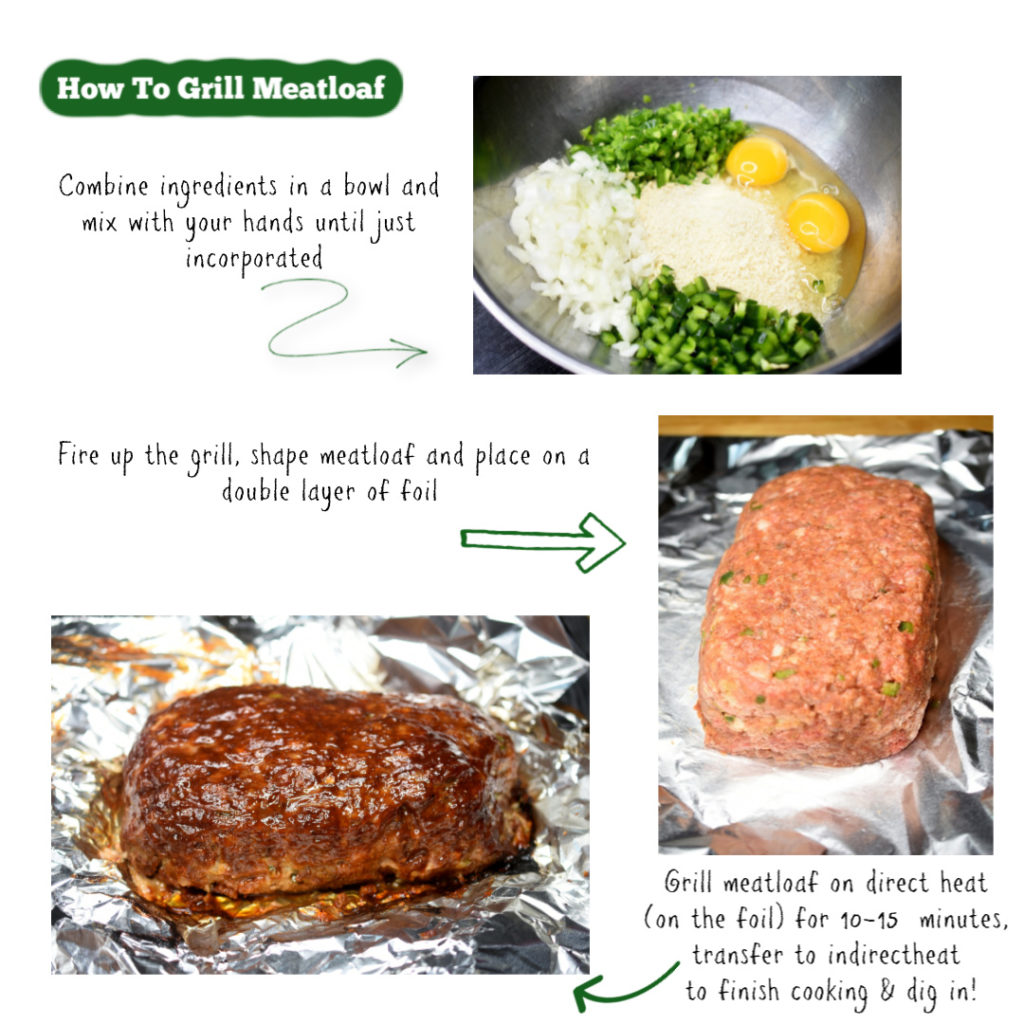 Make sure the burners directly under where you place the meatloaf are on medium. After 10 minutes, move your meatloaf to indirect heat and keep grilling until its done to your liking.
Grill Tip
Often, the temperature on top of the meatloaf is lower than the rest of it...so do you know what I occasionally do?? YUP, I flip the whole thing over for 5-7 minutes to finish it up PLUS it crisps up the top a little with some grill marks, love it!
I use a large BBQ spatula, tuck the foil in on the side I am about to flip and quickly yet gently turn it. If you flip it too hard it may split.
The grill lends such a nice smoky flavor to the meatloaf. If you have flavored wood chips, go ahead and use them and see what comes of it. Nothing but deliciousness...Especially Bourbon chips, mmmm!
You can also stuff peppers with your meatloaf mixture (here I used poblano peppers but you stuff any pepper you want! Like I say, you-do-YOU! These are flavor-BOMBS plus they cook QUICK! Let me know if you try these, visit my recipe post for Grilled Meatloaf Stuffed Peppers by clicking this link of the image below.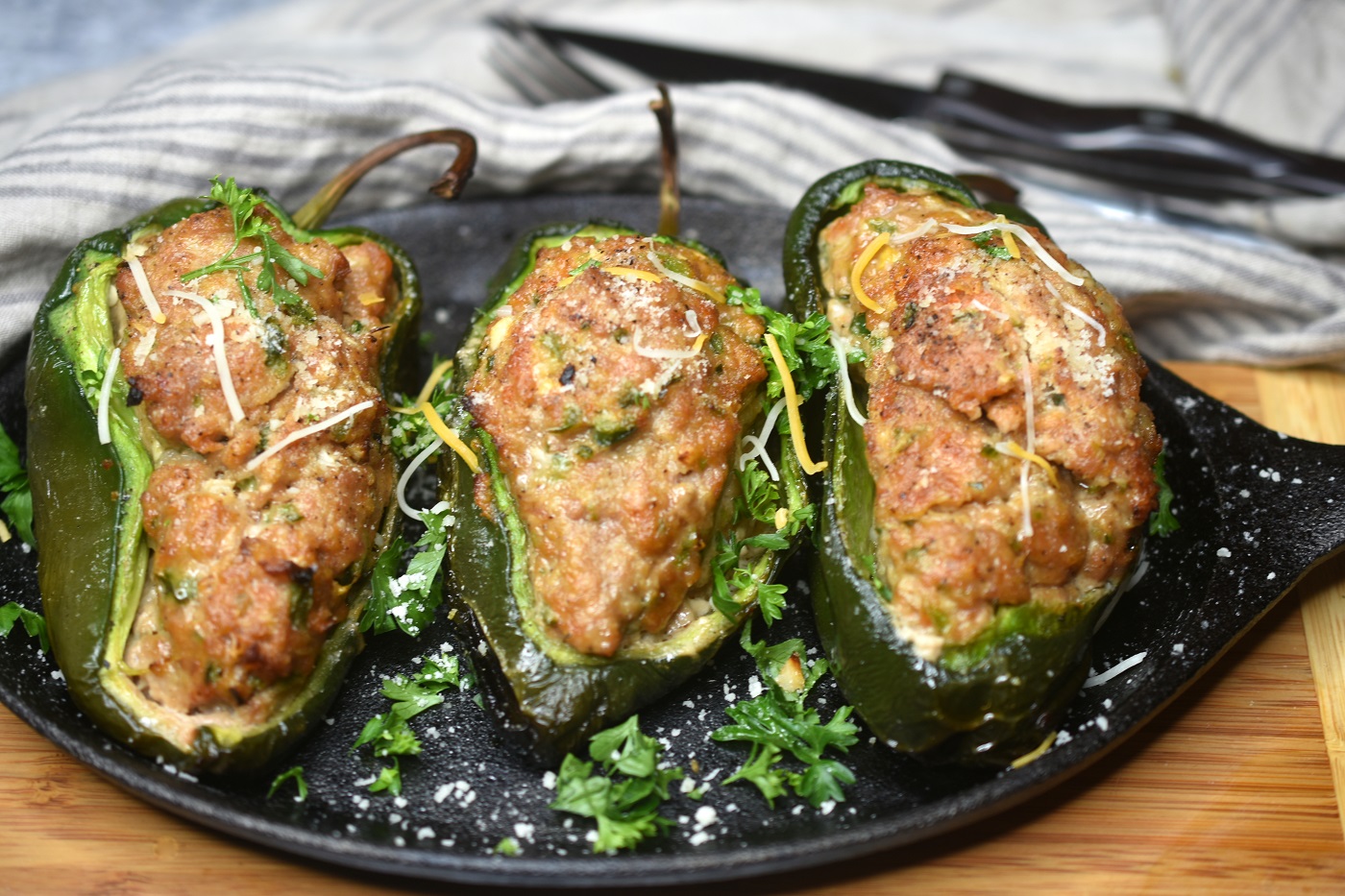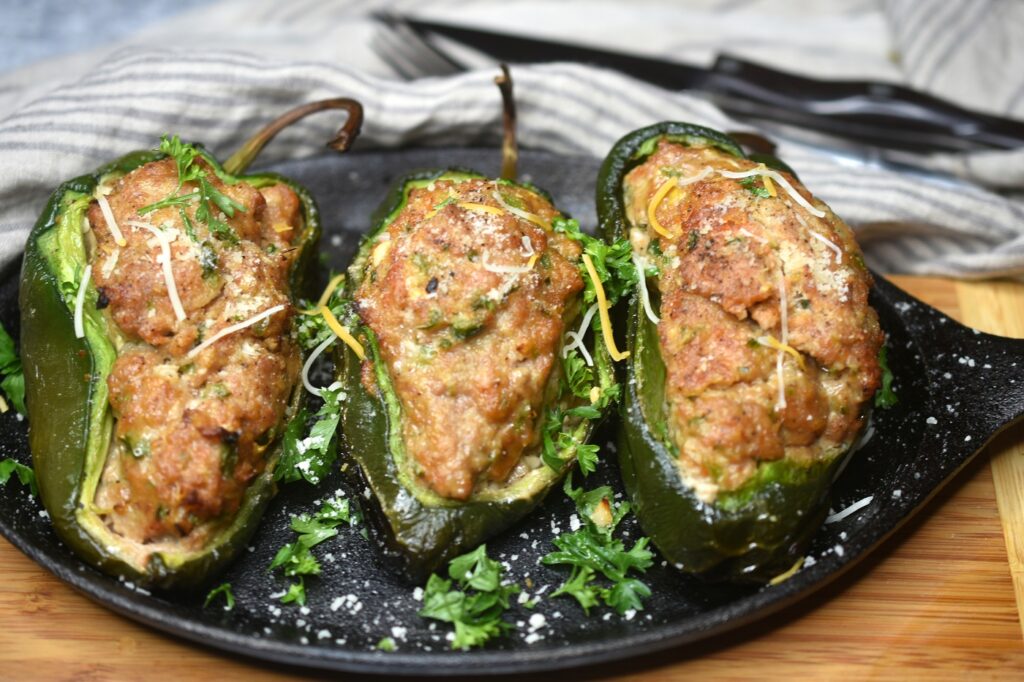 Variations to BBQ Meatloaf
Choose to sauté the vegetables you add (in 1 tablespoon of butter or olive oil). The vegetables DO cook as the meatloaf cooks if you do not sauté them first, this method just gives a more subtle texture since they are partially cooked first. I actually do it both ways depending on my time and mood. Typically, I do sauté the veggies when I cook a meatloaf in the oven, however I usually don't sauté them first when I cook a meatloaf on the grill, the high heat makes that unnecessary IMO.
Add in sautéed sweet potatoes or carrots to your meatloaf. Since they are both harder vegetables, sautéing them, makes for the best turnout. plus they are delicious in meatloaf.
Add in some ground pork for a different flavor. Typically I add in 1 pound of ground pork for 2 pounds of ground beef.
Try wrapping your meatloaf in bacon...Ummm, bacon! Enough said! Tip: if you have a dry rub you love, rub the bacon down with that after your wrap it. Y to the U to the M!
Try adding chili powder to your mixture, it gives the meatloaf a great smoky flavor.
For a little heat, add in red (cayenne) pepper or red pepper flakes to your mixture or an extra jalapeno.
Speaking of heat, add as much or as little jalapeno as you wish. remember leaving in the stems and seeds typically adds more heat, however that depends on the jalapeno, so burn your ears off and some are more mild
Use any pepper you wish, use all green or green, red, orange, yellow. It doesn't matter. Choose to use a poblano pepper or two (love that) or shishito peppers. Just clean out your fridge, lol!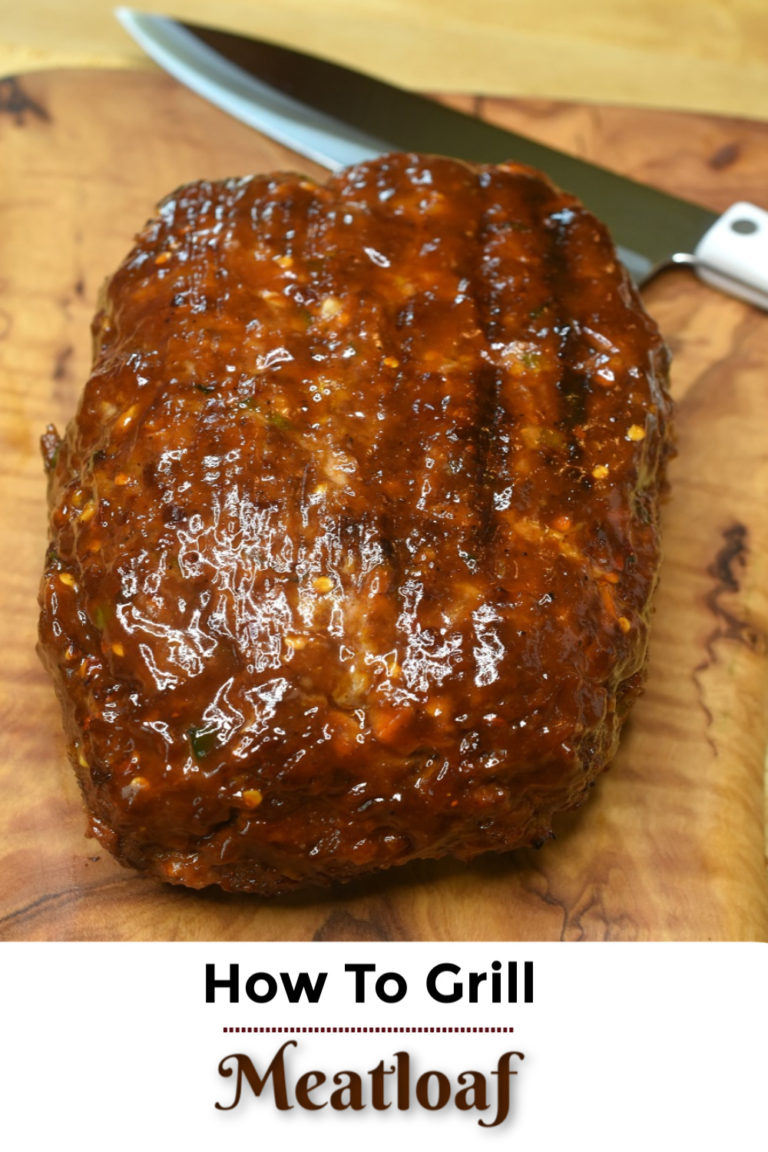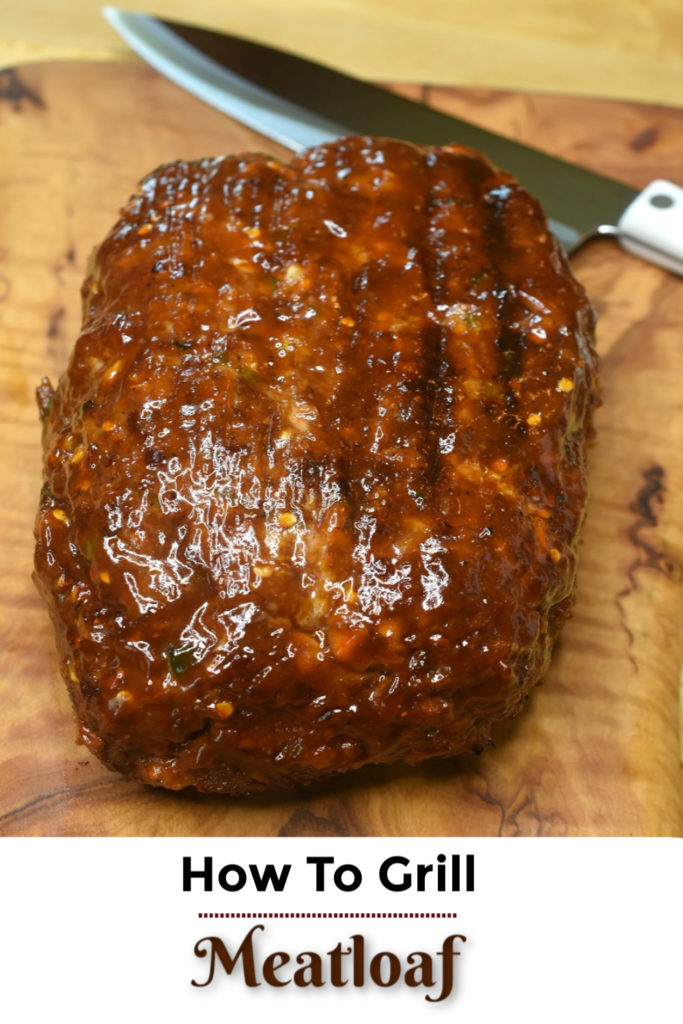 Tips for Grilling Meatloaf
To eliminate as much fat as possible, cut thick rings of onion and sit the meatloaf on top of those (almost like its on a rack). The fat will collect in the foil below and the onions will impart additional flavor.
In place of the onion, you can make rings from foil and accomplish the same thing.
Remember to move the meatloaf (or turn the burner off directly under it) and finish grilling on indirect heat. If you don't the bottom will burn.
Use a digital thermometer. I swear its life changing once you do. You will never overcook your meats again! This one from Amazon is perfect. Inexpensive, folds up and it does the job!
Promise me

you will try making meatloaf this way (pinky swear!!). Like I said, a great flavorful meal, easy clean up AND the house stays cool. Toss some potatoes on the grill or grill some veggies and you are set!
Grilled recipes to try
Enjoy!
Note: Since I am neither a registered dietitian or a nutritionist, for the nutritional calculations I use a WordPress plug-in to calculate. Post contains Amazon links which means I may receive a small commission from recommended purchases.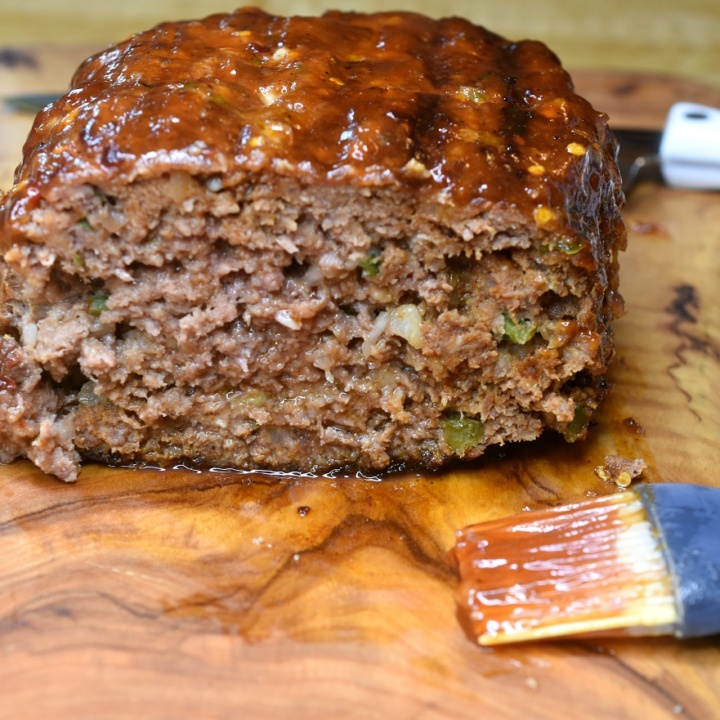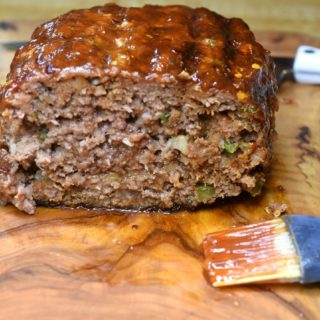 Grilled Meatloaf
We all know meatloaf is a quintessential comfort food however grilling it is a game changer! You need to give this Grilled Meatloaf recipe a try!
Ingredients
2

pounds

ground beef

2

TBS

minced garlic or garlic paste

¾

cup

chopped onion

1

whole

jalapeno pepper, chopped

1

cup

breadcrumbs (or up to an additional ½ cup)

1

eggs plus 1 yolk

1

TBS

Worcestershire sauce

½

cup

your favorite BBQ sauce

salt & pepper to taste, don't be shy
Instructions
Place ground meat in a large bow.

Add in the garlic, onion, jalapeno, breadcrumbs, egg and yolk and mix until just incorporated.

Add in the Worcestershire, barbecue sauce (or ketchup) and season generously with salt and pepper.

Form into classic meatloaf shape.

Place meatloaf on a double or triple folded piece of foil large enough to have room on the sides and ends (so you can almost envelope the meat).

Heat your grill to high and place the meatloaf (in foil) onto the grill. Leave the foil mostly open almost like your cupping your hands under something. This will allow the sir to circulate around the meatloaf and crisp it up.

Cook on direct heat for 10-12 minutes, then continue cooking on indirect heat (turn the burner off below where the meatloaf is placed) until done. Use a digital thermometer and remove meatloaf when temperature is 155 degrees in the center of the loaf. The temp will continue to rise after you pull it off the grill (to 160). Pulling it at 155 ensures a juice loaf.

Choose to brush your meatloaf a few times with additional barbecue sauce. Sometimes I actually FLIP the meatloaf, directly onto the grill to crisp the top and speed up cooking time...Plus get those grill marks! You just need to use a hefty spatula and flip gently but quickly. Up to you.

Allow the meatloaf to stand for 5-8 minutes, cut into it and enjoy!
Nutrition
Calories:
521
kcal
Carbohydrates:
26
g
Protein:
30
g
Fat:
32
g
Saturated Fat:
12
g
Cholesterol:
135
mg
Sodium:
517
mg
Potassium:
571
mg
Fiber:
1
g
Sugar:
10
g
Vitamin A:
93
IU
Vitamin C:
3
mg
Calcium:
85
mg
Iron:
4
mg
Follow me on Tik Tok for 1 minute videos