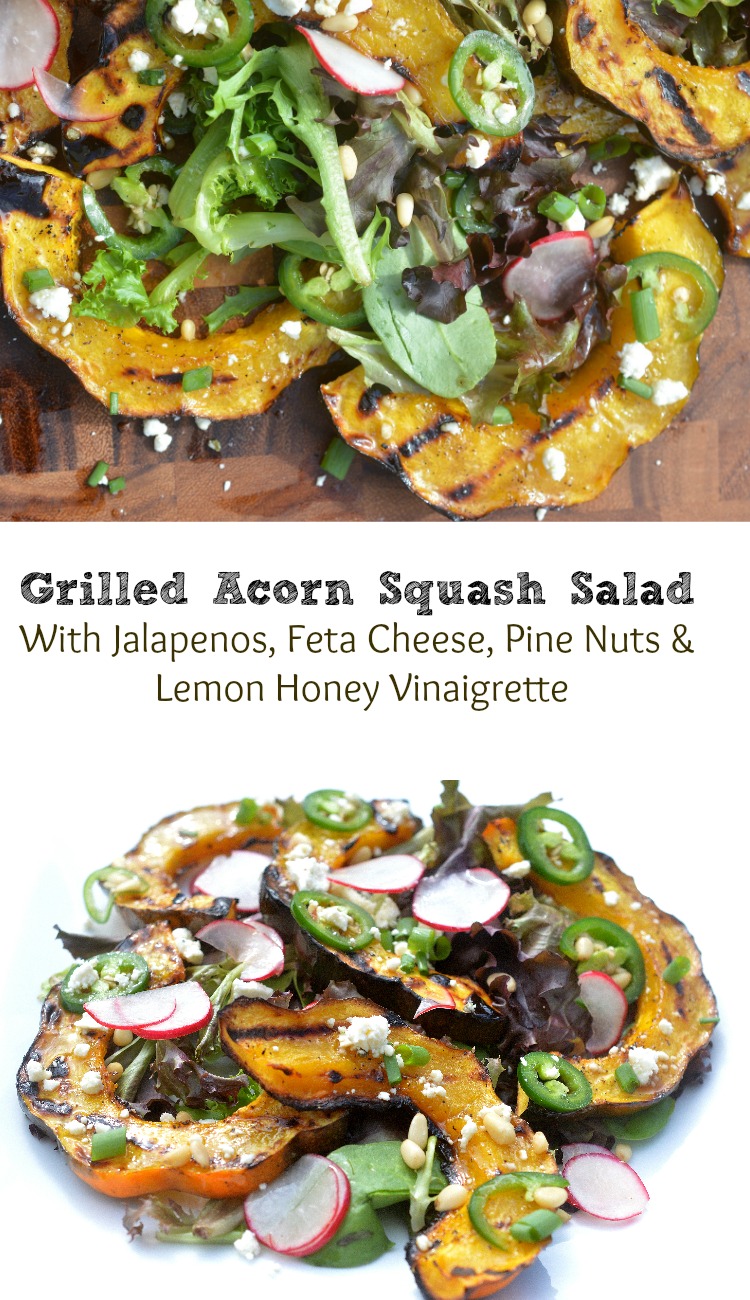 This Grilled Acorn Squash Salad highlights the flavors of Fall.  Grilling the squash lends a nice bit of smoke & texture to the slices and gives the salad a bit of smokiness. which I for one enjoy.
The big question is...do you eat the skin?  Well, that is a personal preference.  I like it as long as the skin is wilted and soft (which makes me slice it on the thin side).  If not, then like a shrimp cocktail or chicken wing...I pick up the slices and one by one, nibble them down to the skin,which I sometimes enjoy more mmmm!
Here is a great article from Bon Appetite on the whole debate! And don't forget the seeds of the Acorn Squash, they can be delicious!!
I made a Grilled Acorn Squash Side Dish as this months contribution to SABER Grills Better Barbecue Blog and thought...huh.  I should make a salad out of it as well.  So that is exactly what I did.  My sister was over the day I made & shot this and the two of us chowed down and were happily surprised by just how delicious the Grilled Acorn Squash Salad was.  Greens, jalapenos, feta, radish slices and pine nuts all came together nicely.  And the Honey Lemon Vinaigrette...Yum!
If spicy is not your thing, leave out the jalapenos.  Don't like feta, substitute goat cheese or your favorite cheese. Have some pomegranate seeds around, sprinkle them on. Something I totally would have done if they had been available (of course I just saw pomegranates yesterday, haha).
Visit SABER Grills Better Barbecue Blog for my recipe for the Grilled Acorn Squash with Jalapenos & Feta.  Then simply follow the recipe below to turn it in to a salad!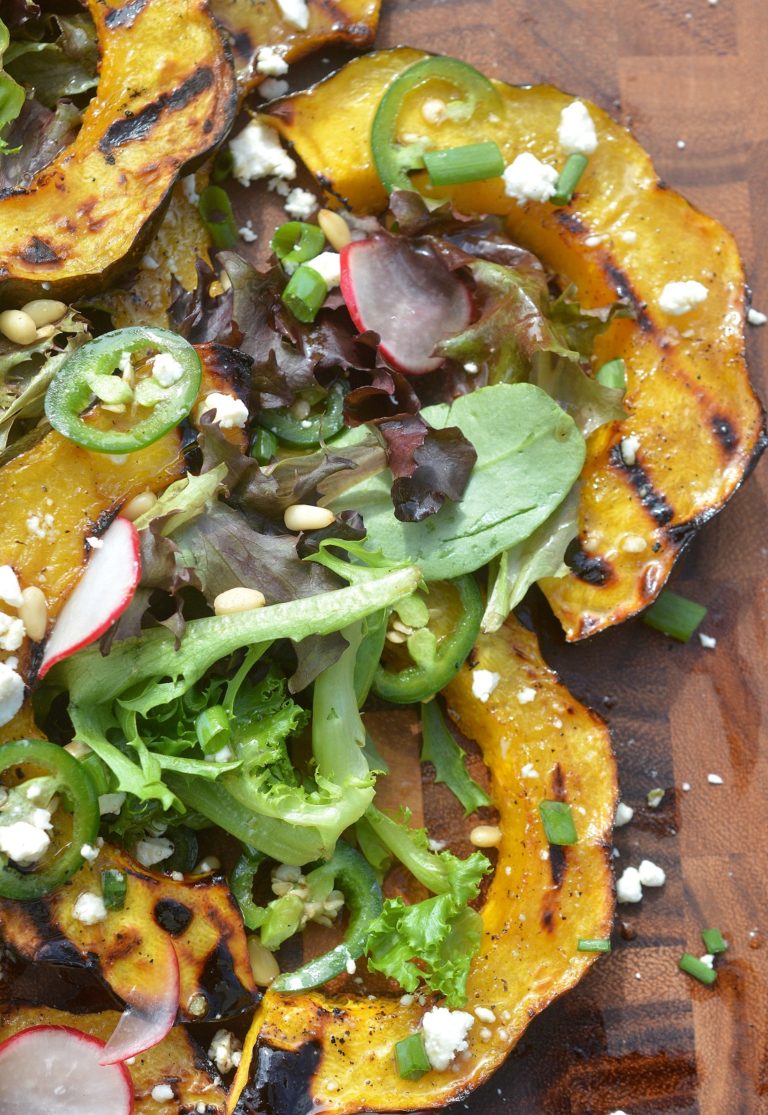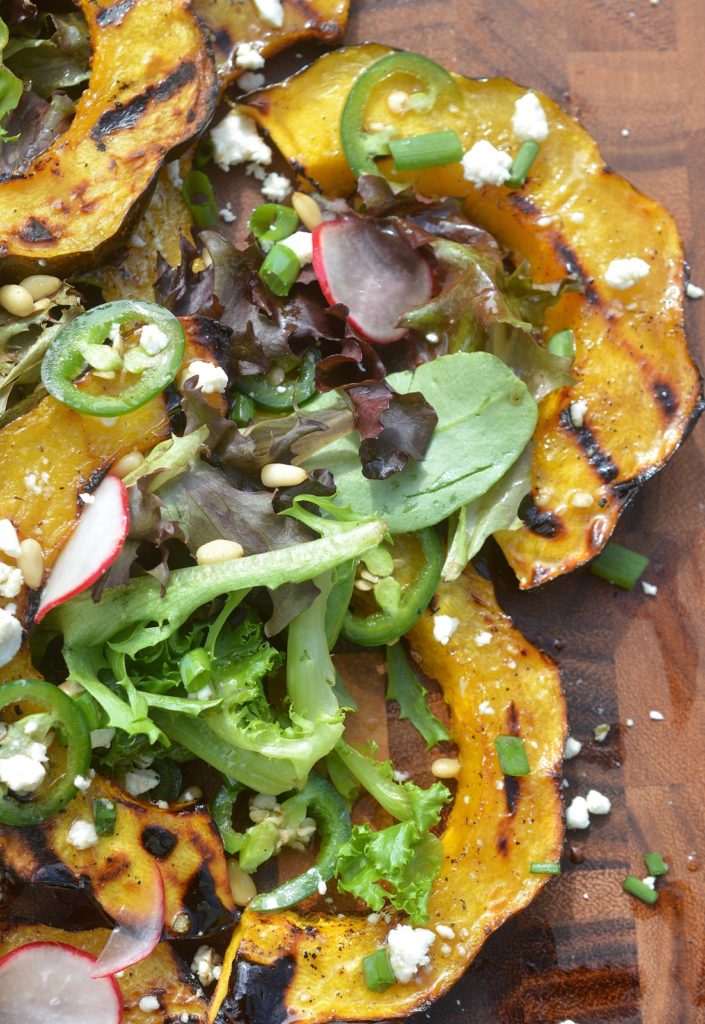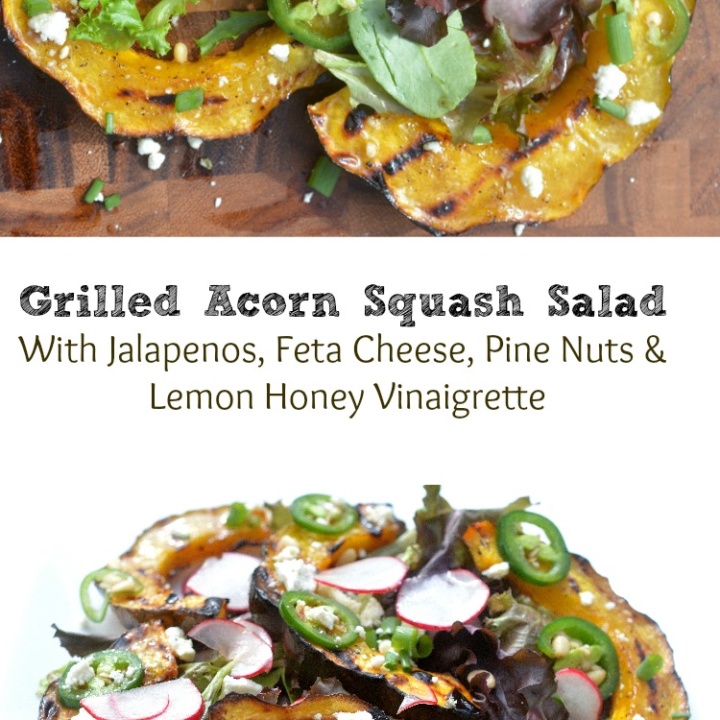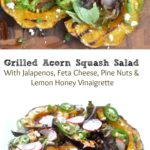 Print Recipe
Grilled Acorn Squash Salad
Ingredients
Spring Mix Greens

2

Large radish

sliced thin

¼

cup

pine nuts

Optional extras like crumbled bacon or pomegranate seeds

Honey Lemon Vinaigrette

½

cup

olive or grapeseed oil

1

TBS

honey

1

TBS

fresh lime juice

Red

Cayenne pepper (if you want a kiss of heat)

Salt & pepper

Splash of honey or balsamic vinegar
Instructions
Assemble greens on your platter or plate.

Add the Grilled Acorn Squash with Jalapenos & Feta, the radish slices and the pine nuts.

Add any extras you may be adding.

Make the Lemon Honey Vinaigrette, taste and adjust if necessary to your preference.

Drizzle the salad with the dressing and serve.
Enjoy!!