Who doesn't love a really good chicken wing?? These Crispy Baked Parmesan Garlic Wings are a delicious alternative to typical hot wings and bonus! These babies are oven baked. No need to fry wings at home when baking them turns out just as good (and easier too).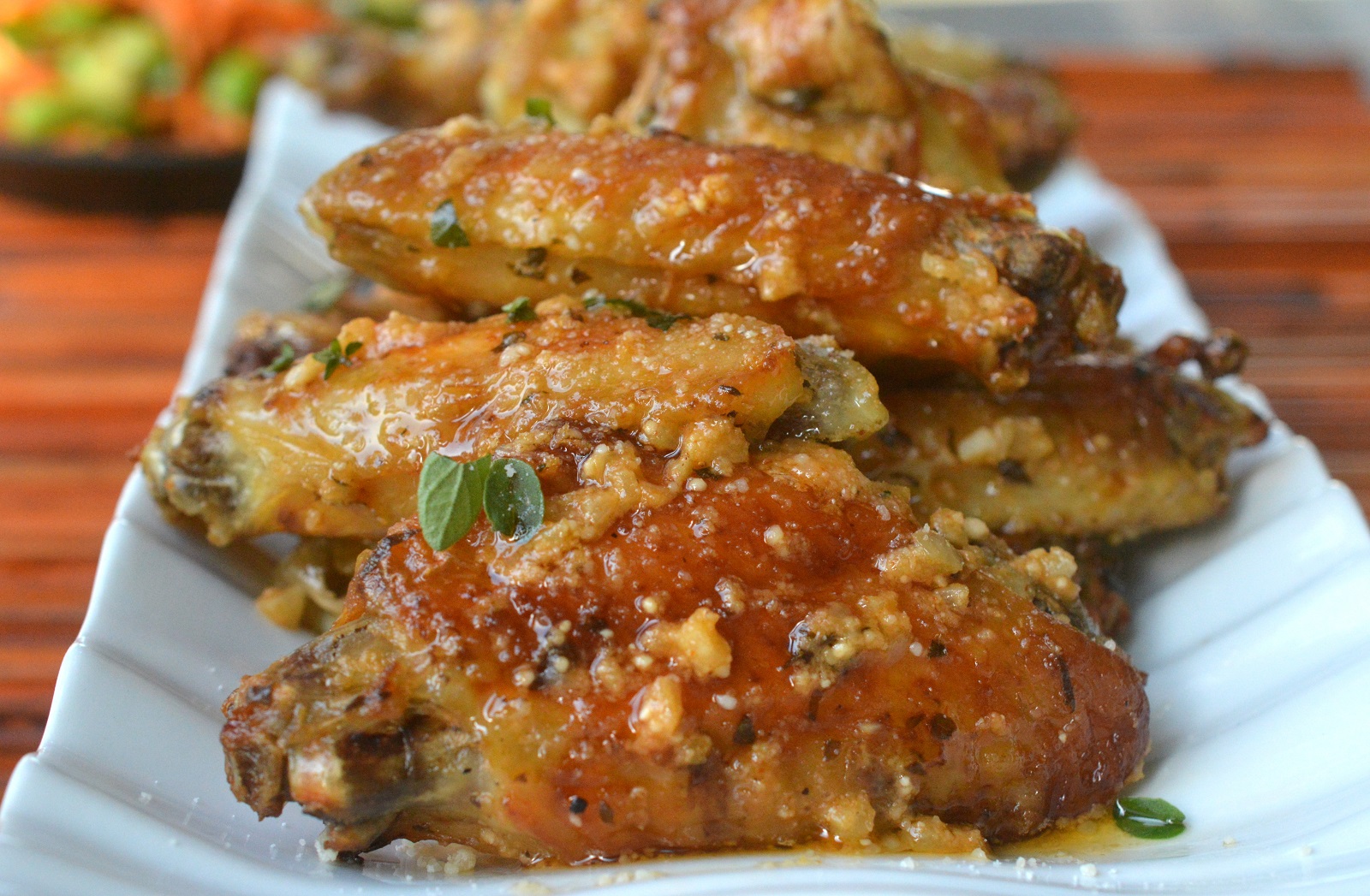 It took me many, many years to get on the chicken wing bandwagon. Call me a princess, but I had always liked my chicken boneless. I wanted my wings boneless but I truly had wing envy every time everyone around me was oohing and aahing about their wing order. So, I finally toughened up and jumped on that party train!
I only fry a handful of things at home and wings are not one of them. I found that baking or grilling wings end up just as delicious and so much easier, especially when making a bunch of chicken wings vs frying them.
The Parmesan Garlic Sauce on these wings is delicious! Your fingers will end up as delicious as the wings! Don't waste a drop!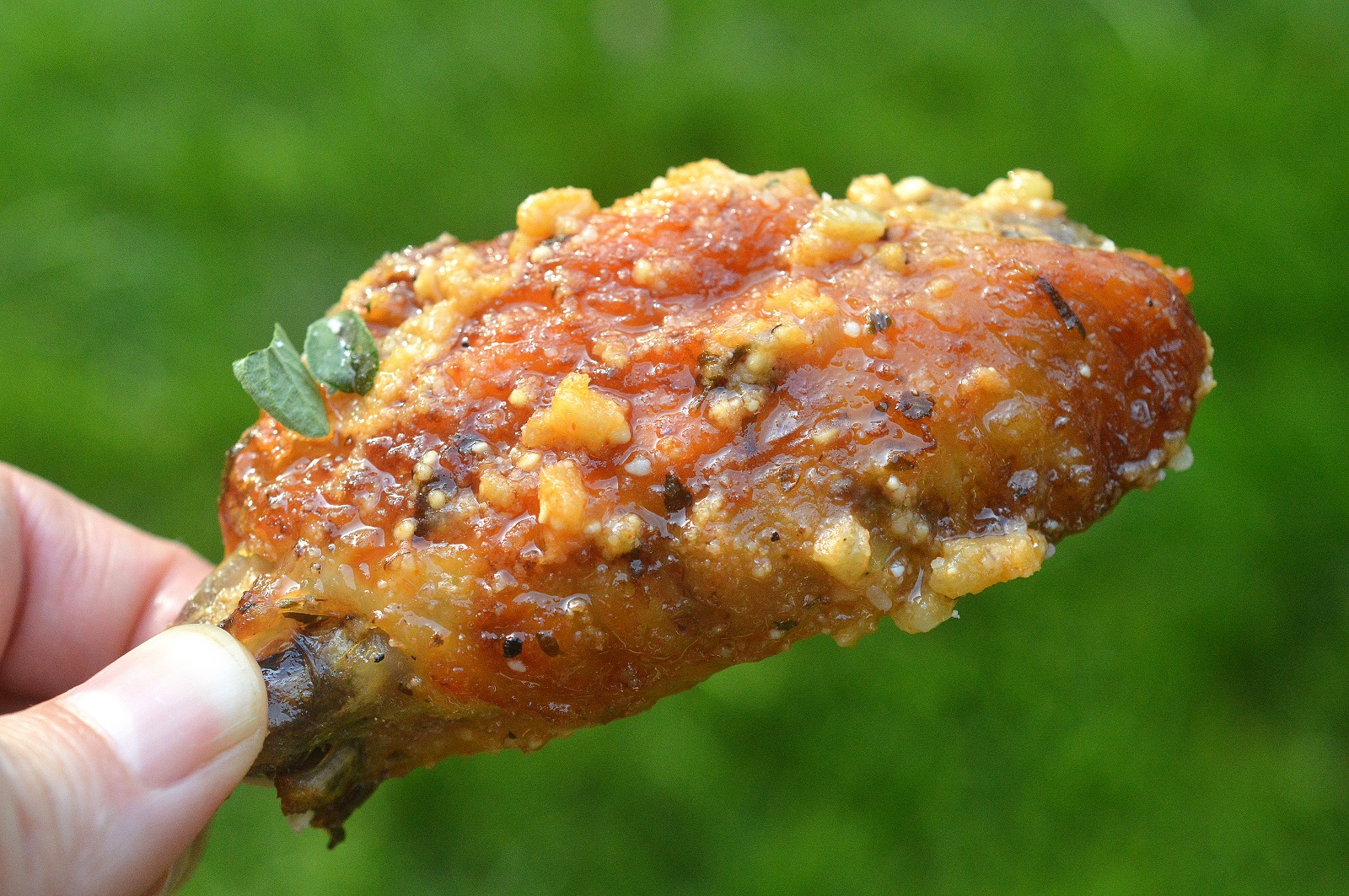 My favorite wing recipe had always been my Grilled Asian Style Wings, which I have made for many a party and sports watching gathering. Second is a Cajun rub I do on wings that my husband and I love. Since making these Crispy Baked Parmesan Garlic Wings, however, the Cajun has been knocked to third place.
I couldn't even get through taking shots of these wings without taking a big bite! The perils of food blogging are real, lol! Just ask my waistline!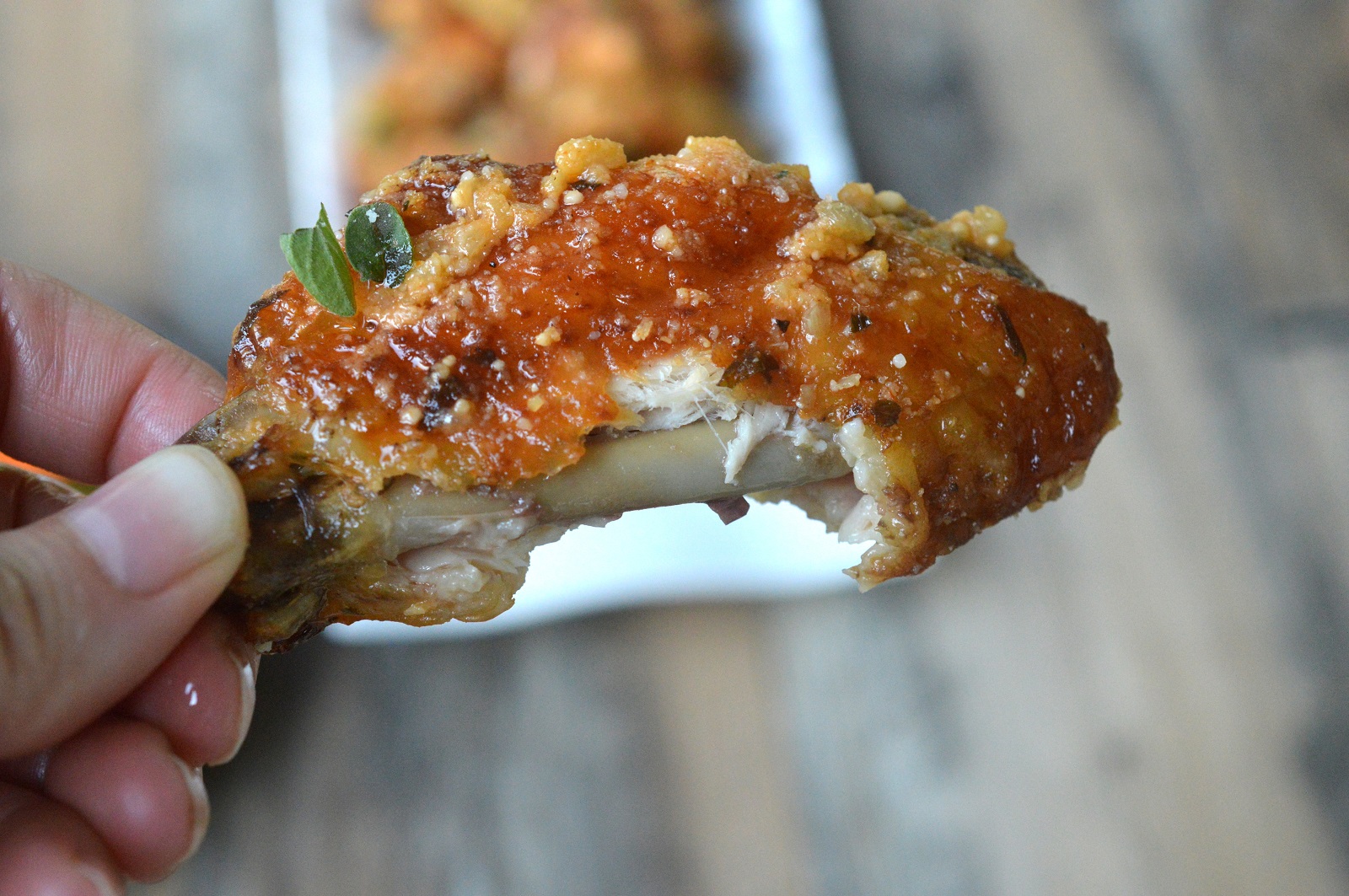 Which do you enjoy more? The drummette or the wing part? Me I like the wing part as seen above. Sometimes you can find fresh chicken wings already cut (love that). If not, frozen usually are or buy fresh and carefully cut them yourself.
Hope you try these wings out! Tag me with a pic on Instagram at @soufflebombay if you do! Love to see yours! I came across these wings on the website How To Feed A Loon. I adjusted the recipe a bit and baked them vs frying. Yummmm!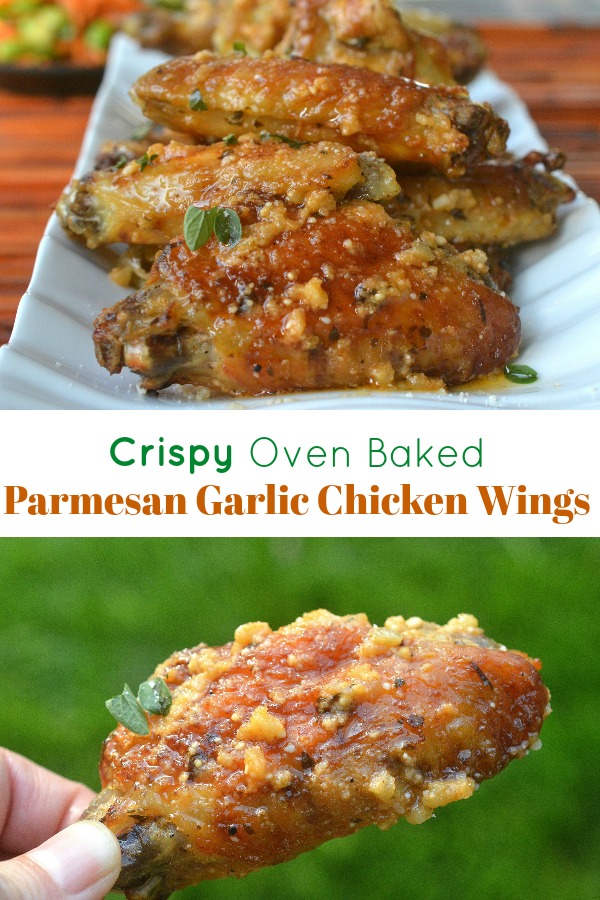 Crispy Baked Parmesan Garlic Wings
Author:
Adapted from How to Feed a Loon
Ingredients
2 lbs of chicken wings (drums and wingettes separated, if frozen make sure they are fully thawed)
1 tablespoon of olive oil
2 tablespoons of freshly squeezed lemon juice
1 tablespoon of fresh oregano, chopped
1 tablespoon of fresh thyme, chopped
½ teaspoon of cumin
1 teaspoon of Kosher salt
½ teaspoon of black pepper
Parmesan Garlic Sauce
½ cup of unsalted butter (1 stick)
2 TBS garlic paste or 2 large garlic cloves, finely minced
2 TBS your favorite wing sauce
¼ cup of chicken stock
1 teaspoon of onion powder
½ teaspoon of Kosher salt
½ teaspoon of fresh black pepper
1 tsp minced fresh thyme
½ tsp minced fresh oregano
¼ cup of grated Parmesan cheese
Instructions
Pat wings dry with a paper towel and place them in a large bowl
In a smaller bowl, mix together the oil, lemon juice, oregano, thyme, cumin, salt and pepper. Whisk until incorportaed.
Add wings to the bowl and toss to coat.
Cover and place the bowl in the refrigerator for 30 minutes
Pre-heat oven to 400 degrees.
Bake for 40 minutes or until fully cooked. Size of wings will determin a longer or shorter cooking time.
Meanwhile, in a medium saute pan, add the butter, wing sauce, chicken stock, onion powder, garlic powder, salt and pepper. Add in the garlic paste or fresh garlic. Heat gently for about 15 minutes and slightly reduced.
Remove the chicken from the oven and place in a clean large bowl.
Pour the sauce over the wings and then add the Parmesan cheese and herbs.
Toss well until all wings are coated.
Place on serving dish and enjoy!
If you choose, serve with blue cheese dipping sauce.
Notes
I have had success both when baking my wings directly on a baking sheet, as well as a baking sheet lined with aluminum foil as well as by lining a large baking sheet with aluminum foil then placing a metal cooling rack on top of that and sprayed with non-stick cooking spray. The key is carefully turning your wings a few times to ensure all sides crisp up.