10 Minute Tapenade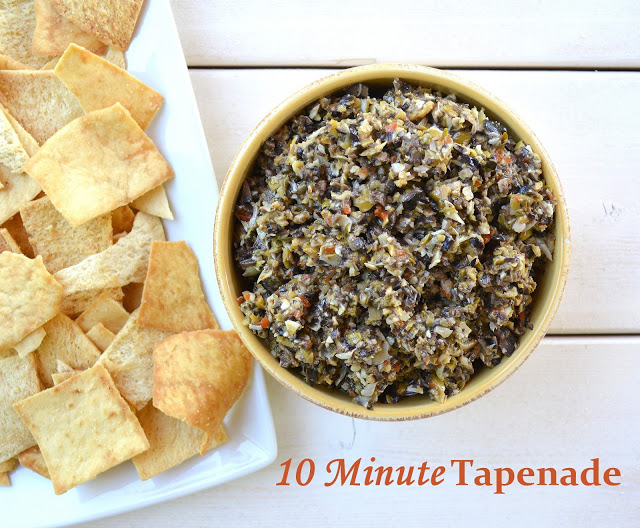 How about a light appetizer that can stand up to the heat on a summer's day, can travel easily AND only take 10 minutes to whip up??
I've got you covered!
Tapenade is a Provencal dish hailing from the South of France.  There, is is most commonly enjoyed spread onto crusty slices of various breads.  The French make it in more of a paste form and include olives, capers and anchovies.  The name tapenade actually comes from the Provencal word for capers – tapenas.
If you ever end up on Jeopardy and that question arises…you can thank me with cookies!
Long before I ever knew what tapenade was my sister was crazy for those flavors…and still is!
Sure you can buy a jar of tapenade for about $7.00 – but why not make it and customize it to your palate?
Me, I like to make it chunkier, I love the textures and flavors that way and I truly do have a slight addiction to capers – do I ever!
My 8 year old has whipped this up on her own as well – when helping me in the kitchen.  She always wants to man either the stand mixer or the food processor, lol!  Easy-peasy!
10 Minute Tapenade


2 big cloves garlic, peeled (about 2 TBS)
1/4 cup capers, drained
1 – 6 oz can black olives, pitted and drained
3/4 cup green olives with pimento
1 small jar (6 oz) artichokes, drained and blotted dry
1 tsp red wine vinegar
1 TBS olive oil
Black pepper to taste

Place garlic, capers, both olives and artichoke in your food processor bowl and pulse until combined.   Scrape into a large bowl, add in the vinegar, olive oil and pepper and toss until combined.  Serve with pita chips or fresh, thin slices of French bread.
Colleen's Notes:  You can make this up to a day ahead, just add the olive oil and do not add the vinegar until either just before serving or an hour ahead.  Toss well.
You can customize the flavors – add more or less garlic, omit the artichoke, add anchovies or roasted red peppers.  You can even sweeten it up a bit and add dried figs.  You can only use black olives also, which I think is the traditional way.
You can use this to stuff mushrooms, stuff chicken breasts or top a burger.  I bet this would be wonderful tossed with the Garlic Shrimp I make – just thought of that…now I have to try it out!