Have you ever had Candied Bacon aka Pig Candy?
If you thought bacon couldn't get any better...guess again!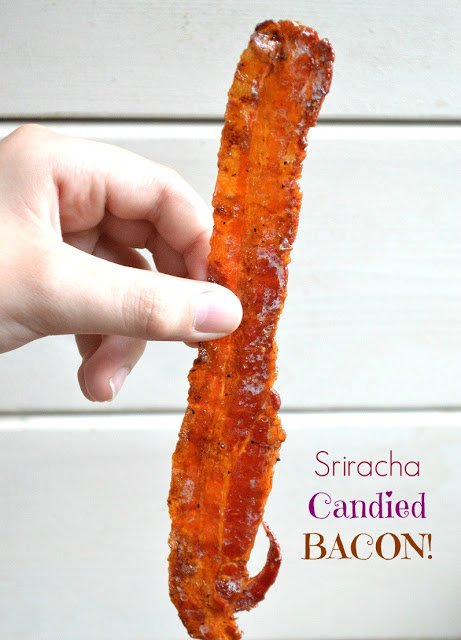 It's no secret that bacon is one of my top 5 favorite foods...I can barely control myself around it and usually type the word itself all capitals...just to show my excitement for it, lol...BACON!!
Today I am sharing this delicious twist on traditional bacon...which by the way is a component of a recipe I will be sharing this Thursday...WITH...are you ready? A SABER Grill Giveaway! A prize worth $1,140.00! Just in time for Fathers Day! So be sure to pop on back and enter! I am SO excited for whomever wins this grill! It's gorgeous!
Bacon by itself, on salads, wrapped around vegetables or meat...any way you want to give it to me I will take it and maybe even run away with it!
True story...When I was a kid, as the oldest of 9 grand-kids, I had a special relationship with my Irish Grammy and would sleep over her house on the weekends so much that the other cousins would call her spare room "Colleen's Room" lol!
I loved my Grammy for a number of reasons, one of them was that she knew of my...shall we say...extreme appreciation of bacon and because of it, she would make me a plate full every morning. A-Plate-Full-Of-BACON-Just-For-Meeee!
That may not sound super special to you, however, as the oldest of 5 kids, in my house I was lucky if I got 2 pieces of bacon...So to have a whole plate of BACON!! JUST FOR ME!  Well, that...that  was spectacular in my book!
I ate so much bacon at my Grammy's house that I stopped eating it completely for about 2-3 years...Really.  I had to take a bacon-break! I couldn't even look at bacon for a while...True!
What's that old adage...To much of a good thing...
Bacon & I eventually rekindled our relationship and its been smooth sailing ever since!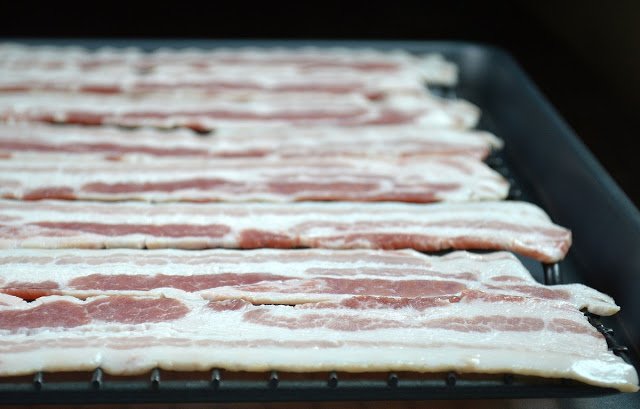 The first time I ever tasted Candied Bacon, I was stunned.  I couldn't believe the crunch and the burst of sweet & salty...I loved it!
Some call it Candied Bacon, some call it Pig Candy...I simply call it delicious!
Call it what you want, then make it!!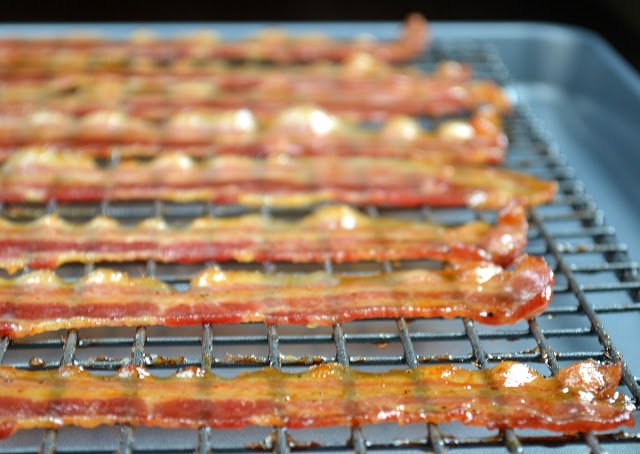 Make it, Make it, make it!  And spice it up while you are at it...Why not!
Then crunch and munch you way to BACON Heaven!
Put it in a cocktail, crumbled over-top ice cream, meats, a cake...it all works!
Just don't cover it in chocolate...Yup, I know that is a thing...It's just not a thing for me!
I decided to kick it up a notch and make it a little bit spicy!
 This recipe is adapted from Thrillist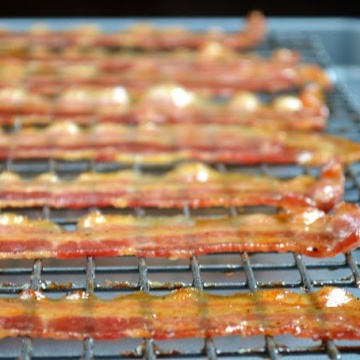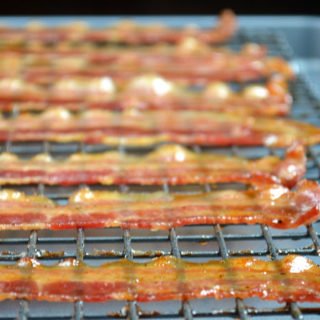 Sriracha Candied Bacon AKA Pig Candy
Ingredients
1

pound

of bacon

¾

cup

lager

beer

1

cup

pure maple syrup

½

teaspoon

black pepper

1

teaspoon

Kosher salt

1 -2

TBS

Sriracha
Instructions
Place 1 pound thick sliced bacon on a wire pack over-top a baking sheet and bake at 375 degrees for 20 minutes or until crispy.

Remove from oven.

Combine beer, syrup, pepper salt and Sriracha in a small saucepan.

Bring mixture to a boil, then reduce it to a simmer.

Continue simmering until reduced by half (approximately 20 minutes) and it appears thicker than syrup BUT not like candy, so watch it carefully after the 15 minute mark.

Brush bacon on both sides, nice and thick, with glaze and return it to the oven for 7-10 minutes or until it caramelizes. Allow bacon to cool for 5 minutes.

Enjoy!  Best eaten the day it is made.

Tip: To clean your baking sheet - pour boiling water onto the sheet, swirl with a spatula until crispy drops dissipate.
Follow me on Tik Tok for 1 minute videos
Enjoy!!