One of my favorite ways to show love is through my kitchen. Homemade food gifts are something that everyone can appreciate. Whether they enjoy a sweet treat like cookies or candy, a homemade beverage, or a new flavor of jam, you're bound to find something they'll love on our list of the BEST homemade food gifts.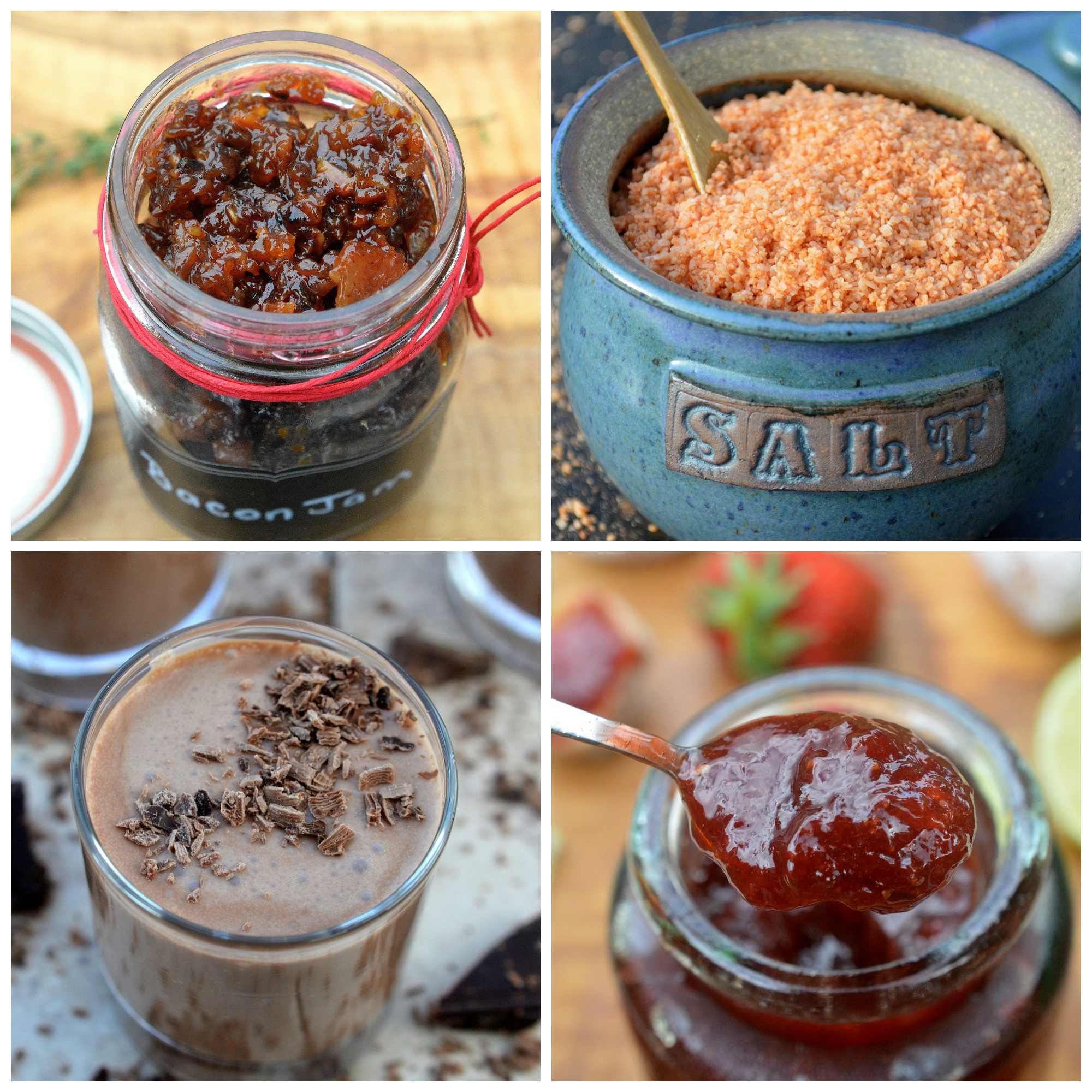 Homemade food gifts are obviously great during the holidays but should not be reserved for the short season! Teachers deserve homemade treats year-round. Don't forget about all those other gift-giving occasions: birthdays, anniversaries, housewarmings, and graduations.
I have all sorts of ideas Pinned on my Food Gifts Pinterest Board, take a look!
Try sweet treats like these...
1. Easy Chocolate Bark - This homemade chocolate bark can be topped with your favorite nuts, dried fruit, and coconut.
2. Salted Dark Chocolate Nut Clusters - Sweet and salty Dark Chocolate Nut Clusters are made with toasted mixed nuts, dark chocolate, and a touch of salt. They're super easy to make and they make elegant edible gifts!
3. 4-Ingredient Almond Crunch Milk Chocolates - These super-duper easy milk chocolates with almond crunch candies will be loved by everyone (even those that don't like nuts in their chocolate). They are based on a Norwegian favorite, the Krokanrull.
4. Soft and Chewy Sea Salted Caramels - These chewy salted caramels are an easy, homemade gift for family, friends, neighbors, and teachers. They're soft and chewy, creamy and sweet, with a healthy dusting of flaky sea salt for the perfect sweet-savory bite.
5. Apple Cider Caramels - This Apple Cider Caramels recipe makes mouthwatering sweet and sour chewy caramels. They take some work but are totally worth it.
6. 4-Ingredient Chocolate & Peanut Butter Squares - These candies are so easy to make you will wonder why you haven't before. Makes a great gift (don't forget to include the recipe). And no, you do not need a fancy pan to make these, simply cut them into squares and package up with some tissue in a box.
7. Baileys Irish Cream Marshmallows - Make these marshmallows to give to your favorite hot chocolate drinker. They'll love making their next steaming mug of hot chocolate Irish!
8. Cinnamon Sugar Pretzels - Cinnamon sugar pretzels are a salty, sweet, chocolate crunchy snack that not only looks pretty but is super easy to make. These snacks are perfect for gifting because they only require 5 ingredients.
9. Honey Lollipops - These are beautiful when wrapped in plastic and tied with a little ribbon. Great for a tea-lover as stir sticks or to give as a gift to someone feeling a little under the weather.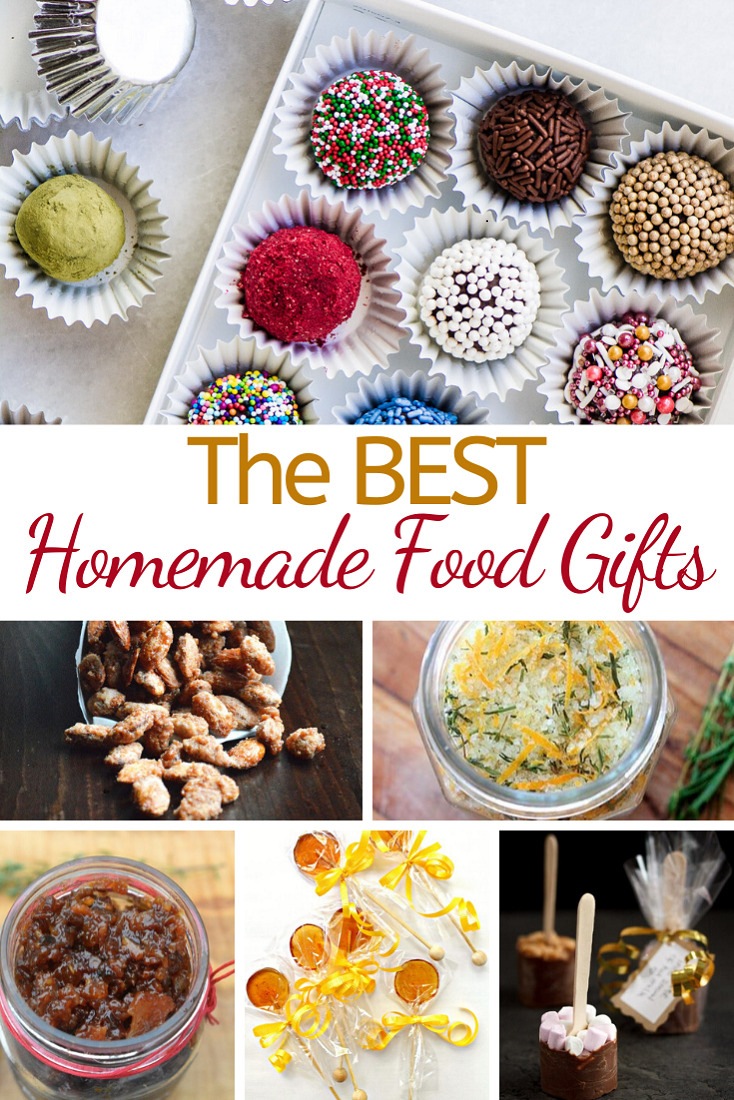 Or something more like these...
10. Carrot Cake Biscotti - For the carrot cake lovers or biscotti lovers in your life. This Carrot Cake Biscotti is different and delicious! If Biscotti is your thing, I also have deliciously easy recipes for Caramel Cappuccino Biscotti, Pumpkin Biscotti, Eggnog Biscotti and more. Just click HERE to get to them.
11. The BEST Irish Soda Bread - Heading somewhere for St. Patrick's Day? You better make this cake-like Irish Soda Bread and take it with you! Or make it festive and make Cranberry Lime Soda Bread!
Don't forget about the drinks!
12. Crema di Limoncello - This homemade Limoncello makes a great gift at any time of year. It can be served cold as-is, used as a base for cocktails, drizzled over desserts, or as an ingredient in other recipes. Gift it with a few ideas for the recipient.
13. Chocolate Moonshine - One of the BEST and easiest boozy gifts you can make for gifting, host/hostess gifts or just to bring to a party! 15 minutes is all you need to make this and you will wow the room! OR try these make-ahead Peppermint White Chocolate Martinis!
14. Homemade Cranberry-Infused Vodka - This garnet-hued vodka is perfect for sipping on its own or mixing in cocktails and it makes the perfect gift for cocktail lovers.
15. Hot Chocolate Sticks - Not only are these gorgeous when packaged, but these hot chocolate sticks can be customized into some awesome flavor combinations.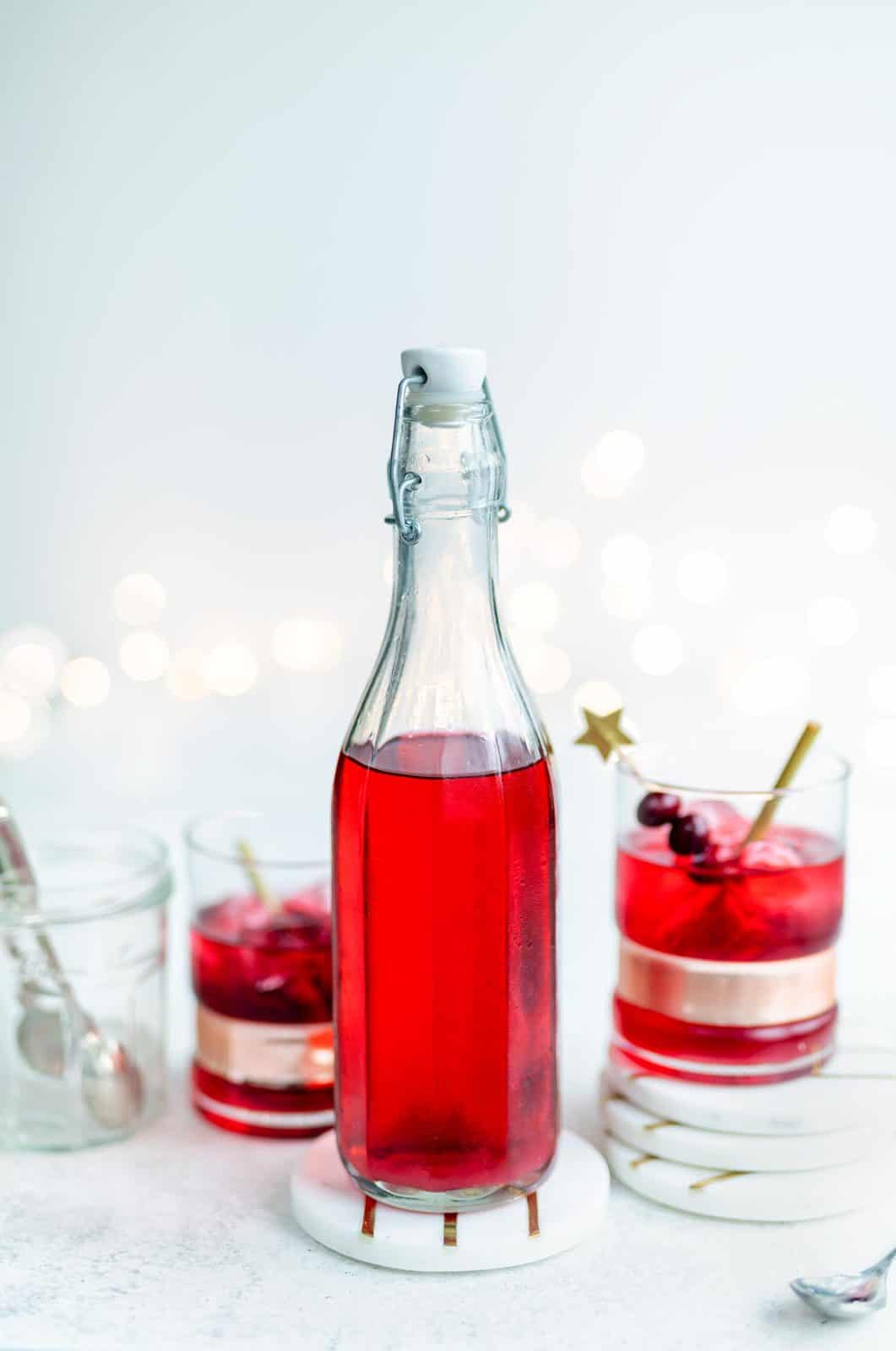 Are these homemade food gifts just for the holidays?
Absolutely not! Homemade food gifts are great for any time of year and not always for a special occasion. Any of these delicious homemade foods would make an amazing gift when you want to bring something to a hostess or want to gift something "just because". If you're looking specifically for food gifts for the holidays, these ones would really fit that bill. I love buying glass bottles and filling them with homemade boozy gifts. I use these for full size and these for mini gifts. So fun!
16. Easy Eggnog Biscotti - Eggnog Biscotti is a fun and festive homemade food gift during the holiday season.
17. Candy Cane Meringue Cookies - Another fun homemade food gift for the holiday season. Lets the kiddos help with this one.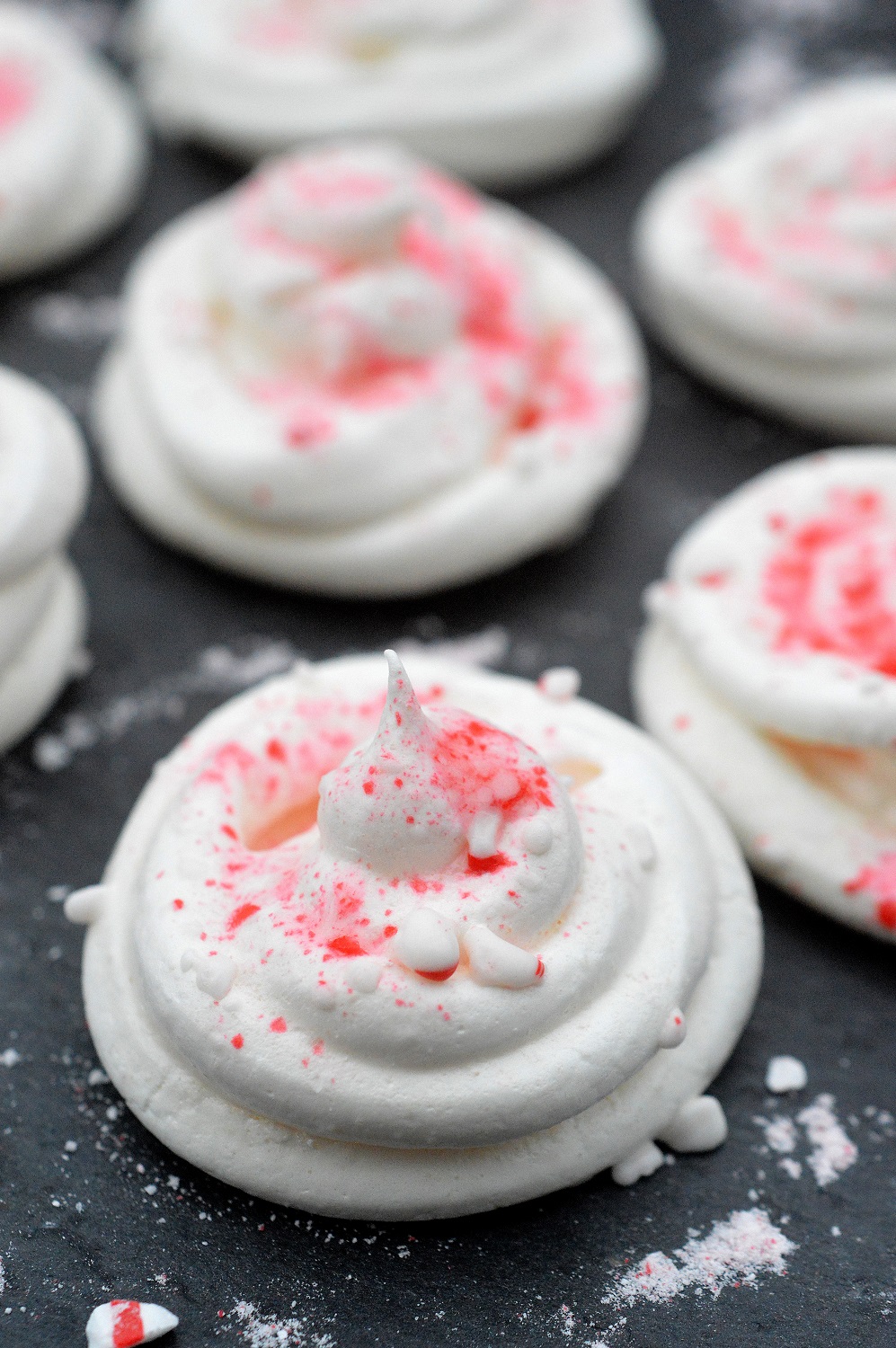 18. White Chocolate Eggnog Truffles - These eggnog-inspired white chocolate truffles are spiked with dark rum and lots of freshly grated nutmeg. It's all the goodness eggnog in a portable, bite-sized, chocolate-covered treat!
19. Holiday Homemade Apple Brandy - It is like sipping the holidays! Its apple pie flavor is divine and is a drink that can be served warm or cold.
20.
Quick and Easy Peppermint Fudge
- This lusciously smooth chocolate fudge takes just minutes to prepare and is poured right into the decorative tins used for gifting! No slicing and no wrapping necessary! It doesn't get much easier than that!
21.
Homemade Fluffy Peppermint Marshmallows
- With a hint of peppermint, these fluffy marshmallows are perfect for the holidays and the cold winter months. Gift them with a box of hot chocolate and a cute new mug.
22. Hot Cocoa in a Jar - Who doesn't love hot cocoa for the holidays? Grab the sweet printable gift tag with instructions and it's the perfect little gift.
23. Jewel Box Truffles - There's just something about a box of chocolates. Make sure you pack these in a box with a clear lid because they're too pretty to hide!
24.
White Chocolate Gingerbread Granola
- Gingerbread and the holiday season go hand in hand. This granola is full of flavor with nuts, oats, coconut, real maple syrup, molasses, and all the spices. And let's not forget about the white chocolate chips!
How do I package homemade food gifts?
There are so many fun ways to package up those tasty homemade food gifts. You can put them on a cute plate and wrap it with vellum, tying a ribbon around the top. Pack up some homemade baked goods in a resealable plastic bag by covering the resealable portion with themed scrapbooking paper or cardstock. Cardboard display boxes are great for those gorgeous homemade candies and cookies. You can package your gift in a jar of any shape or size and add a label.
What kinds of homemade food gifts work best in jars?
Honestly, I think you can serve just about any homemade gift in a jar. They come in all shapes and sizes, so find one that works for your gift from the kitchen. Obviously, jellies and jams will be in a jar. You can dress up those jars by putting a little fabric on the top and tying it all together with some pretty twine or ribbon. Don't forget the labels or instructions.
25. Bacon Jam - Anyone you gift Bacon Jam to will be HAPPY! It's delicious! Put it on all the things!
26. Jalapeno Jelly - Bring this as a gift to the host at the next barbecue. It's delicious on a juicy burger or they can use it as a dip.
27. Pineapple Jam - This is a great 2-ingredient recipe that makes one perfectly-giftable jar of jam in just twenty minutes. It's bright and sweet, so it's a great way to lift someone's spirits.
28. Easy Refrigerator Strawberry Jam - This easy to make homemade jam is a perfect recipe to get the kids involved with. They can help and then gift jars to their grandparents, teachers, and neighbors with a feeling of accomplishment.
29. Jalapeno Relish - For the spicy people in your life, make this easy Jalapeno Relish. Include the recipe and suggestions for use on a tag.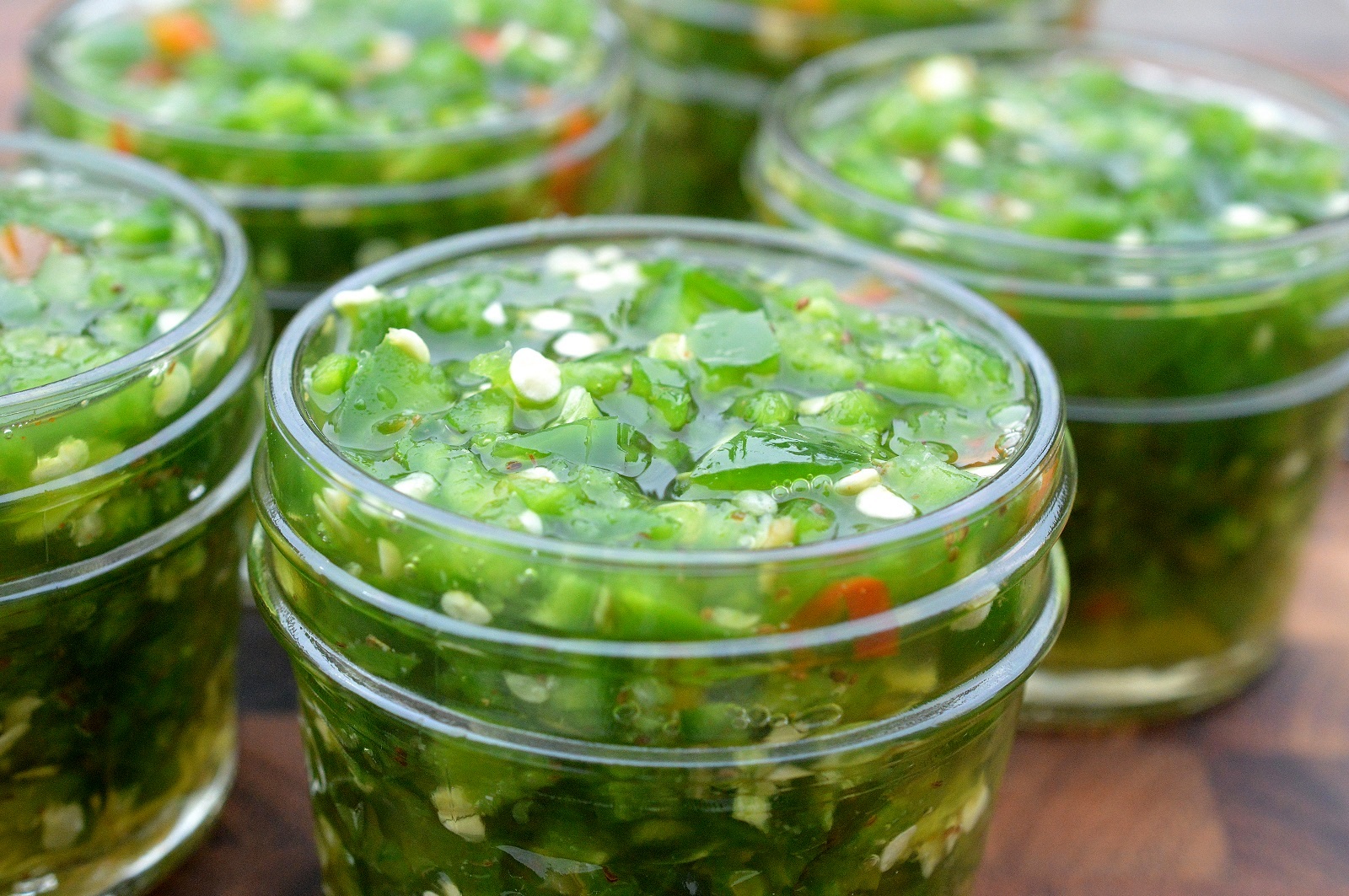 30. Homemade Sriracha - All you need to make this homemade hot sauce is some hot peppers and time. I know you know a few people that would love a jar of homemade hot sauce.
31. Rosemary, Orange & Thyme Flavored Herb Salt - This flavored salt uses herbs and citrus available year-round: rosemary, thyme & navel oranges. Don't forget to include a handwritten or typed card with ideas for using the salt in recipes.
32. Smoked Salt - Foodies will love receiving a jar of homemade smoked salt. It's great on chocolate, french fries, or even used as margarita salt!
33. Spiced Lentil & Split Pea Soup in a Jar - You can cut the recipe in half if your recipient will not need a batch that will serve 6-8. However, the soup freezes well so I always figure the more soup the better.
34. Brownies in a Jar - These make the perfect homemade gift for a teacher, friend or neighbor because they make the brownies whenever they're ready for them. Grab the free printable recipe gift tag.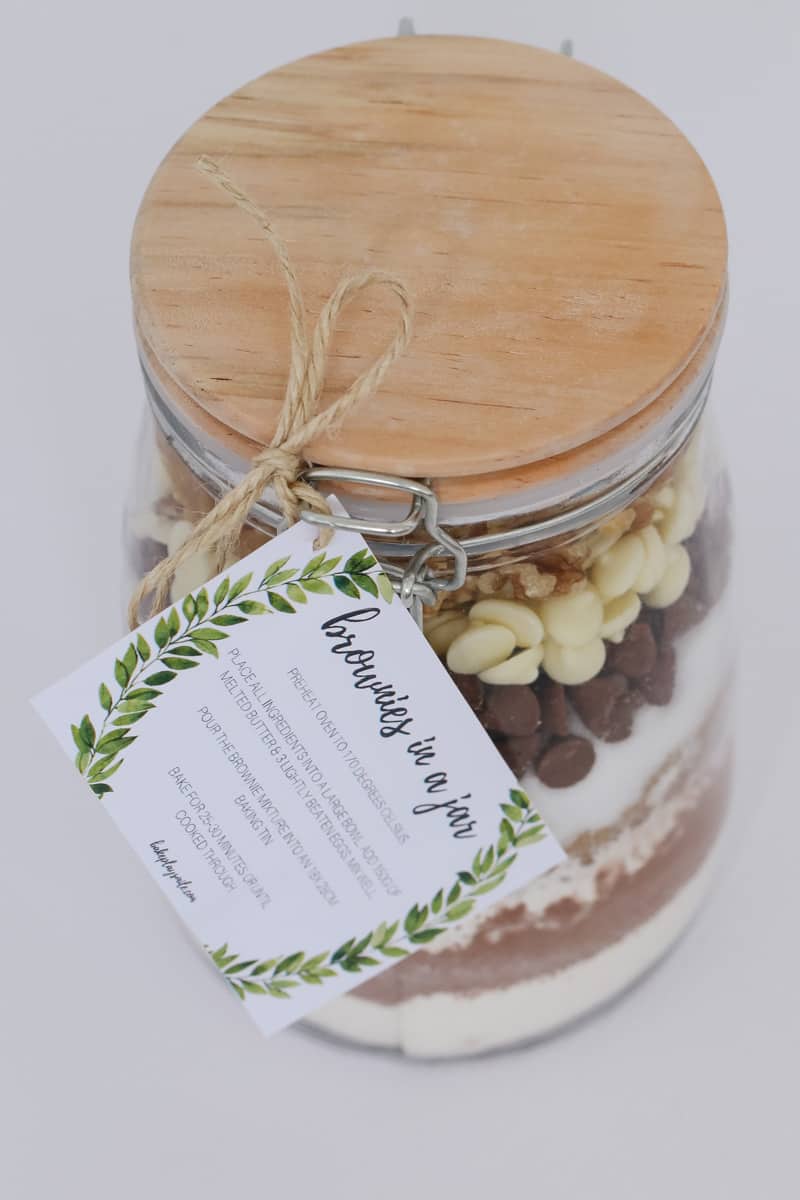 35. Maple Glazed Mixed Nuts with Candied Bacon - Make up a couple of batches and divide the mixture into glass jars. Wrap the jars up with a burlap ribbon and a sprig of pine, and you've got yourself a wonderful neighbor or hostess gift!
36. Gebrannte Mandeln aka German Burnt Sugar Almonds - Every stop at a fair or street cart for those nuts that smell unbelievable? Make them at home and gift some in a cute jar or box...Make extra for yourself. Trust me!
37. Bacon, Bourbon, Maple Popcorn - Grab the biggest mason jar you can find and pile in this homemade popcorn! It's quick, easy, and inexpensive.
38. Easy Bourbon Cherry Pie Filling - Ice cream lovers will love this easy to make Bourbon Cherry Pie Filling. It's perfect to top ice cream, pancakes, waffles, cheesecakes and more!
39. Chai Spice Mix - A homemade chai spice mix can be used for more than tea! This spice blend is simple to make and can be gifted in a cute little jar.
40. EASY Homemade Vanilla Syrup - Perfect for coffee, tea, cappuccino, Latte's and ice cream! So simple to make!
Can I mail homemade food gifts?
Absolutely! Everyone loves receiving homemade gifts from the kitchen, including those that do live out of town. Always let someone know when a gift should arrive so they can attend to it promptly. If you'll be mailing your homemade food gifts, make sure you keep the temperature in mind. If something should be kept cold, consider using dry ice, packing items in an insulated cooler or corrugated cardboard to ensure it arrives safely. I also suggest shipping items earlier in the week to prevent them from sitting in a warehouse over the weekend.
Even if you are shipping room temperature homemade goods, you want them to remain in-tact. Package them up well so they make it to your recipient just the way you intended. You may even want to swap the glass jars if you can for plastic jars.
I hope you find a few ideas for homemade gift-giving ANY time of the year!