If you want to wow the room or make a food gift everyone will be talking about. Make these Candied Pecans. This recipe is egg free and made on the stove vs the oven.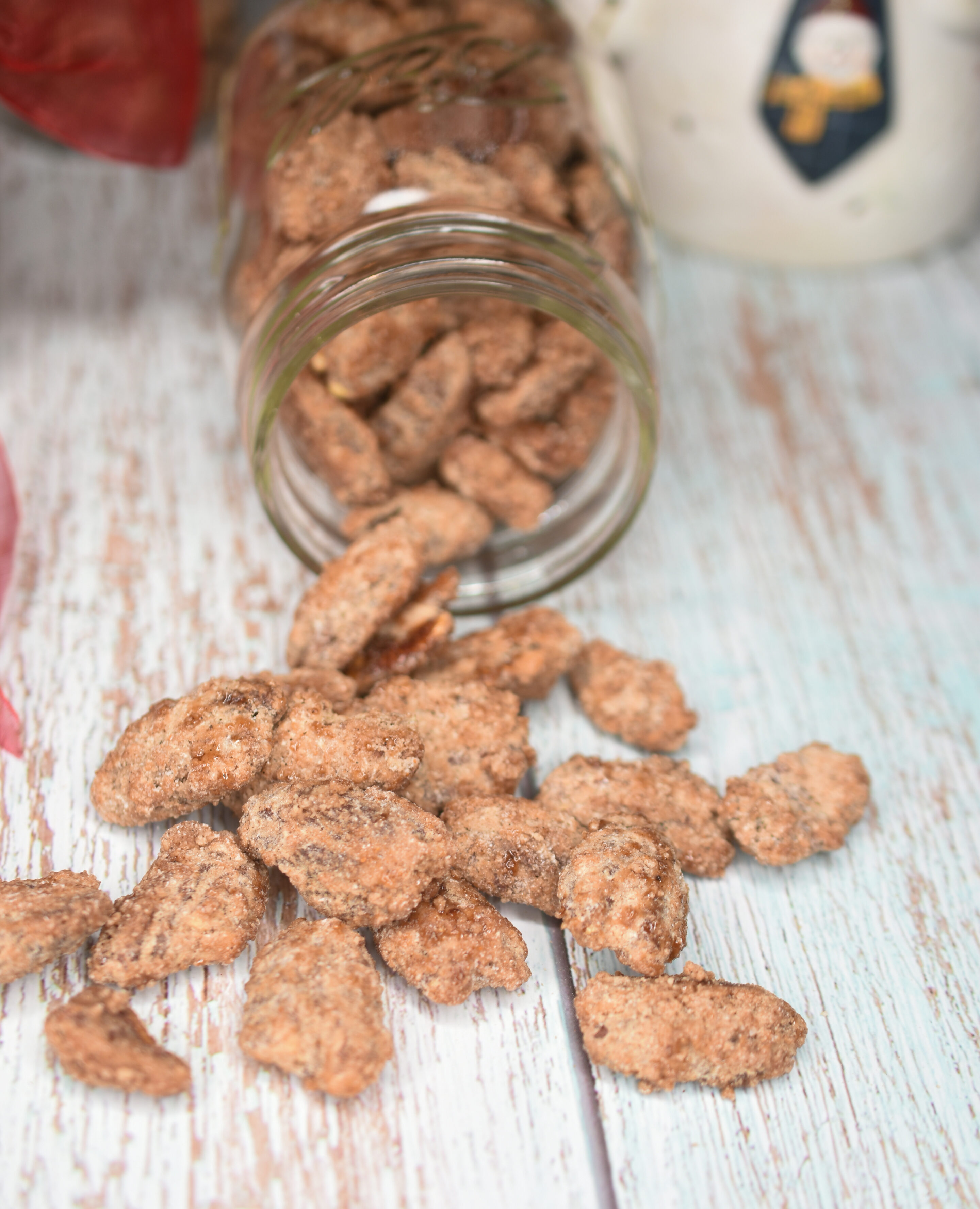 This recipe for Candied Pecans is easy. I promise! The hardest part is the stirring, it's an arm workout! However once you make delicious candied nuts you will be able to pump batch after batch!
These nuts easy to customize if you enjoy spicy-sweet. They make an amazing addition to a cheese board or charcuterie board. Or, you can just enjoy them on their own. Watch out however because these are deliciously addictive!
Candied Pecans plain or Spicy Candied Pecans make a fabulous holiday food gift as well as a host/hostess gift! Just package them up in a cute box or decorative baggie with ribbon or better jet in a cute mason or glass jar.
Ingredients
water
vanilla
sugar
whole pecans
spiced sugar or cinnamon sugar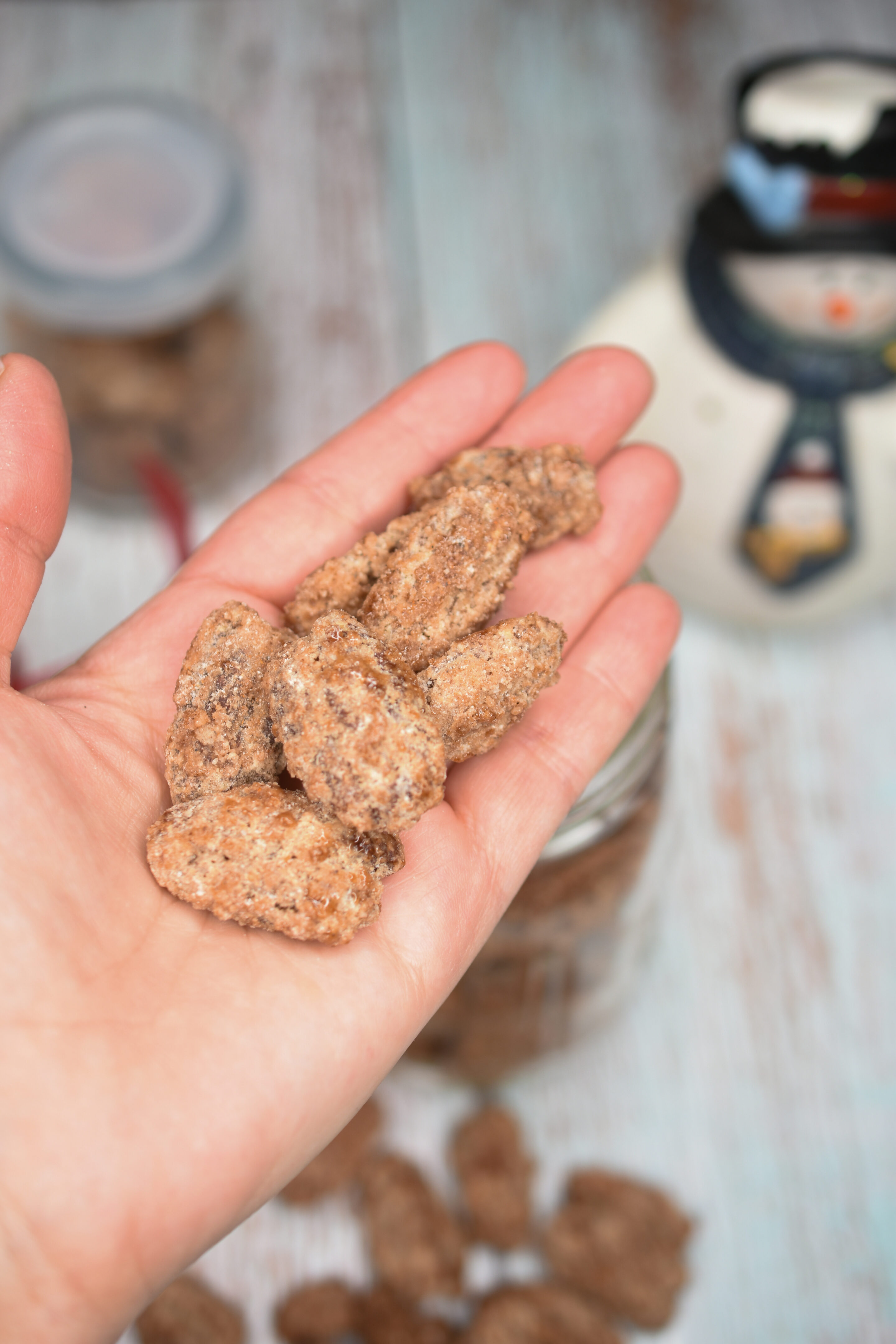 Tips
This is an easy recipe in my opinion however you need to be organized and focused. Have all ingredients measured out and ready to go.
Works best in a nonstick pot/pan with a rubber/silicone spatula.
Use a larger pan/pot than you think you need. This way it moves a little faster and you reduce the chance of any splatter.
Once the liquid is drying up you must pay full attention and stir, stir, stir. The nuts will become crusty dry but then as you stir they will get wet again in spots. Once 35-40% wet again in spots is when you add in your spiced sugar and stir stir stir. Once you again begin to see some wet spots, turn the nuts out onto a parchment paper lined baking sheet quickly and carefully.
Definitely make some sore of spiced sugar, it makes them even better!
Do not seal in a jar or baggie until completely cooled (although you can eat away while they are still warm!! Who can resist?
Variations
For a sweet salty crunch, add in a couple pinches of kosher salt when you add in the final ¼ cup of sugar.
For a spicy sweetness, add in cayenne / red pepper when you add in your final ¼ cup of sugar (mix it into the sugar before adding).
Make these nuts spice or not at all, up to you.
Swap the pecans for whole almonds, even better IMO. More crunch!
If you enjoy holiday entertaining and holiday foods in general, here are some of my favorites to try.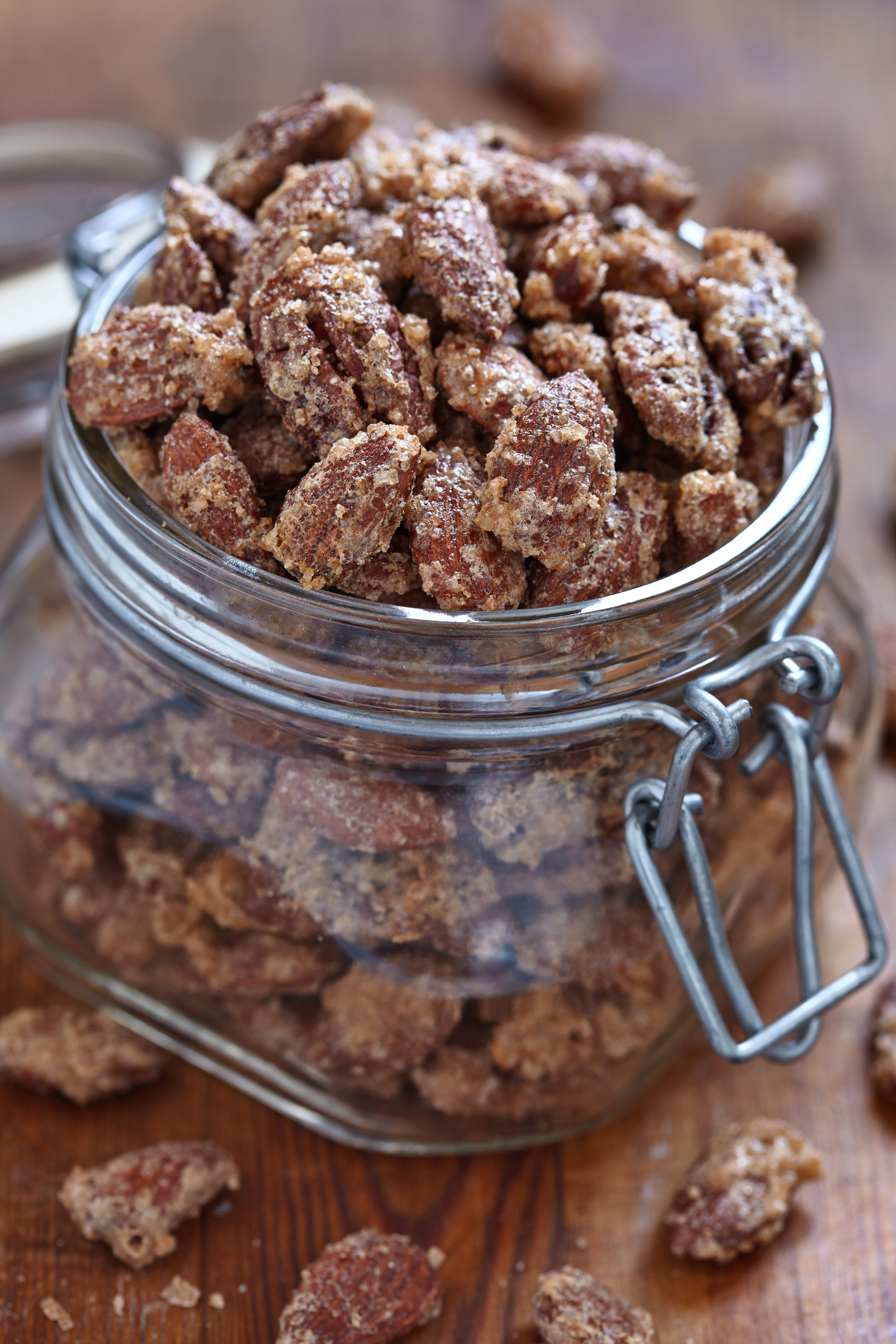 I hope you LOVE LOVE LOVE these Candied Nuts as much those I often gift those to do (and me too!).
Thanksgiving recipes to try
Christmas recipes to try
Enjoy! XO - Colleen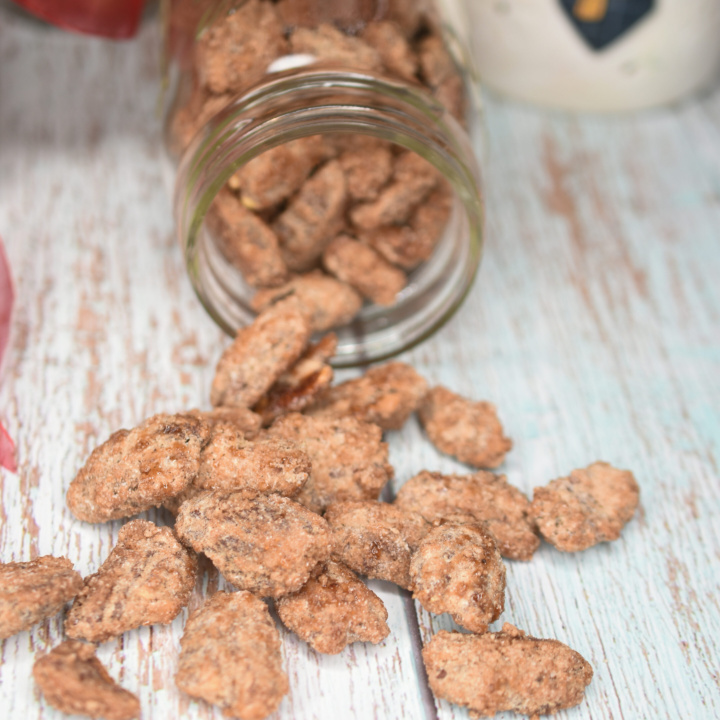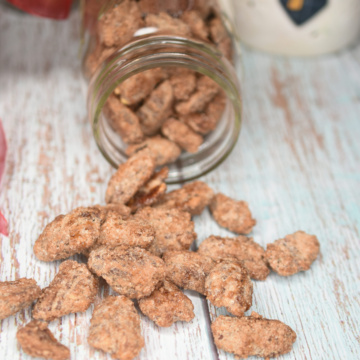 Candied Pecans
How to make Candied Pecans that taste like NYC or theme park vendors. Warm, crunchy, fragrant AMAZING candied nuts!
Ingredients
⅓

cup

water plus 1 TBS

1

TBS

vanilla

1

cup

sugar

2

cups

whole pecans

¼

cup

Spiced sugar or cinnamon sugar (see notes)
Instructions
Add the water, 1 cup of the sugar and vanilla to a heavy bottom saucepan or skillet with sides. Use a larger pot/pan then you think you'll need.

Bring sugar, water and vanilla to a boil over medium-high heat.

Once boiling, add in the pecans and stir almost CONSTANTLY until the water is boiled away.

The sugar will begin to dry out a little and start to stick to the pecans, almost like a dusty white. Keep stirring them around, so that the nuts don't have a chance to burn on the bottom of the pan. If things get dicey, remove from heat and keep stirring until it cools a bit (heat conductivity of pans and stoves will vary)

One the pecans begin looking dry, turn the heat under the pan to medium-low, to keep the sugar from browning too fast. Keep stirring until the almonds start to get a little shiny in spots, like they are wet.

You are getting a serious arm workout making these – but its all good! It means you can eat extra!!

Remove your pan from the heat for a minute, add in the ¼ cup of spiced sugar (recipe in notes) . Keep stirring.

At this point, there might be some noise coming from your pan. Some crackling and popping, but hopefully not to much. It depends on how fresh your nuts were. Really fresh nuts may make a popping noise. That's the water escaping. If the nuts are older, that will not really happen.

Keep stirring until the pecans are a little shiny in spots, but still a bit lumpy and coated.

The best ones are the ones that are shiny in some areas with some delicious lumps of cinnamon sugar on other parts of the nut. As soon as you see that happening, take them off the heat and transfer the pecans to a baking sheet lined with parchment paper. Spread them apart, but don't worry about some of them sticking together initially.

BE CAREFUL, however. These are extremely hot, so use a spoon. The coating on the pecans will harden up as they cool.
Notes
To make your own spiced sugar to put on many things, excellent in a variety of baked goods. Combine 1 ½ cups of sugar with 1 teaspoon ground cardamom, 1 TBS cinnamon and 1 vanilla bean. Slice vanilla bean down the full length and scrape out the seeds. Shake in a jar or stir until fully combined. You can also choose to add in ½ teaspoon or so of nutmeg,
Nutrition
Serving:
8
servings
Calories:
296
kcal
Carbohydrates:
35
g
Protein:
2
g
Fat:
18
g
Saturated Fat:
2
g
Polyunsaturated Fat:
5
g
Monounsaturated Fat:
10
g
Sodium:
0.5
mg
Potassium:
105
mg
Fiber:
2
g
Sugar:
32
g
Vitamin A:
14
IU
Vitamin C:
0.3
mg
Calcium:
18
mg
Iron:
1
mg
Follow me on Tik Tok for 1 minute videos