I'm pretty sure that the world can agree on one thing…Banana Bread is delicious!  In my opinion, making some form of it is the best thing to do with a banana! Level up your Banana Bread making game and try this easy twist on the classic…Easy Banana Streusel Bread Recipe.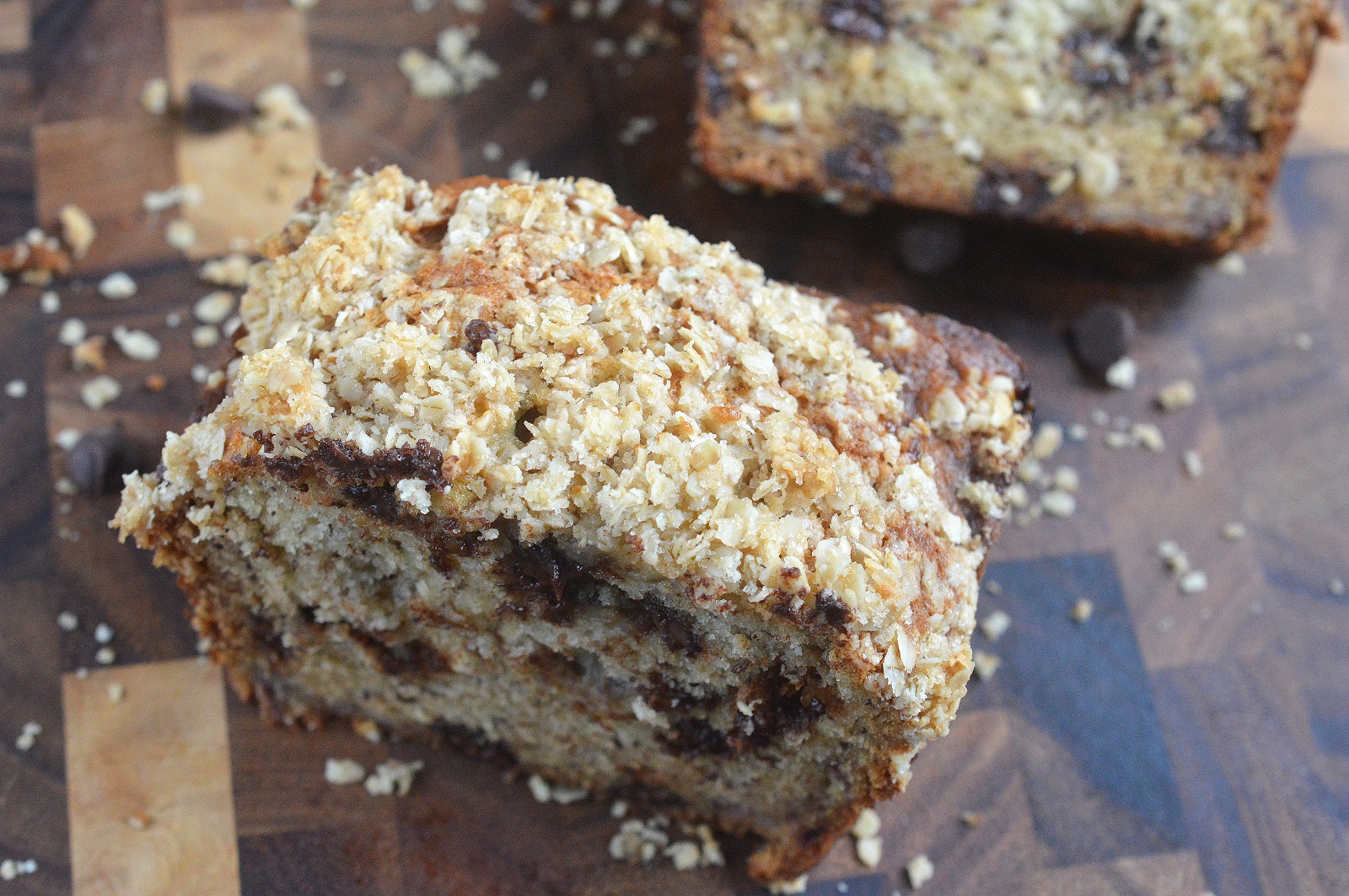 As easy as making banana bread is…if you don't add enough banana and it's dry. Add too much banana and it's dense or it takes too long to cook and the exterior is overdone.  I have found that using 2 nicely browned medium bananas is the sweet spot for making a great banana bread and in this case a great Banana Streusel Bread!
Guess what I often use for my streusel??
I grab a couple of packets of my daughters favorite oatmeal. It's a maple brown sugar oatmeal packet. I use two packets cut with a TBS of butter and that does the trick.
I enjoy chocolate chips in my Banana Streusel Bread, actually everyone except my youngest does. So for her, I take out 1 1/2 cups or so of the batter and make a small loaf or "cake" minus the chocolate chips. I do the same for her when it comes to chocolate chip cookies, lol! No chocolate chips in hers. She's funny like that. When we go on our Pho dates (my girlie and I do love Vietnamese Pho!!) she orders Chicken Pho minus the chicken with all the other trimmings, ha!!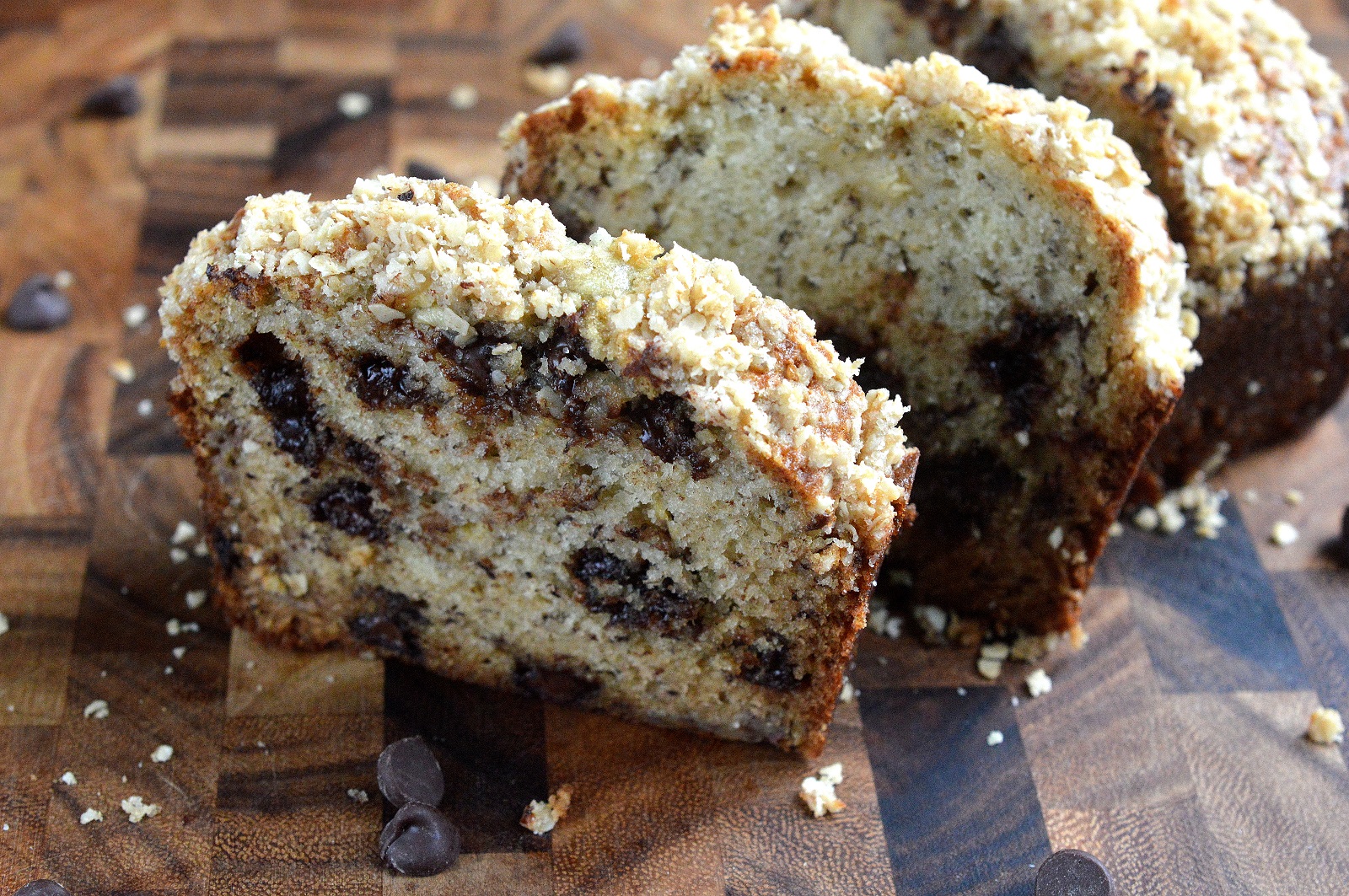 How do you make your banana bread? With chocolate chips, without or maybe with nuts?  Do you put a frosting on it or maybe do something else? I'd love to know what you do and try something new.
If you often have brown bananas OR buy bananas JUST to let them brown like I do (no shame in that…just future deliciousness), you may enjoy some of these recipes for using them up.

Chocolate Chip Banana Muffins with Cinnamon Buttercream Frosting
Banana Cupcakes with Vanilla Frosting
Enjoy!!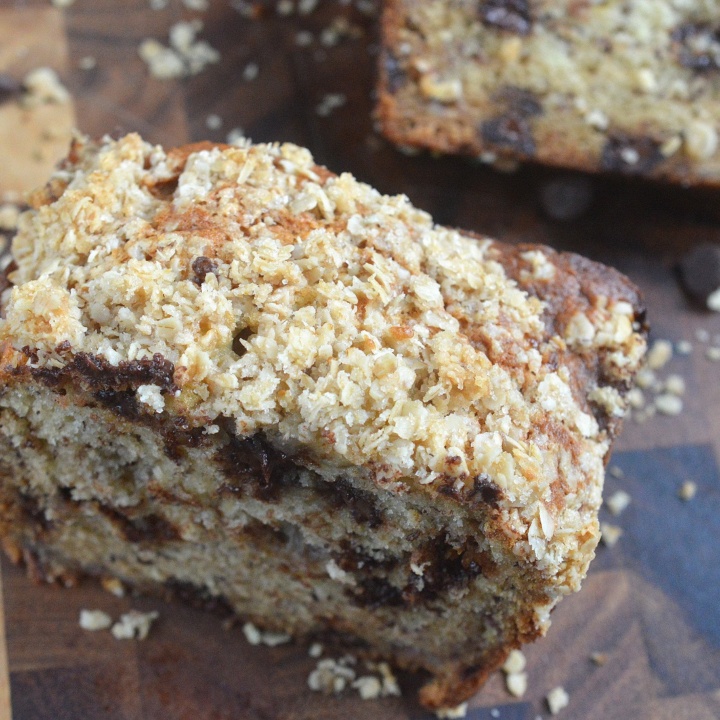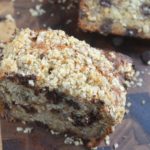 Print Recipe
Banana Streusel Bread
Ingredients
2

cups

flour

1

tsp

baking soda

1/3

cup

milk

1

tsp

lemon juice

1/2

cup

butter

softened

1

cup

sugar

2

eggs

2

brown bananas

about 2 cups

2

packets Maple Brown Sugar Instant Oatmeal

1.41 oz or so each, I use O'Organics Maple Brown Sugar Oatmeal from ACME Markets

1

TBS

butter

3/4 to

a cup of chocolate chips
Instructions
Preheat oven to 350 degrees

In a small bowl or mug, combine the milk and the lemon juice, set aside.

In a large bowl, cream the butter and the sugar, add in the eggs and whisk until combined. Add in the bananas and using a potato masher, mash them until incorporated into the batter. (If you don't have a potato masher you can use a big fork or spatula) Add the milk mixture, stir well.

Add the flour, baking soda and chocolate chips. Mix until fully blended.

Spray or butter a loaf pan, then pour your batter in.

In a small mixing bowl, combine 2 packets of instant oatmeal mix and 1 TBS butter with your fingertips until crumbly. If you don't have instant oatmeal, you can use 1/2 cup instant oats & 2 TBS brown sugar in its place.

Bake on the middle rack for 50 minutes to an hour or until a toothpick inserted comes out mostly dry (banana often will leave residue).