Chocolate Chip & Banana Cupcakes with Cinnamon Buttercream Icing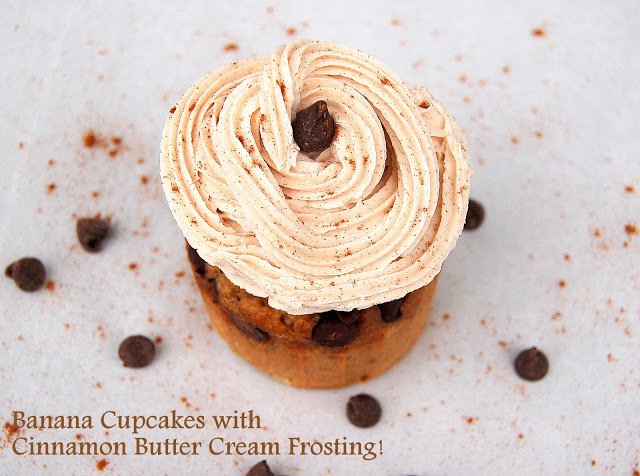 First, I have to tell you that to me this icing steals-the-show!  I just plopped in some honey and cinnamon in my standard buttercream icing and wow!  I thought about adding in some maple syrup, but I am glad that I didn't.  I think this is my new favorite icing!
I could lie in a bed of it all day long and nibble away!  Yummers!
We make banana bread often in our house, I think it was one of the first things my kids mastered, sometimes we make it with chocolate chips and sometimes we make it plain...I am a fan either way!
So...these Chocolate Chip & Banana Cupcakes are really more like riff on a mini banana bread loaf with some chocolate chips thrown in then topped with a ridiculous amount of decadent, flavor packed icing as far as I am concerned.
My daughter & I made these last weekend for her sleepover guests and they gobbled them right up!  Funny, one mom said, "oh my daughter doesn't like cupcakes" (what???) however, because these were more like banana bread, that girl wen- to-town, she was literally licking the wrapper clean!  So now, she has a "cupcake" to like and that makes me happy!
Chocolate Chip & Banana Cupcakes with Cinnamon Buttercream Icing


⅔ cup sugar
2 tablespoons butter, room temp
1 egg
1 teaspoon vanilla extract
2 very ripe bananas (about a heaping cup full)
½ cup buttermilk (or ½ cup of milk with ½ lemon juice added, allow it to sit for 2 minutes)
1 cup flour
¼ teaspoon salt
½ teaspoon baking soda
½ cup chocolate chips
Cinnamon Buttercream Icing
3 cups powdered sugar
½-1 teaspoon cinnamon (depending on your preference)
2 TBS honey
2 sticks of butter (1 cup)
2-3 TBS water
Cupcakes
Preheat your oven to 375 degrees. Mix together sugar, butter, egg and vanilla in a large mixing bowl, with your mixer on medium.  Add in your  bananas  and buttermilk/milk.  Add flour, salt, and baking soda and mix until just incorporated. Scoop batter into your cupcake liners and dot with chocolate chips (or your can fold in your chips just before you fill your liners).  Bake for 12-15 minutes or until a tester comes out clean. Cool completely before frosting.
Depending on the size cupcake liners you use (as well as the size of you bananas), you may have a bit of leftover batter, if so, just spray a small loaf pan and make yourself (or your neighbor) a tiny cake 🙂
Note:  The more bananas you add the denser the cupcakes will be (more banana bread-like).
Icing
Note:  I didn't want the frosting too thick, so I kept adding water until I was happy with the consistency...the trick to this icing is to just turn on  your mixer and walk away...let it go for 4-5 minutes, stopping it once or twice to scrape it down and add more water to get it where you like it.  I apologize in advance for your new frosting addiction!
Combine powdered sugar, cinnamon, honey and butter in your mixing bowl and whip on low until combined.  Add 1 TBS water and increase speed, allow the icing to keeeeep on mixing, you want it light and fluffy.  Add more water until you get the consistence you are happy with and whip some more!  The icing will keep for a few days.




Enjoy!!