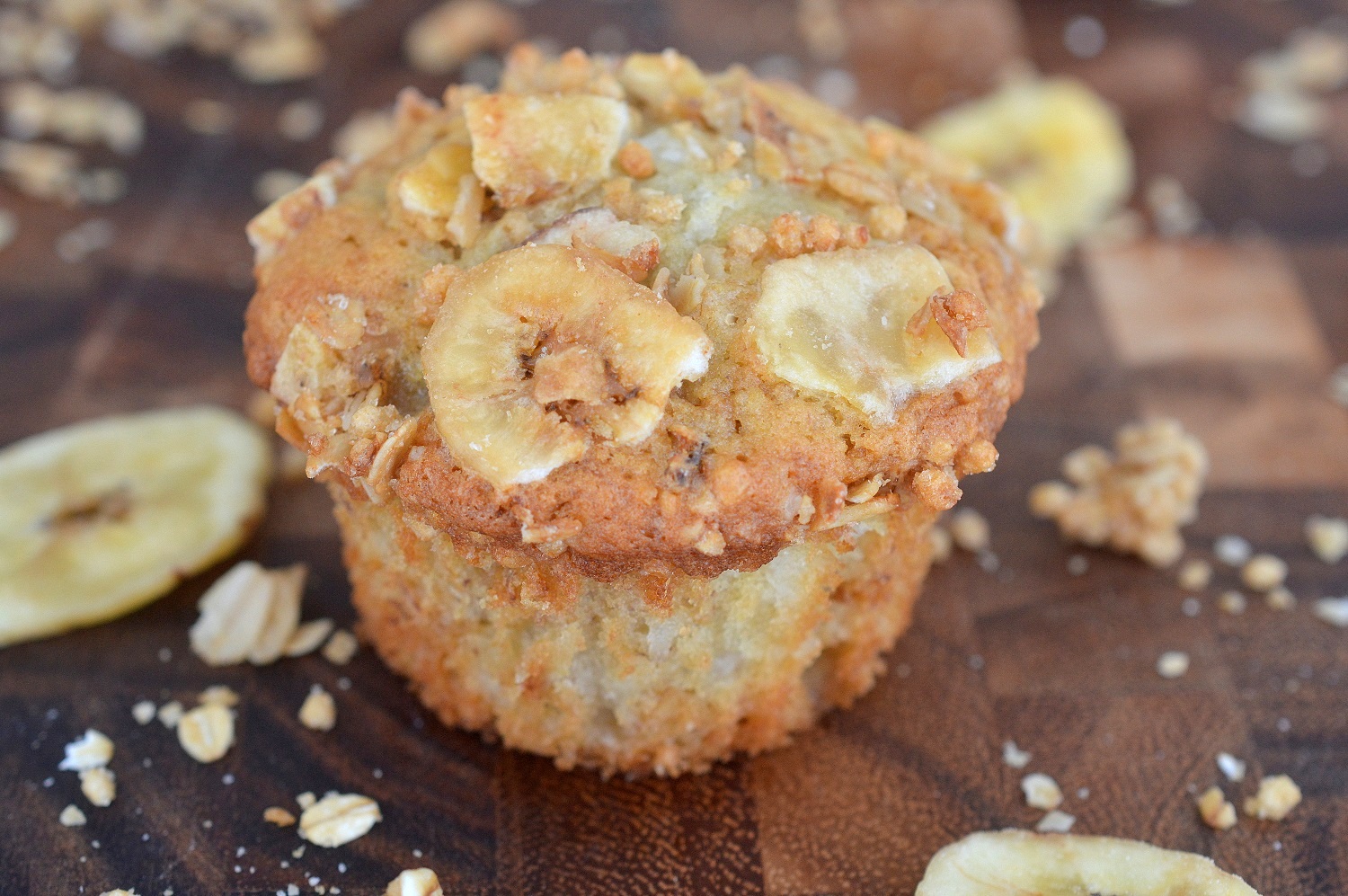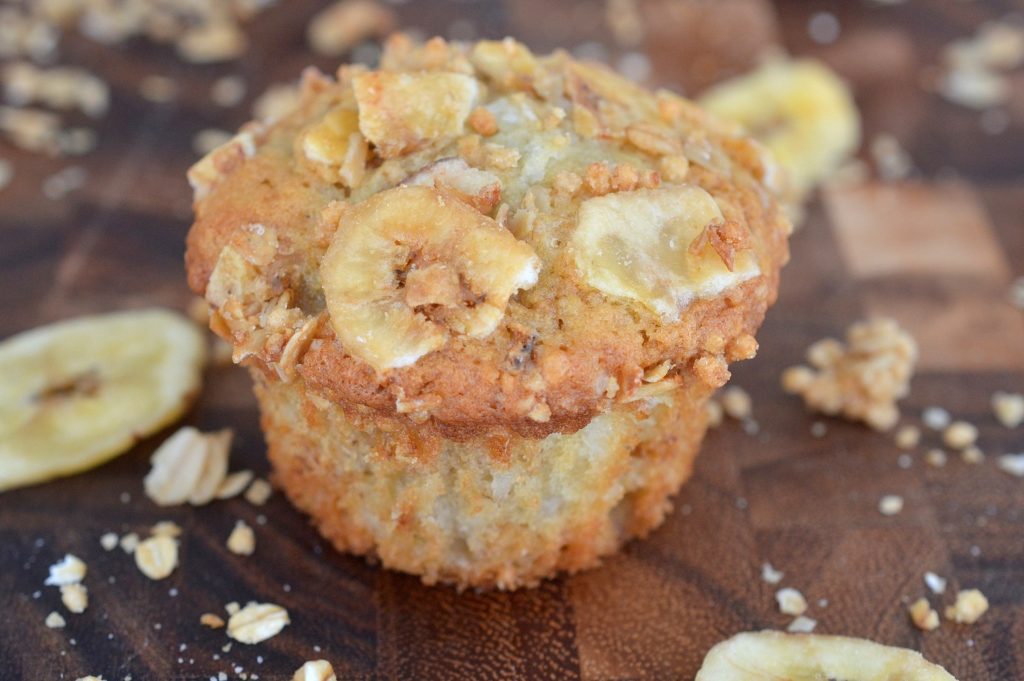 These Nut Free Banana Crunch Muffins are reeee-dic-U-lous!
We're talking fancy bed & breakfast or NYC bakery quality! 
My kids both have nut allergies, which could be one reason why I bake a lot.  I can control what goes into whatever it is I am making.  Plus thing I'm pretty sure that part of how I show my love is by feeding people, lol! I can't be the only one right? 
I get so excited when I bake & cook, especially when I know it's a favorite or something new someone will enjoy….I say "I made you x…I made you y!"! Usually I get excitement back in return (sometimes a hugs & kisses) and that right there makes me happy.
My kids cook with me a lot but I still find plenty of opportunities to surprise them with food.  Just this morning, the kids had a snow delay. My son came down to the delicious aroma of a just-out-of-the-oven, cooling rack full of my Nut Free Banana Crunch Muffins and stopped in his tracks.  He says… Did you JUST make them?? And I replied yup with a big smile.  He sucked in his breath with excitement, reached for one and happily chowed down on a hot moist, banana muffin with a crunchy-delicious topping…He couldn't even tell I added coconut to the batter!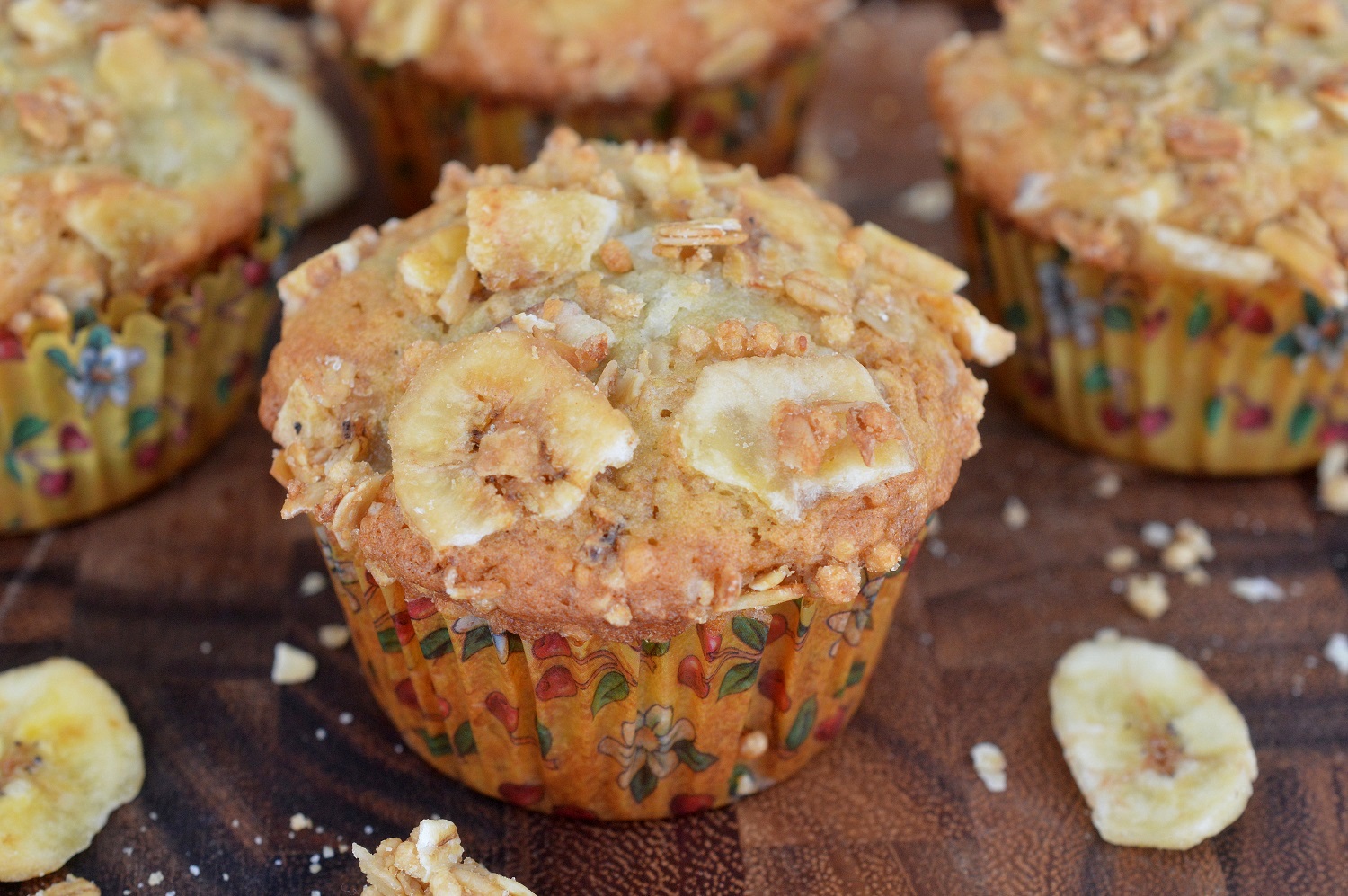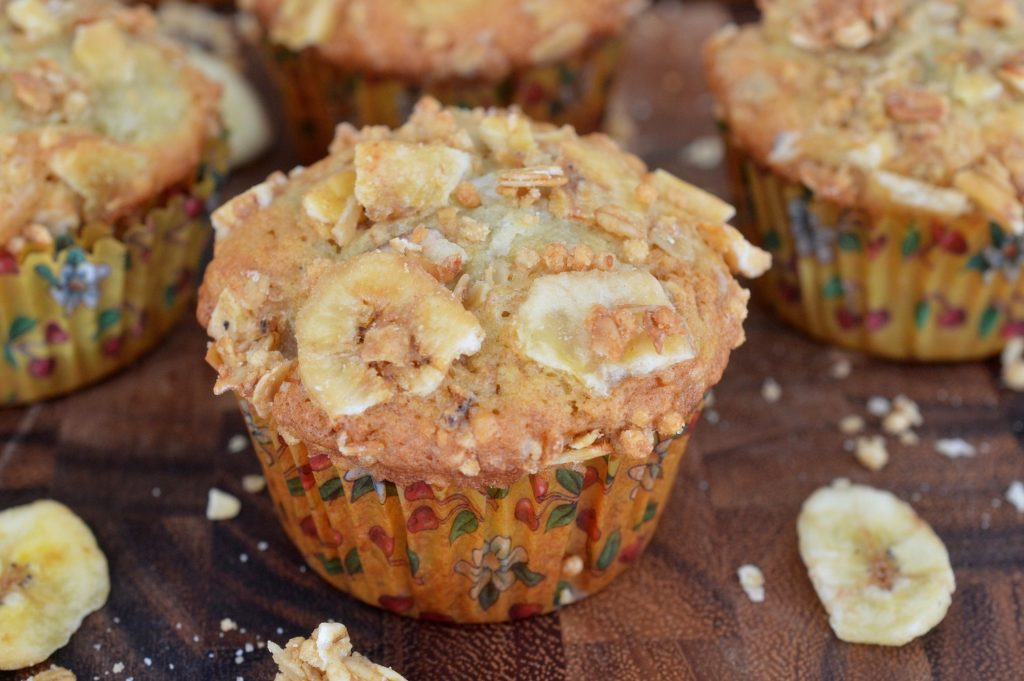 Why IS it that people THINK they don't like coconut anyway?? When they don't know it's in something they love it, when you TELL them it's there, they are all like yuckko! It's kind of funny. My siblings all think they hate it…my family too.  When baking cookies or muffins, coconut  lends such a delicious sweetness and moistness that can;t be replicated.
SO if you think you don't like it…definitely in this recipe…give it a try! It's a great grab-one-for-breakfast-and-go item!
I adapted this recipe from one of Ina Garten's, you know The Barefoot Contessa, I am a longtime fan of her work.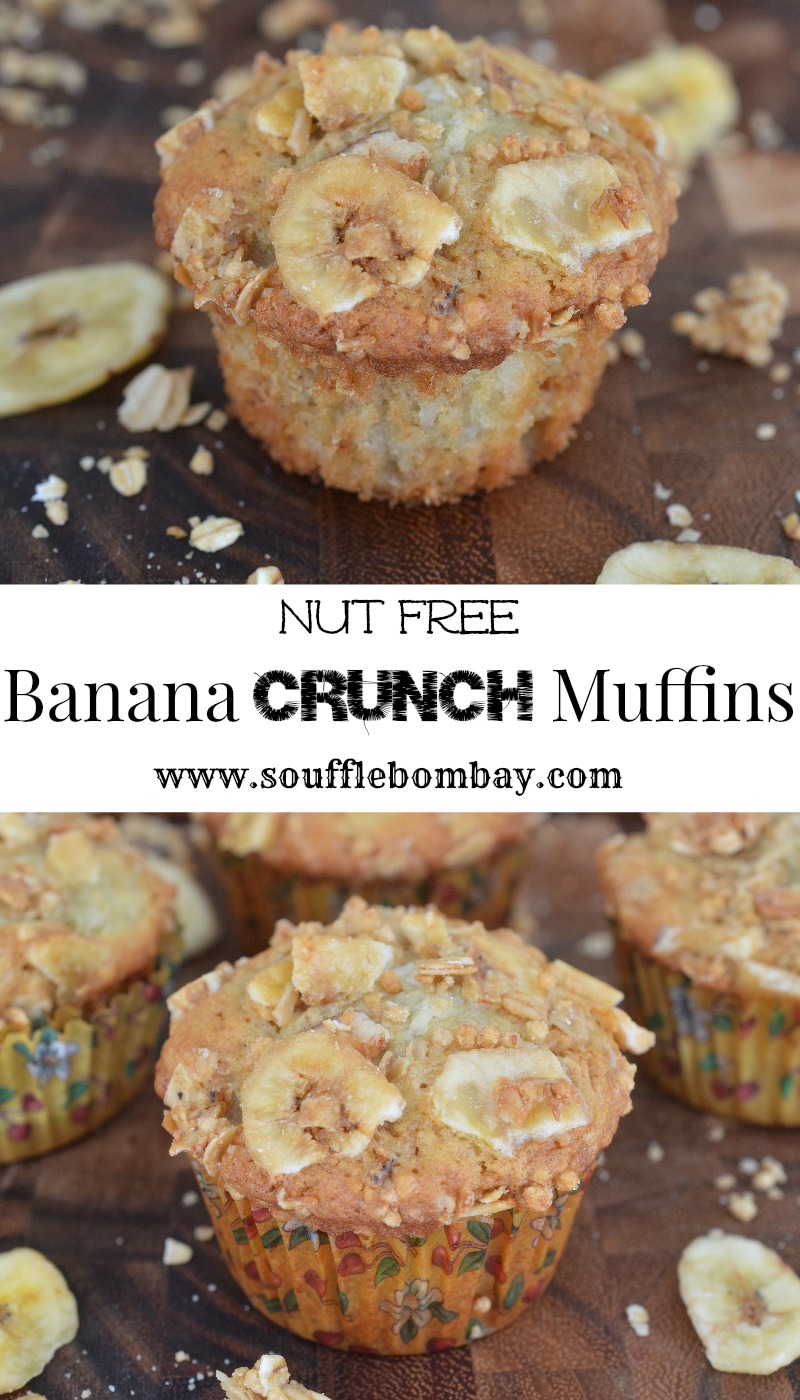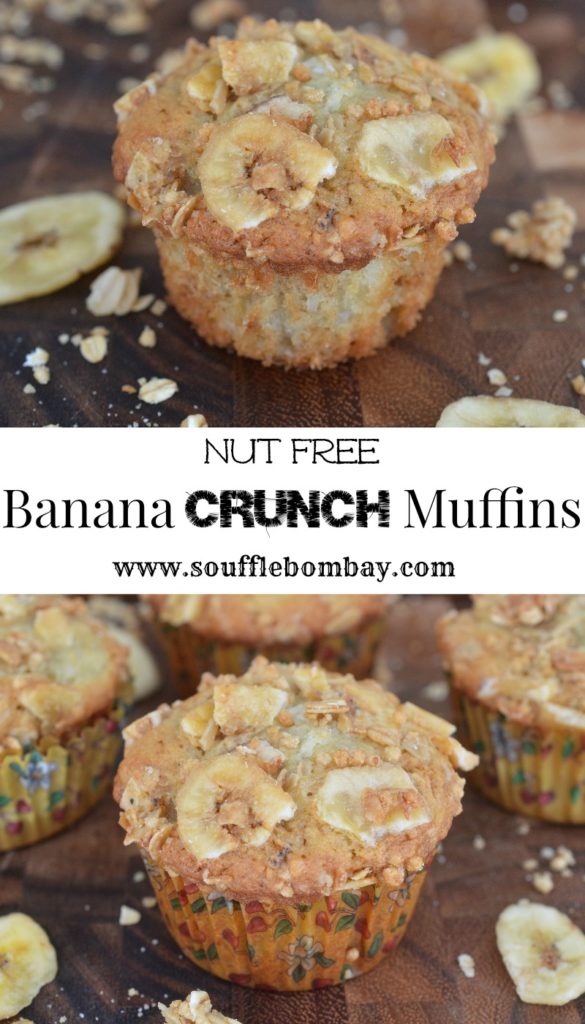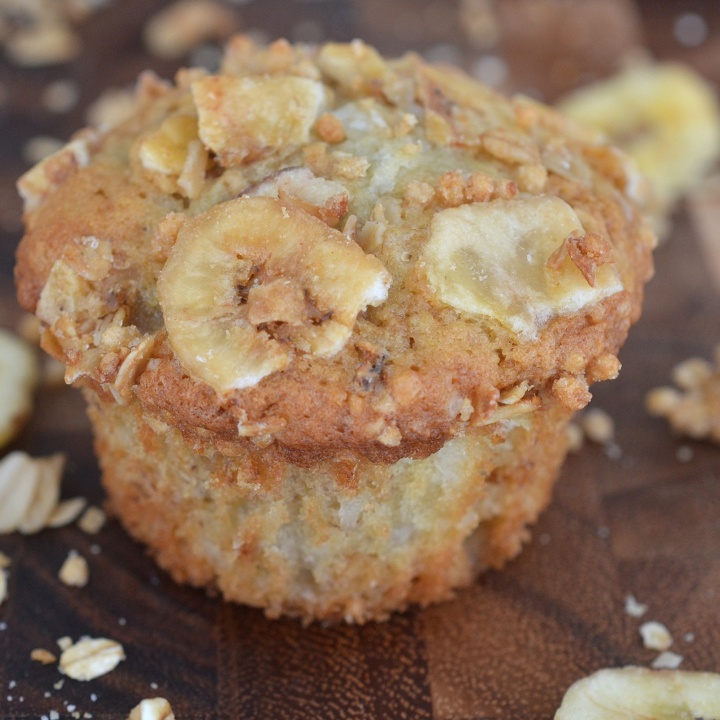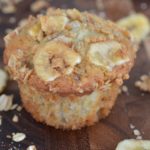 Print Recipe
Nut Free Banana Crunch Muffins
Ingredients
1 1/2

cups

flour

1

cup

sugar

1

tsp

baking powder

1/2

tsp

baking soda

A few dashes of salt

1

stick of butter

1/2 cup melted & cooled

1

large egg

6

TBS

milk

1

very ripe banana

mashed with a fork

1

banana cut into small chunks

1/2

cup

vanilla granola

1/2

cup

shredded sweetened coconut

Topping

1/2

cup

dried banana chips

1/4

TBS

granola
Instructions
Preheat your oven to 350 degrees.

Spray or oil a cupcake pan (just the surface) lightly and insert liners.

In a large bowl, add in flour, sugar, baking powder, baking soda and salt. Whisk to combine.

Add in cooled melted butter and begin to incorporate, add in egg, vanilla and mashed banana and stir just until smooth.

Add in banana chunks, granola, and coconut, stir just until incorporated and smooth.

Use an ice cream scooper and fill scoop completely with batter for each muffin.

Place banana chips in a small baggie and break them up with your fingers or by pounding them slightly.Sprinkle over-top each muffin.

Sprinkle a little bit of granola over-top each muffin.

Bake for 20-25 minutes and enjoy!
Notes
If you enjoy nuts, feel free to ad your favorite or a medley to both the batter and the topping of you wish.