Banana Cupcakes with Vanilla Frosting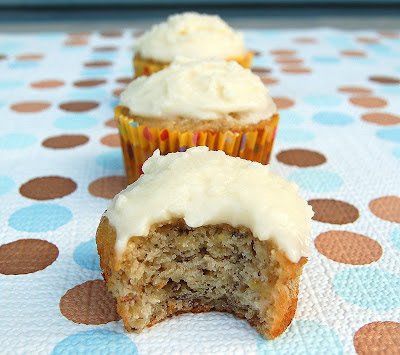 I find it odd that my family doesn't just grab bananas and eat them. I think I have seen my husband eat less than 5 in 15 years. My son rarely will go for one and my daughter grabs about 1 a month. Me however, I dig them and I guess that's a good thing since that causes me to almost always place them in my cart while grocery shopping.
Just now though a thought occurred to me…Maybe my family is conspiring together to not eat bananas, knowing that I always make something with them once they turn brown.
Hmmmmm.
My family is crazy for banana muffins, banana bread, banana cake or banana cupcakes. One of the above make an almost weekly appearance in my home. My 8 year old daughter took the lead on making these, this is a great recipe for kids.
You may enjoy these Banana Cardamom Muffins or Chocolate & Banana Bread that are staples in my home.
What do you do with brown bananas?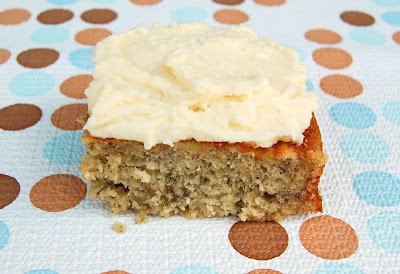 Here are the moist, cake-like cupcakes that show up in my house…they quickly get gobbled up! No sooner did we make these (in both a cake and cupcakes) then the doorbell rang. It was 4 neighborhood boys popping over to see if my son could ride his bike with them. I of course brought a plate of these out to them and Poof!! They were gone! Which in the end was a good thing – less for me to eat!!
Has anyone ever made a caramelized banana cake? I keep wondering how that or a banana upside down cake would taste. I wonder if the bananas get too mushy if you leave them sliced. if you have made either, I would love to know what you think 🙂 Thanks!!

If you want to skip the frosting…these are also good with a nice sifting of powdered sugar!

Banana Cupcakes with Vanilla Frosting
Adapted from Butter Yum
2/3 cup sugar
1/2 cup sour cream
1 egg
2 tablespoons butter, room temp
2 large very ripe bananas, mashed (1 cup or more)
1 teaspoon pure vanilla extract
1 cup flour
1/4 teaspoon salt
1/2 teaspoon baking soda
Preheat the oven to 375 degrees. Mix together sugar, sour cream, egg and butter. Add mashed bananas (use a potato masher or your clean hands) and vanilla extract. Add flour, salt, and baking soda and mix well. Pour into your cupcake liners. Bake for 12-15 minutes or until a tester comes out clean. Cool completely before frosting.
Depending on the size cupcake liners you use (as well as the size of you bananas), you may have a bit of leftover batter, if so, just spray a small loaf pan and make yourself (or your neighbor) a tiny cake 🙂
Note: Extra banana never hurts the recipe, so if yours are large and over a cup…throw them in…I always do!
Vanilla Frosting
3 cups powdered sugar
3/4 cup butter, room temp
1 generous tsp vanilla
2 TBS heavy cream
Mix sugar and butter on med high speed until smooth and whipped, add in the vanilla and whip for a minute, add in the heavy cream and whip for another minute. Adjust the consistency to your liking by adding more milk or sugar.
If you want to use a 9×13 pan vs the cupcakes – just double the recipe.
Enjoy!!