Thank you Brawny® Tear-A-Square® for sponsoring this post. Think of all the ways you can Put a Square There!
My daughter and some of her friends got together to do a little cooking last week. These incredibly delicious yet easy-to-make Ham & Cheese Hash Brown Waffles were one of the recipes they made and became a huge hit!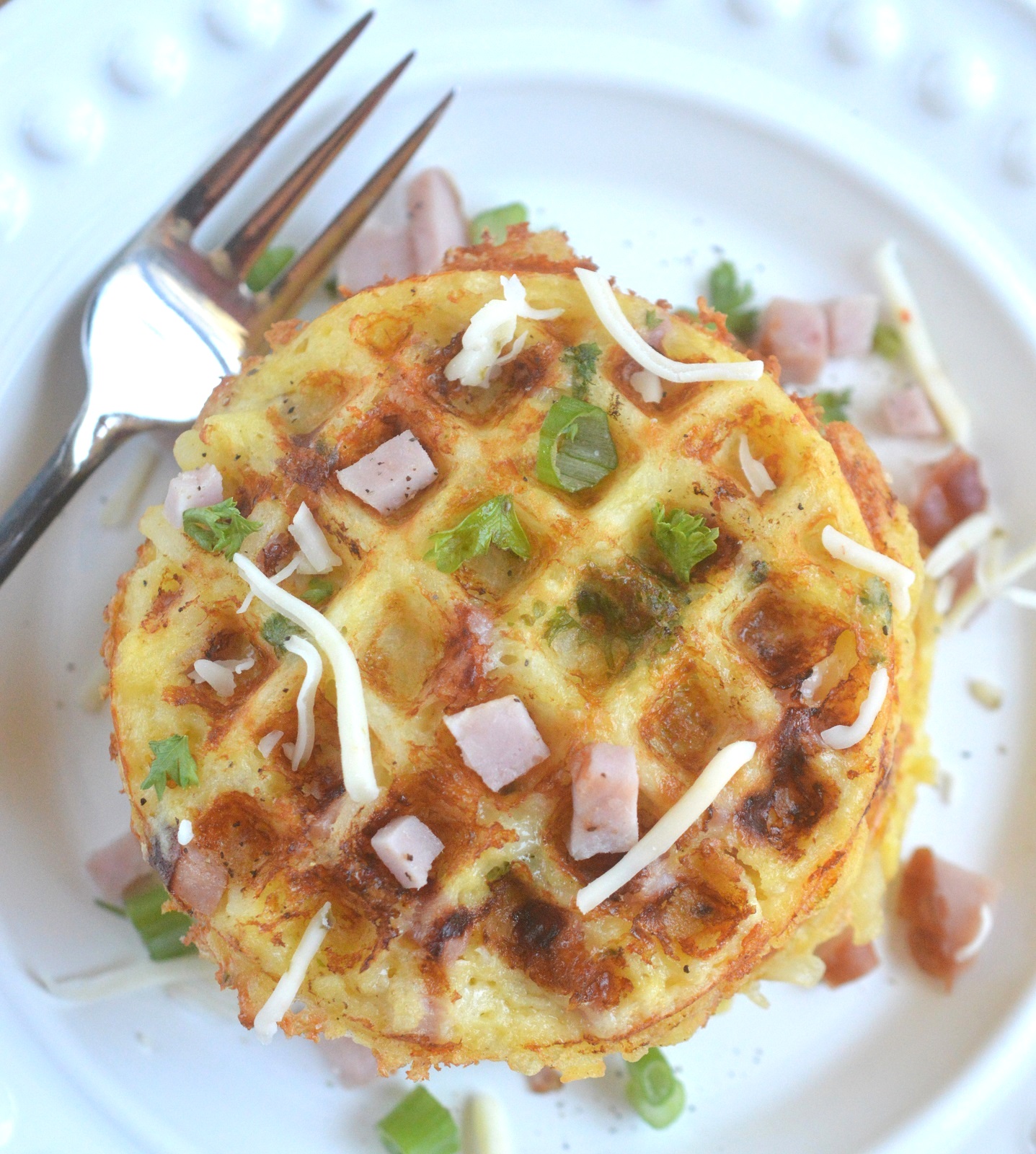 Encouraging people to get their kids into the kitchen early and often has been a mantra of mine since my kids were about 2. When you welcome your kids into the kitchen to assist you or take the lead when cooking or baking, you are not only helping teach them a life skill, you are allowing your kids/grandkids to spread their creative wings in a whole new arena and make some wonderful memories! Cooking teaches kids planning, organization, follow through, math, science and so much more.
When kids help in the kitchen (no matter what age they are) they will at least try what they had a hand in creating, which often leads to new discoveries of new to them foods and flavors.
Sure kids may make a mess in the kitchen but that is all a part of the learning process and let's face it...We too can make a big mess in the kitchen. Am I right? I know I sure do sometimes! Lucky for me Brawny® is there for both my messes and my kids' messes! 
Have you seen Brawny® Tear-A-Square®  paper towels yet? They are my new BFF!
I seriously LOVE that I can just tear off one square or a half sheet or a full-size sheet...such a smart design! By using just a square, I am using fewer paper towels, which saves me money, PLUS the smaller squares help me cut back on the amount of trash I create...which makes me feel good and less wasteful!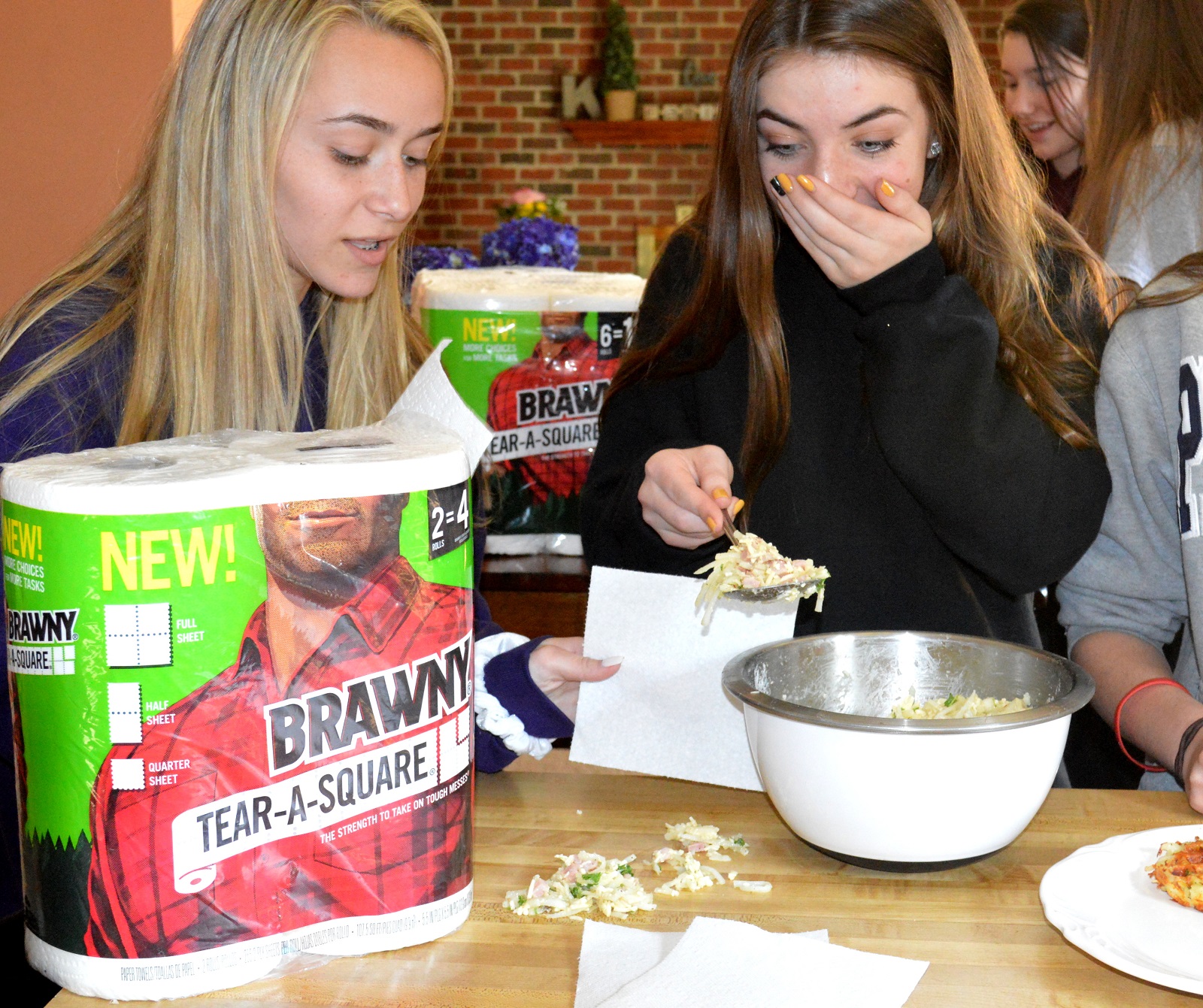 I especially love that the kids can just grab a square vs a whole paper towel...You know how kids can just pull off a wad of paper towels and waste them. Brawny® Tear-A-Square® is genius!  Brawny® comes in full-size sheets, half sheets, and quarter sheets. The quarter sheets have totally won me over!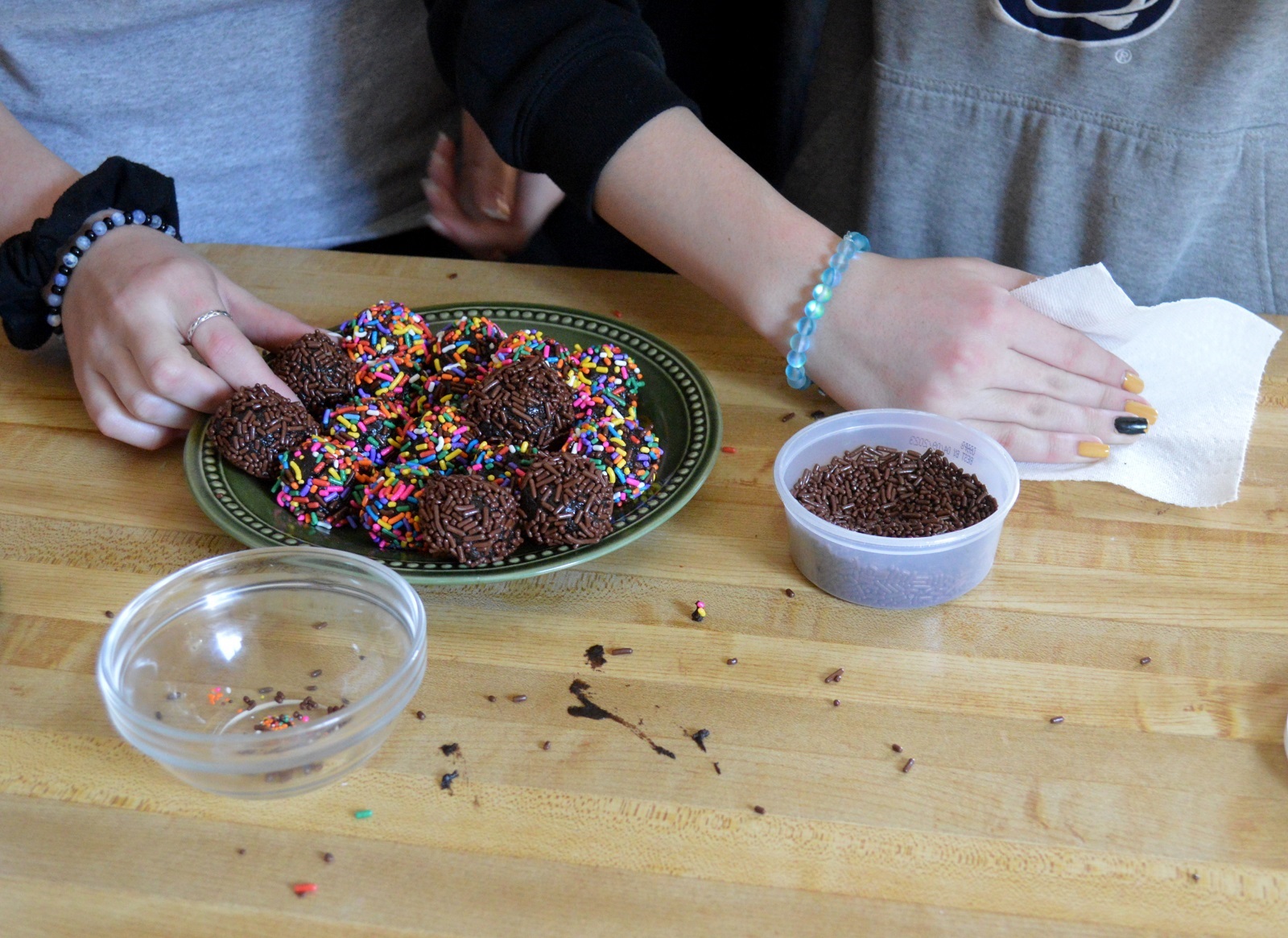 Some of the girls pictured in this post have been cooking in my kitchen since kindergarten! Today they made Ham & Cheese Hash Brown Waffles which are perfect for breakfast, lunch or dinner. These savory waffles were a huge hit, they even wanted them again the next day. Everyone who has had a chance to taste these hash brown waffles was wowed, they are now in regular rotation at my house. The girls also made Cookie Truffles for dessert.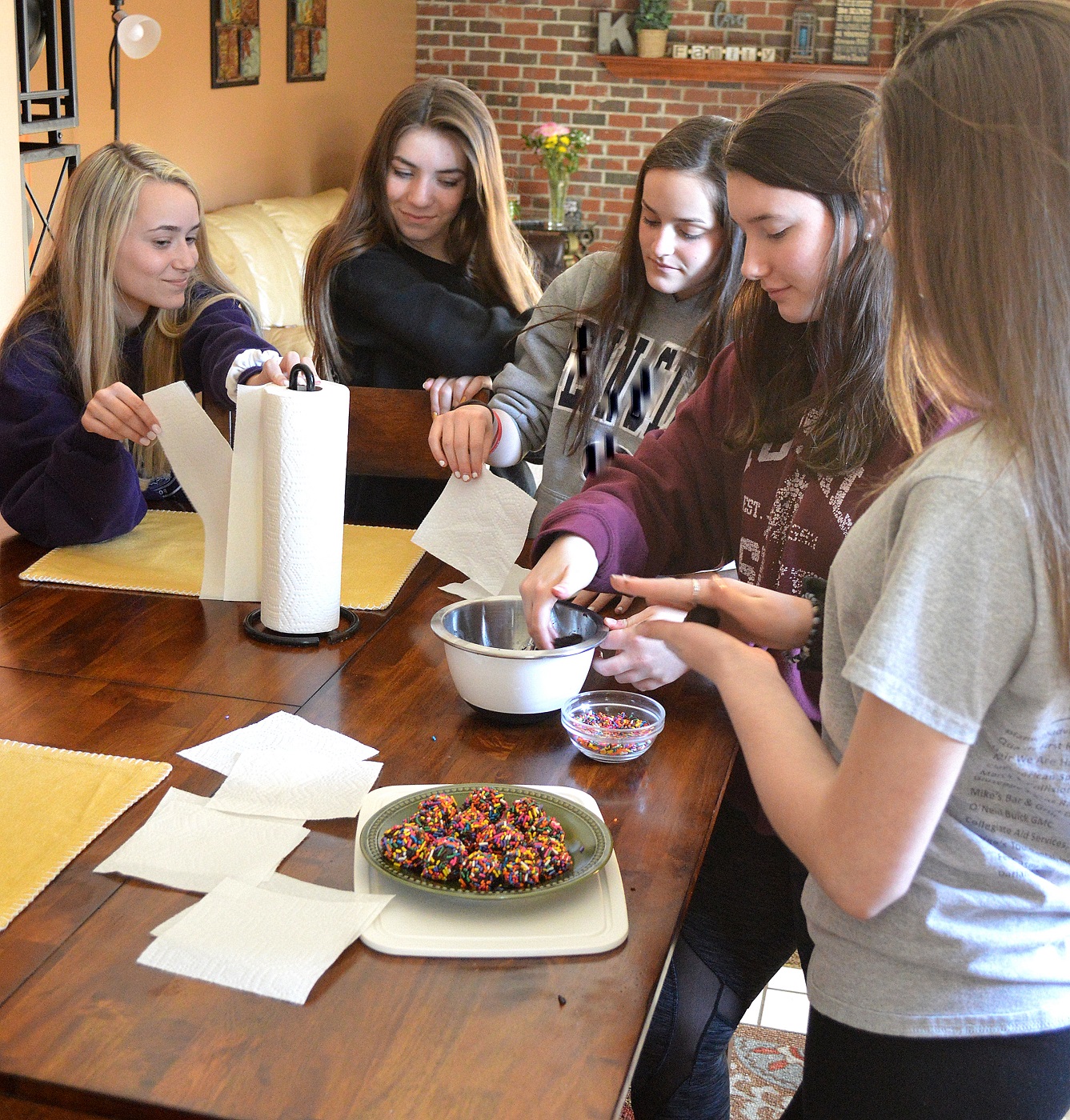 The girls had a blast cooking together and let me tell you Brawny® Tear-A-Square® paper towels did come in handy (Just like they do for me).
When the girls were very young and came over for playdates they were often loud and running around the house like crazy! One day I said "who wants to make cookies" and from that day on, the girls have baked and cooked up many things here.
When cooking, they listened to the instructions, were eager to learn they all took turns, they were much quieter (haha, winning), they had fun, tasted new things and helped me clean up. It became a ritual of girls coming over to hang out and then asking to cook something.
Trust me when I say I was not always in the mood, BUT they loved it and so did I. These days the girls who are now young teens, follow my cooking adventures on Instagram and often let me know what they made from what I posted, how cool is that??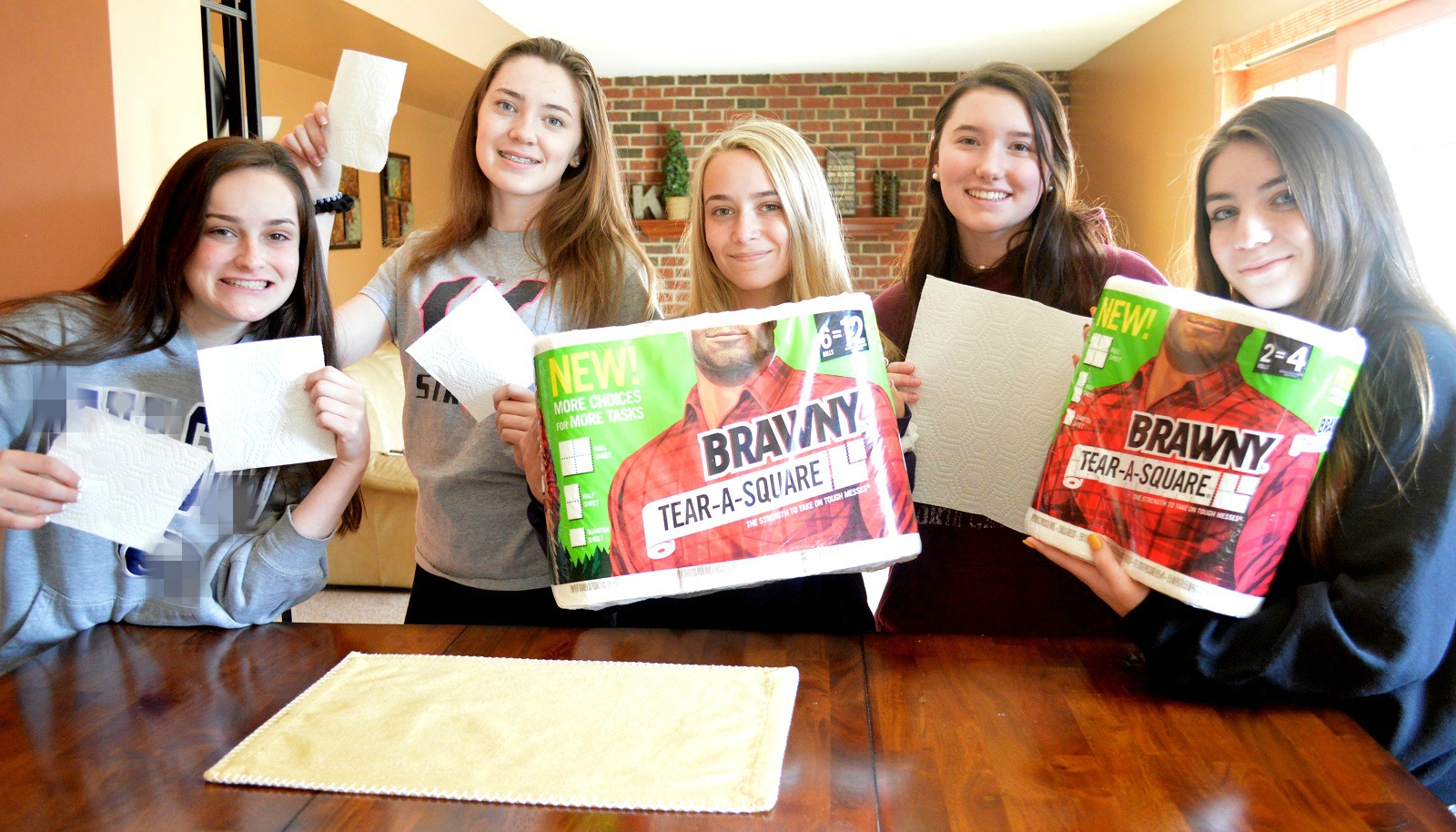 You will love these savory Ham & Cheese Hash Brown Waffles and, now you know about the awesome new Brawny® Tear-A-Square® paper towels! So today you get a 2-for-1!!
How Do I Make Ham & Cheese Hash Brown Waffles?
Making Han and Cheese Hash Brown Waffles at home is easy. It's a one-bowl recipe. Grab your waffle iron/waffle maker. Combine the below ingredients in your bowl and then simply cook up your savory waffles in your waffle iron and enjoy. You can dig in on them straight from the waffle iron or you can dress them up with an egg and even some roasted vegetables. Delicious!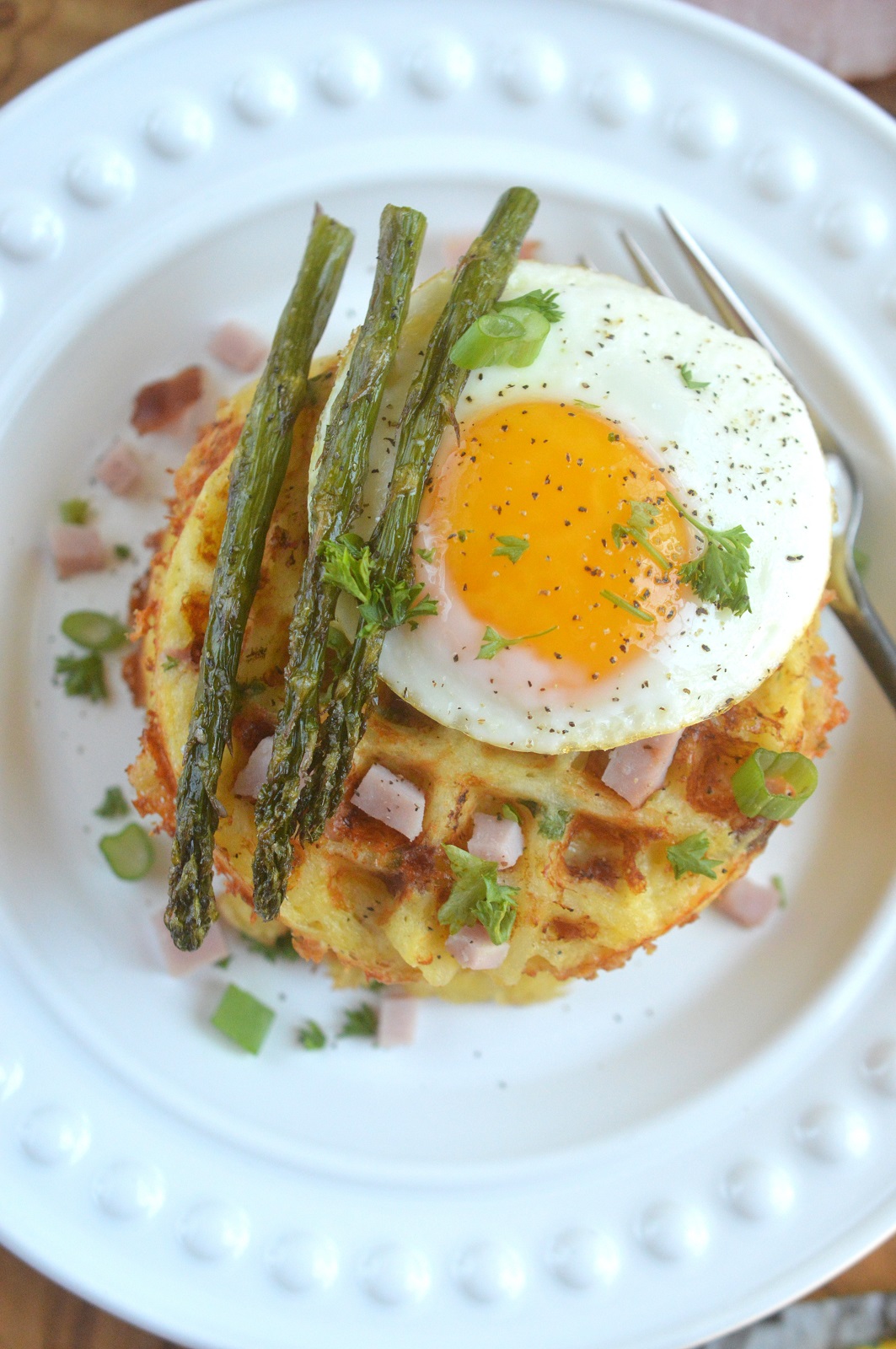 Do I Need A Waffle Maker To Make Hashbrown Waffles?
Yes, in my opinion, you do, nothing else other than a waffle iron or waffle maker will do them justice and get them crisped up enough. In a pinch you can make them patty-style in a non-stick skillet, they just won't have the nooks and crannies a waffle would have.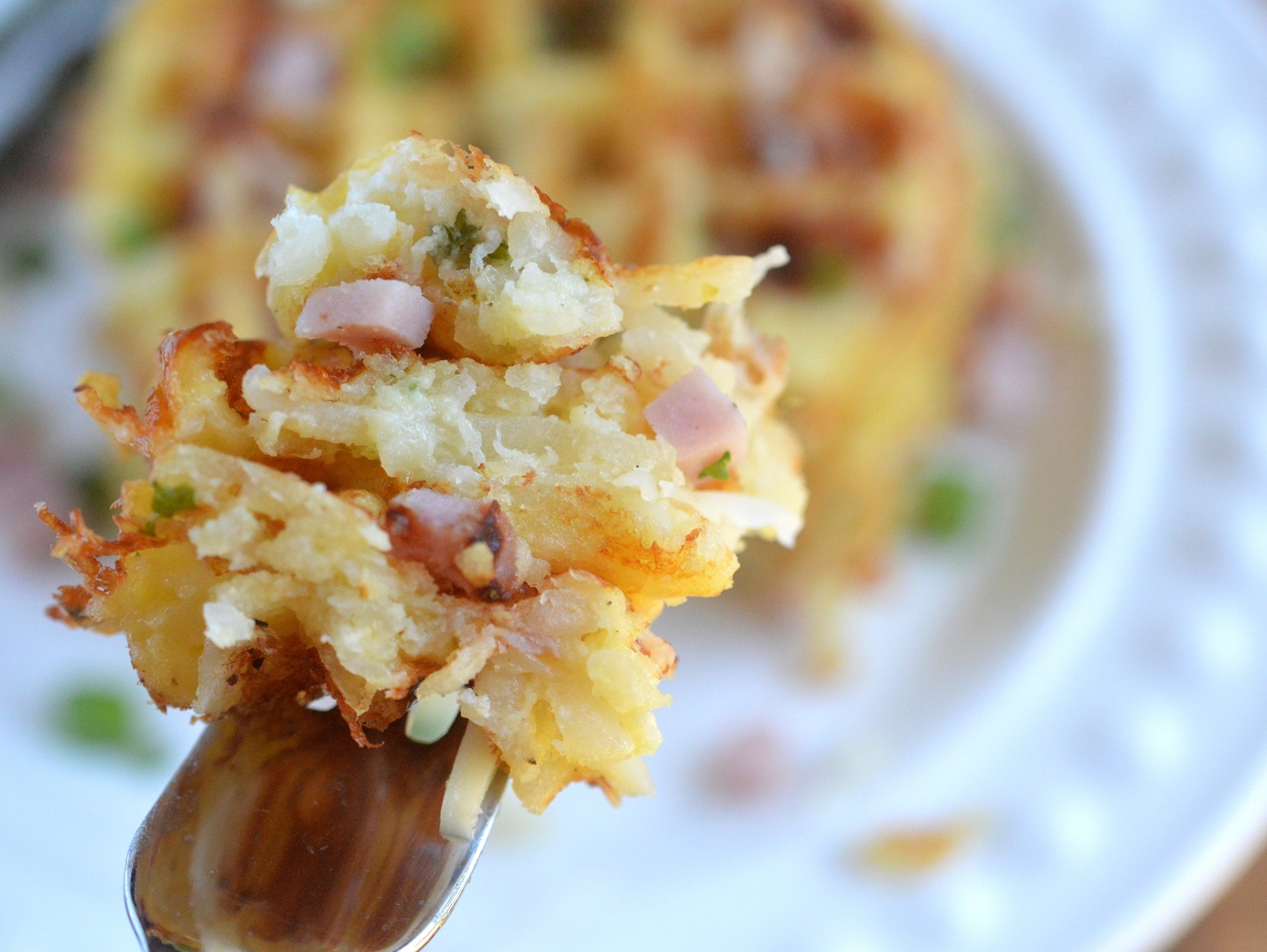 What Size Waffle Maker Do I Need To Make Ham & Cheese Hash Brown Waffles?
For this, I use a mini waffle maker to make these Ham & Cheese Hash Brown Waffles, However, any size waffle iron/waffle maker will work. I actually have a regular-sized waffle maker and a mini waffle maker that I use exclusively for savory foods like these hash brown waffles and Waffle Maker Quesadillas (which are amazing and so much easier to make than the traditional way in my opinion).
I really hope you try these Ham & Cheese Hash Brown Waffles. These are definitely a keeper and perfect for breakfast, lunch or dinner!
Tag me on Instagram when you make them at @soufflebombay or #soufflebombay, I'd love to share your creation on my Stories!
Enjoy!!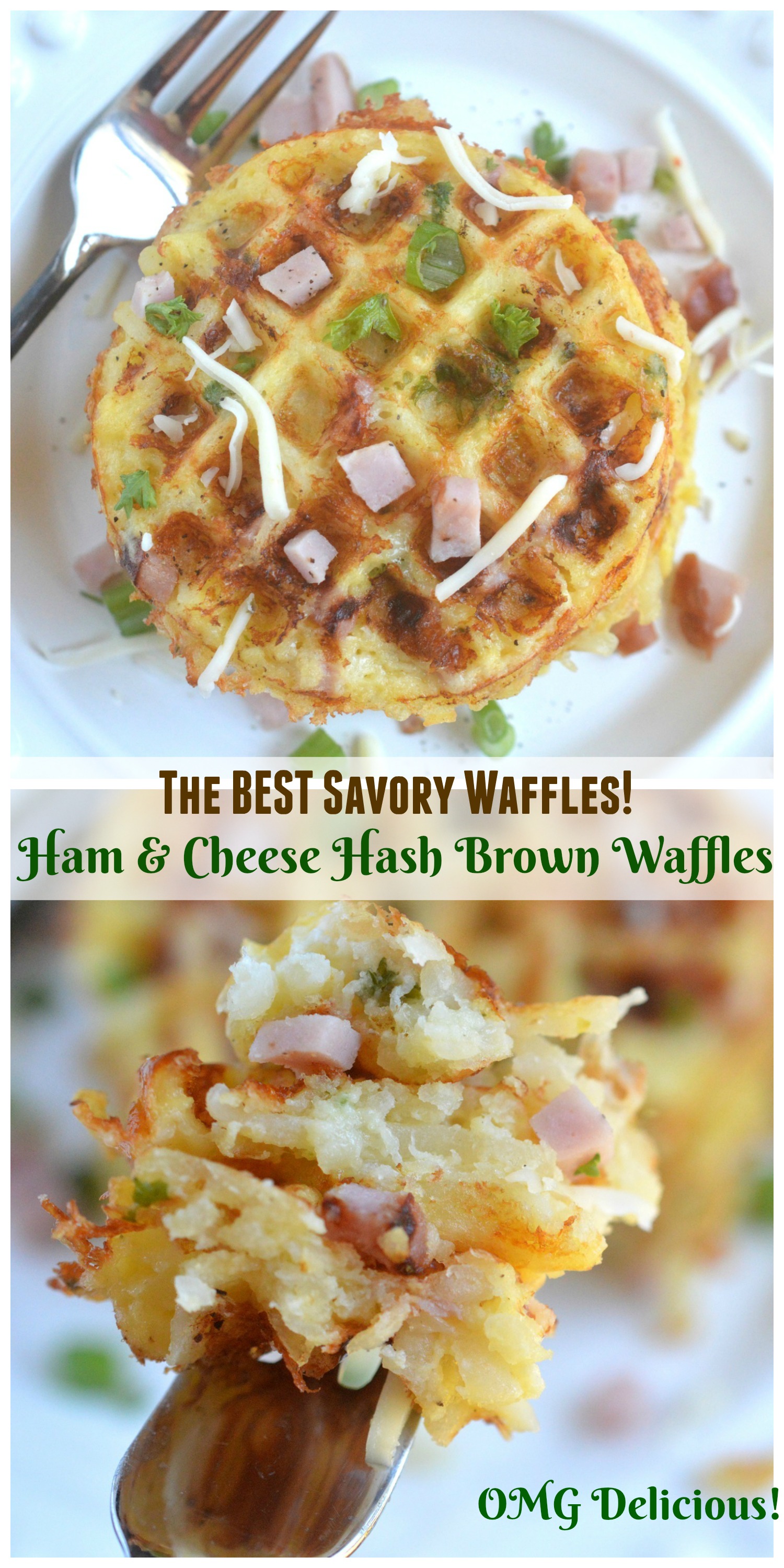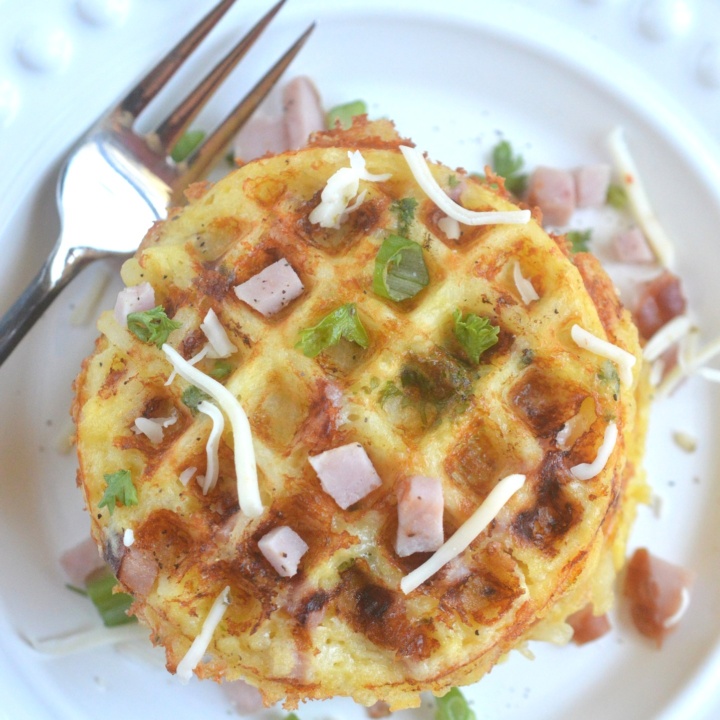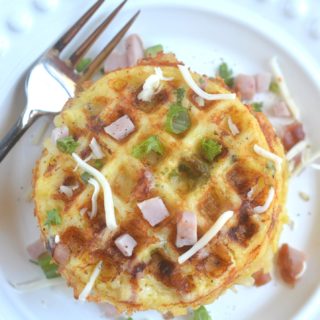 Ham & Cheese Hash Brown Waffles
These Ham & Cheese Hash Brown Waffles are the BEST savory waffles! perfect for breakfast, lunch or dinner!
Ingredients
20

oz

package of hash browns

or 3 cups shredded potatoes

1

cup

shredded Monterey Jack or Pepper Jack cheese

1

cup

diced ham

2

egg yolks

½

cup

chopped scallions

3

TBS

chopped parsley

Salt & black pepper

Cooking spray or oil

for waffle maker

Optional: Roasted asparagus and fried eggs for topping
Instructions
In a mixing bowl, combine potatoes, cheese, ham, egg yolks, scallion, parsley, salt & pepper (season well).

Mix gently until combined.

Heat waffle maker/iron. Brush lightly with grapeseed or olive oil or spray with cooking spray.

Once iron is hot, use a cookie scoop or spoon, to place mixture into each section of the waffle iron.

(I happen to use a mini waffle iron for this, so I make one at a time, however, any type of waffle maker will work. The large the "waffles" the longer it will take to cook through).

Cook the waffles until browned and crisp edges form.

Use a fork and a small spatula to gently lift waffles out of the iron.

Repeat with oil/cooking spray in between each use.

Serve immediately.
Follow me on Tik Tok for 1 minute videos