One of my faaaavorite things to eat for dessert is just about any variety cooked fruit, any way you want to give it to me makes me a happy girl. Cobblers, pies, compotes & more. Something about it, mmmm! This recipe for Easy Peach Fritters is one of those recipes I go back to again and again.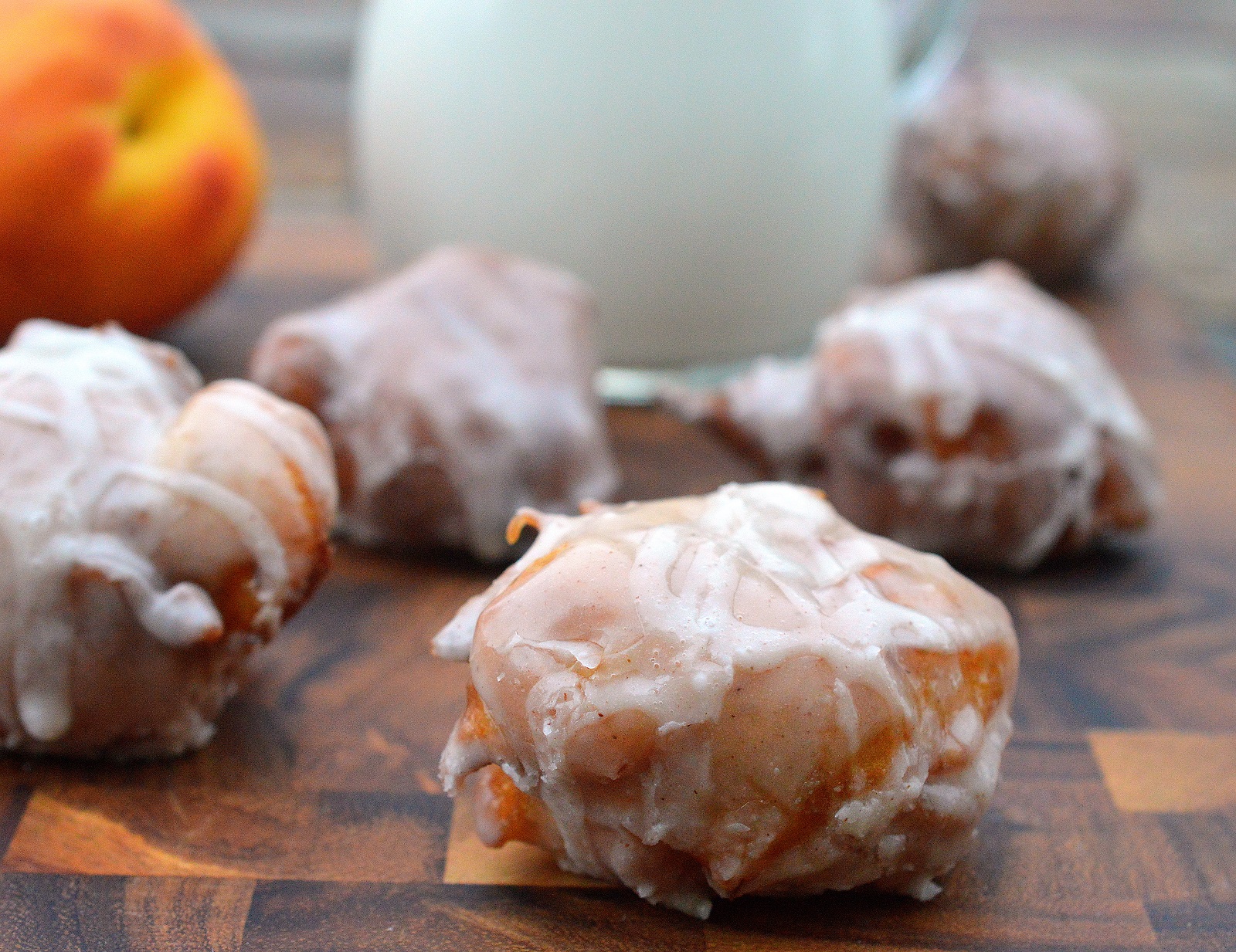 The 4th most popular recipe on this site happens to be the recipe for Easy Apple Fritters, so I thought it was time to share a delicious variation for summer! These Easy Peach Fritters go fast! Both the making of them and the eating devouring! Seriously! When I make them, poof! They disappear faster than a snowflake on an 80-degree day!
All you need are a handful of ingredients and of course fresh peaches for these yummalicious Easy Peach Fritters. There is milk IN the fritters and there is also milk in the glaze. So I thought this recipe was appropriate for Dairy Month. June is Dairy Month. I am no stranger to the world of dairy farming and I personally love all things made from milk. I mean…cheese, ice cream, yogurt,  and butter…BUTTER, my one true love!!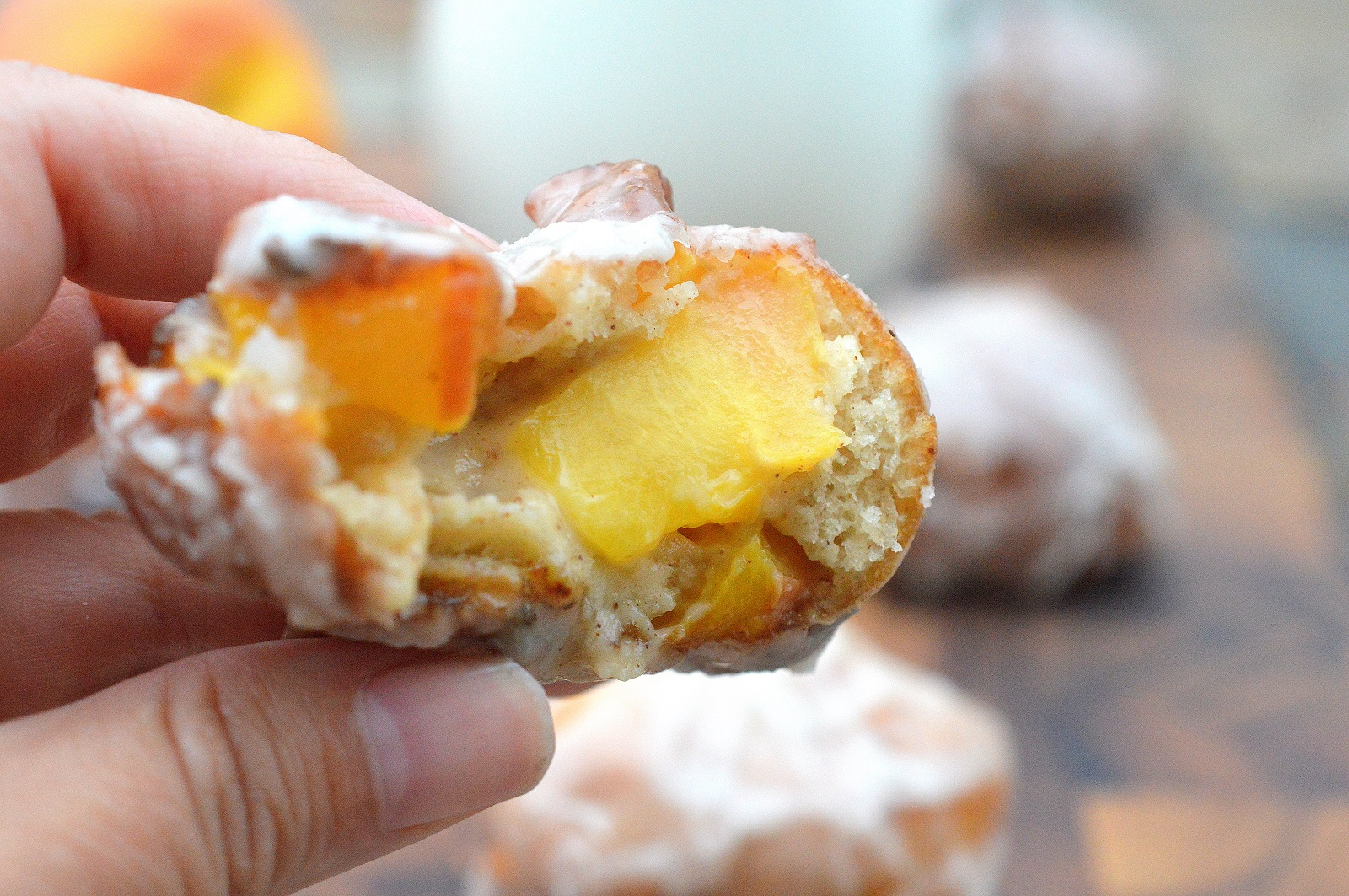 Today I have once again partnered with the American Dairy Board North East to bring you this recipe and to talk about American Dairy Farmers. Honestly, I don't need to partner up with anyone to express both my awe and gratitude for all of the family farmers across the United States (and beyond). I often remind myself and my family to not take for granted all that we have access to because of those that work endlessly in the barns, fields, vineyards. It's humbling when I think of the 3, 4 5th,6th generation farmers of every variety.
Dairy Farmers are very interesting to me. I have visited a number of dairy farms over the years and have so much respect for the passion, cutting-edge science, sustainability and diversification that is part of their everyday life. I have seen first hand how they recycle water, how they recycle manure and other waste materials via Anaerobic Digestors and power their farms and some of their towns. One farm in New York even began an initiative to collect food waste from Wegmans, assisted living facilities, hotels and restaurants and turn that waste into power. Wow!!
One dairy farmer I met recycles cow manure into "Cow Pots" for plants, another makes incredible soaps from some of the farm's milk. Today's dairy farmers are savvy, very well educated and driven to succeed.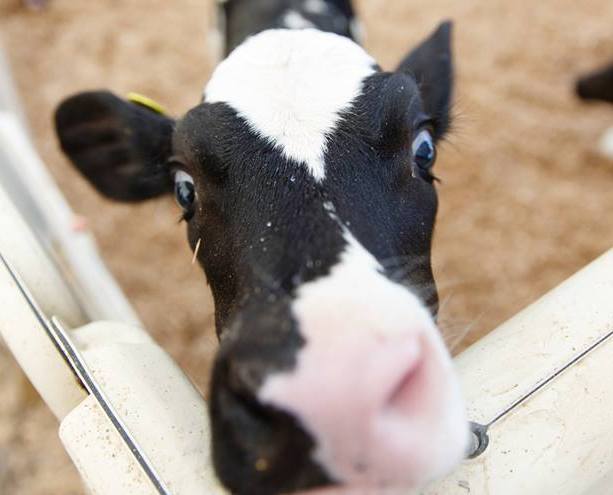 Did you know that cow comfort is paramount in Dairy Farming? The more comfortable the cows, the higher yield of wholesome quality milk. And contrary to what many people think…ALL milk (both conventional and organic) arriving at processing plants is tested for antibiotics, milk found containing them cannot be sold to the public. Strict government standards and industry protocols ensure that pasteurized milk is wholesome and nutritious.
I have seen cows with waterbeds, sand beds and every farm I have visited has had cool cow-itchers…Huge rolling bristle brushes that scratch them on their ears, backs, head, sides…whenever they wish. They just mosy over and get to it. 
I have a few posts about various dairy farm visits. Take a look here (these dairy farmers banded together and did something amazing!), here, here (and this one has a recipe for the BEST Creamy Chocolate Martini, and here a post that also visits an amazing cheese production facility in Wisconsin.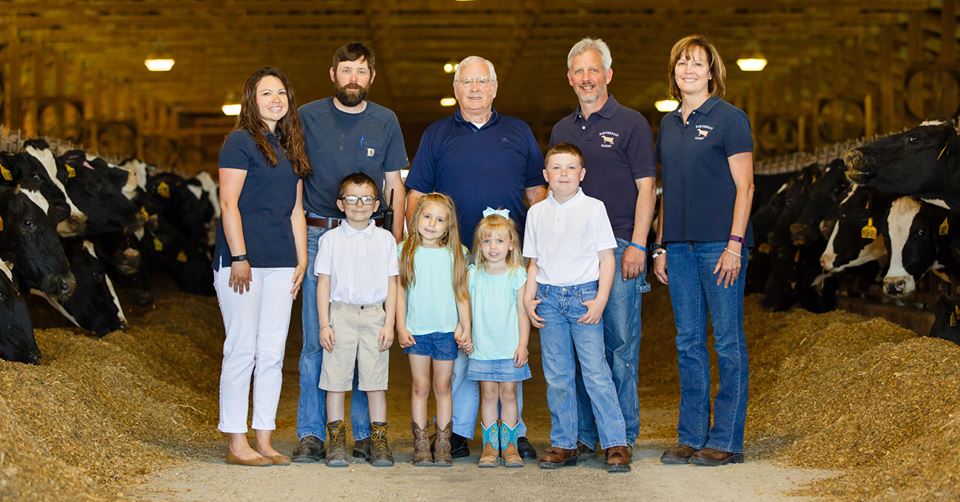 The day I made these Easy Peach Fritters, my 13-year-old daughter had some friends over swimming. Her friend Annie (below) was over-the-moon for them. I snapped her enjoying her third of the day, lol! What you can't tell is that in the first shot as she was biting into it she was screaming "OMG Miss Colleen these are SOOO good"! She's a sweetheart!
Whole milk is in the batter and in the glaze of these Easy Peach Fritters. I can not even begin to calculate how much dairy my household goes through each week. I use a ton of cheese, butter, cream, milk and more in recipes and my kids inhale yogurt.  If I am down to 2 sticks of butter…I get the shakes, lol!!
My son must drink a gallon of milk by himself each week. He is growing up to be so handsome (back off girls…he's all mine!). He's 16 and I swear, just last week he grew over an inch and his shoulder filled out. I can't stop staring at him wondering where my 5-year-old boy went! Taker a look at this article from the American Dairy Board North East – 3 Things Moms Need to Know about Dairy Farming.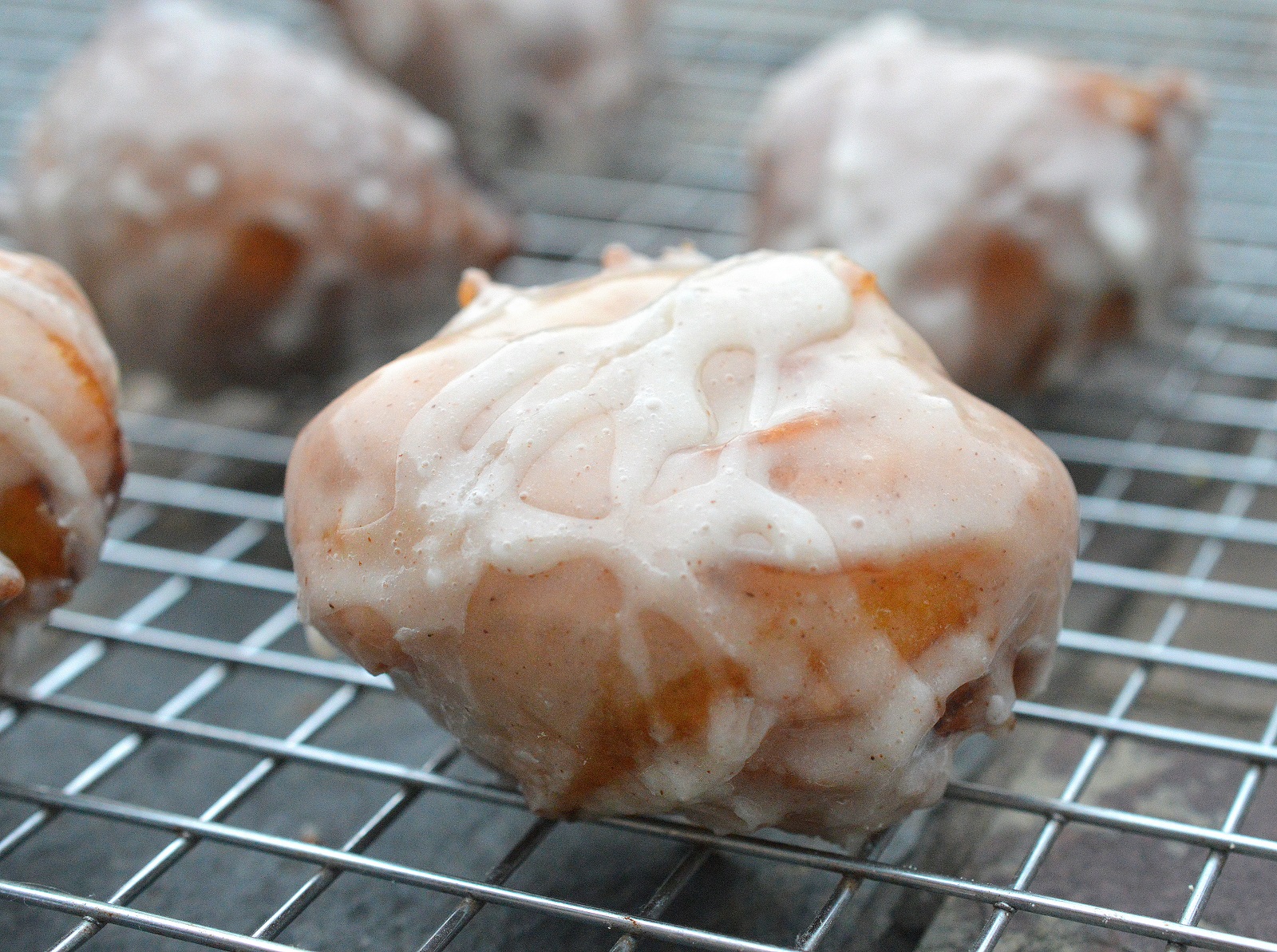 I hope you and your family enjoy these Easy Peach Fritters as much as we do!
Tag me on social if you make them…Lemme see yours! On Instagram @SouffleBombay
Thanks again to American Dairy North East for sponsoring this post! I will be heading back to upstate New York in October for another Dairy Tour, stay tuned for my IG Story and social channel coverage.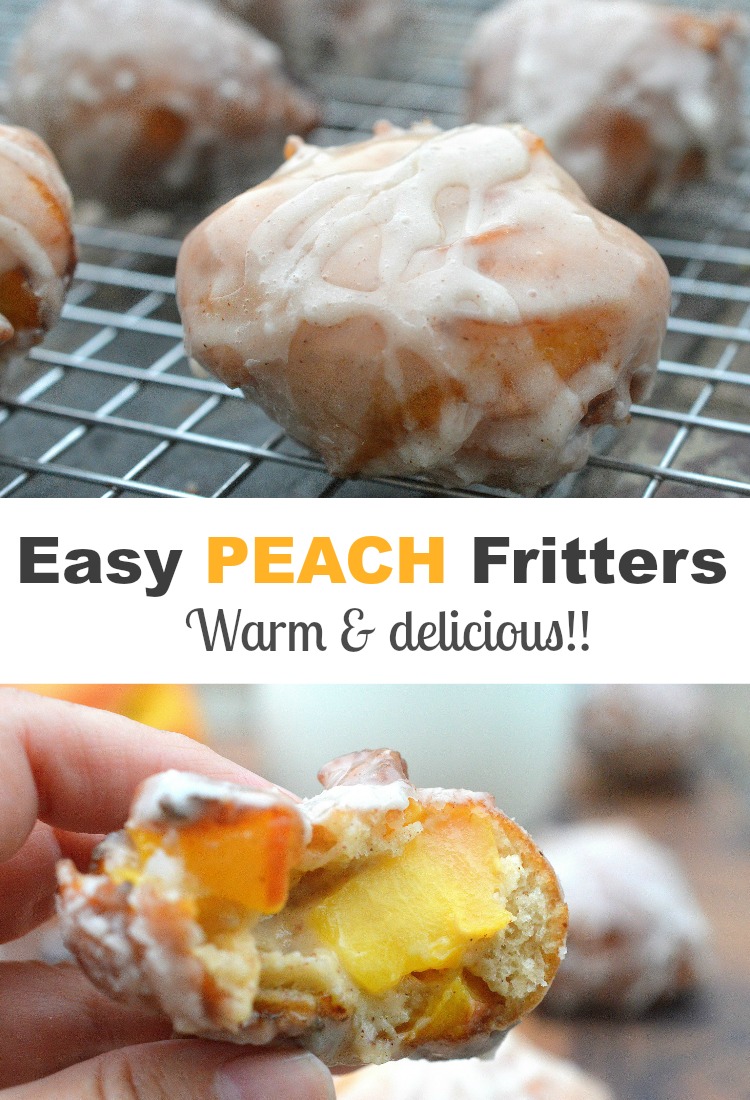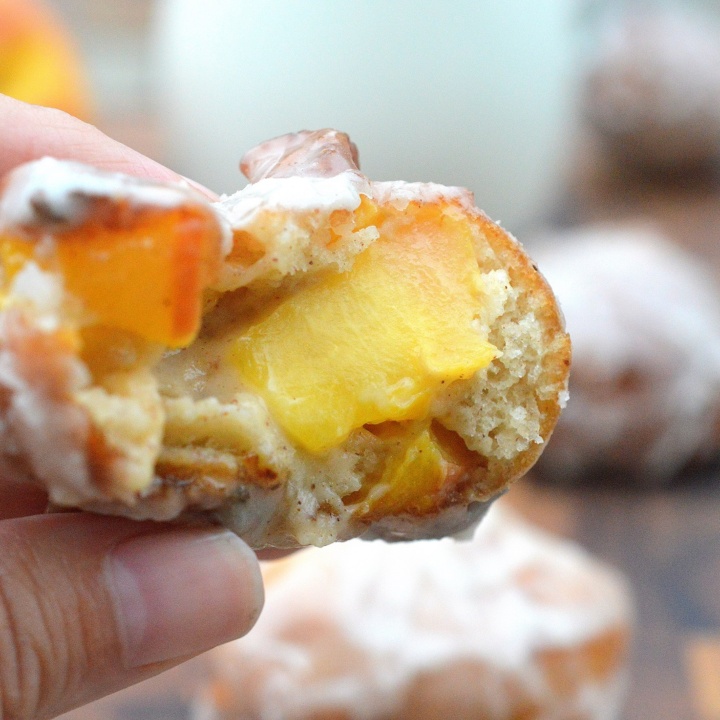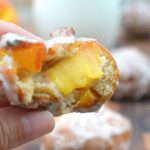 Print Recipe
Easy Peach Fritters
Ingredients
2

large fresh peaches skinned

cut into chunks

1

cup

flour

3

TBS

sugar

¼

tsp

salt

1½

tsp

baking powder

⅓

cup

milk

1/2

tsp

vanilla

1

egg

A few shakes of cinnamon

A few shakes of nutmeg

Oil for frying the fritters
Instructions
Combine the flour, sugar, salt and baking powder, and whisk until combined.

In a small bowl whisk the milk and egg until combined, add in vanilla and then add to dry ingredients.

Mix until just incorporated.

Gently fold in the peach chunks.

Heat oil to 370 degrees.

Fry heaping spoonfuls (or use a small cookie scoop) of the batter (being sure you get peaches in each scoop)until golden brown (about 2-3 minutes),

If frying in a sealed fryer, shake basked around just a bit during frying to ensure even rotation of cooking. If cooking in an open pot, gently rotate fritters with a spoon or fork to ensure an even cook.

Once fritters are removed from fryer/pot, place them on a cooling rack with paper towels under to catch any drips. If rolling in cinnamon & sugar vs glazing them, do so as soon as you can handle the fritters for best results. If dipping them in a simple glaze, allow them to cool a bit more.

To make glaze simply combine 1½ cups powdered sugar, a splash of vanilla and 1-1½ TBS milk. Stir until smooth and drizzle over fritters or go ahead and dunk them in. If dunking them in, allow them to set for a few minutes and enjoy...they don't really "keep" that way. Fritters are best enjoyed soon after you make them while they are still warm. For best results fry in batches of 3 or four. I use a small cookie scoop to make dropping the batter into the oil nice and easy.
Notes
The larger you make the fritters, the longer they need to cook.
Fritters will go past golden to a brown crust.
If you pull some out too quick and a little batter is in the center, its fine. Still delicious!
Spoon glaze over fritters vs dunking them if you want a thinner coating.
You want the glaze to coat a spoon. Not too thick, but not too thin either.