There are few things as delicious or as comforting as a warm homemade apple dessert. Am I right?? These Easy Apple Fritters are a home run any time of the year! All you need are a handful of ingredients and in no time your kitchen will smell amazing and everyone will be licking their fingers!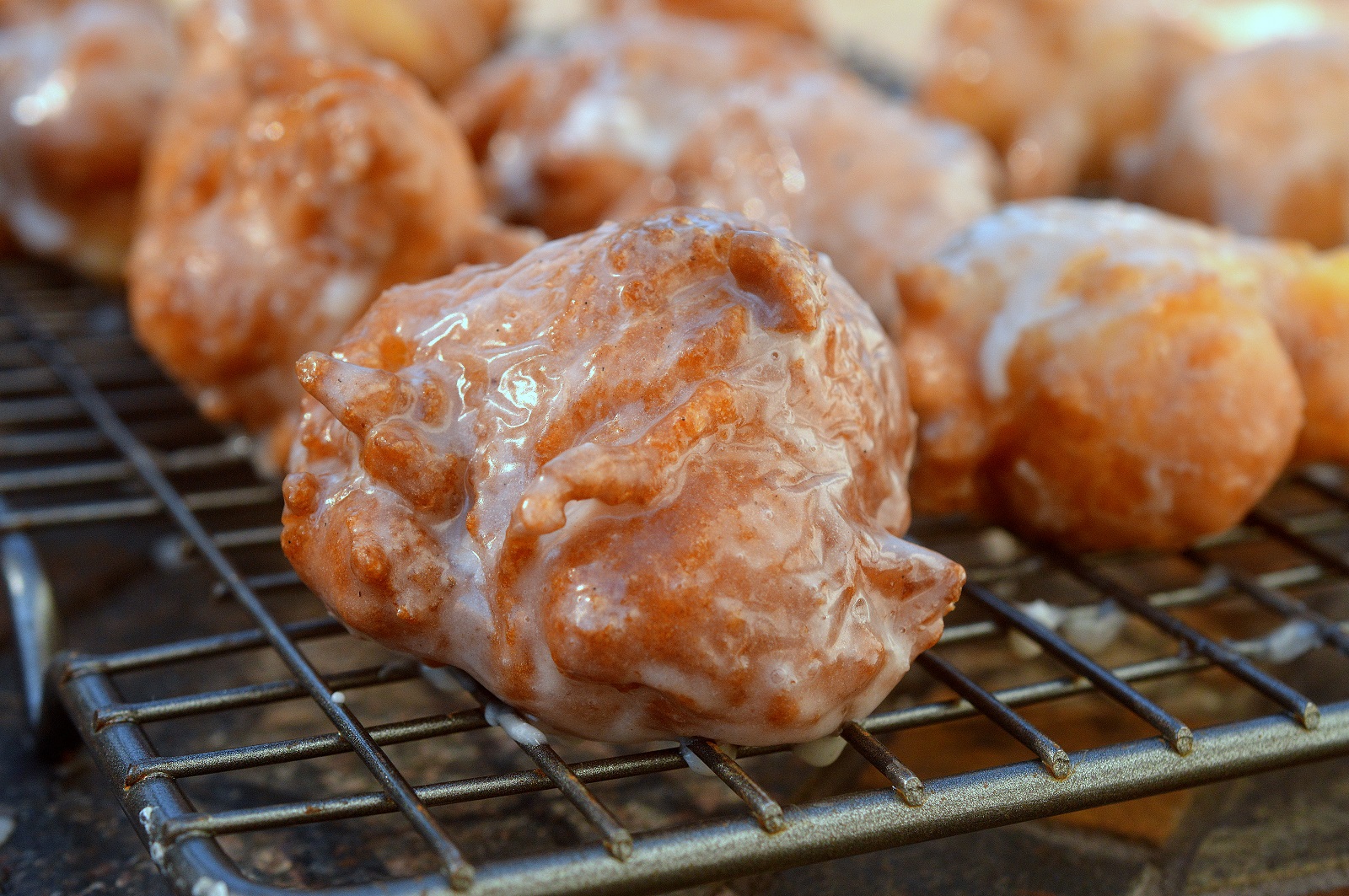 Just a few pantry staples and a handful of apples are all you need to earn yourself warm, fragrant, decadent Apple Fritters.
To me, comfort foods are like a warm snuggly blanket, a new pair of slippers or a great big bear hug from someone you love. These easy Apple Fritters are high up on that list!
The way I see it, a homemade sweet of some sort beats a pre-packaged cookie, sweet, candy or (gasp) Tastykake. As a gal from Philly, talking any kind of trash on any sort of Tastykake can get me into trouble, lol!
It only takes 10 minutes to make the batter as well as peel and chop the apples.
And just 3 minutes to make the glaze and a few minutes to fry them. Just like that you will be enjoying these hot, scrumptious, Apple Fritters. And you will definitely be licking your fingers!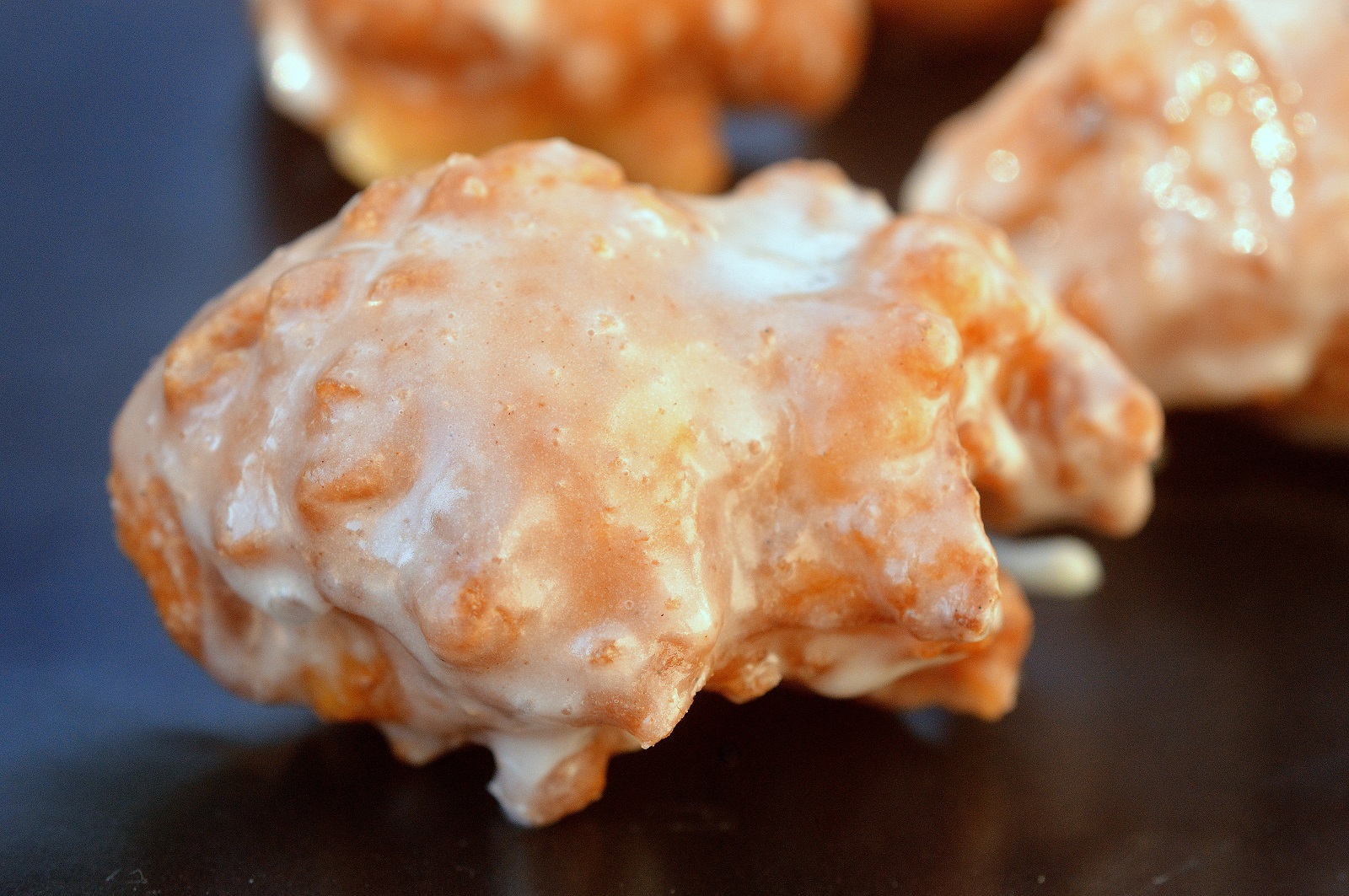 These homemade Apple Fritters are perfect fall dessert recipe for when the mood strikes to make your family something sweet, delicious and warm! They don't take long to make either, which is a good thing in my book! And honestly they are delicious any time of the year.
Tips
Cut apples into small even sized chunks
Don't let a fear of frying get in your way when it comes to this apple fritter recipe. It isn't difficult at all
I recommend frying one by itself at first so you get the rhythm of doneness down
Make sure all ingredients are ready and your area is set up before you begin frying, allow yourself space
Use a metal strainer like this or tongs to pull fritters out and place on a baking rack with paper towels or parchment underneath the rack itself to catch any drips
Either dip the fritters in a glaze, sprinkle them with powdered sugar or roll them in cinnamon & sugar while still warm
These are best enjoyed just after you make them while still a bit warm and freshly glazed
If you enjoy peaches, make peach fritters or try blueberry fritters
Instructions
To make apple fritters all you need are chopped apples, flour, sugar, salt, baking powder, an egg, milk, and spices. Plus oil for frying. The making of apple fritters is quite quick. Just peel your apples, chop them, make the batter, toss the apple in and fry them up in batches.
Do I need a fryer to make fritters?
No, you can make these fritters in a pot with oil. I recommend using a deep pot, to avoid any oil splatter. You could also use a large pot however that would require more oil.
If you do want to get a fryer for frying things like fritters, calamari, crab balls, etc. I really like this Cool Daddy Deep Fryer and feel its the best for beginners.
Can I bake fruit fritters?
Apple Fritters, at least the apple fritters I make, need to be fried. The batter would never hold up being baked. They would end up as puddles.
Can I air fry apple fritters?
Again, the same as baking. This batter is too liquid to be used in an air fryer. That being said, MAYBE if someone tinkered with it and used metal small ramekins or something, you may have success. They would however not be shaped like a traditional fritter, more like a small cake.
Frying Apple Fritters as described in this recipe post is the only option. There are variations that could be cooked in other methods however these are apple fritters as you would expect with crispy outside and puffy doughy insides.
How long are apple fritters good for?
Apple Fritters as made in this recipe post are best as they are made. The taste and texture are best while still warm.
Variations
I have made a Peach Fritter recipe as a variation to this Apple Fritter Recipe with delicious success! (Pictured below) as well as Blueberry Fritters.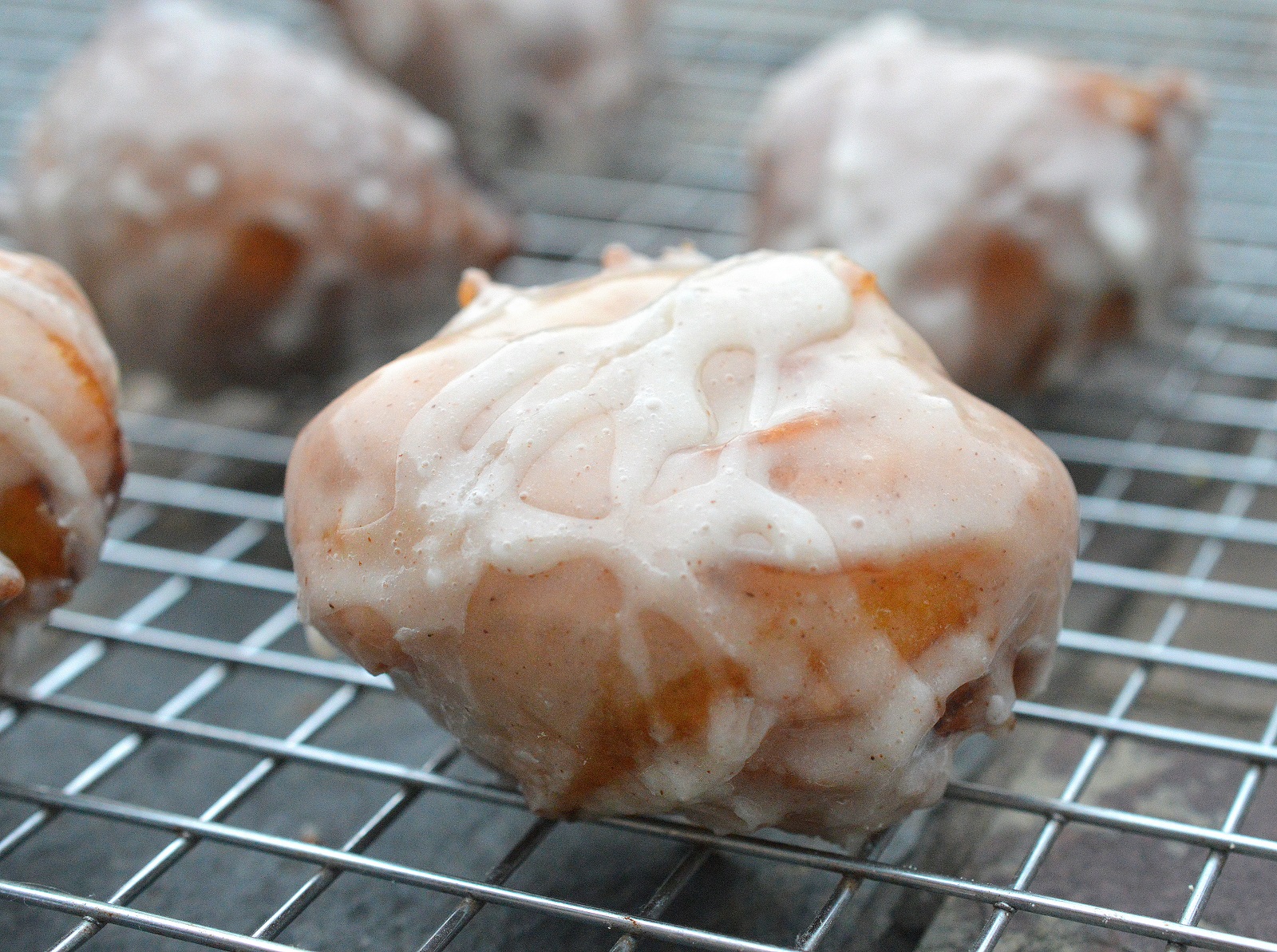 Fruit fritters remind me of days spent with the family. How about getting your kids (any age really) to help prep these OR for your teens and tweens...Have them take the lead.
It's a great introductory frying lesson if you feel they are ready. Can't you just then see them someday making these for you or for their family. Just the thought makes me happy!
If your tweens or teens enjoy doing or if they want to learn, check out my cookbook for kids "Kid Chef Everyday".
It's available on Amazon and soon to be in retail stores and its chock-full of real recipes that the whole family will actually enjoy eating!
Crispy Baked Parmesan Wings, Easy Strawberry Lime Jam, Cinnamon Bun Baked Oatmeal, Lemon Pepper Pork Chops, Homemade Breakfast Sausage and more!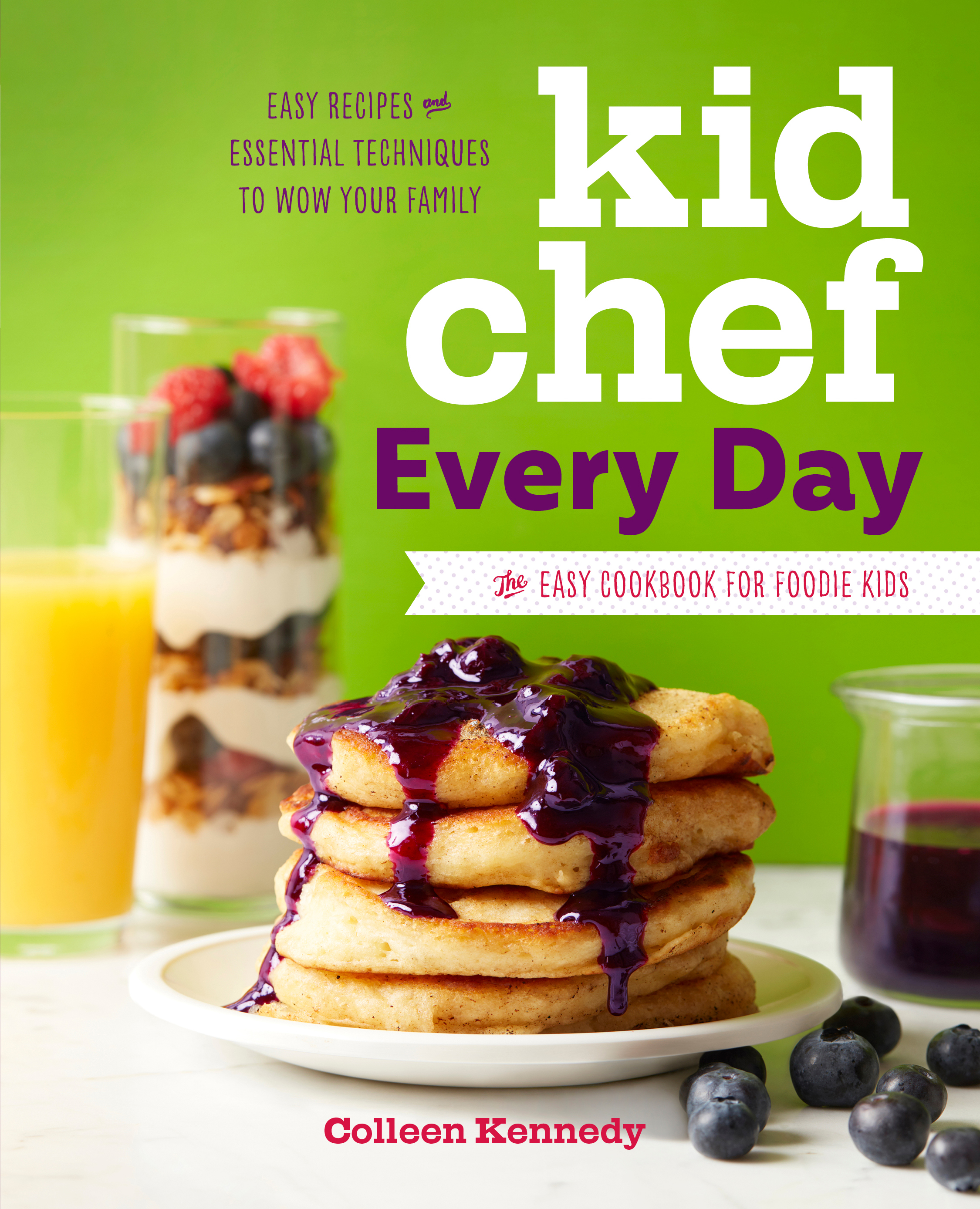 A few of my other favorite easy desserts to make my family are:

Hope you try these out and enjoy them! Let me know if you do!
Enjoy!!
Recipe originally published March, 2017, updated September 2023. Post contains an Amazon Affiliate links which means that if you purchase something suggested I may receive a few cents or a dollar in commission.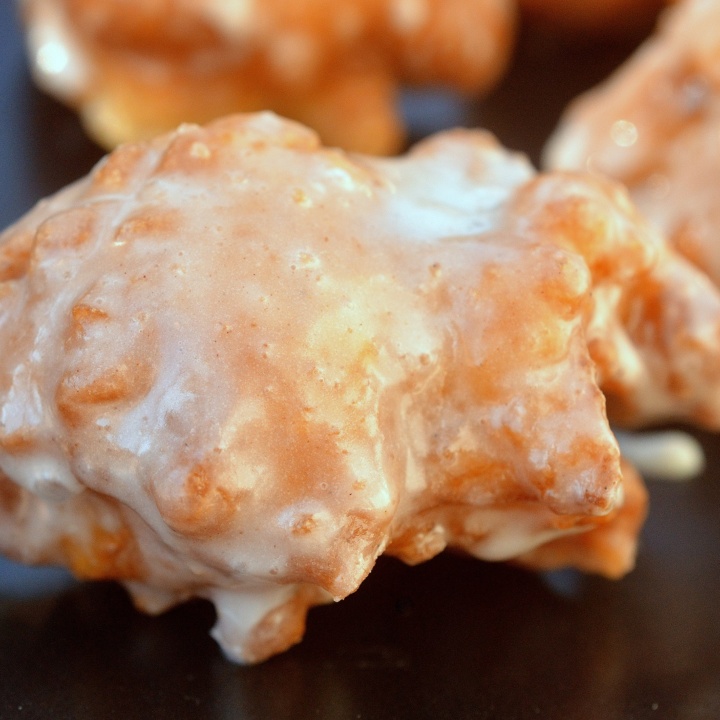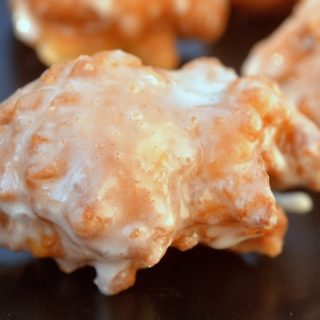 Easy Apple Fritters
These amazing and easy to make Apple Fritters are comfort food at its best!
Ingredients
2-3

peeled apples

1 ½ cups when diced

1

cup

flour

¼

cup

sugar

¼

teaspoon

salt

1 ½

teaspoon

baking powder

⅓

cup

milk

1

egg

2

TBS

cinnamon sugar mixture

2 TBS sugar and 1 teaspoon cinnamon

Oil for frying the fritters
Instructions
Combine the flour, sugar, salt and baking powder, and whisk until combined.

In a small bowl whisk the milk and egg until combined, add into dry ingredients and mix until just incorporated.

Toss the apple chunks with the cinnamon & sugar and dump the mixture into the batter, stir just a bit to move apples around.

Heat oil to 370 degrees.

Fry heaping spoonfuls (or use a cookie scoop) of the batter (being sure you get apples in each scoop)until golden brown (about 2-3 minutes),

If frying in a sealed fryer, shake basked around just a bit during frying to ensure even rotation of cooking. If cooking in an open frying pan/poy, flip fritters using a spatula or fork to ensure even cooking.

Once fritters are removed from the fryer, place them on a cooling rack with paper towels under to catch any drips. If rolling in cinnamon & sugar, do so as soon as you can handle the fritters. If sprinkling with powdered sugar or dipping them in a simple glaze, allow them to cool a bit more.

To make glaze simply combine 1 ½ cups powdered sugar, a splash of vanilla and 1-1 ½ TBS milk. Stir until smooth and drizzle over fritters or go ahead and dunk them in. If dunking them in, allow them to set for a few minutes and enjoy...they don't really "keep" that way. Fritters are best enjoyed soon after you make them while still warm. For best results fry in batches of 3 or four. I use a small cookie scoop to make dropping the batter into the oil nice and easy.
Notes
You can make the batter an hour or so ahead and fry when ready.
Tips - Don't crowd, make in small batches. Best enjoyed soon after frying.
Nutrition
Serving:
4
g
Calories:
253
kcal
Carbohydrates:
55
g
Protein:
6
g
Fat:
2
g
Saturated Fat:
1
g
Cholesterol:
43
mg
Sodium:
102
mg
Fiber:
3
g
Sugar:
29
g
Follow me on Tik Tok for 1 minute videos