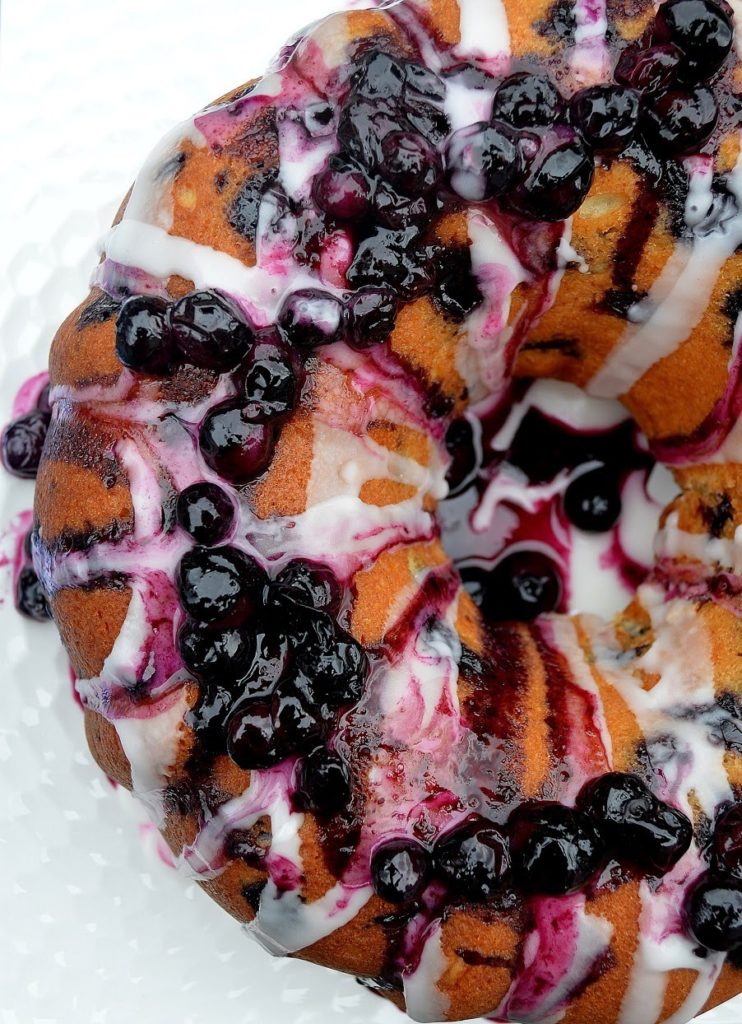 THIS Blueberry Lemon Yogurt Cake with Blueberry Compote...is ri-dic-u-lous!

Really!

You want to make a friend?

Make this cake!
My daughter and I decided to make a cake the other day - she took full control over the cake making part, I just looked on and took this short Instagram video.
I love how she's into what she's doing...she see's me taking a video, gets silly like a 9 year old should, then gets right back to business...THAT is my daughter in a nutshell!
Once Samantha popped the cake into the oven, poof!  She was gone - out and about on her bike with her brother and friends.
After the cake cooled, I drizzled it with the lemon icing like we planned, then my eyes went to the leftover blueberries sitting on my counter so I thought, what the heck, I'm going to cook them up, and that's just what I did.  That simple decision, which took less that 10 minutes to execute, put this cake completely over-the-top!
My kids came back, we each had a slice as we sat outside enjoying the beautiful evening...I think we collectively moaned at one point.  I mean the blueberries mingled with a hint of lemon combined with the super moist cake (thanks to the yogurt) plus the warm berries and the sweet drizzle were like a perfect song.  A song you want to listen to over and over again.  Speaking of perfect songs...I have been completely obsessed with Sam Smith lately, give him a listen and I think you just might be too Lay Me Down, Money on My Mind, Latch and his new one Stay - SO sooo good!
No sooner did my kids lick their plates clean then poof! They were gone again!  A few minutes later, I was out front and saw a "posse" of my sons friends on their bikes...I KNEW I had to get rid of the cake or else I would eat more and more so I said "hey..anyone want a piece of cake?"  Instantly, bikes hit the driveway and the tweens came running.
The 4 of us plus my daughter sat out back, chatting as they ate my Blueberry Lemon Yogurt Cake with Blueberry Compote. However, my son was nowhere to be found.  One boy was so smitten with the cake...that I kid-you-not...He ate 4 slices (AND the next night came back for the last piece! I have the vision of him riding off on his bike chomping on a big slice embedded in my brain)  He said "you know Mrs Kennedy, I tell my mom she's the best cook because it makes her feel good but you...YOU are the best cook"!  I cracked up - he just wanted more cake, lol! Everyone knows that their mama's are the best cooks!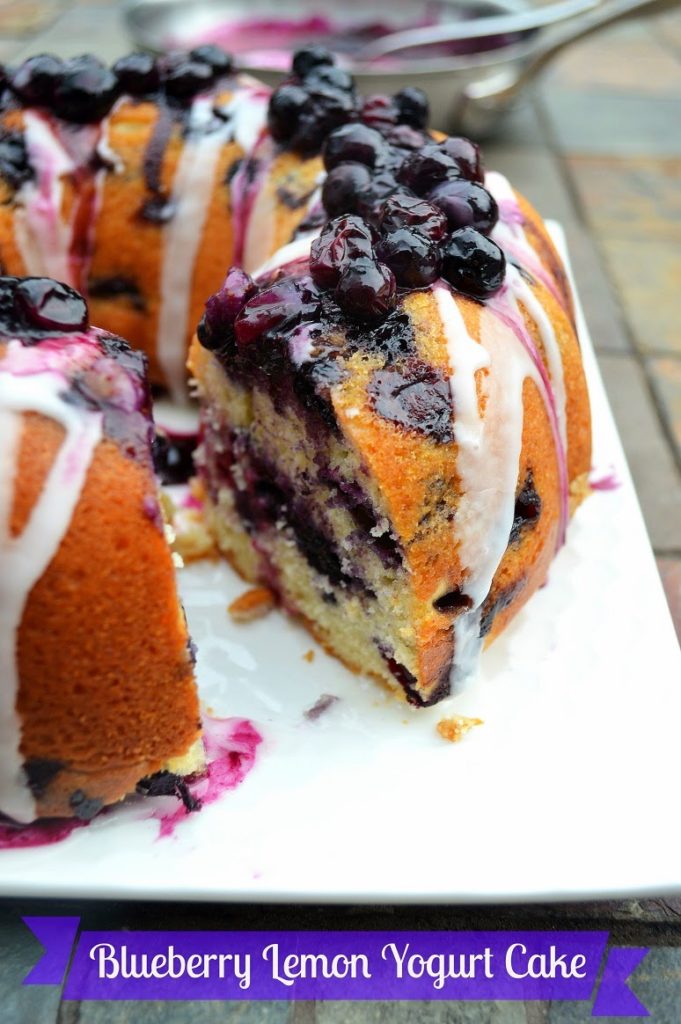 Then I said "well you know Samantha actually made this cake...I just put the stuff on top"  All pairs of 12 year old eyes turned to my 9 year old "baby", she puffed up a little bit with a confident smile - she may have just landed one or two suitors...we'll see what her daddy has to say about THAT!
My son finally reappeared, hung out with his friends then 2 nights later, even more boys showed up at my house and asked what I made that day and could they be taste testers...AND 11:00 yesterday they were back curious to see if anything was "laying around" - but that...that is another story!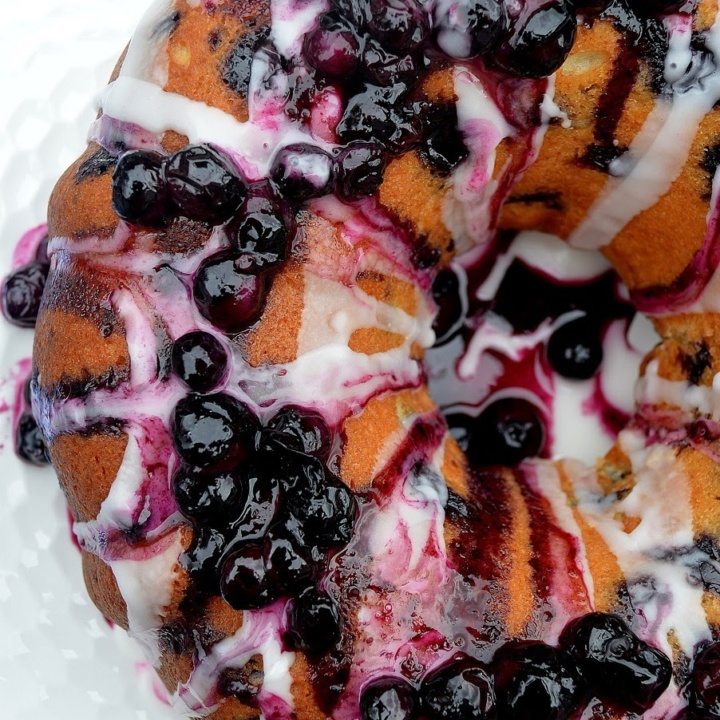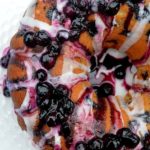 Print Recipe
Blueberry Lemon Yogurt Cake with Blueberry Compote
Ingredients
Blueberry Lemon Yogurt Cake

3

cups

flour

1 ½

teaspoons

baking powder

Dash of salt

1

cup

butter

room temperature

1 ½

cups

sugar

2

TBS

fresh squeezed lemon juice

3

large eggs

1

cup

vanilla or lemon Greek yogurt

Zest from one lemon

2

cups

blueberries

Lemon Drizzle

1 ¼

cup

powdered sugar

2

TBS

water

1

TBS

fresh squeezed lemon juice

Blueberry Compote Topping

1

cup

blueberries

1

TBS

water

¼

cup

sugar

1

TBS

lemon juice
Instructions
For the Cake:

Preheat oven to 350 degrees.

Grease your bundt pan, set aside. Combine flour, baking powder and salt in a medium bowl and set aside. Combine butter and sugar and beat with your mixer until creamy. Beat in lemon juice , eggs and yogurt, mix until blended, add in zest then mix blend on medium for an additional 2 minutes. Add in dry ingredients and mix until just blended. Gently fold in your blueberries. Spoon your batter into the bundt pan. Bake for 25-35 minutes or until your tester comes out clean. Allow the cake to cool for 5-10 minutes, then gently flip it out onto a cooling rack or cake plate. Allow the cake to cool.

Once the cake is cool, top with your Lemon Drizzle, then spoon your blueberry compote over top. Serve.

For the Drizzle:

Combine sugar, water and lemon juice, mix until smooth. Add more liquid if necessary or more sugar for a thicker icing. If you choose, you can switch out the water for all lemon juice.

For the Blueberry Compote:

In a saute pan, combine your blueberries, water, sugar and lemon juice, cook over medium high heat until berries begin bursting and juice thickens a bit and coats the back of your spatula about 6 minutes.
Enjoy!