Geez is it ever hot out this week! I'm all for never wanting to see summer end but darn, this summer has kicked my butt with its humidity and heat! So, I have been consoling myself with ice cold drinks, lots of AC and this easy no churn Blueberry Cheesecake Ice Cream recipe.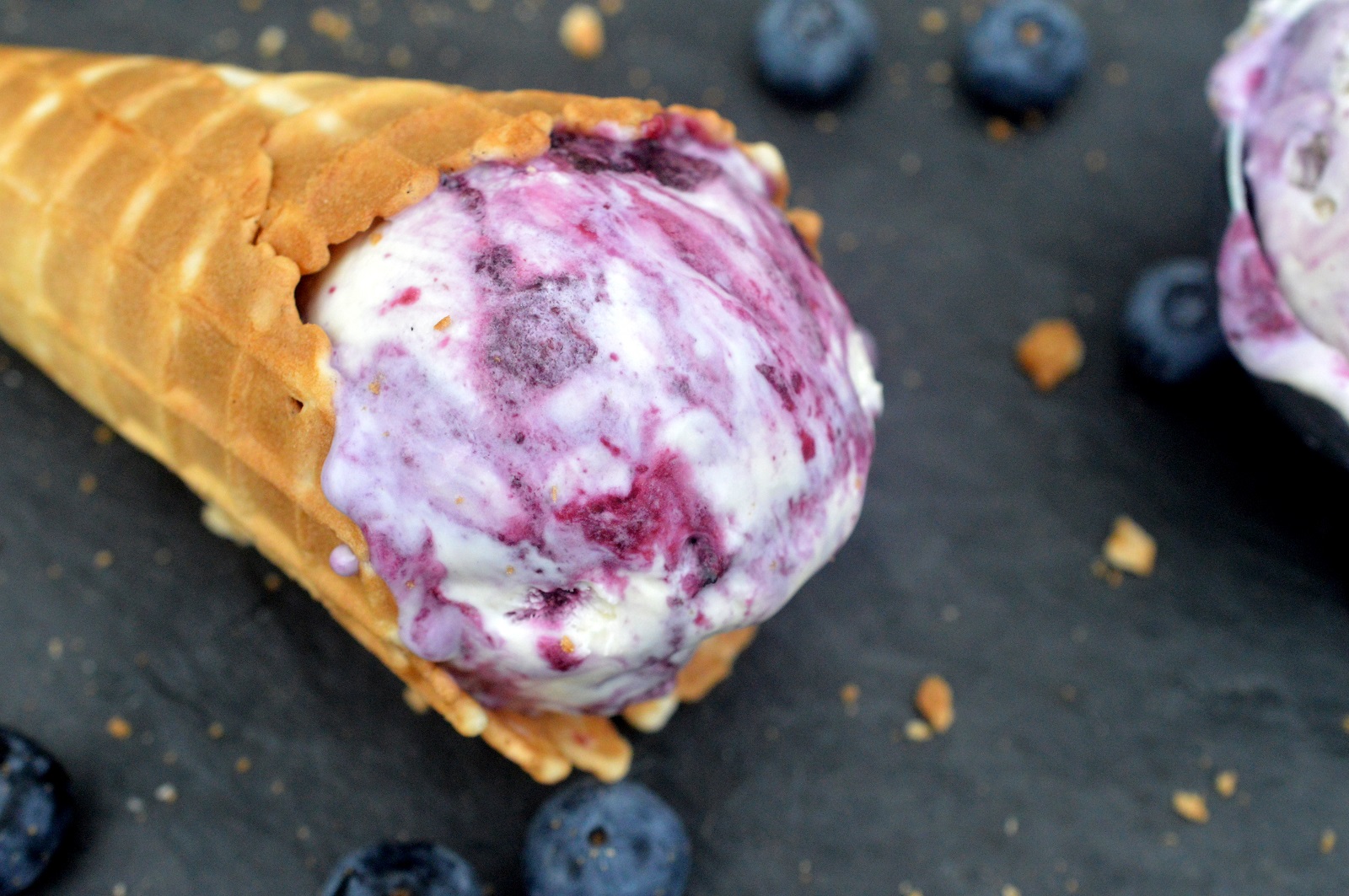 What is it about blueberries that make them irresistible? Thank goodness blueberries are loaded with antioxidants and other good things!
I haven't met a blueberry dish that I haven't enjoyed. Raw, in cakes, fritters or muffins are all delicious. As a compote on just about anything, even right off the spoon is my favorite way to enjoy them! I make blueberry simple syrup for cocktails and even homemade blueberry tea. On yogurt yogurt with a drizzle of honey and a couple spoonful's of granola is perfection.
This Blueberry Cheesecake Ice Cream recipe has been topping my list lately. There are just so many delicious recipes to make with blueberries that I sometimes forget to eat them raw.
My daughter has always enjoyed them raw (they are in her lunchbox 50% of the time), my son however only now as a teenager began eating them in smoothie bowls. I do enjoy them raw, depends on the batch however I would much rather make something with fresh blueberries. I love good fruit (which sometimes is hard to find!!).
There is a special place in my heart and stomach reserved for cooked fruits. Fruit compotes (plum is my fav), crumbles, grilled etc. This Rotisserie Grilled Pineapple is one of my favorite things to eat...ever!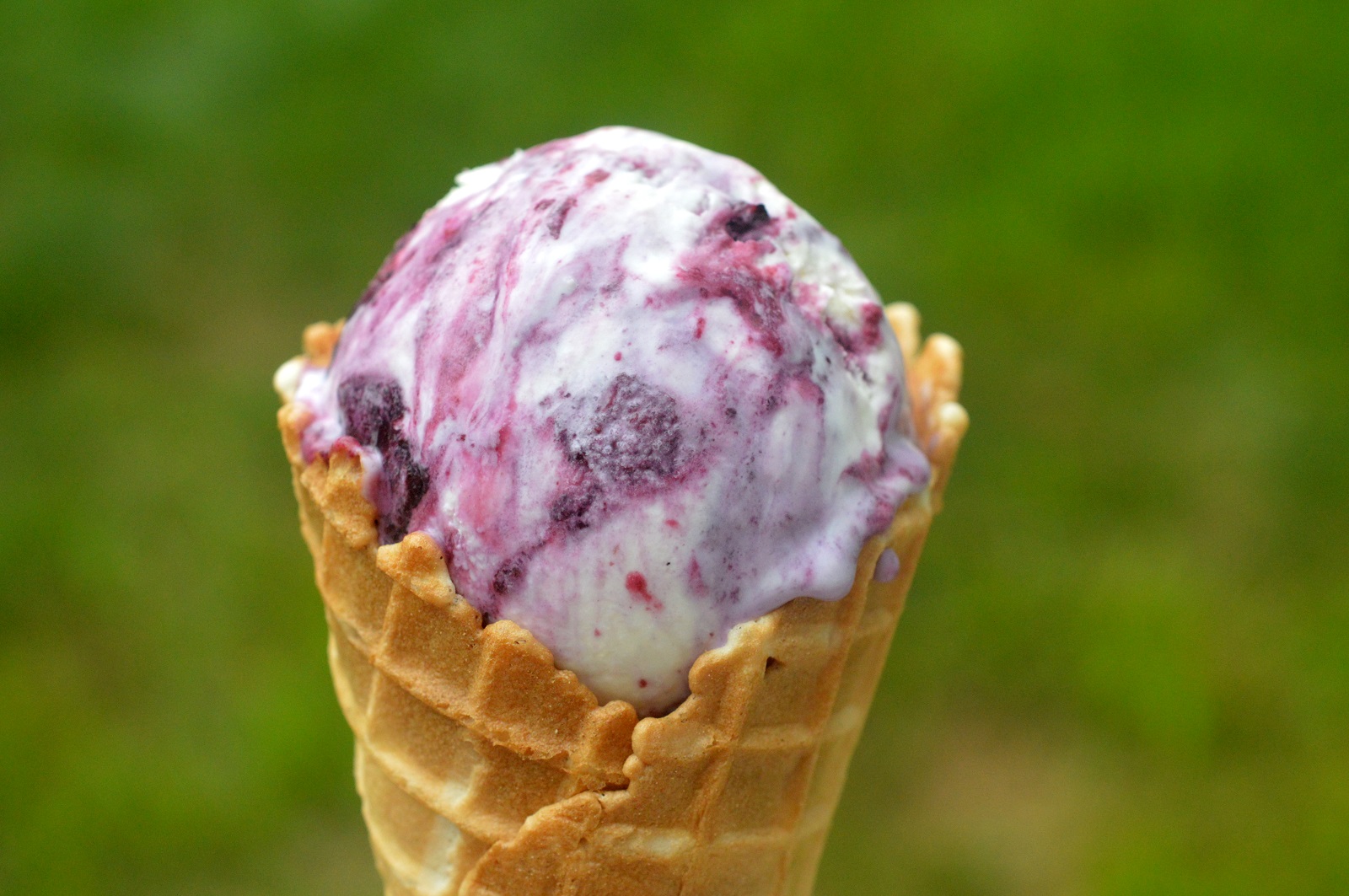 Making this Blueberry Cheesecake Ice Cream is easy. Anyone can make it, no ice cream maker required.  I actually have an ice cream maker that we do make ice cream and water ice in occasionally, however, this ice cream is just as delish!
Making Blueberry Cheesecake Ice Cream is easy enough to make that your 8-year-old can do it. Seriously!
Variations
Add in a swirl of graham cracker crumbs to this if you wish or top it in a bowl with a graham cracker "spoon" . (We, however, like it without).
You can increase the amount of cream cheese if you really want that cheesecake flavor to come through.
Switch out the blueberries for strawberries or blackberries. You really can't mess this recipe up.
Add a homemade sweet biscuit to it and have Blueberry Cobbler Ice Cream!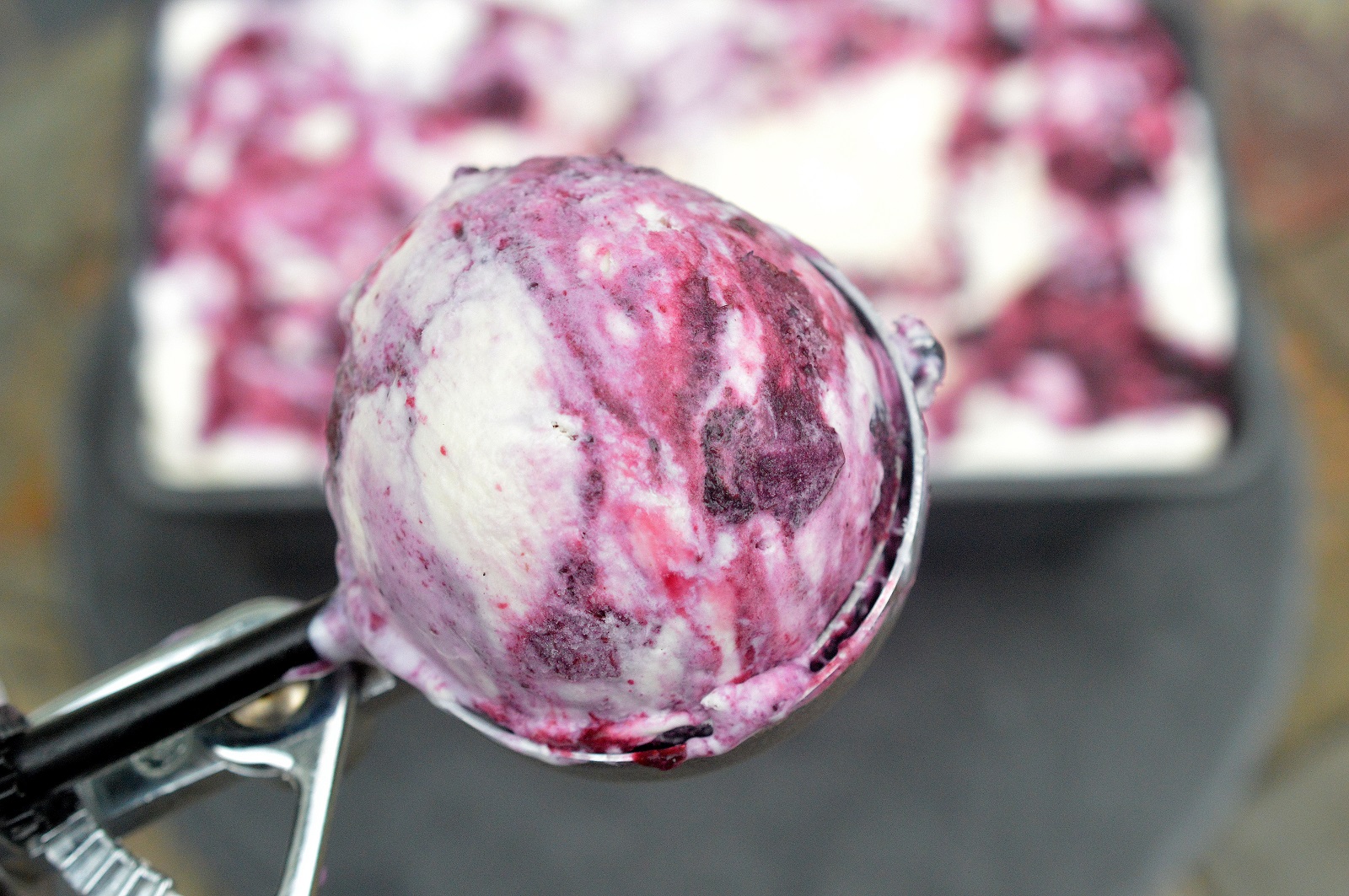 Below are two of my favorite blueberry recipes. The Blueberry Lemon Yogurt Cake with Blueberry Compote of the left is ahhhhmazing! It may look like a lot of work but it really isn't.
On the left is my take on Norwegian Flatcakes (Lapper). Delicious for breakfast, they are a cross between a crepe and a pancake.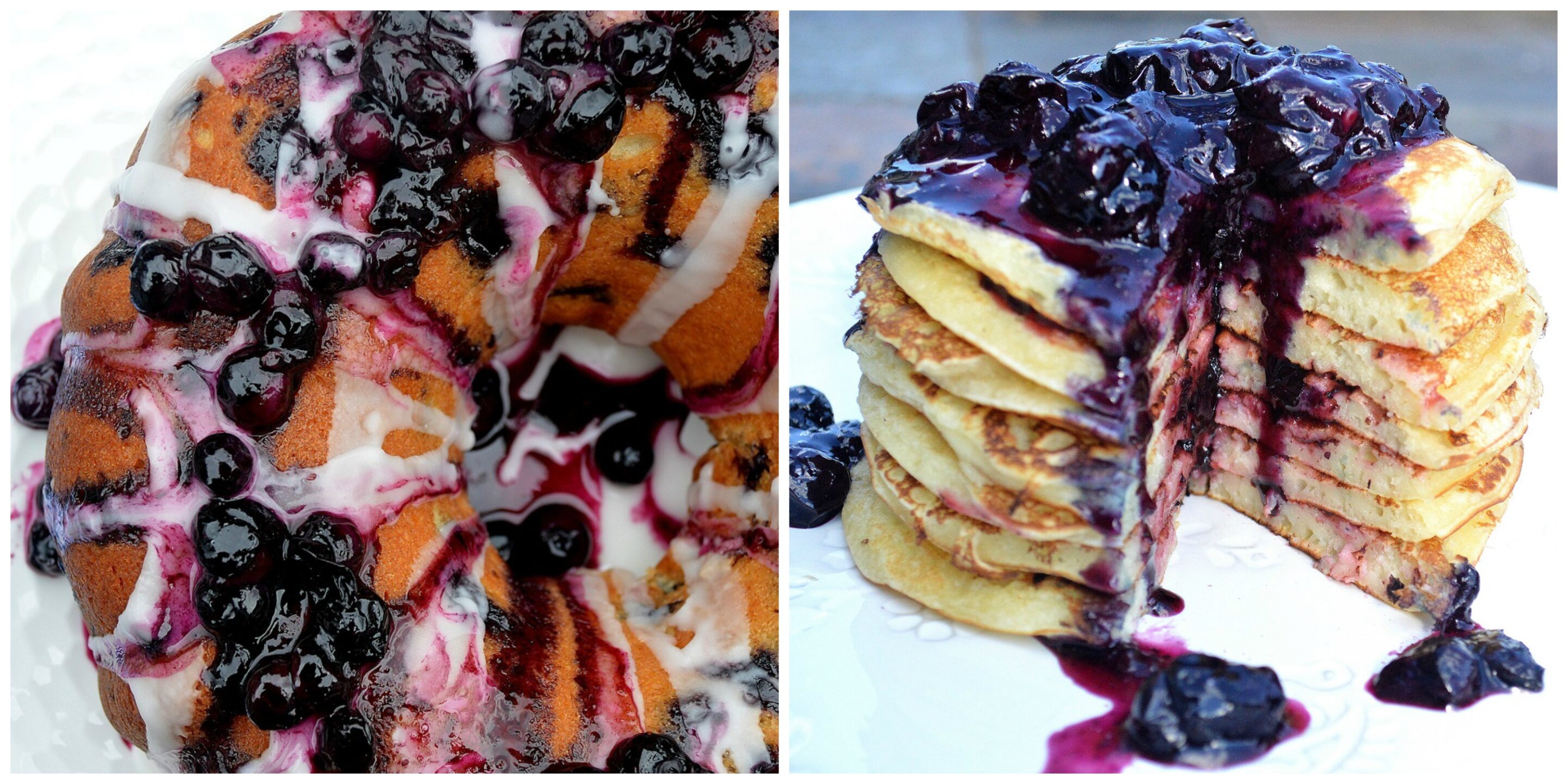 Now, this...This is the Caramelized Brown Sugar Bourbon Glazed Rotisserie Grilled Pineapple I was talking about. You will have no shame as you eat this...allowing the juices to run down your face and arms, lol! OR you can try to be civilized and eat it with a fork, but where is the fun in that??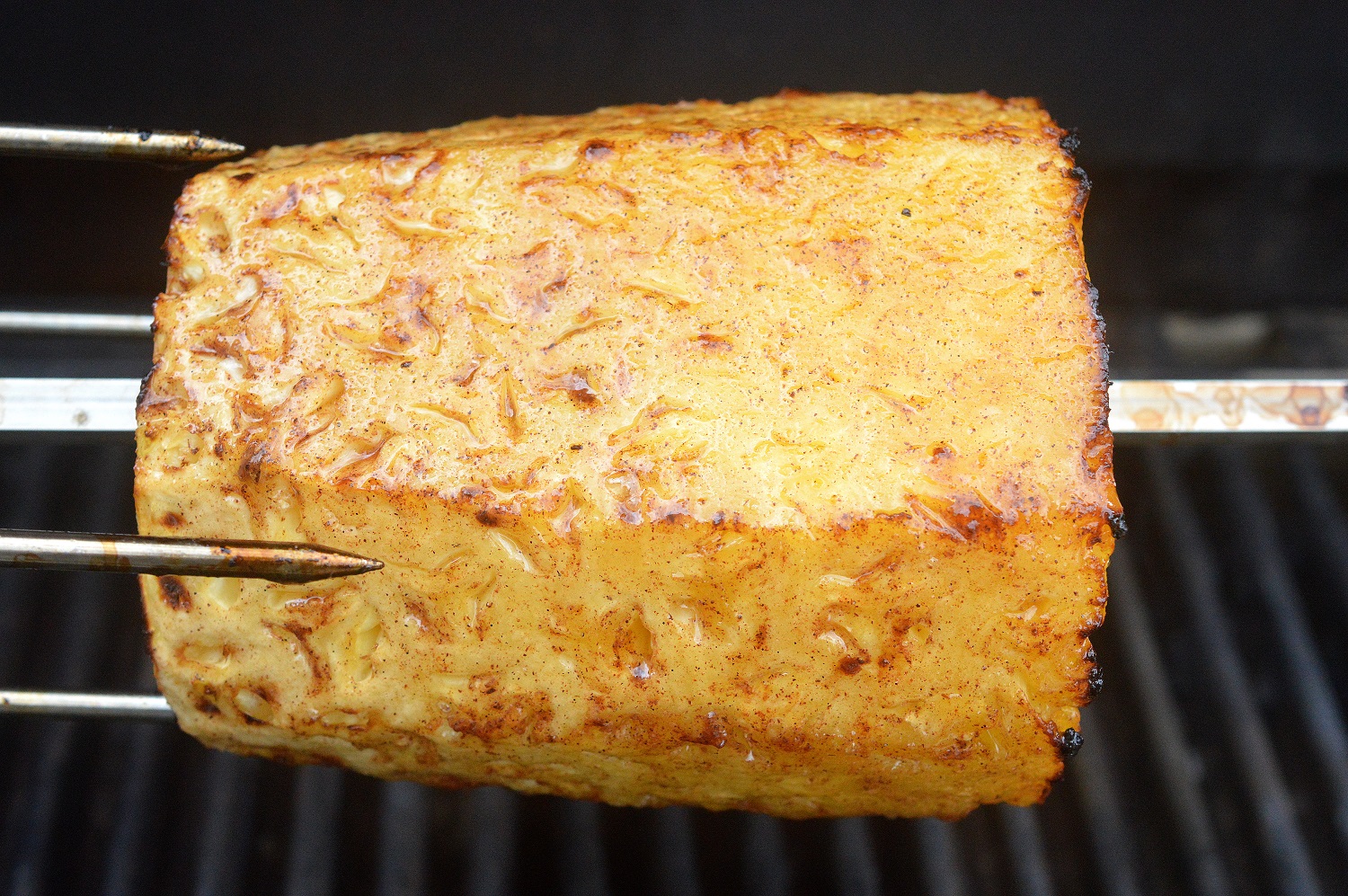 Let me know if you try this Blueberry Ice Cream recipe or any of my other favorites!! Tag me on Instagram if you make any of them at @SouffleBombay. Love that!
Enjoy! - Colleen
Recipe originally published August, 2018. Updated April, 2022 with nutritional information, tips, etc.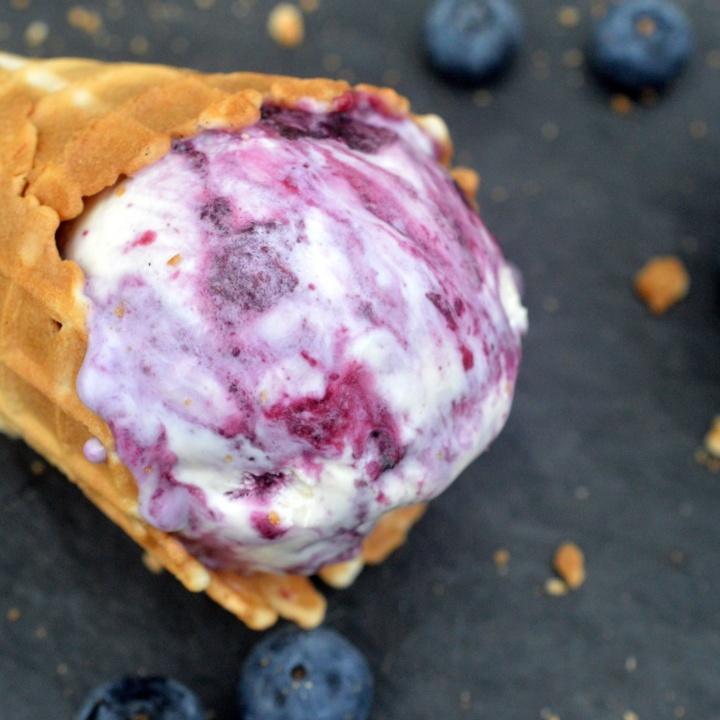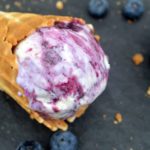 Print Recipe
Easy Blueberry Cheesecake Ice Cream
Love homemade ice cream? Make Blueberry Cheesecake Ice Cream without an ice cream maker. No churn, easy & delicious recipe!
Ingredients
2

cups

fresh blueberries

3

TBS

sugar

2

TBS

fresh lemon juice

14

oz

sweetened condensed milk

6

oz

cream cheese

1

TBS

vanilla extract

2

cups

heavy cream
Instructions
In a medium-sized pot over medium heat, combine the blueberries, sugar and lemon juice. Bring to a simmer, stirring occasionally. Continue simmering for 5-6 minutes or until most berries have released juices (or popped) and mixture has become a little thicker.

Remove berry mixture from heat, allow it to cool on your stove for 30 minutes or so and then place in your refrigerator and allow them to chill one hour or overnight. (you MUST take a taste however!!)

Add cream cheese to a mixing bowl, using either your stand mixer or a hand mixer and beat on high speed for 30 seconds. Slowly add in condensed milk, scraping the sides of the can to get it all. Add in vanilla and mix until smooth. Set aside.

Make your whipped cream by whipping your heavy cream until its thick and peaks form. When making whipped cream, you know you are close to perfect when your spatula or whisk leaves a trail in the cream. You do not want to "over-whip" the cream and end up with butter.

Fold your whipped cream into your cream cheese mixture using a rubber spatula.

Next, gently fold in your chilled blueberry mixture in. Only give the mixture two or three swirls with your spatula so that your ice cream comes out with the "swirl" appearance instead of a solid color.

Scrape mixture into a freezer safe container. A shallow rectangular or square container with a lid is best for freezing consistency and scooping. You can also use a metal loaf pan. Just be sure to press plastic wrap against the mixture and then another piece to cover it tightly again on the rim of the pan. Freeze for 6 hours or more.

Variation

Add a graham cracker crumb swirl, layer or topping for added texture. You can also purchase (or make) a graham cracker crust and spread the ice cream into it and serve like a pie.

Creat Blueberry Cobbler Ice Cream by topping with a homemade sweet biscuit or scone.
Nutrition
Serving:
6
servings
|
Calories:
640
kcal
|
Carbohydrates:
54
g
|
Protein:
10
g
|
Fat:
44
g
|
Saturated Fat:
28
g
|
Polyunsaturated Fat:
2
g
|
Monounsaturated Fat:
11
g
|
Cholesterol:
141
mg
|
Sodium:
195
mg
|
Potassium:
405
mg
|
Fiber:
1
g
|
Sugar:
51
g
|
Vitamin A:
1750
IU
|
Vitamin C:
9
mg
|
Calcium:
271
mg
|
Iron:
1
mg