This is sponsored by FAGE however all thoughts and opinions are my own.
Often to turn something from good to great all it takes is minimal effort. This easy Blueberry Swirl Yogurt recipe is one of those things.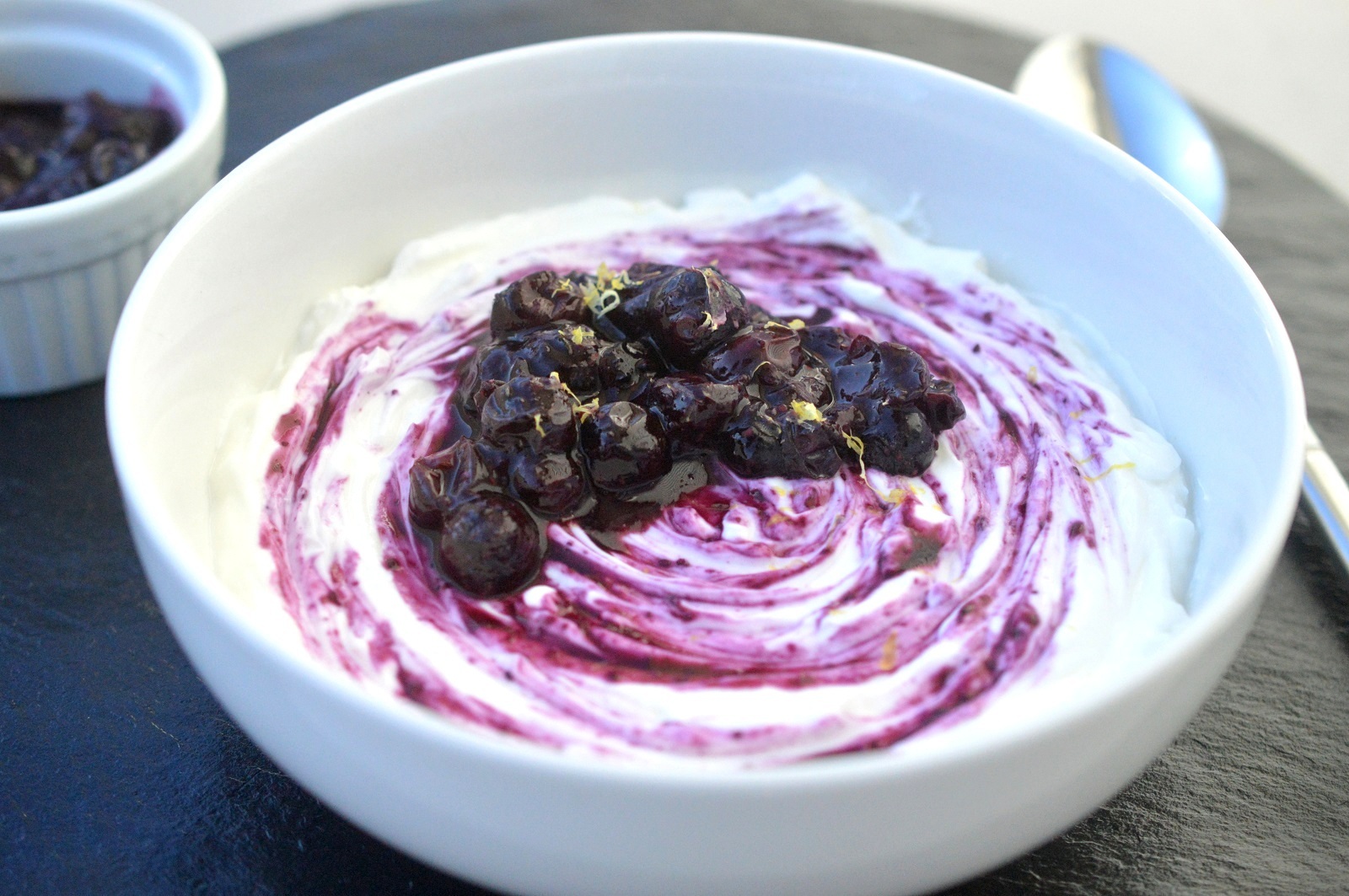 We all know plain yogurt is good; however, sometimes adding the simplest thing to it can transform it to extraordinarily good. I started with FAGE Total 5% plain Greek yogurt and instead of just tossing on a handful of blueberries or chopped fruit, I took an extra few minutes and threw blueberries into a pan. To that, I added a TBS of water and just a pinch of sugar. Minutes later I had beautiful, healthy and delicious blueberry compote for my creamy FAGE yogurt.
It was a super-satisfying lunch that was not only pretty, but it was also chock full of goodness and it fueled me up for my busy afternoon.
I don't know about you, but I sometimes think too much about what I want for a meal, thinking I need meat or a big salad meanwhile something so simple and healthy like this Blueberry Swirl Yogurt recipe ends up being more than satisfying. It fills me up without leaving me feeling over-full, I don't feel tired in a food coma kind of way and I feel great about the nutrients in it.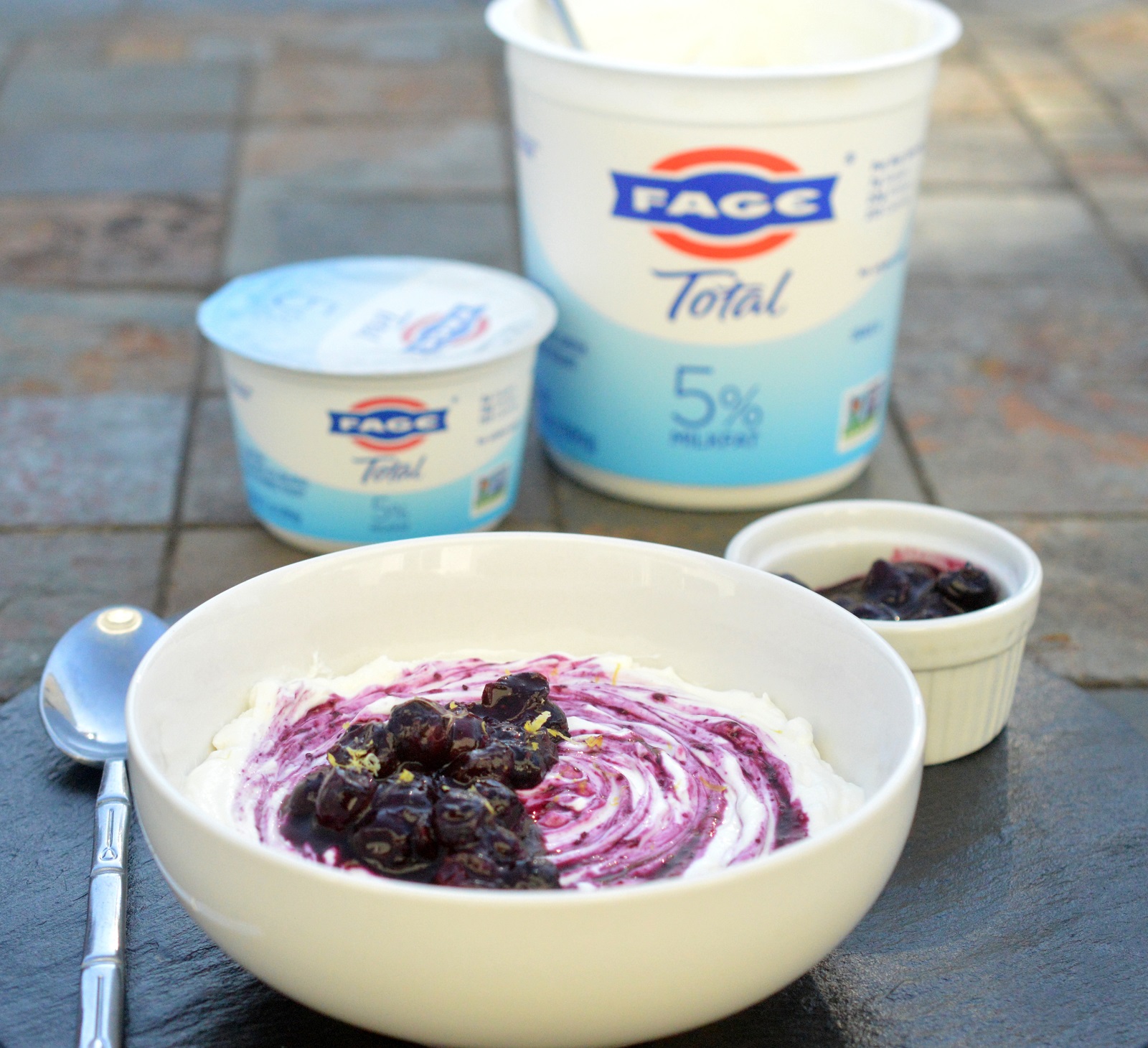 Blueberry compote and FAGE Greek 5% plain Yogurt make a perfect match!
One of my resolutions this year is to be more thoughtful in how I eat, in how I prepare foods for my family and to do my best limit food waste.
Dairy is a big part of what my family and I eat. I'm a huge fan of the nutritional benefits of wholesome milk, yogurt, and cheese, and I truly appreciate all the hard work, passion and dedication by dairy farmers and their families across America that allow us to enjoy all of the products we do.
When it comes to yogurt, it took a little bit of effort a few years ago to get my kids to transition from the "sweet kiddie yogurts" to more nutritious, all-natural Greek yogurt. I began combining both types of yogurt (which they didn't even realize), adding more and more Greek yogurt until they became accustomed to the taste and texture of Greek yogurt.
Creating healthy and delicious toppings to go on along with rich and delicious yogurt I feel good about feeding my kids helped me accomplish that.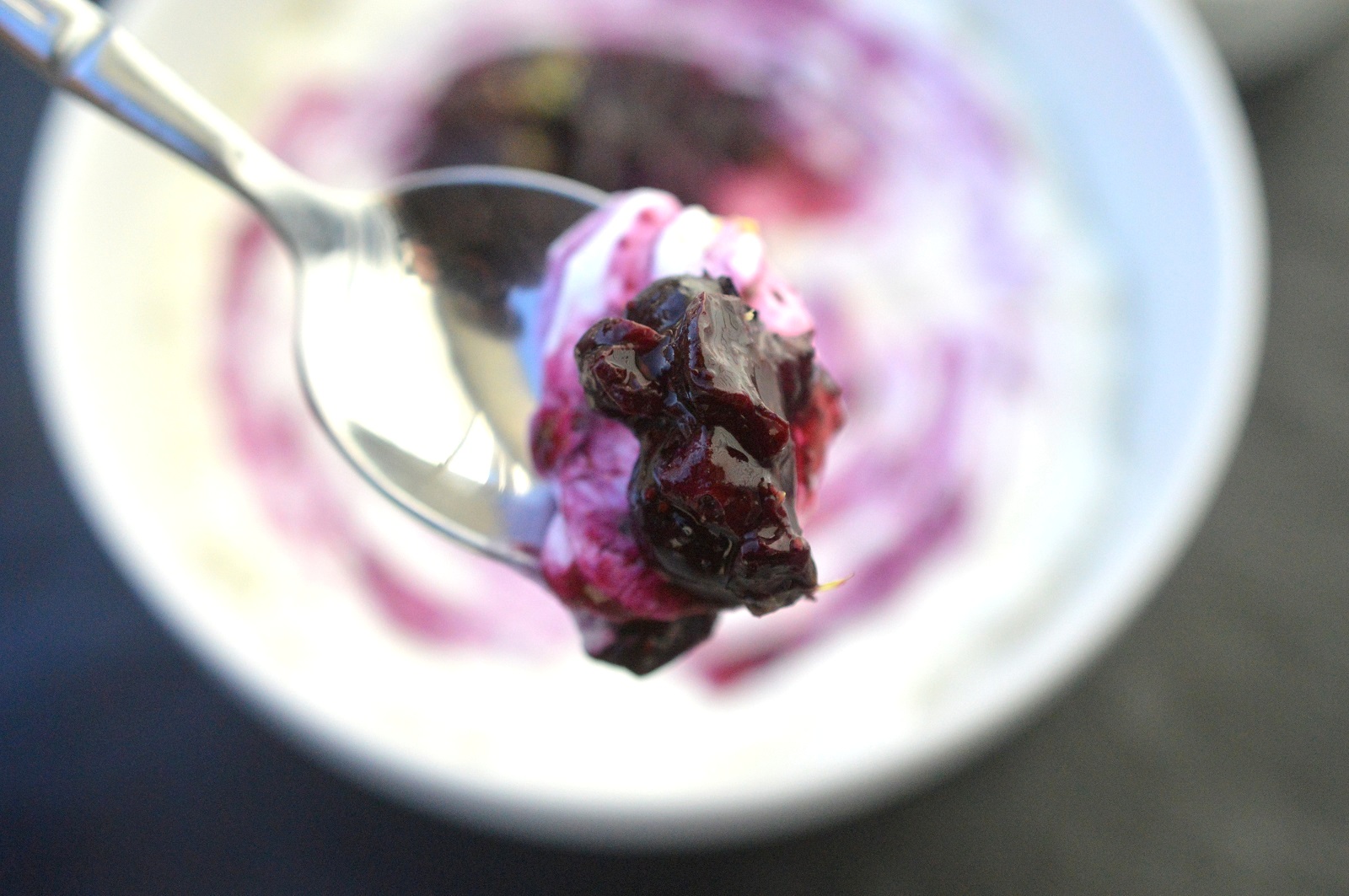 As a mom, I love that my kids, as well as myself, enjoy FAGE Total 5% plain Greek yogurt. It's Non-GMO Project Verified, all natural and sugar additive free. The calcium and protein in every spoonful are great for all of us. We all enjoy the rich creamy taste as well as its versatility. It's a staple in my daughters' lunchbox. In addition to our favorite Blueberry Swirl Yogurt, I use FAGE Total 5% plain Greek yogurt for savory dips, as an ingredient in quick bread, marinades and more. Visit the FAGE website for some amazing recipes featuring their yogurt.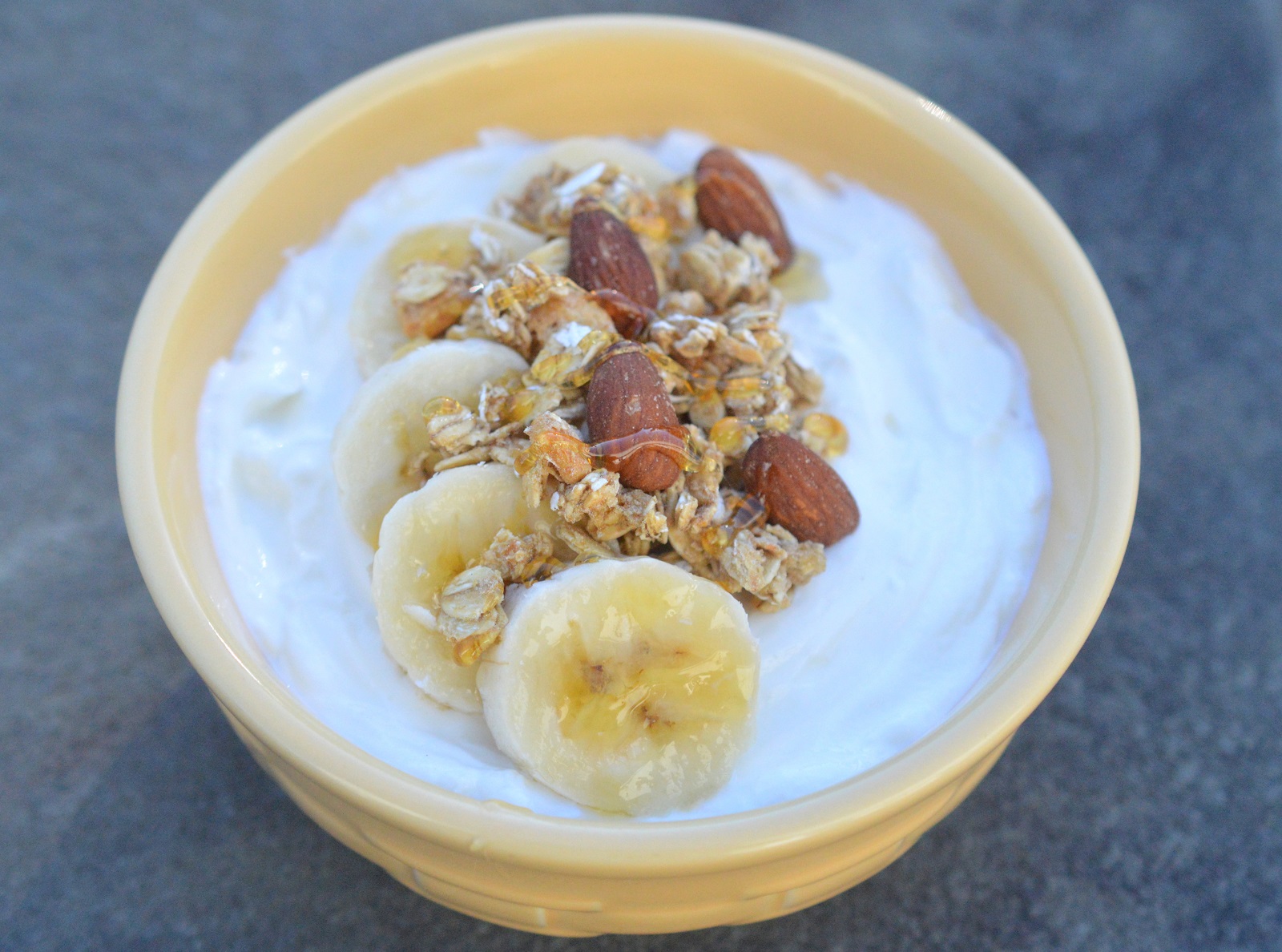 Some of my favorite ways to top FAGE Total 5% plain Greek yogurt is by adding a nice crunch to it with granola and honey, adding other fruits that I quickly turn into compotes; however, the blueberry swirl yogurt is my favorite. I also love ripe banana slices drizzled with honey atop it. My daughter sometimes crumbles homemade cookies into hers as a dessert. She says it tastes like cookies and cream ice cream.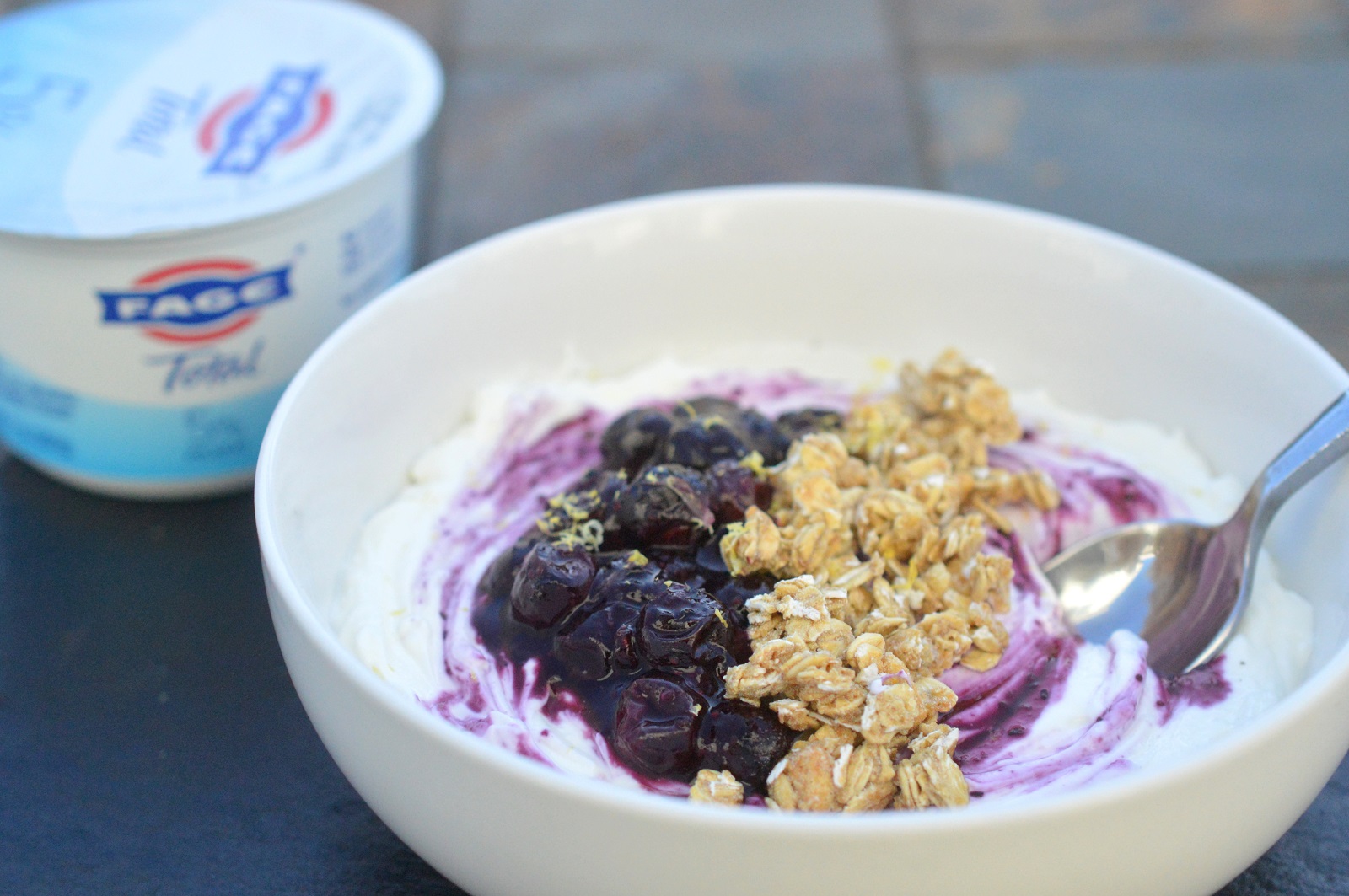 How Do I Make A Fruit Compote Yogurt Topping?
Traditionally fruit compote is made by simmering fruit or combination of fruits in a small amount of water and sugar with optional spices added in. When you make your own compote, you can choose to add in no sugar (especially of your chosen fruit(s) are already sweet), or like me, you can add in just the smallest amount of sugar, honey or natural sweeteners.
Another option is to add in vanilla, cinnamon, nutmeg, cardamom, ginger etc. to your fruit(s) as they cook down. It's a delicious twist!
By making your own fruit compote to top yogurt, pound cake, ice cream or to enjoy on its own, you control how much sweetener you use and its preservative free. You also get a wholesome (and colorful) flavor boost!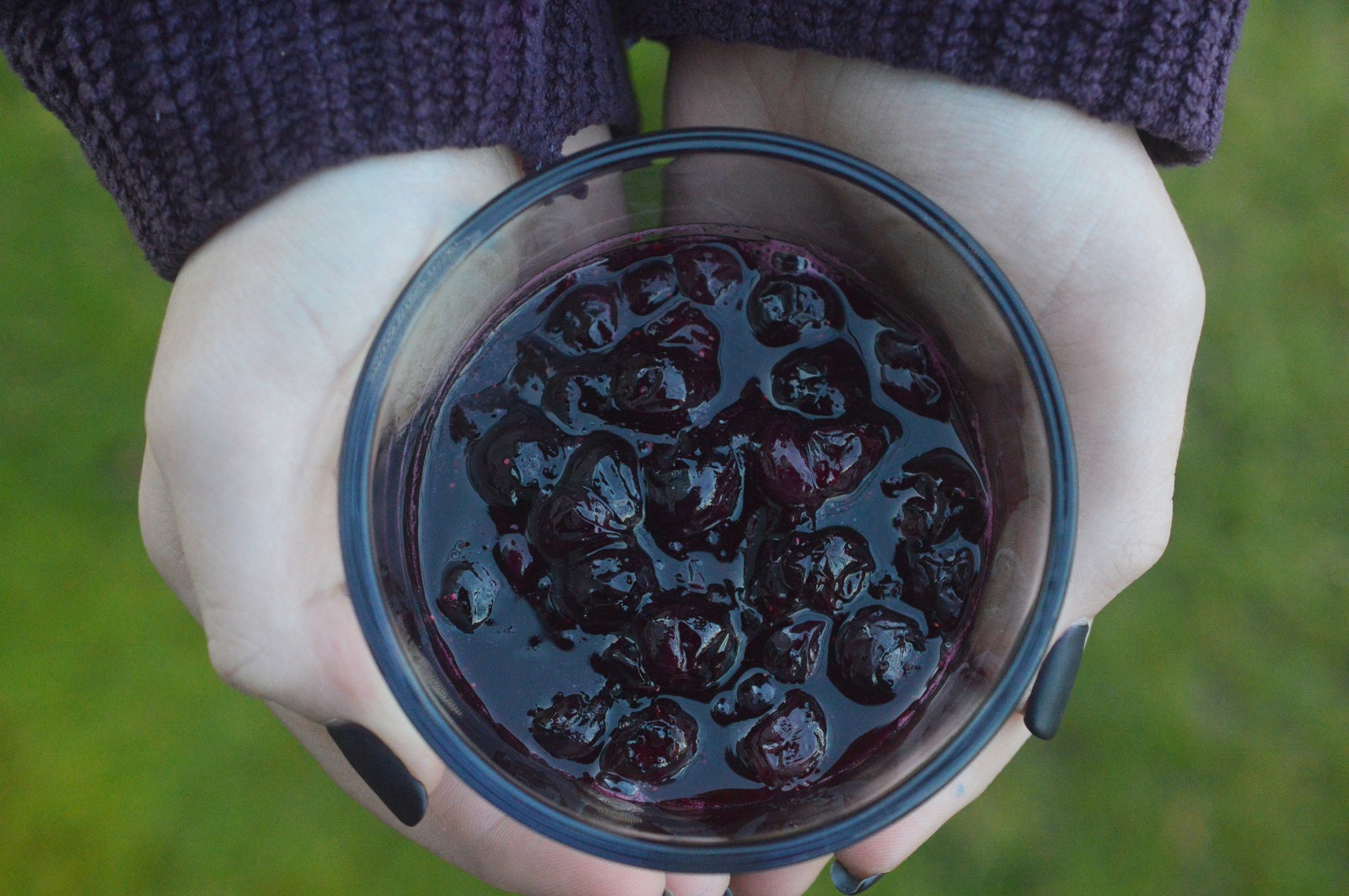 How Do I Make Blueberry Swirl Yogurt?
It's so easy to make your own Blueberry Swirl Yogurt! All you need is a half cup (or more) of fresh blueberries, a tablespoon or so of water, a small amount of sweetener if you choose such as a pinch of sugar, honey, or another natural sweetener you enjoy. And if you like (again optional) a splash of vanilla, vanilla paste, a piece of a vanilla bean, cinnamon, nutmeg, cardamom or whichever seasoning you may enjoy with your chosen fruit. You can also add a squeeze of fresh lemon or orange juice or zest to brighten up the flavor profile.
What Other fruits Can I Make Fruit Compote With?
In addition to blueberries, you can make a fruit compote with strawberries, raspberries, blackberries, cherries, plums, peaches, or even pears. You can do a combination of berries or fruits that complement each other.
How Long Does Homemade Fruit Compote Keep?
Homemade fruit compotes can be stored in the refrigerator in a mason jar or glass container for 10-14 days. You can also store compote in your freezer and then it when ready to use. But who are we kidding?? I eat it with a spoon sometimes so it's gone in a flash!
Show me your swirl!
I'd love to see what you come up with, blueberry or otherwise. Tag me on Instagram at @soufflebombay or #soufflebombay with your yogurt swirl!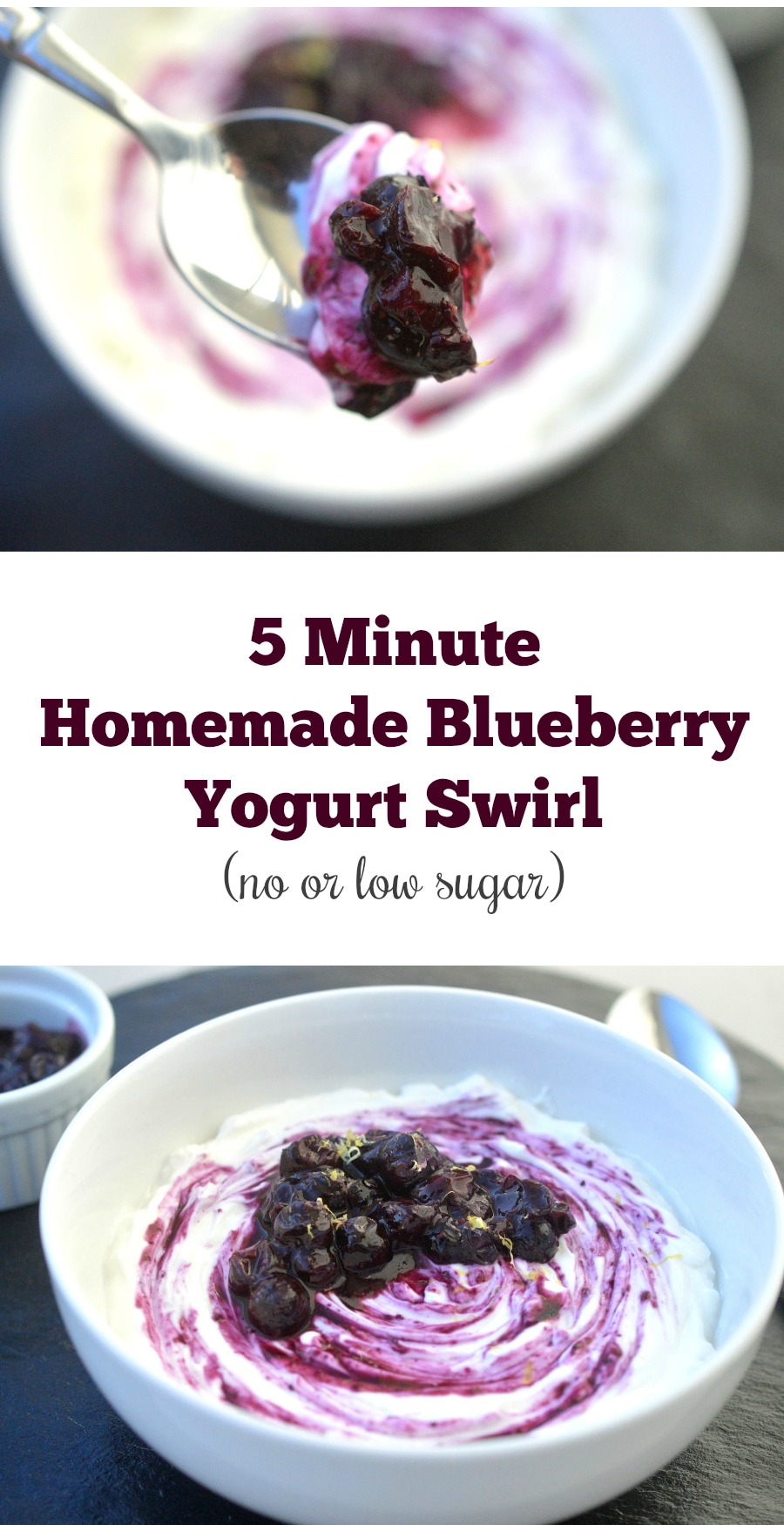 Enjoy!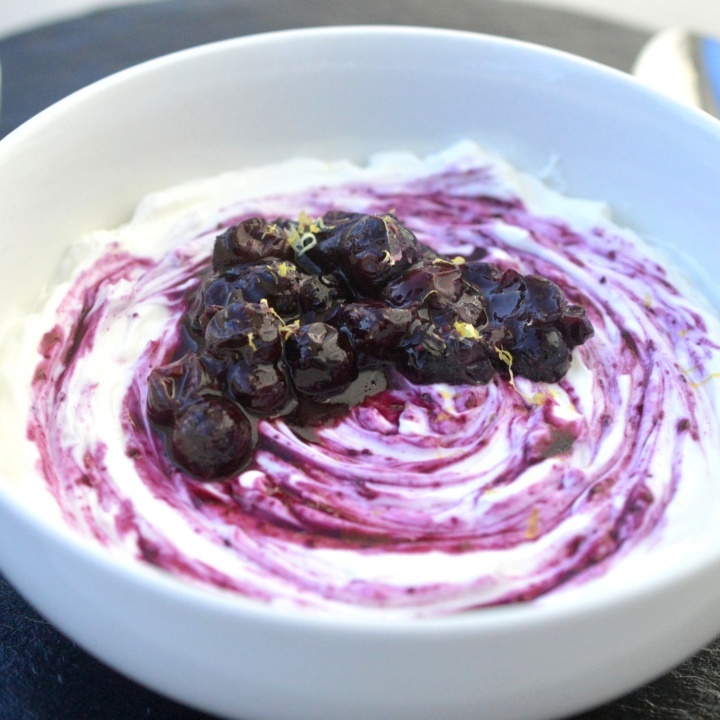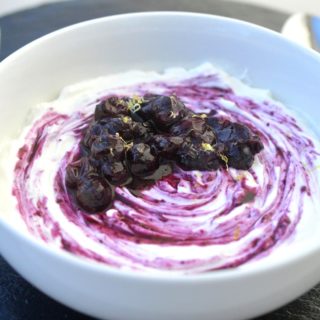 Blueberry Swirl Yogurt
Take 5 minutes to make a delicious all-natural Blueberry Swirl for your yogurt. Low or no sugar/sweetener.
Ingredients
2

cup2

fresh blueberries

Squeeze of fresh lemon

1-2 teaspoons

1-2

TBS

sugar

more or less to taste
Instructions
In a small pot or saucepan, combine berries, water, and lemon juice. Simmer over med-high just until berries begin to burst, stirring occasionally.

Taste for sweetness and decide if you would like to add sugar, honey or your favorite natural sweetener.

Stir in sweetener if using and simmer until most liquid is absorbed.

Allow to cool completely and store in a mason jar or small glass container until you use.

Keeps in the fridge for a week.
Notes
The water content in berries vary, to thicken, you can always add in ⅛ teaspoon of cornstarch. To thin it out if you cook it down too much, simply add in a teaspoon or two of water.
Taste your simmered berries for sweetness to determine if you actually want to add sweetener or not since the sweetness of berries vary.
If you do add in 1 TBS honey, calories are 724 for 1 serving (½ cup) and sugar is 16 grams.
Nutrition
Calories:
42
kcal
Carbohydrates:
11
g
Protein:
1
g
Fiber:
2
g
Sugar:
7
g
Follow me on Tik Tok for 1 minute videos