Boy, do I have a delicious recipe for you today! These Norwegian Flat Cakes with Blueberry Compote may not be capable of transporting to Norway, however, they sure will make an impression!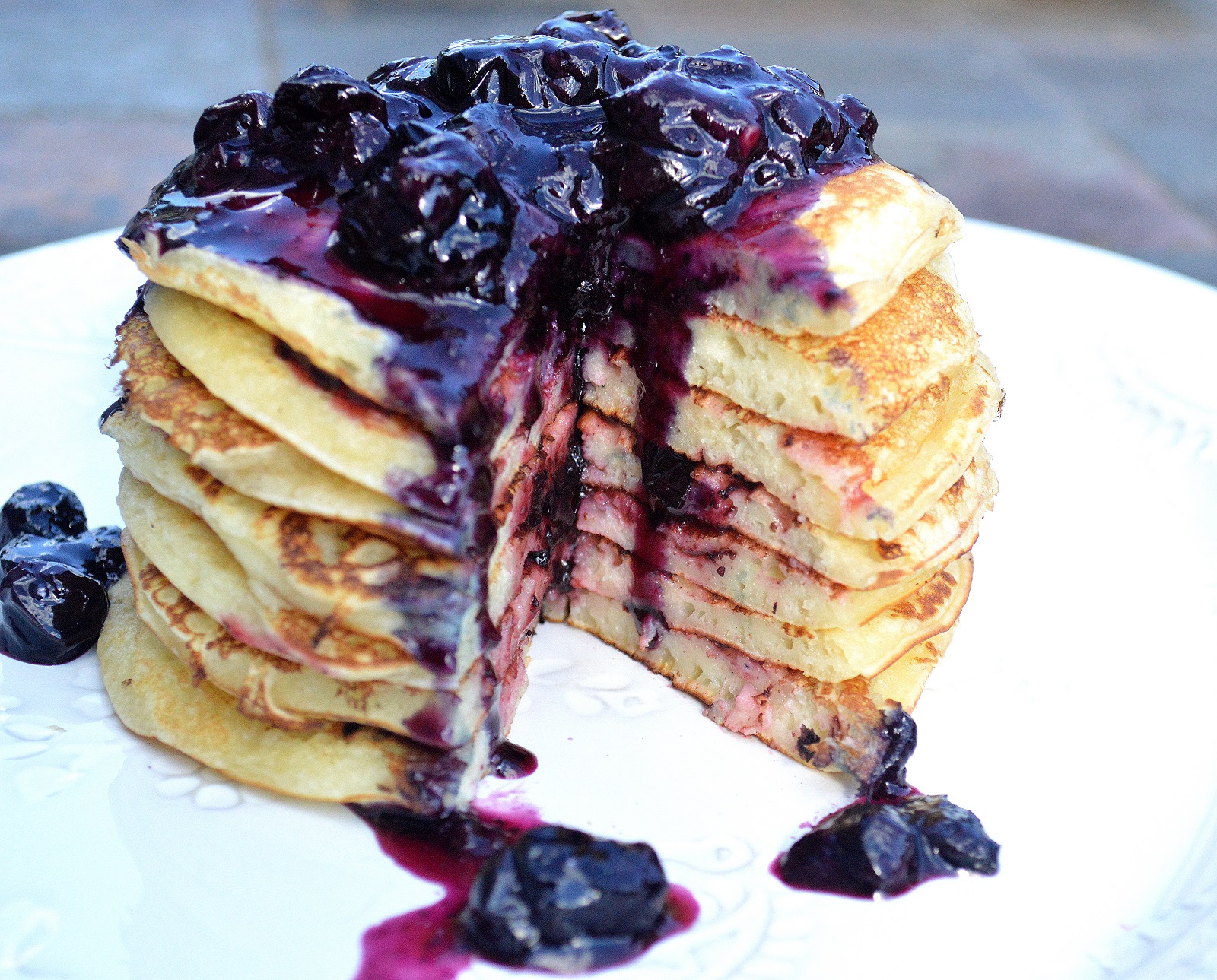 Called Lapper in Norway, these Norwegian Flat Cakes with Blueberry Compote are a cross between pancakes, waffles, and crepes. They are the best of the three combined! The better the beer, the better the flavor of the flat cakes, in my opinion. I eat them plain from the pan, I can't help myself! As far as the blueberry compote goes. It's so easy to make and so very full of flavor, you can also use it to top ice cream, toast, goat or Brie cheese or whatever you like.  You can eat these plain (delicious!!), dusted with powdered sugar, or topped with fresh berries or with whatever type of berry compote you enjoy best.  I think the blueberry syrup mingling with the berries and the flat cakes is magical.  My kids agree, they ask for these flat cakes again and again! The Lapper/Flat Cake recipe comes from North Wild Kitchen, the compote recipe is my own.
Do you have a bucket list of the places you would like to travel to? I do, I have about 6 countries I really want to visit in the next 10-12 years. One of which is Norway. That trip may come sooner than later due to the current low prices via Norweigan Air and special weekend deals currently for traveling from the U.S. to Norway. When a country decides to make it more attractive to visit with great pricing and incentives, often "we" change our plans and take advantage of that and the next thing you know and amazing experience has been had! This is a sponsored conversation sharing my thoughts about travel to Norway sponsored by Visit Norway.
Check out the current airfare from your airport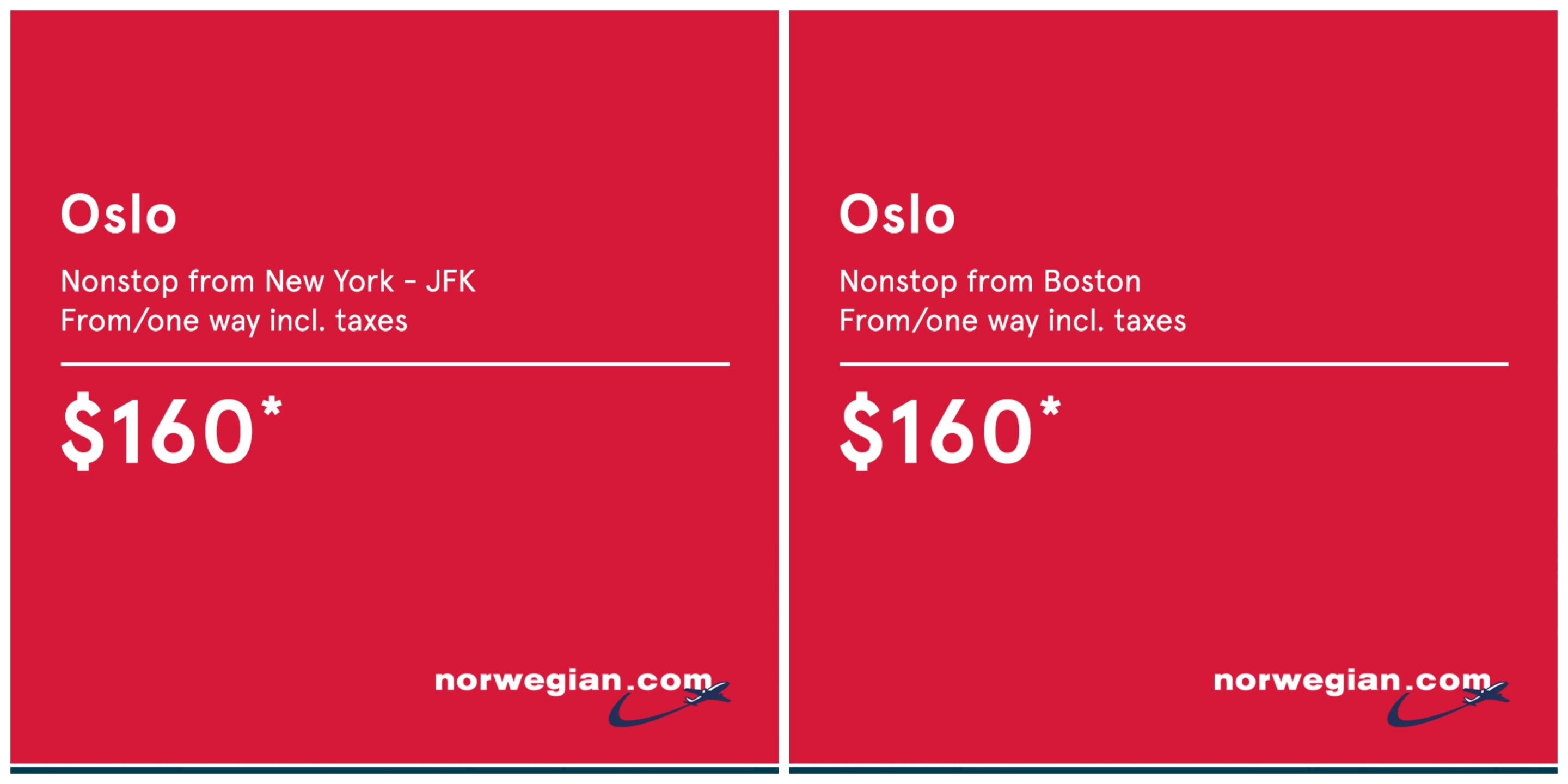 Just 7 hours from where I live on the East Coast, is the beautiful country of Norway. Rich in Viking history, Norway holds a myriad of sights along Oslofjordin, Oslo and beyond. I hear it's gorgeous...hiking through forests, kayak on the fjords, visiting and shopping in quaint villages, dining out and relaxing spa treatments and so much more.  One thing I really want to do is watch and learn a bit of their glass blowing, I've long been fascinated with that. For now, I console myself with these Norwegian Flat Cakes with Blueberry Compote and photos.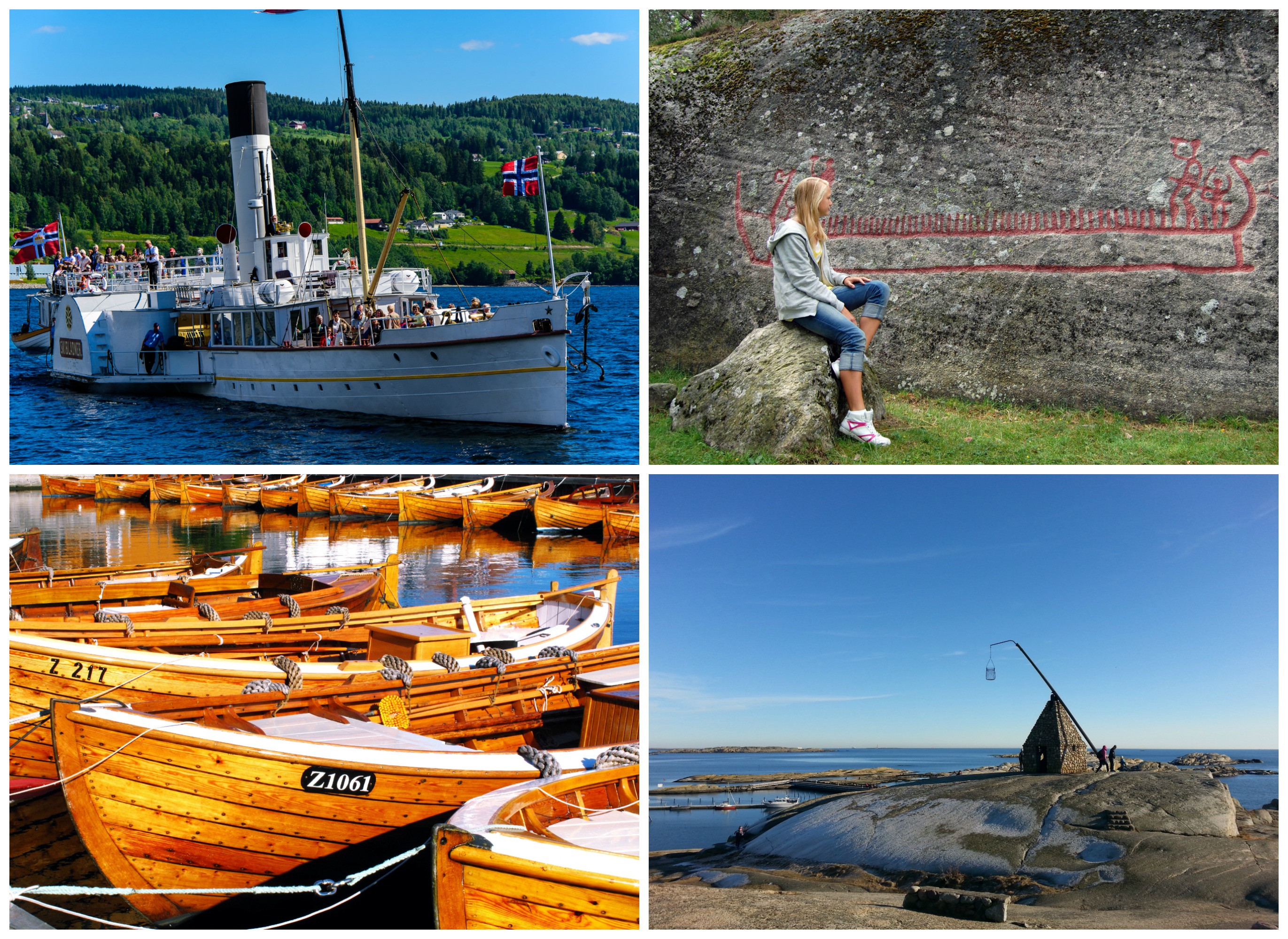 The capital of Oslo lies between the Oslofjord and the forests. As a gateway to the rest of Norway, Oslo offers a unique combination of vibrant city life and easy access to the great outdoors and cultural experiences, all within easy reach by train, boat, road trip, etc. There's much more to Oslo than what's within the city limits including  a myriad of outdoor adventure opportunities (hiking, kayaking, biking, boating and more), as well as cultural highlights - such as Edvard Munch-related attractions (like his childhood home and museums,  follow in Edvard Munchs footsteps - as well as rich Viking history (Viking Mounds of Vestfold and the Viking Ship Museum in Oslo).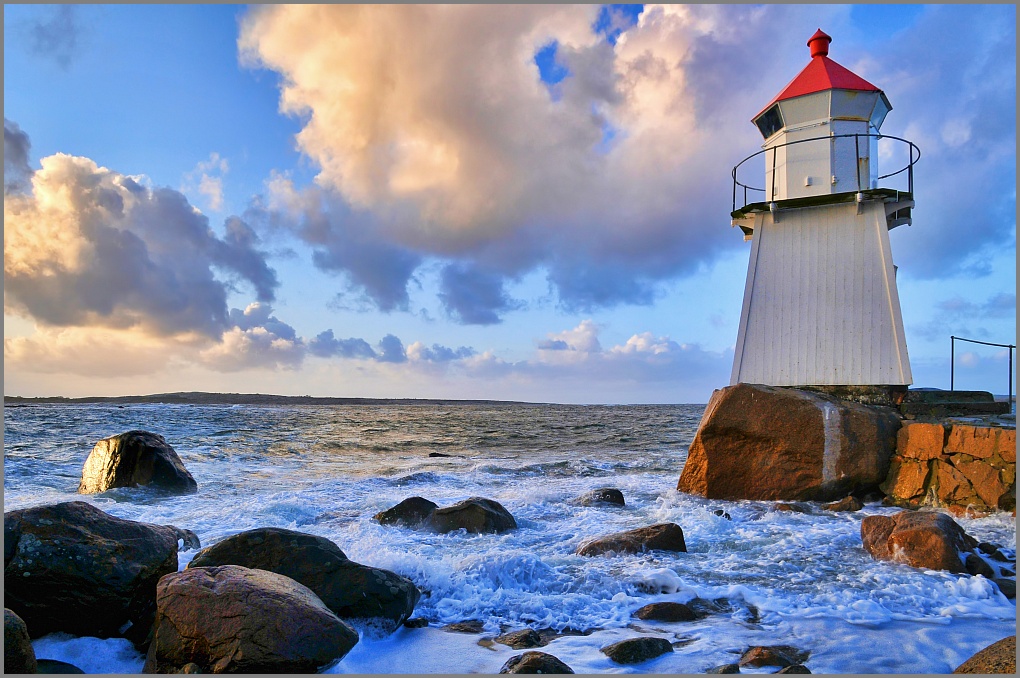 Stay overnight in an authentic Norwegian farm and dine on local organic food in the Gudbrandsdalen region – with Lillehammer, site of 1994 Winter Olympic Games, at the center. Oslofjord is a stunning place to visit in summer, with its vibrant beach, robust boating excursions, idyllic seaside villages, great restaurants and high-quality spa hotels.
Norwegian Air has a unique position in that it offers nonstop flights from 10 US gateways to Oslo, Norway, which makes the Oslo region more accessible than ever.
If you have been to Norway, let me know what your top two favorite parts of your trip were so I can plan the most memorable trip possible for my family and I, and If you want to join me in a taste of Norway, make these decadent Norwegian Flat Cakes with Blueberry Compote.  I am pretty sure you will start making them often.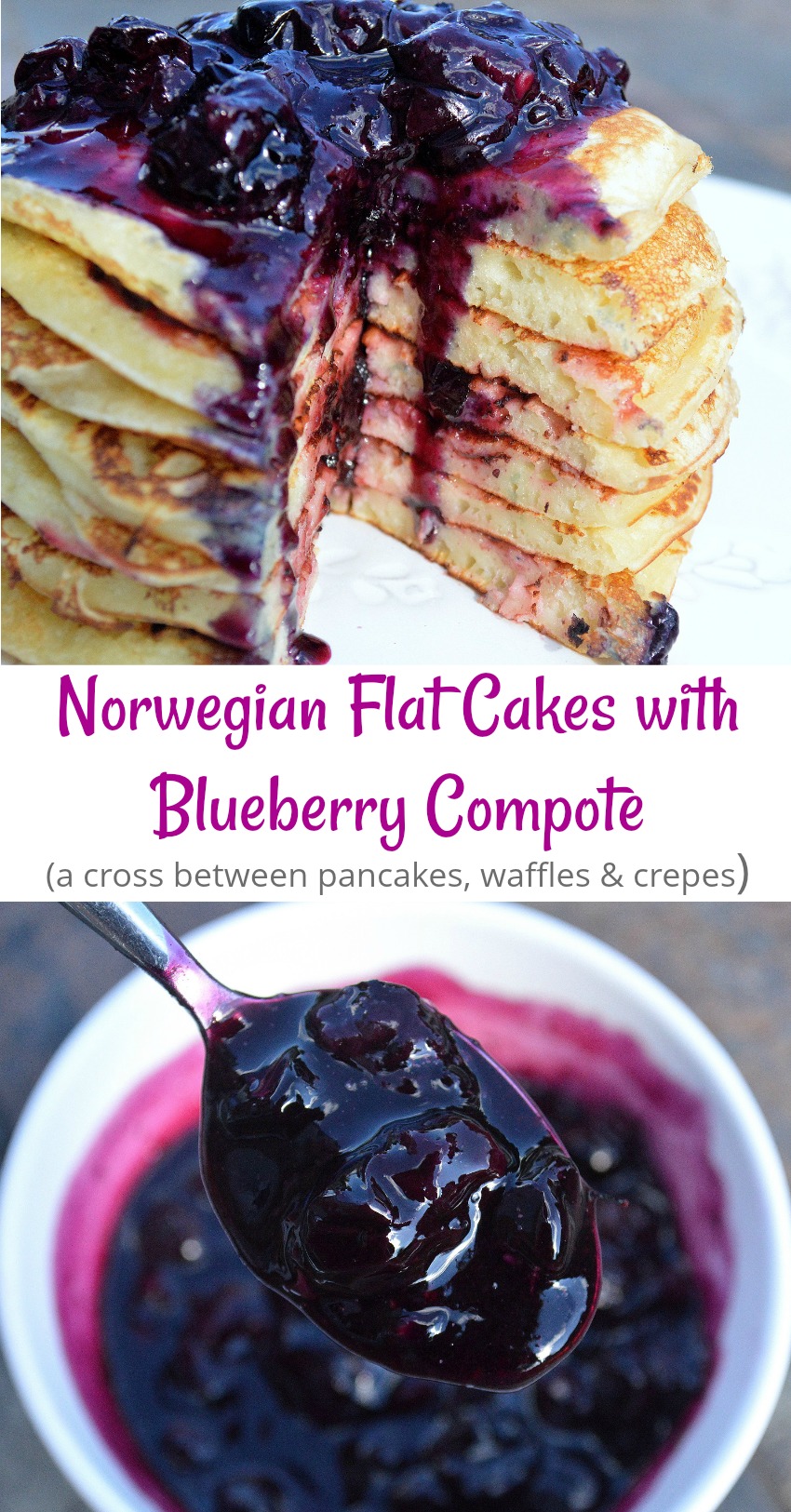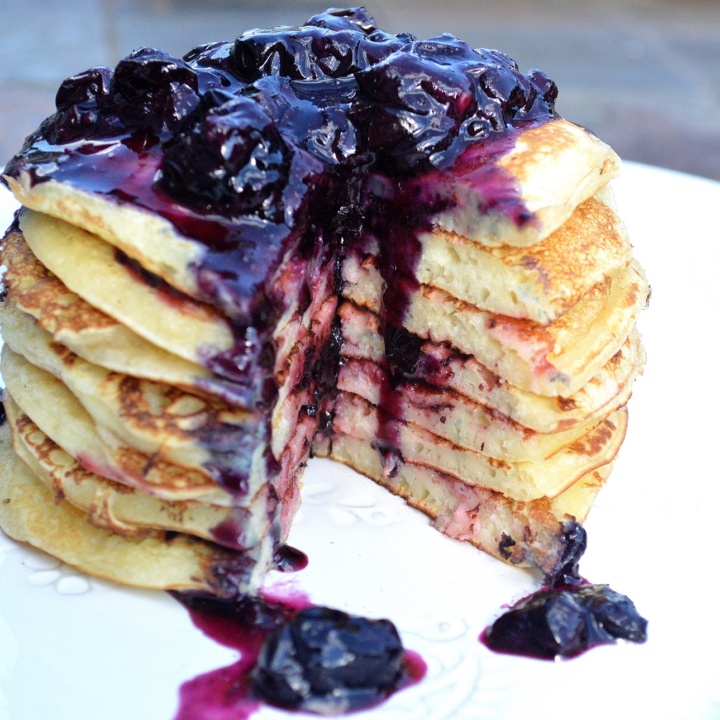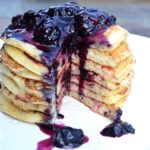 Print Recipe
Norwegian Flat Cakes with Blueberry Compote (VisitNorway)
Ingredients
Blueberry Compote

4

cups

blueberries

⅓

cup

water

⅓

cup

sugar*

A couple pinched of cinnamon

Pinch

or two of cardamom

¾

teaspoon

cornstarch

Flat Cakes

2

eggs

6

TBS

sugar

1 ¾

cups

buttermilk

see notes

½

cup

good beer

pale ale

2

cups

plus 2 TBS flour

½

teaspoon

baking soda

4

TBS

butter
Instructions
Blueberry Compote

In a small pot, combine blueberries, water, and sugar. Heat over med-high heat until berries start to release their juice and burst (about 5 minutes).

Lower heat to medium,

Stir occasionally.

Add in spices and cornstarch, stir until thickened (2 minutes). Remove from heat and allow to cool.

Norwegian Flat Cakes

In a mixing bowl (with a pourable spout if you have one), whisk eggs and sugar., add in buttermilk and beer and whisk until incorporated.

Add in flour and baking soda, whisk until smooth.

Add in butter and whisk until smooth.

Allow batter to rest for 20 minutes.

Batter is thinner than pancake batter.

When ready to cook flat cakes, heat a small skillet. An individual pan works best. (I use a 5-inch egg pan when I make these)

Spray pan with cooking spray. Heat to medium, pour enough batter in to just cover the pan bottom, flip when bubbles form and underside is browned in spots. Repeat.

Assembly

Smear a bit of compote between each flat cake as you pile them atop one another. Top with compote, cut into wedges and serve.
Notes
To make your own buttermilk, add 2 TBS fresh lemon juice to milk. Allow it to sit on the counter for 10 minutes before using.
This batter is thinner than pancake batter. The flat cakes are not as light and fluffy as pancakes, which is where the crepe comparison comes in.