Start your morning off with a delicious Easy Breakfast Pie that's SO easy...the kids can make it!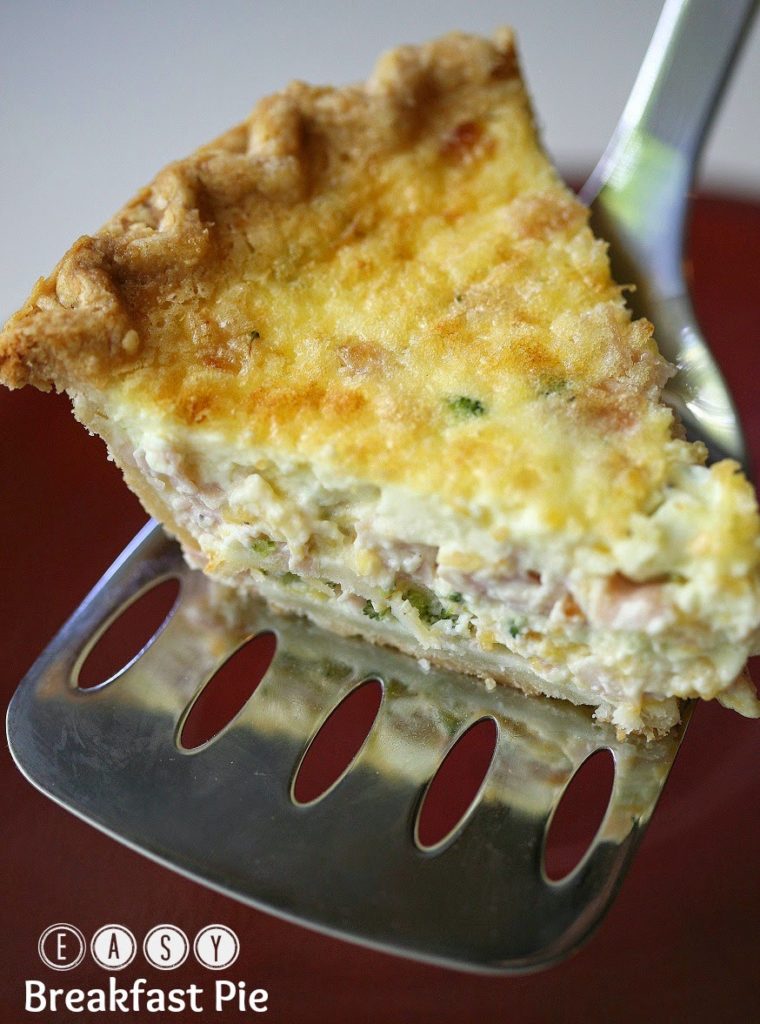 I was never one for breakfast (except occasionally on a Saturday or Sunday morning).  However, I began to have a love affair with eggs about 5 years ago and now I happily look forward to breakfast most mornings.  It could be as simple as a perfectly seasoned egg alone or over a slice of Canadian Bacon, a 2 egg omelet with just cheese and ham OR it could be something heartier like Challah French Toast or this wonderful Easy Breakfast Pie!
I have learned that eating breakfast, sets me off on the right foot for the day. My son who is now 13 has been into hot breakfasts for about 4 years now and every morning, no matter how crazy it is, I make him one.  And yes...its challenging to make that happen some mornings.
But you know what...in my little mind, I'm giving him a leg up for his day at school and plus I feel good knowing I do something nice for him since we are apart for the day.  Plus how in the blink of an eye, his childhood will be over and he will be out on his own, so it's just one of those things I want him to reflect on and smile about.
My daughter is happy with cereal or toast or maybe a couple of slices of bacon.  However she only wants to eat the crispy fat parts of the bacon...you should see what a piece of bacon looks like when she's finished with it, lol!  I get the spoils!
The only meat Samantha will/can eat is chicken or turkey, bacon, ham & fish....that girl can go-to-town on a piece of Blackened Grouper!  Everything else irritates her throat and gives her hives...so, as much as she loves the aroma and wants to eat meat when she sees it, especially ribs...she longs to eat them...she will not...not even beef broth because she pays for it for hours with a throat irritation.  I let her listen to her body.
One breakfast the whole family enjoys is this Simple Breakfast Pie.  We usually make it with ham & cheese, sometimes we throw a bit of chopped broccoli into it as well.  It's so easy to make that the kids can make it on their own and one of the best things about it is it holds up beautifully for leftovers! The next morning or lunch, either way,  it reheats well and tastes just as good as it did coming out of the oven.
My kids have been helping make this Pie since they were small....kids of any age love to crack eggs, right?  Flashback to My Little Chef (about 6 years ago).  Makes me smile!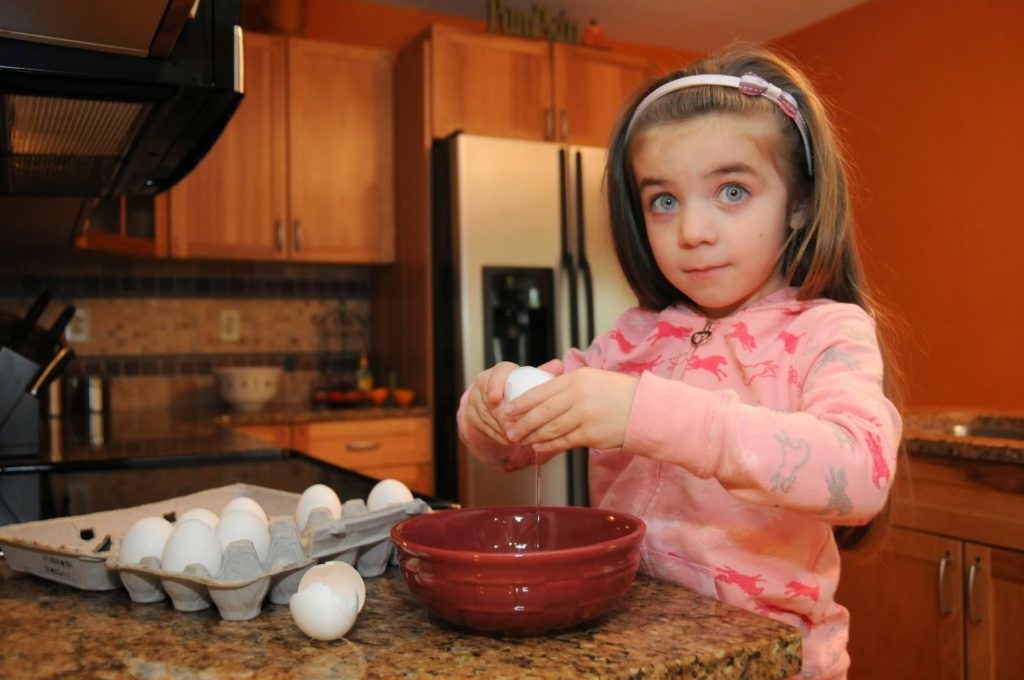 You could, of course, customize this to your family's tastes by adding in various cheeses, scallions, mushrooms or whatever you think they would like.  This simple preparation pleases my whole family.  I also make a Cheddar Bacon & Spinach Pie for dinner occasionally which again, the whole family enjoys.

Do you have a favorite Egg Pie or Quiche combination?  I'd love to hear it and maybe give it a whirl.
This is a perfect recipe for budding junior chefs - they can totally take the wheel on this one and prepare it themselves! 
Love breakfast?? You may also enjoy these Easy Ham Egg & Cheese Breakfast Muffins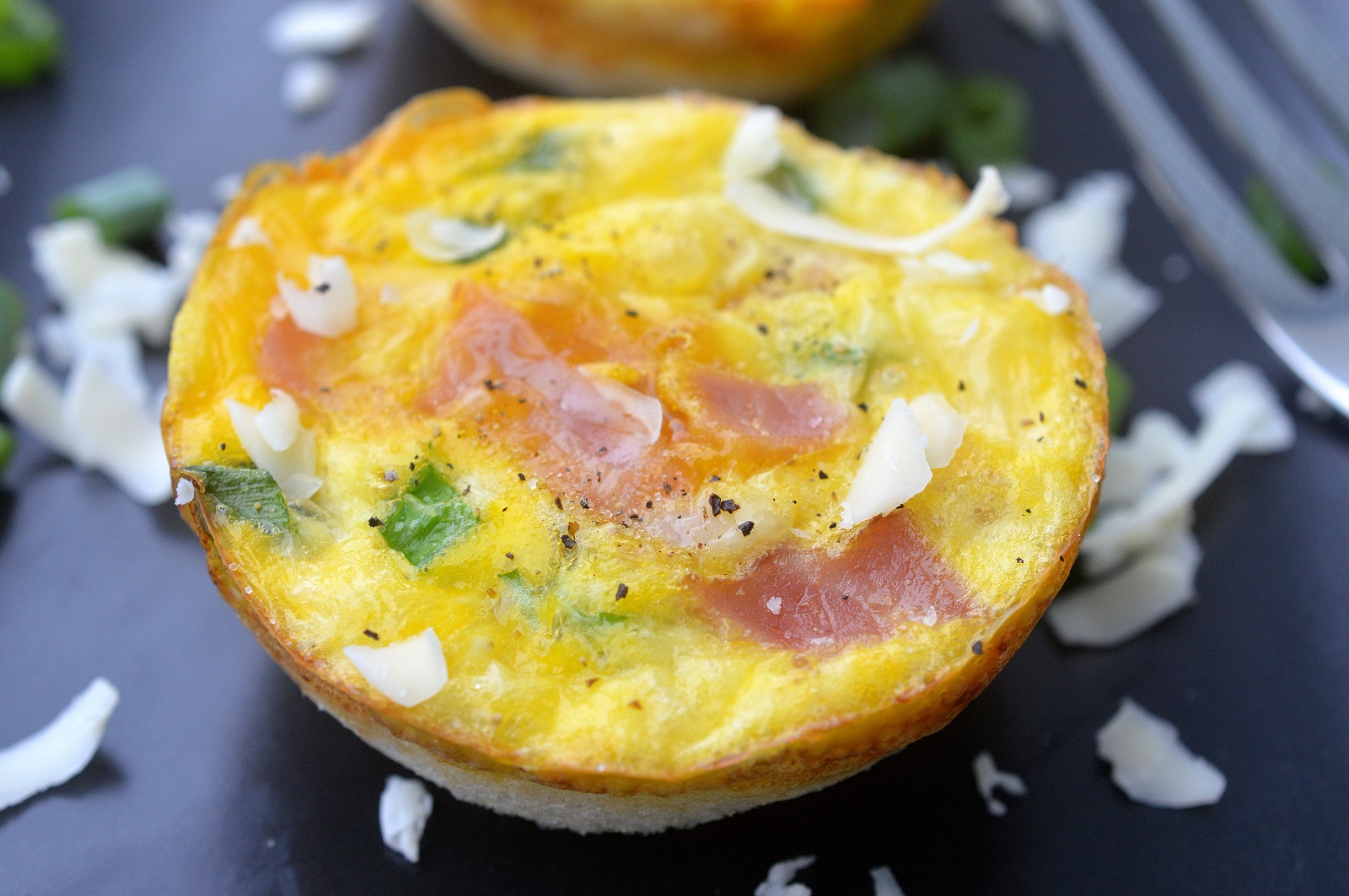 Or my family's favorite Apple Fritters...So delicious and easier to make than you think!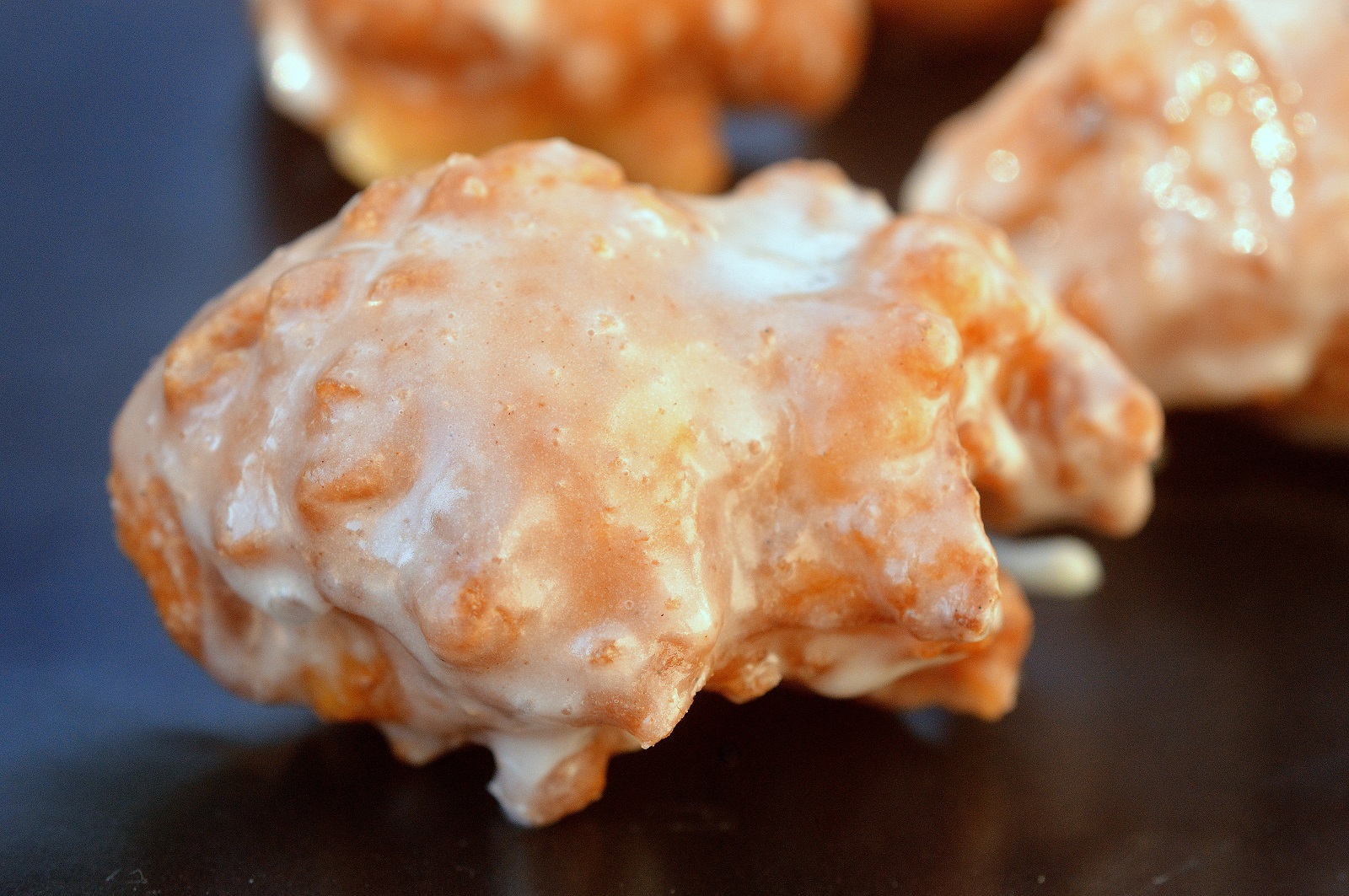 Or these seriously delicious Ham & Cheese Hash Brown Waffles, easily made in your waffle maker!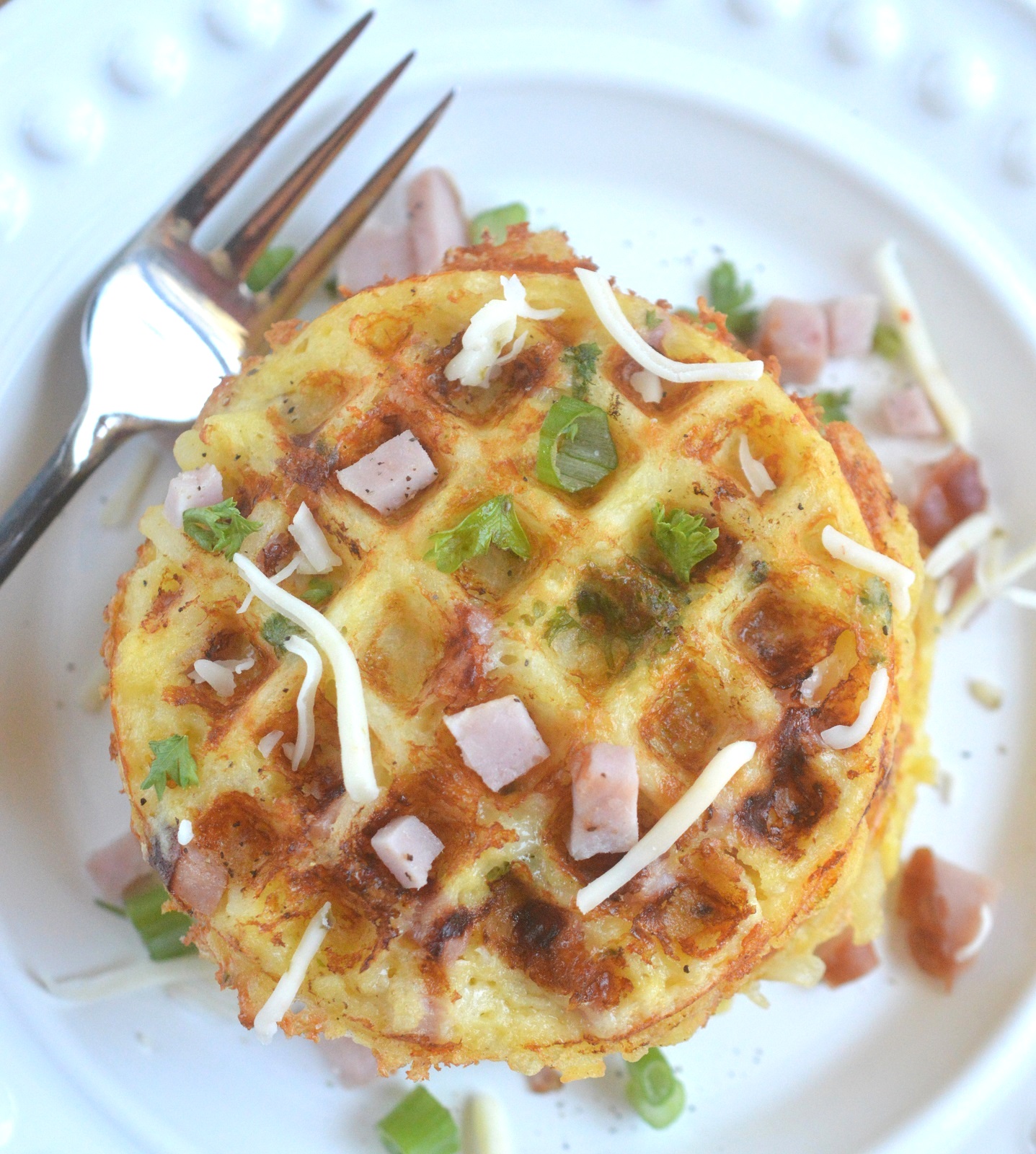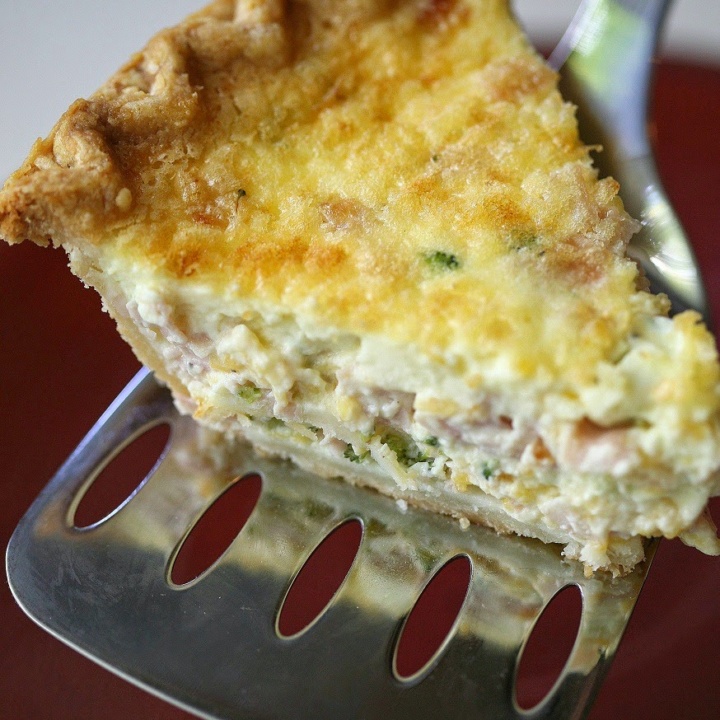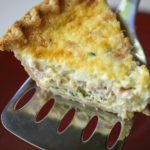 Print Recipe
Easy Breakfast Pie
1 uncooked fresh or frozen deep dish pie crust (or make your own) 3 eggs 1 ½ cups whole milk 1 TBS flour 1 TBS melted butter Salt & pepper ½ cup diced broccoli (optional) 1 cup chopped ham 6 ounces shredded Cheddar cheese
Ingredients
1

uncooked fresh or frozen deep dish pie crust

or make your own

3

eggs

1 ½

cups

whole milk

1

TBS

flour

1

TBS

melted butter

Salt & pepper

½

cup

diced broccoli

optional

1

cup

chopped ham

6

ounces

shredded Cheddar cheese
Instructions
Preheat oven to 375 degrees. Grab your thawed store-bought pie crust and place it in a tin or pie plate or press your homemade pie crust into a pie dish then place it on a baking sheet. Set aside.

Whisk together the milk, eggs, flour, butter, salt, and pepper until combined. Stir in the broccoli if using, ham and cheese. Pour mixture into your pie crust, being careful not to overfill, and bake it on a baking sheet (in case of overflow) for 45-50 minutes or until the pie is puffed up and golden brown on top. Once removed from the oven, allow the pie to cool/set for at least 10 minutes.
Notes
Use whole milk, if using low-fat or skim, you will need to replace ½ cup of it with whipping or heavy cream. Feel free to add in any veggies you enjoy or replace the ham with cooked, crispy bacon or vegetables. And the tiny pans I mentioned are THE BOMB when it comes to making eggs. I have a 4 inch one and a 5 inch ceramic one…they are used more than any other item in my kitchen – they turn out perfect eggs and 2 egg omelets…every time! I actually need to get a few new ones…mine look like they have been through a battle or something – However they still do the job lol!
Enjoy!