This Cranberry Jam recipe is a must make this holiday season! I am a HUGE fresh cranberry lover and make a bunch of fresh cranberries recipes every fall/winter. You can use it for so many things over the holiday season and bonus, it takes just 3 ingredients and 10 minutes to make!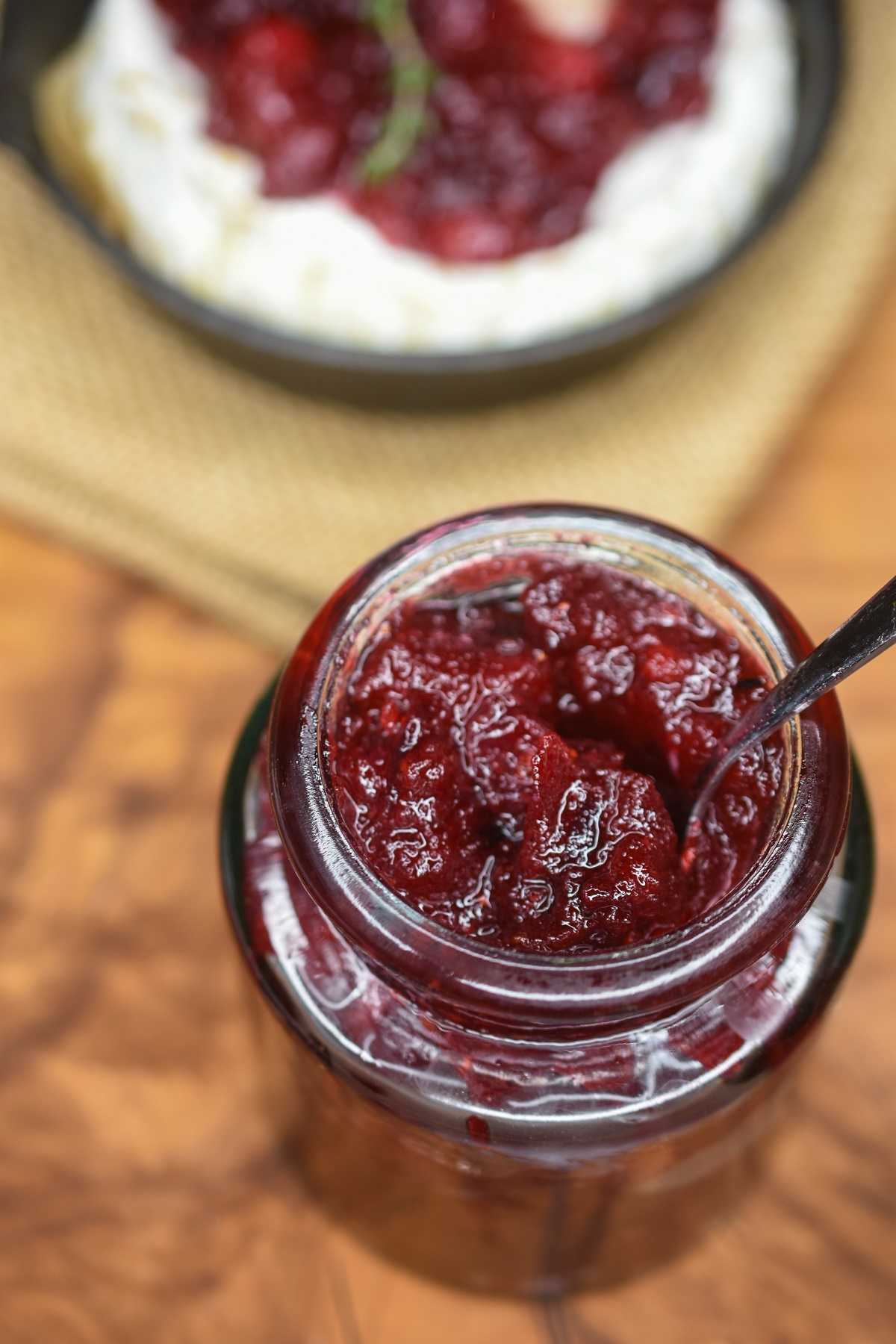 Some people call this Christmas Jam. I know some add strawberries to it when they make it during the holidays. I like it with just fresh cranberries.
When fall rolls around, I eat my weight in cranberry recipes, pumpkin recipes and sweet potato recipes, haha! If you enjoy those check out the cranberry recipes at the bottom of this post above the recipe card as well as my Hot Honey Roasted Sweet Potatoes, or Sweet Potato Bread. Both crazy good!
Once you make fresh cranberry jam, it'll become something you do every cranberry season. I love it on baked Brie cheese, bagels, as a filling for cakes and so many other things. It's a great addition to a holiday charcuterie board or cheese board too.
Ingredients
Instructions
This recipe for homemade cranberry jam could not be easier. Just combine all ingredients in a small-medium heavy pot, bring to a simmer, stirring often. Once it begins to thicken. Remove from the heat.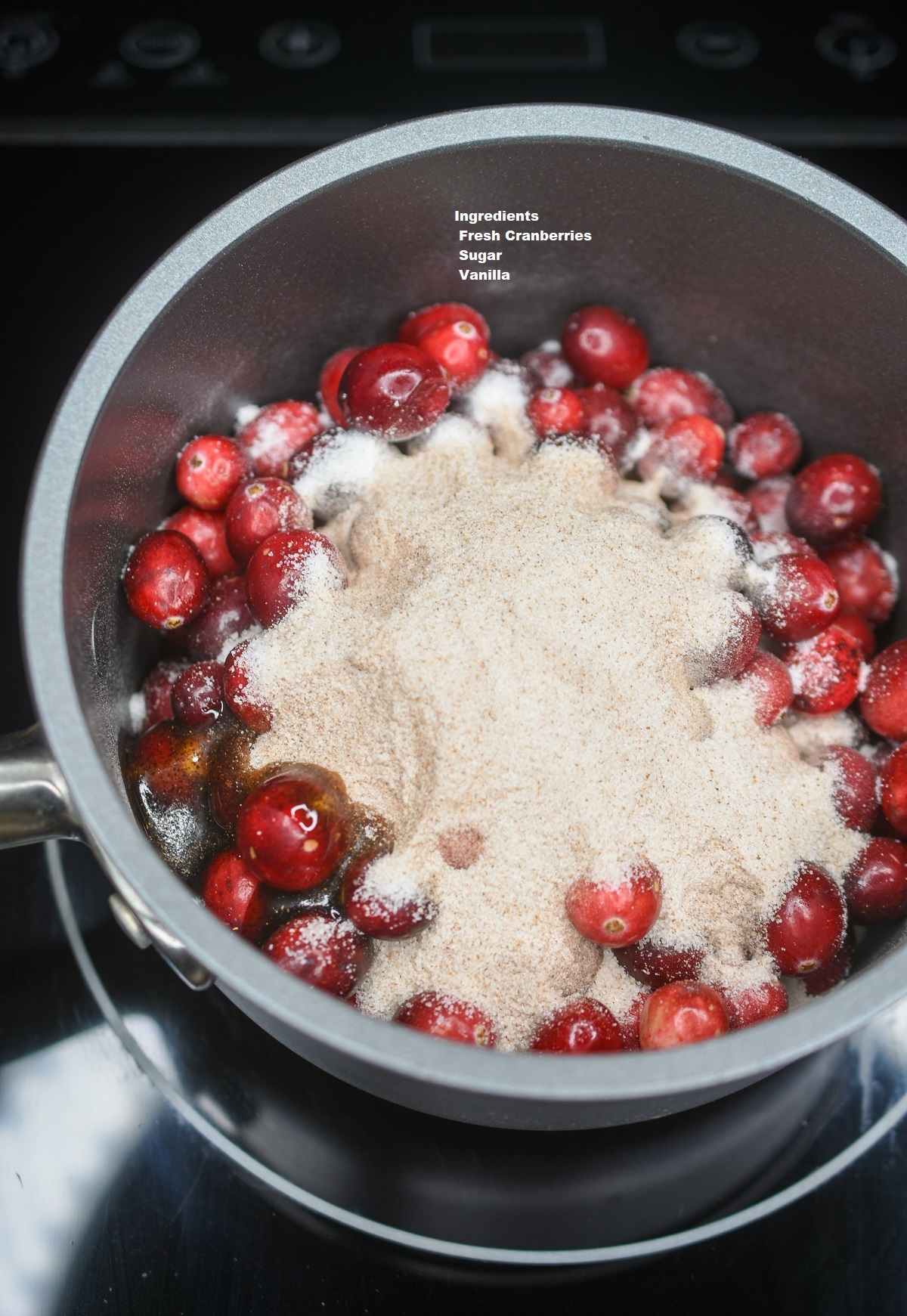 Pictured above, I used some of my Spiced Sugar for extra flavor, however plain white sugar works.
Variations
Instead of vanilla, add vanilla bean paste or a whole vanilla bean snipped into thirds.
Add in some lime for cranberry lime jam or some orange for cranberry orange jam.
Swap half of the sugar for my Spiced Sugar to make spiced cranberry jam. You can also experiment with spices and make this your own.
Add in a few fresh herb sprigs like thyme or rosemary for s subtle herby flavor. Remove the sprigs and discard them after the jam has cooled.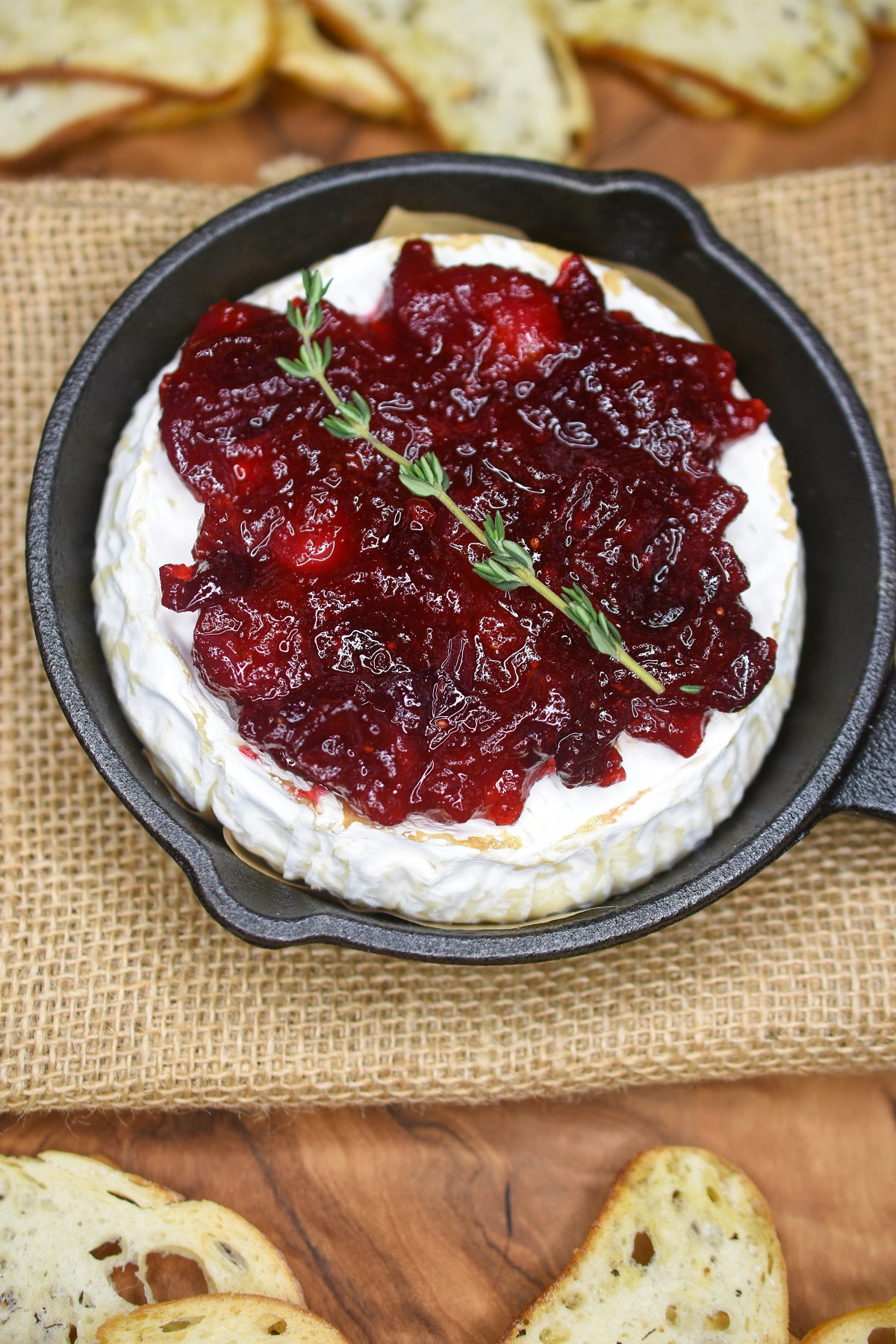 Uses
Top baked brie with this flavorful jam. Use for toast, pancakes, ice cream, a yogurt bowl, waffles, croissants, sandwiches and more. Anywhere you would use jelly or jam.
This is fantastic as a middle layer in a Christmas Cake, a topper to a cheesecake (or between the cheesecake and the crust layer, yum).
Put out on a cheese or charcuterie board.
Warm the jam and spread atop a brick of cream cheese, yum!
Give this homemade jam as a Holiday food gift or host/hostess gift.
Tips
Do not place your cranberry jam in the refrigerator or freezer until it has completely cooled.
The jam thickens after it cools. So don't over cook. Check out my 1 minute TikTok Video to see how its done.
Storage
Homemade jam can last in the fridge for about a month if stored properly, preferably in a mason jar.
Be sure that the jar is sealed tightly and kept refrigerated at all times.
Always use a clean spoon or knife when scooping out the jam to prevent any contamination. If you notice any signs of spoilage such as mold or an off smell, throw it away.
The storage time may vary depending on the type of fruit used in the jam.
Label the jar with the date it was made, to keep track of its freshness.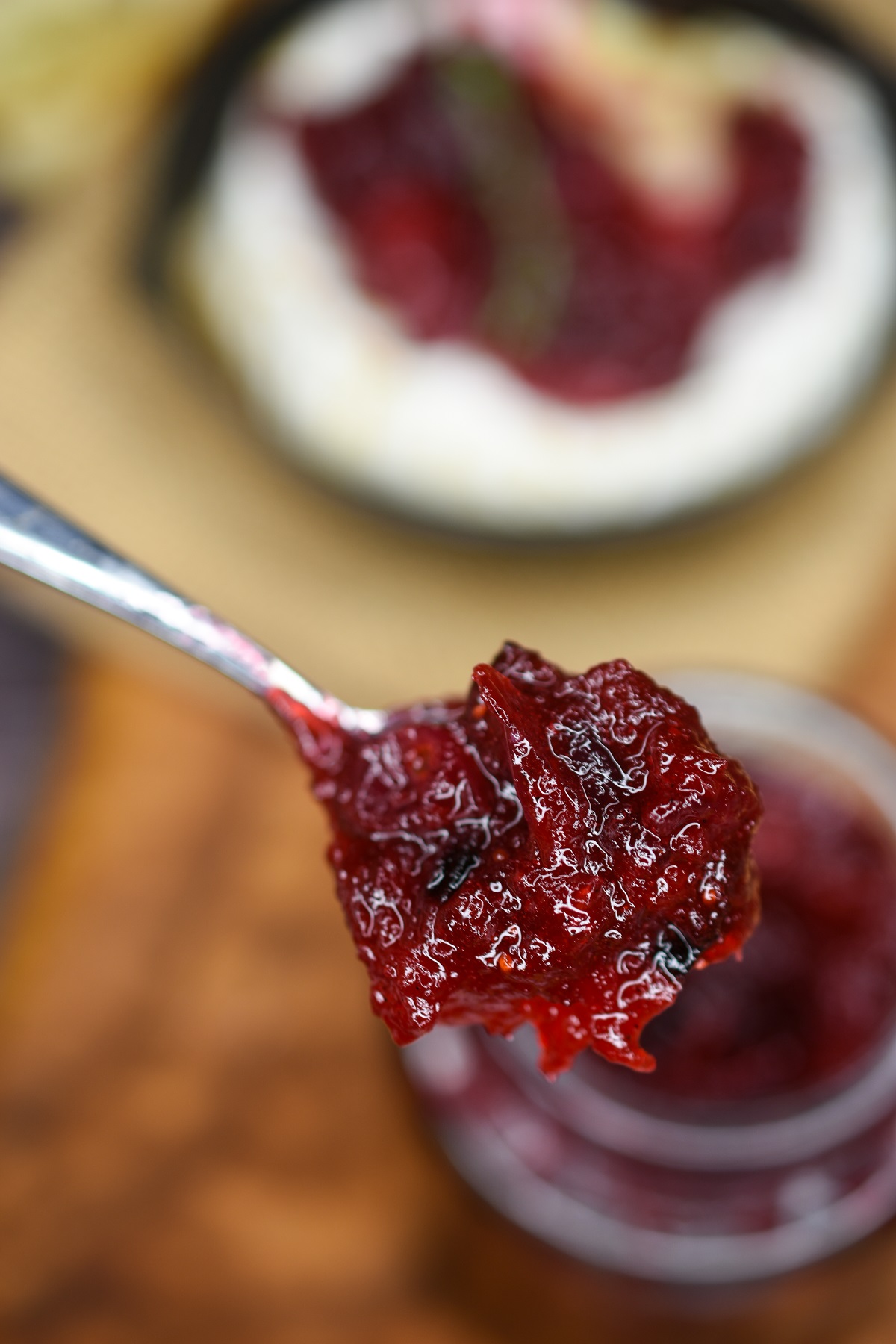 Can I freeze jam?
Freezing homemade jam is a great way to preserve it longer without canning. Freezing jam slows down the growth of microorganisms and enzymes that can cause jam to spoil.
To freeze jam, make sure it has been completely cooled. Store in airtight containers, proper mason jars or freezer bags. Leave some headspace to allow for expansion during freezing.
It is best to freeze jam as soon as possible after making (once it has completely cooled)it to maintain its quality.
When you are ready to use, thaw it in the refrigerator overnight. Once thawed, the jam should be used within a week.
Note: As with all things frozen, the texture may be slightly different after freezing and thawing. It may be slightly softer or runnier than fresh jam, but it will still be delicious and safe to eat.
This is a pectin free cranberry jam recipe. If you are an experienced canner you can certainly can this for a longer shelf life.
Recipes with cranberries you will love!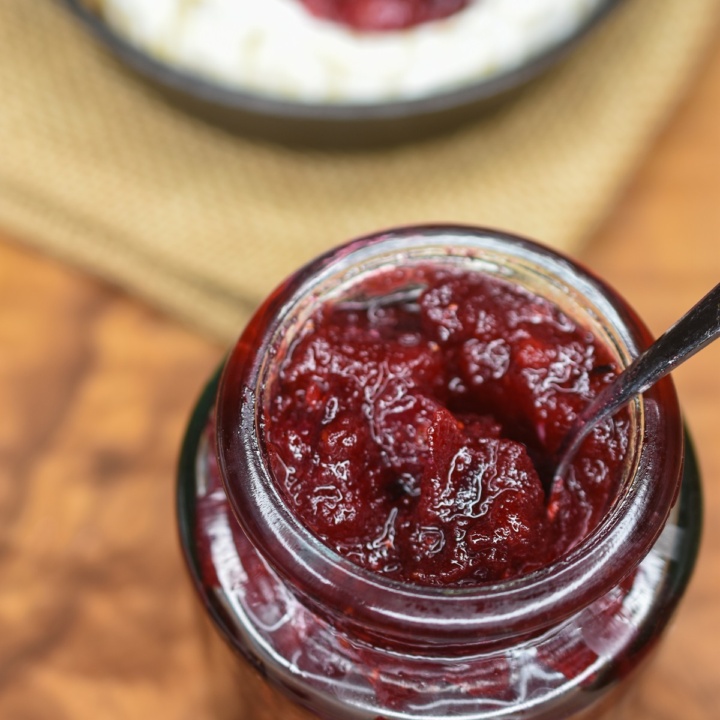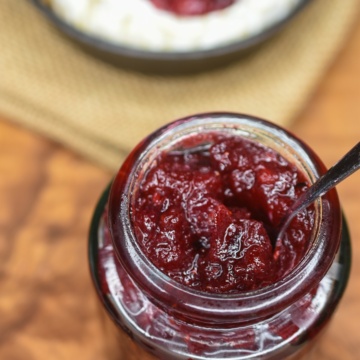 Cranberry Jam
Easy 10 Minute Cranberry Jam Recipe, perfect for the holiday season. Fresh Cranberry Jam.
Ingredients
12

oz

bag fresh of cranberries

1

cup

sugar or ½ cup sugar and ½ cup of my Spiced Sugar recipe

see notes about the spiced sugar

1

TBS

vanilla or vanilla bean paste

or 1 vanilla bean snipped into 3 pieces
Notes
Using my Spiced Sugar recipe - found here gives this cranberry jam a beautiful subtle spice flavor. It's great on its own as well made with just plain sugar.
Experiment with add-ins and create the jam of your dreams!
Nutrition
Serving:
8
servings
Calories:
96
kcal
Carbohydrates:
24
g
Protein:
0.2
g
Fat:
0.1
g
Saturated Fat:
0.003
g
Polyunsaturated Fat:
0.02
g
Monounsaturated Fat:
0.01
g
Sodium:
1
mg
Potassium:
30
mg
Fiber:
1
g
Sugar:
22
g
Vitamin A:
20
IU
Vitamin C:
5
mg
Calcium:
3
mg
Iron:
0.1
mg
Follow me on Tik Tok for 1 minute videos