This Caramelized Brown Sugar Bourbon Whole Grilled Pineapple may just be one of the best things you have ever tasted! The texture, flavors and juiciness make for one heck of a fantastic, rather healthy dessert!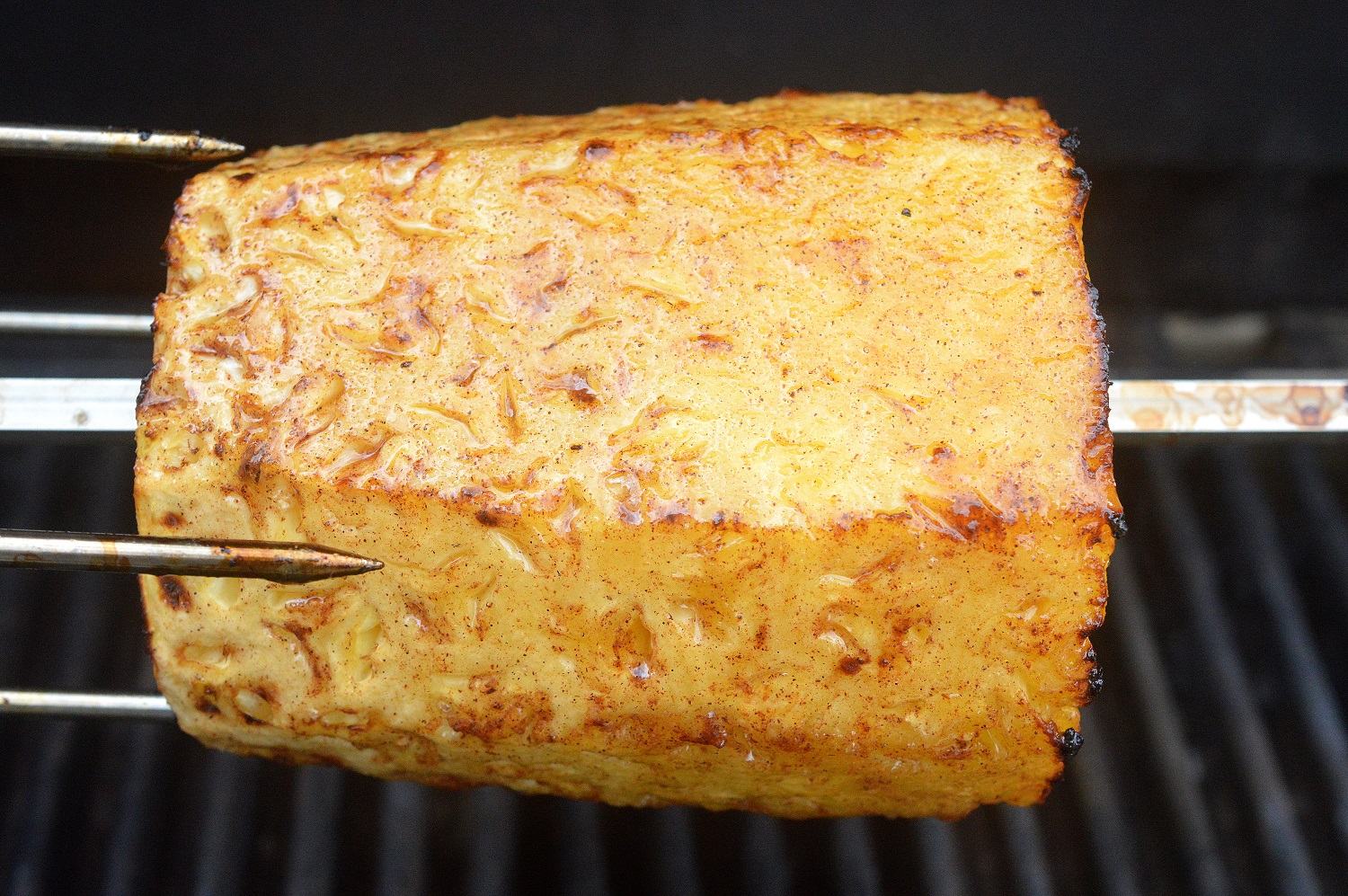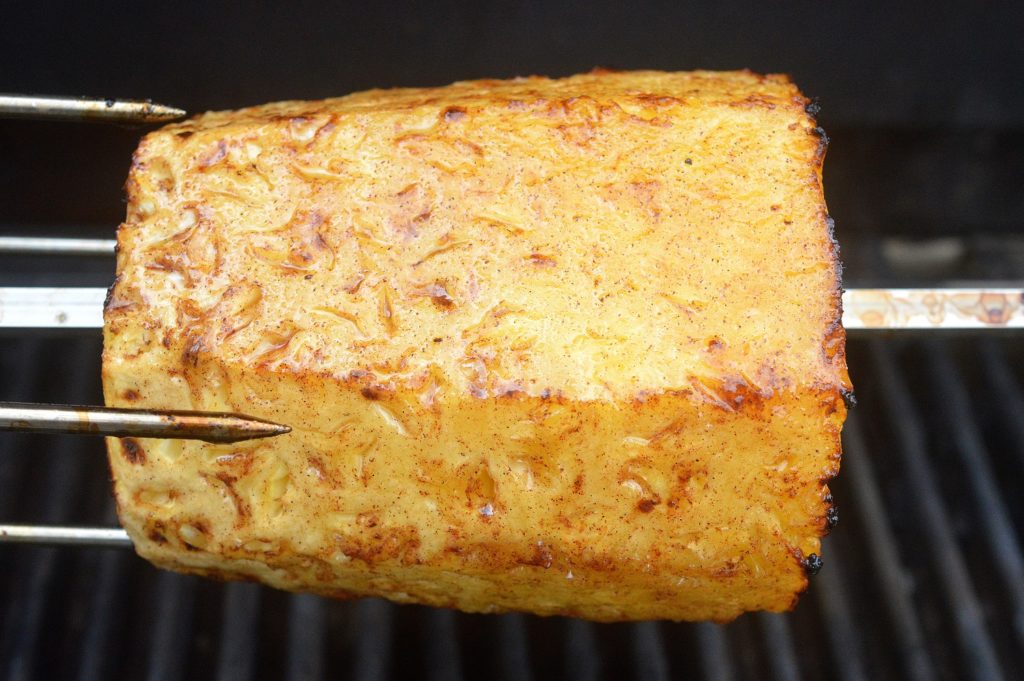 I'm a girl who loves everything about the grill, I have as long as I can remember. The process of grilling meats vegetables and fruits, where you can take them and most of all...eating what comes off is one of the best things about living!!
To me, there is nothing better than enjoying a delicious meal hot off the grill on a gorgeous Spring, Summer or Fall day or night with your family or friends!
Equipment:
Grill
Rotisserie rod (can also make without)
Brush
Ingredients:
Pineapple(s)
Butter
Brown Sugar
Vanilla
Cinnamon
Cardamom
Bourbon/whiskey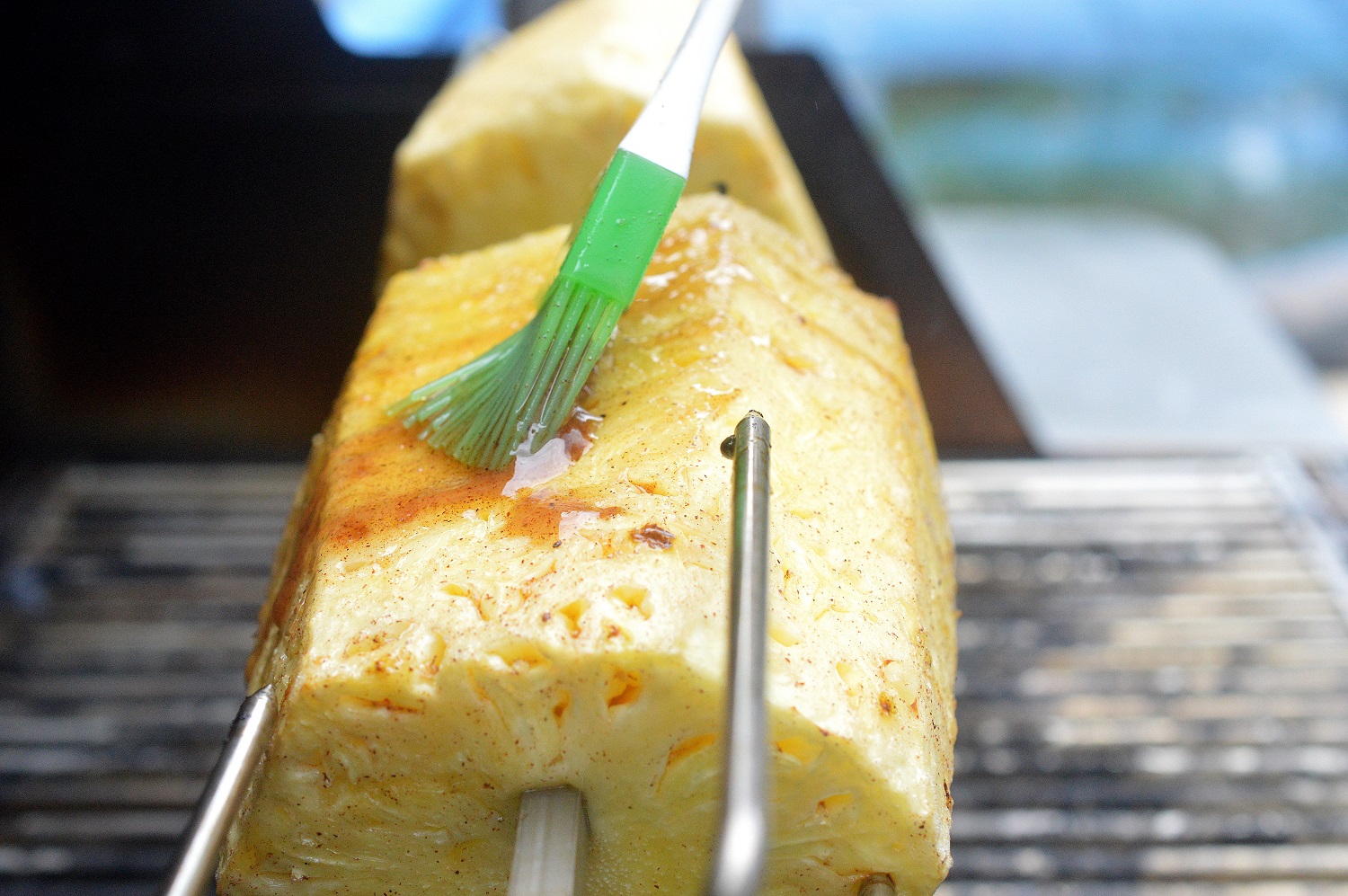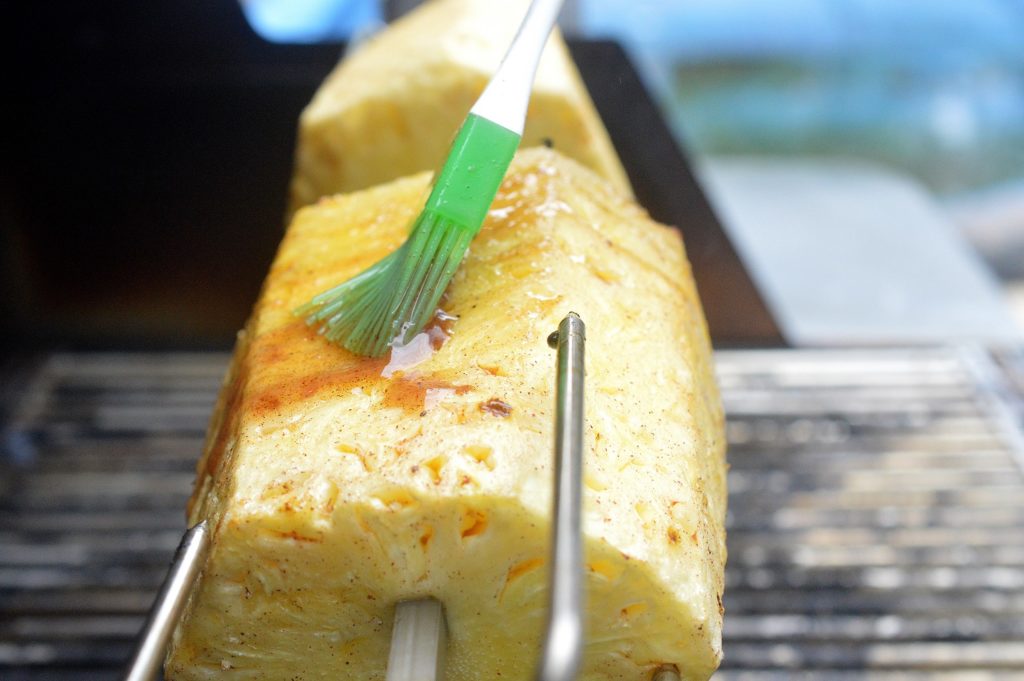 Grilled pineapple is good...however rotisserie grilled whole pineapple is...spectacular!
This easy barbecue recipe for whole grilled pineapple is so good, you will have no shame as the juice drips down your arms as you make sure you get every bite available.
You can choose to slice and serve over vanilla ice cream as well, YUM!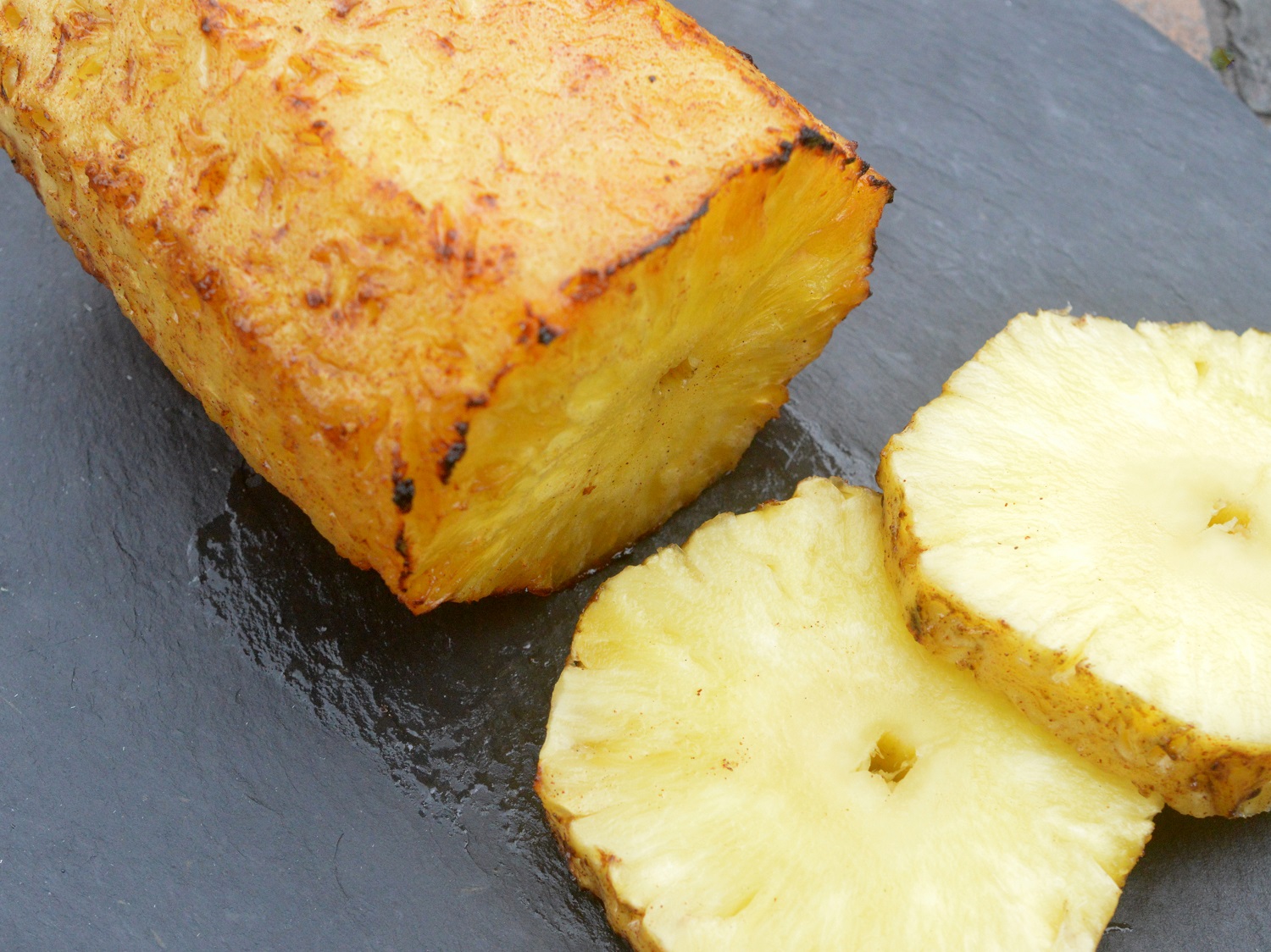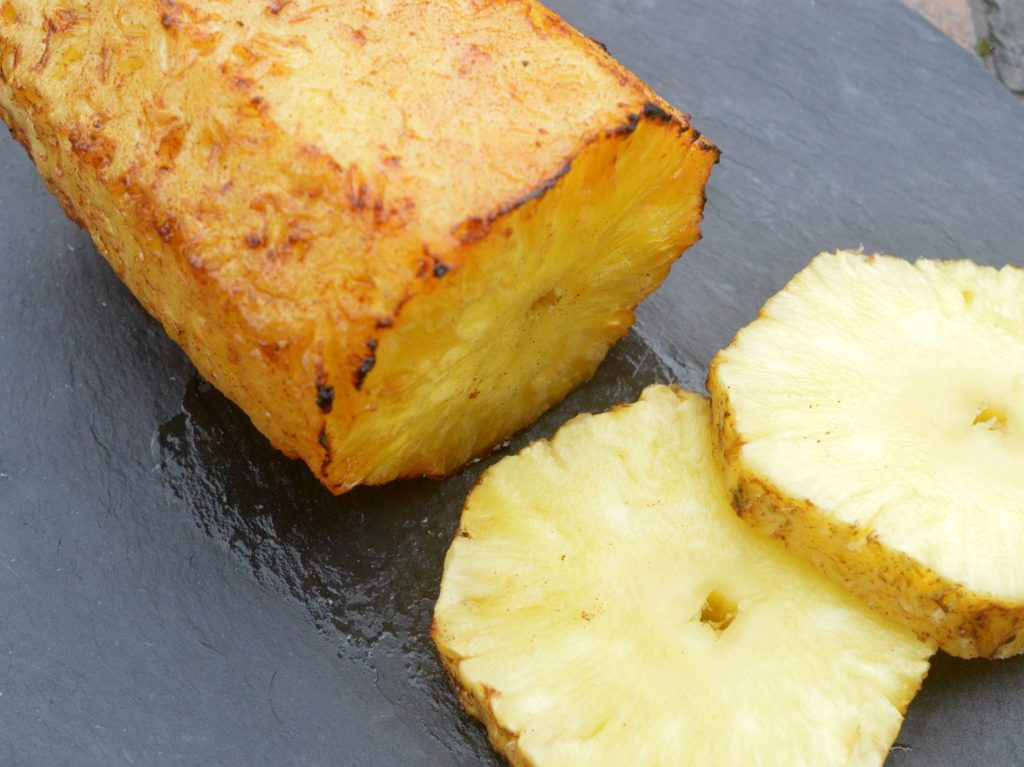 Whether you want a delicious snack or dessert for just you or your family or want to wow guests with a deliciously different dessert on a Summers eve.
This is it! It's light, healthy compared to the typical BBQ dessert offerings and is amazingly delicious!
I kid you not! I ate a whole pineapple...by myself!
My husband kids and I were enjoying the "fruit" of my recipe testing labor and their was silence, we were all chewing, slurping, lip smacking and finger licking. This may be my very favorite dessert now.

You have to let me know if you make this, if you did any variations and what you thought. You can tag me on Facebook or Instagram to share your creation.
Just the thought of eating more Caramelized Brown Sugar & Bourbon Whole Grilled Pineapple or someone eating one (or two) makes me so excited! I wrapped a couple of these rotisserie grilled pineapples up after I cooked them and passed them on to friends and family. They loved them! What would they think if they had one hot-off-the-grill??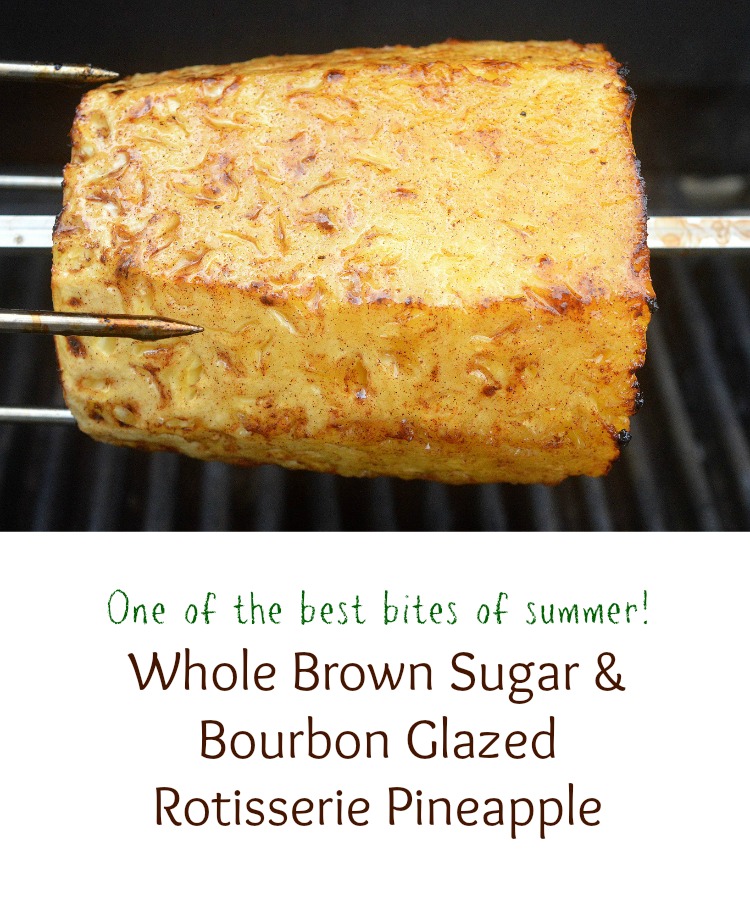 Other Grill Recipes to Try
Enjoy!!
Nutritional information Calculated on 1 pineapple for 2 people, pineapple sized vary. You may also serve to 3 or 4 as well as not use all of the glaze. So nutritional data for this grilled pineapple recipe is very loose.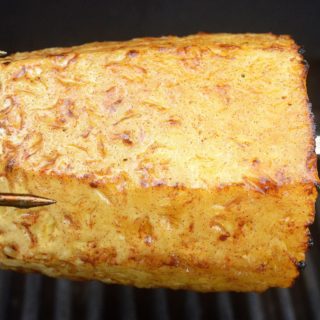 Grilled Pineapple Recipe
This whole rotisserie grilled pineapple is a fantastic finger licking dessert! A perfect ending to any BBQ meal!
Ingredients
1

fresh pineapple (or two)

2 ½

Tablespoons

butter

melted

½

cup

brown sugar

½

teaspoon

cinnamon

Sprinkle of cardamom

1

teaspoon

vanilla

½

Tablespoon

Bourbon

or whiskey
Instructions
Prep your pineapple for cooking by slicing off the top, bottom and skin of your. If large "eyes" are still in your pineapple, simply carve them out.

Place the rotisserie rod through the pineapple. If using 2 or 3 pineapples, move the first into position, then thread the second one (and third if applicable). Leave an inch or more of space between the pineapples. If you have a removable top rack on your grill, take it off.

Place the rotisserie bar into place (with the pineapple on it. Ignite your grill and set it to high heat.

Make sure the rotisserie is spinning, then close the lid.

Combine the glaze ingredients in a small bowl. After 6-10 minutes of grilling, check your pineapple(s), glaze them well. Close the grill and wait another 10 minutes and repeat.

Grills do differ, so check your pineapple every 10 minutes or so, adjust heat if necessary. Once you achieve the desired caramelization, carefully remove the rod and pineapples from the grill, slide off the pineapples, cut into rounds or chunks and serve immediately. You want the pineapple to be warm.

No rotisserie rod?? No problem, you can cook your pineapple on foil and brush and turn as necessary, cook on indirect heat. You can also do this in rings.
Nutrition
Serving:
2
servings
Calories:
577
kcal
Carbohydrates:
114
g
Protein:
3
g
Fat:
15
g
Saturated Fat:
9
g
Polyunsaturated Fat:
1
g
Monounsaturated Fat:
4
g
Trans Fat:
1
g
Cholesterol:
38
mg
Sodium:
133
mg
Potassium:
581
mg
Fiber:
7
g
Sugar:
99
g
Vitamin A:
701
IU
Vitamin C:
216
mg
Calcium:
114
mg
Iron:
2
mg
Follow me on Tik Tok for 1 minute videos