How about some Fresh Homemade Pineapple Water Ice for a warm day? If you love Philadelphia's iconic Rita's Water Ice, it's easy to make it at home as well!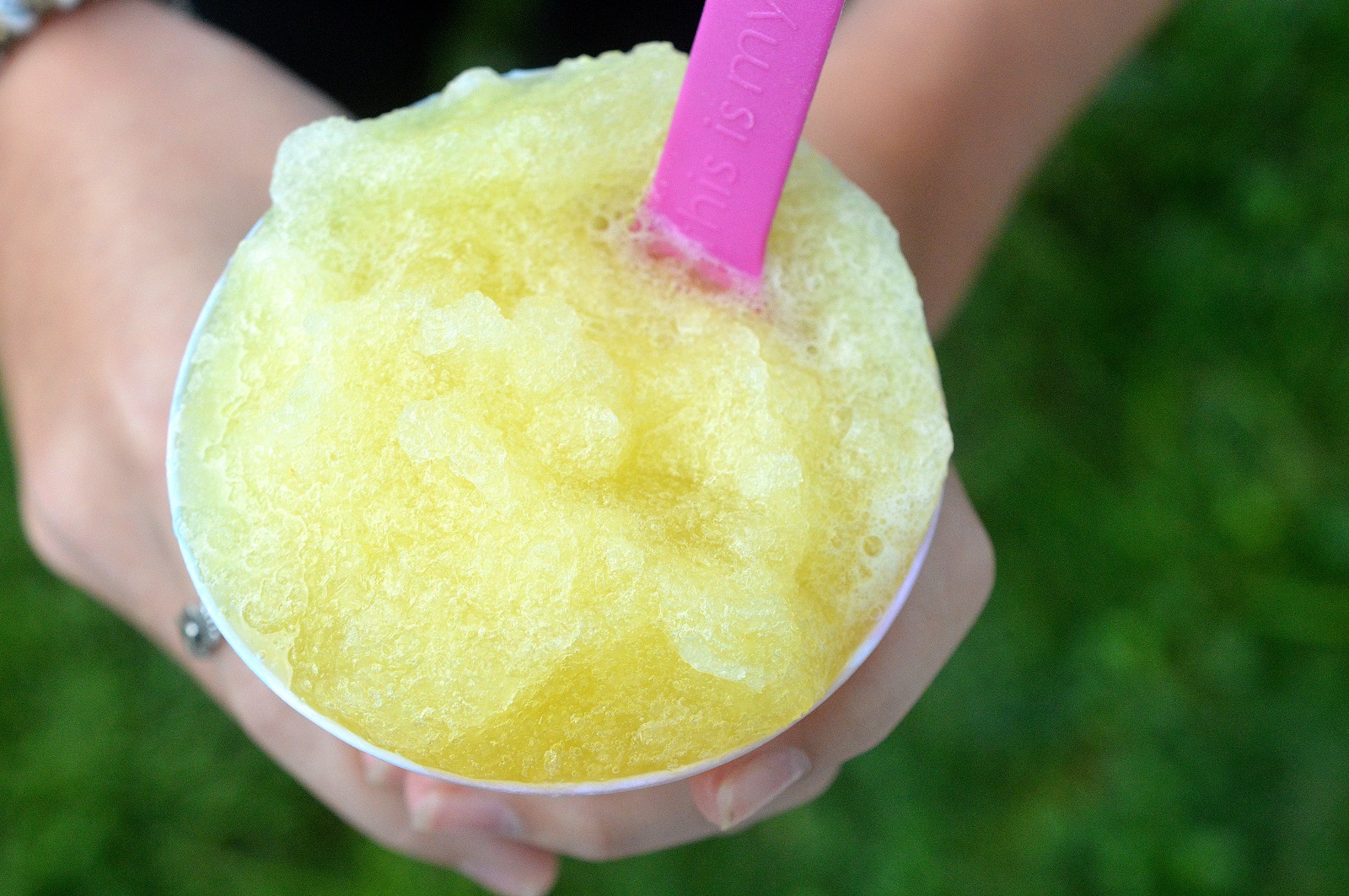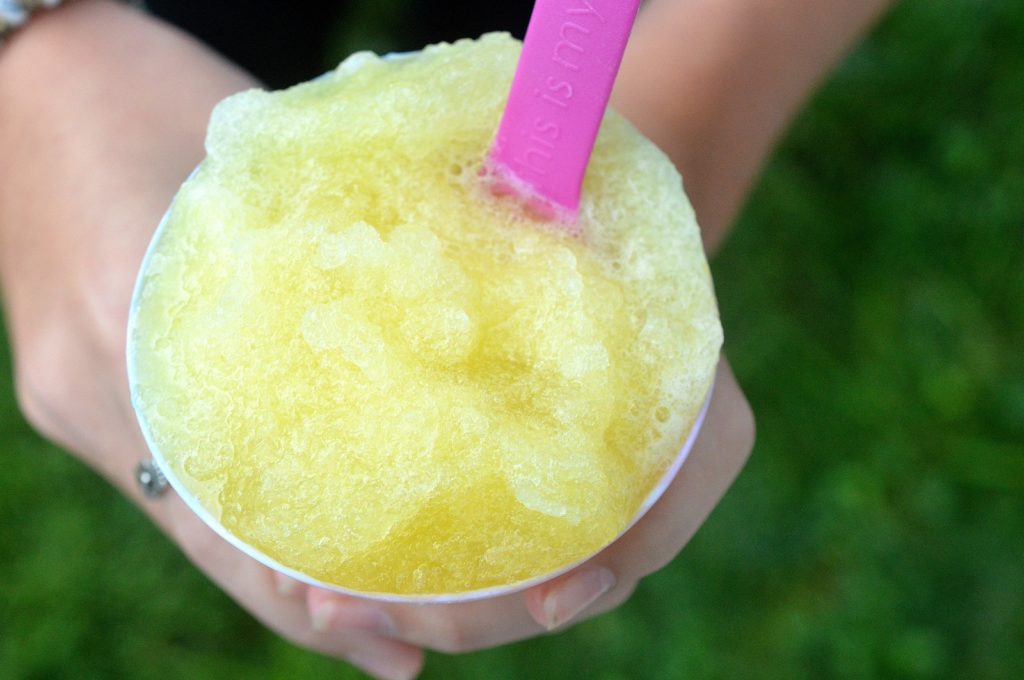 One of the best tastes from my childhood growing up in Philly wasn't the cheesesteaks, hoagies or the pizza…It was the Rita's Water Ice! 
The first 2 locations to ever open were both by where I grew up.  The second location was within walking distance for my teenage friends and I, and since was I was hooked from my first bite, it was a walk or a drive that we made often! During the months it was open each year, I'll bet I went 3 times a week or more back then!
600 locations across the country later (and some outside the U.S.)…I am still hooked (and now so are my kids). I don't know a single person who doesn't like love water ice. However I know quite a few across the country who have no idea what it is, lol! I take great pleasure in having introduced dozens of friends and family from the US and overseas to the delights of "Philly" water ice!
These days the choices when you visit a Rita's are endless. The flavors (that can change daily) the add-in's like custard ice cream and so much more….However all I want every time I go…Is straight up water ice!
I started making my own water ice a couple of years ago and since Lime was one of my favorite water ice flavors, that's where I began, click here for my Lime Water Ice Recipe.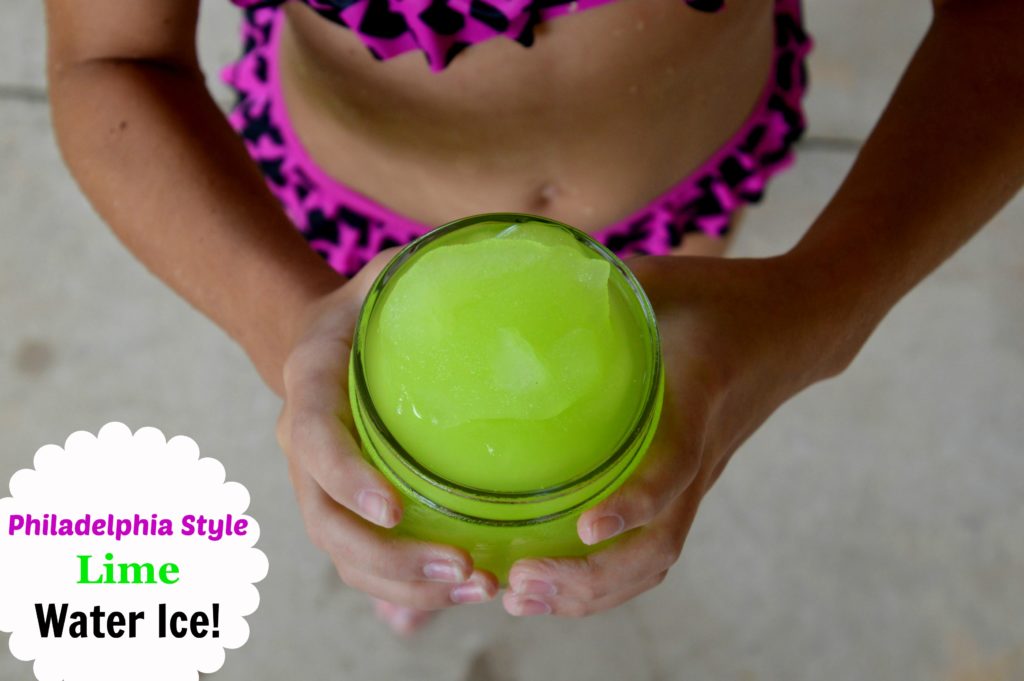 This year, one of the new flavors is a Natural Pineapple Water Ice. I asked for a sample earlier this summer and wow!! It was good, like really, really good! I have been looking for it in the daily flavors ever since.
I decided I could easily make my own Homemade Pineapple Water Ice, and so I did! No artificial colors or add in's here, just straight up goodness! 
All you need are fresh pineapples, water and sugar….An ice cream maker is handy, but honestly, you can still make it without one, you just need to wait a little longer.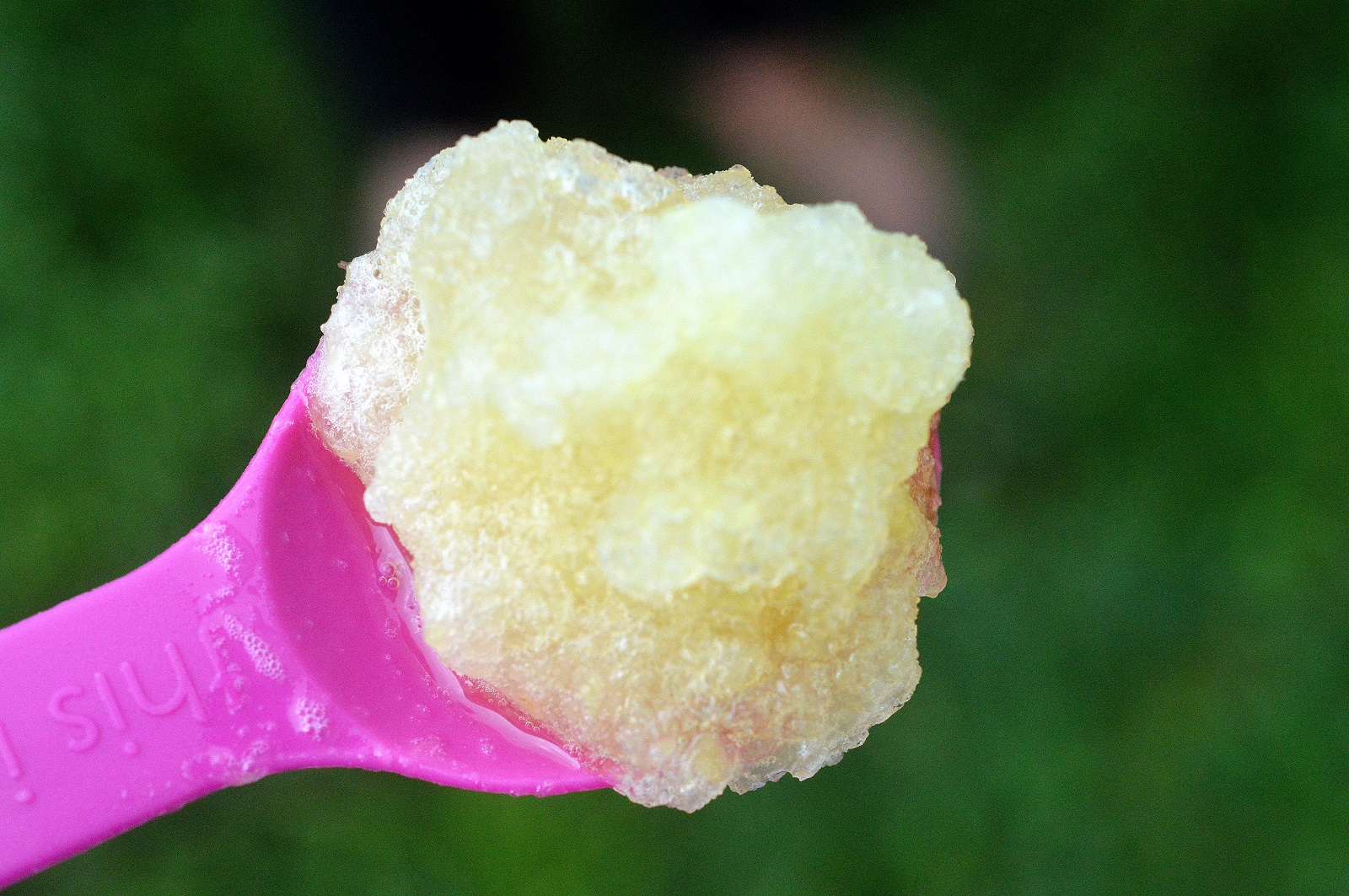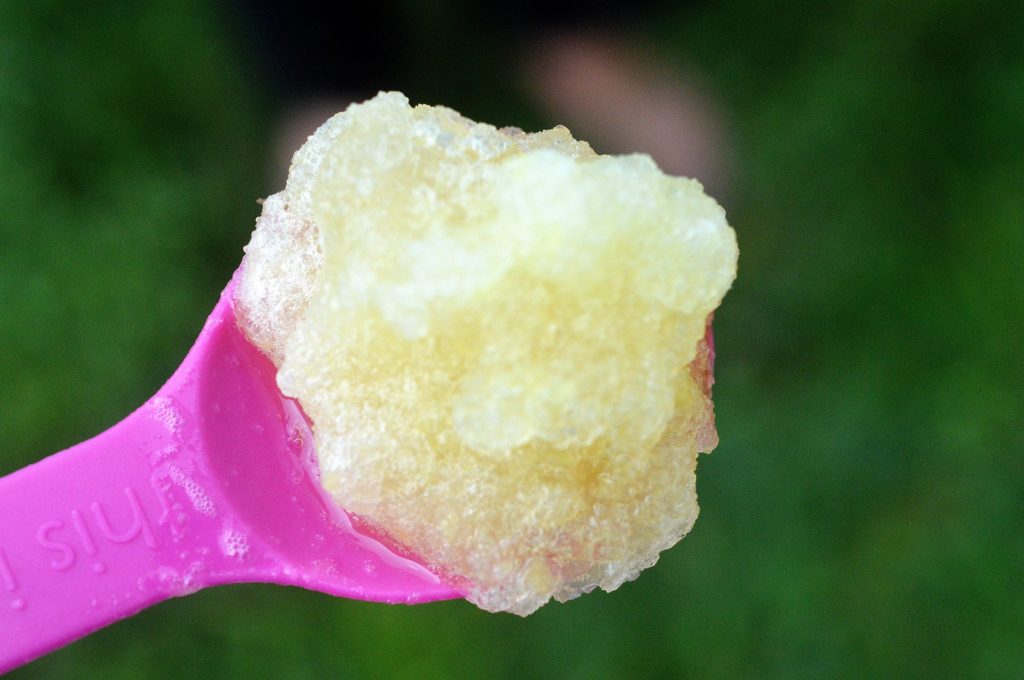 You can customize my Homemade Pineapple Water Ice to your preference for sweetness and pineapple flavor. My daughter, who turned 12 in July practically ate my whole first batch single-handed. Lucky for me that all I need is a pineapple to make more, lol!
Try this cool, refreshing, light  and delicious treat at home! Homemade Pineapple Water Ice is great for parties too! Get some cups and spoons and start scooping!!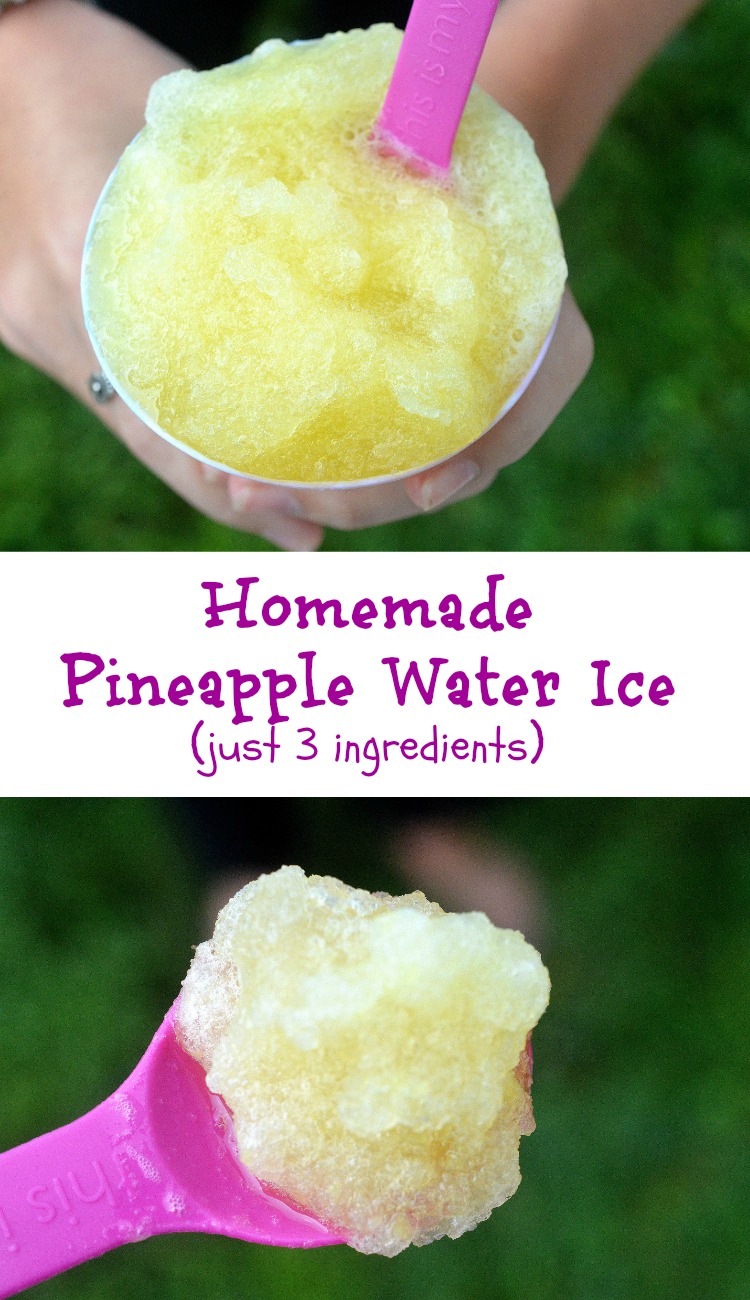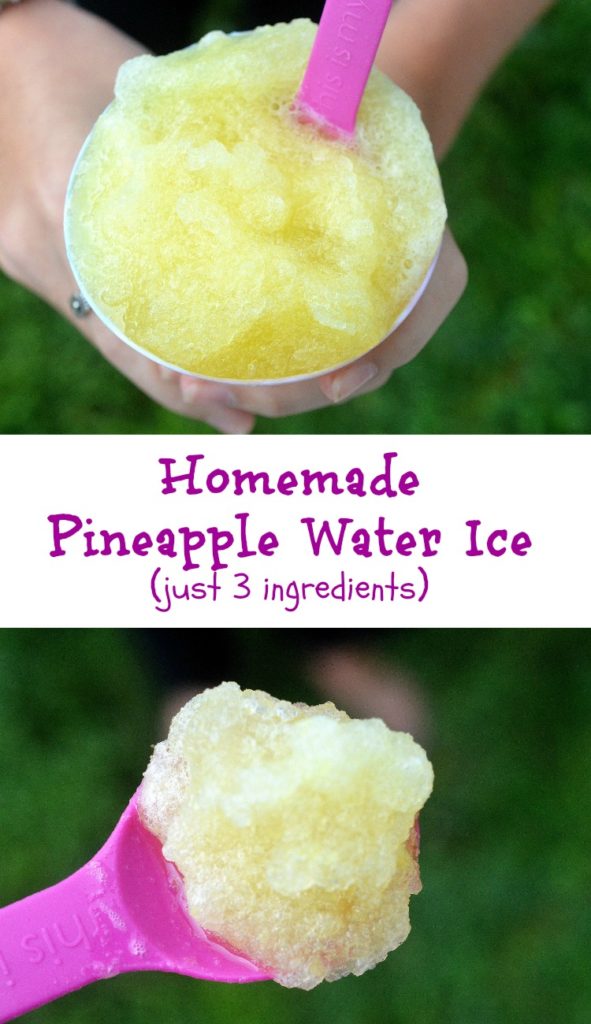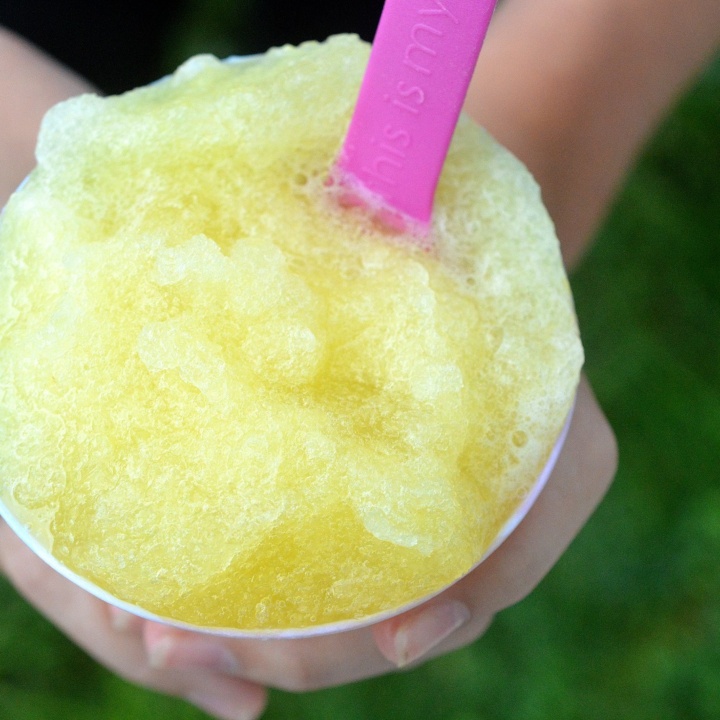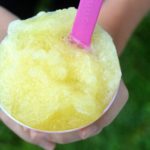 Print Recipe
Homemade Pineapple Water Ice
Making your own Homemade Water Ice is easier than you think! Just a few ingredients and then you have yourself a delicious semi-frozen treat!
Ingredients
2

Pineapples

4

cups

water

1/2

cup

or more of sugar
Instructions
Skin your pineapple, then cut it up into bite sized chunks. Place it in your Ninja, food processor or Vitamix and blend until smooth. Set aside.

In a small pot, combine water and sugar and heat just until the sugar melts. Allow mixture to cool.

Add sugar water to your pineapple and blend until smooth.

Taste mixture for sweetness. Depending on how sweet your pineapples were, you may either think the taste is spot on or you may want to add more sugar. If you want to add more sugar, combine equal parts water and sugar (eg, 1/2 cup water and 1/2 cup sugar) and heat just until the sugar melts. Cool and add to mixture until you get the flavor you desire.

For ice cream machine method: Place mixture in your refrigerator for 1 hour. Make sure that your ice cream maker bowl is frozen, then process as much as it will hold for 30 minutes or until nice and slushy. Serve immediately. Freeze leftover in a separate sealed container (never the ice cream maker bowl). When ready to enjoy it again. Allow it to thaw until you can begin scooping the sides and moving it around. You want it to be sort of slushy.

For freezer method: Pour your mixture into a container and place it into the freezer. Every hour give it a good stirring until it is nice and slushy. Serve.

You can also freeze it overnight, take it out and allow it to thaw. It will take about an hour to get to the stage where you can break it up and stir it all around to where it is nice and slushy.

You can also help it along by popping it in the microwave for 30 second bursts, just keep breaking it up and stirring until you get the right consistency.