When I was a kid, one of my favorite treats were the giant Chinese Marble Cookies at our local bakery in Northeast Philly.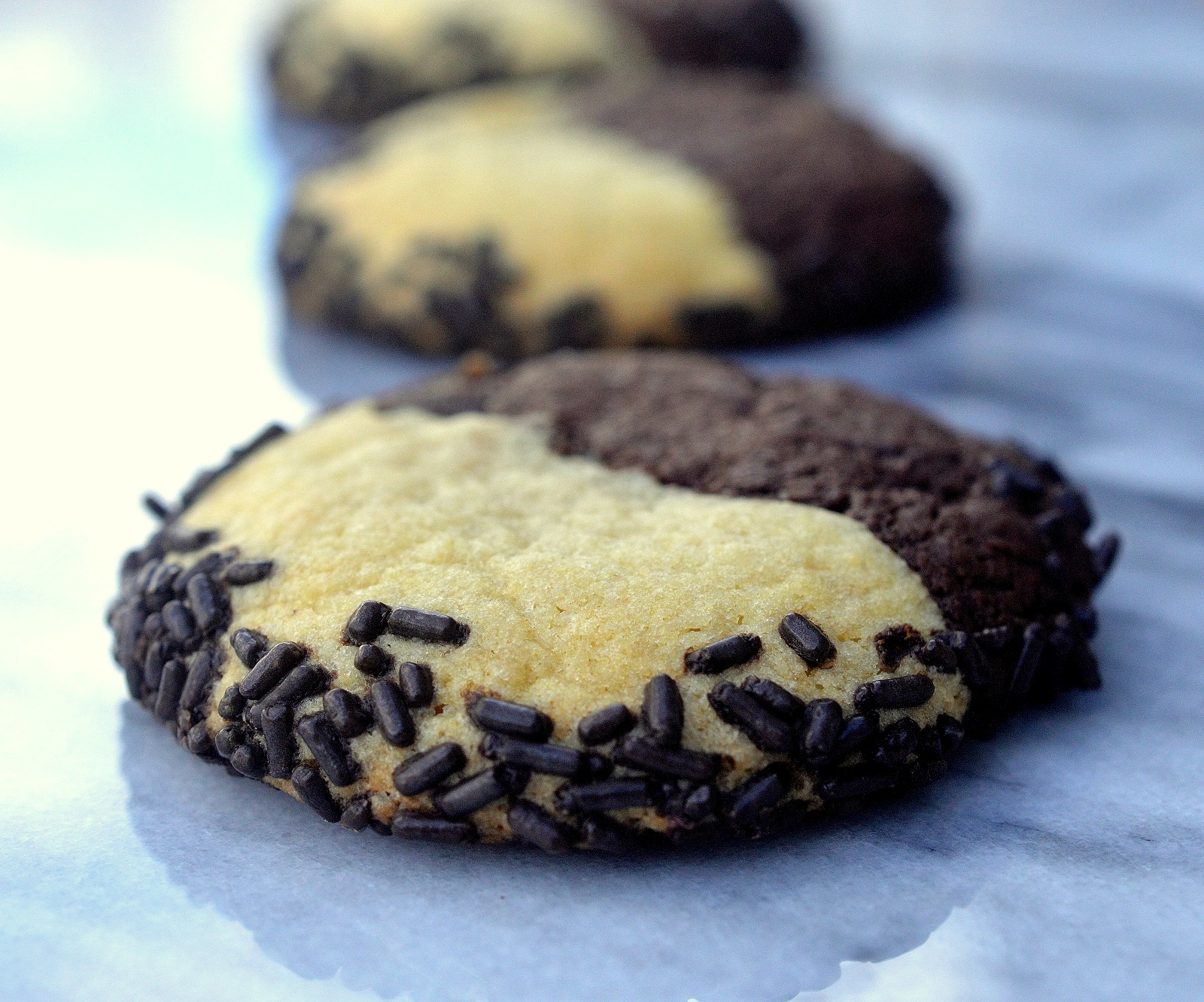 Growing up as one of five kids, I vividly remember certain things that got me really excited! Many of those memories were simple pleasures and since food is one of my favorite things you know a bunch of them are food memories!! Going in the bakery with my mom and being told to go ahead and pick something out was a big one. I almost always went for one of the giant Chinese Marble Cookies at Arthur's Bakery on Red Lion Road 🙂
Later in life, I moved on to Arthur's chocolate eclairs…To this day I can not find anyone who makes them as good as my childhood bakery did. I swear each eclair was 1 pound in weight.  For years I would go back and visit once or twice a year just for an eclair until one day, sadly the bakery was no more.
For whatever reason I have never taken on attempting to make an eclair. Some foods I like to keep super special like creme brulee or eclairs for example…I know I can make them at home, however I don't want them to loose their hold on me. I save them for special treats when I am out.
I made these cookies from my memory of the taste, texture and appearance. However when I searched for images of them I found some with big blobs of chocolate/fudge in the center. My bakery had jimmies around the perimeter of the cookie instead. Did you have these cookies as a kid or do you have them where you are now? If so how do they differ? I am so curious!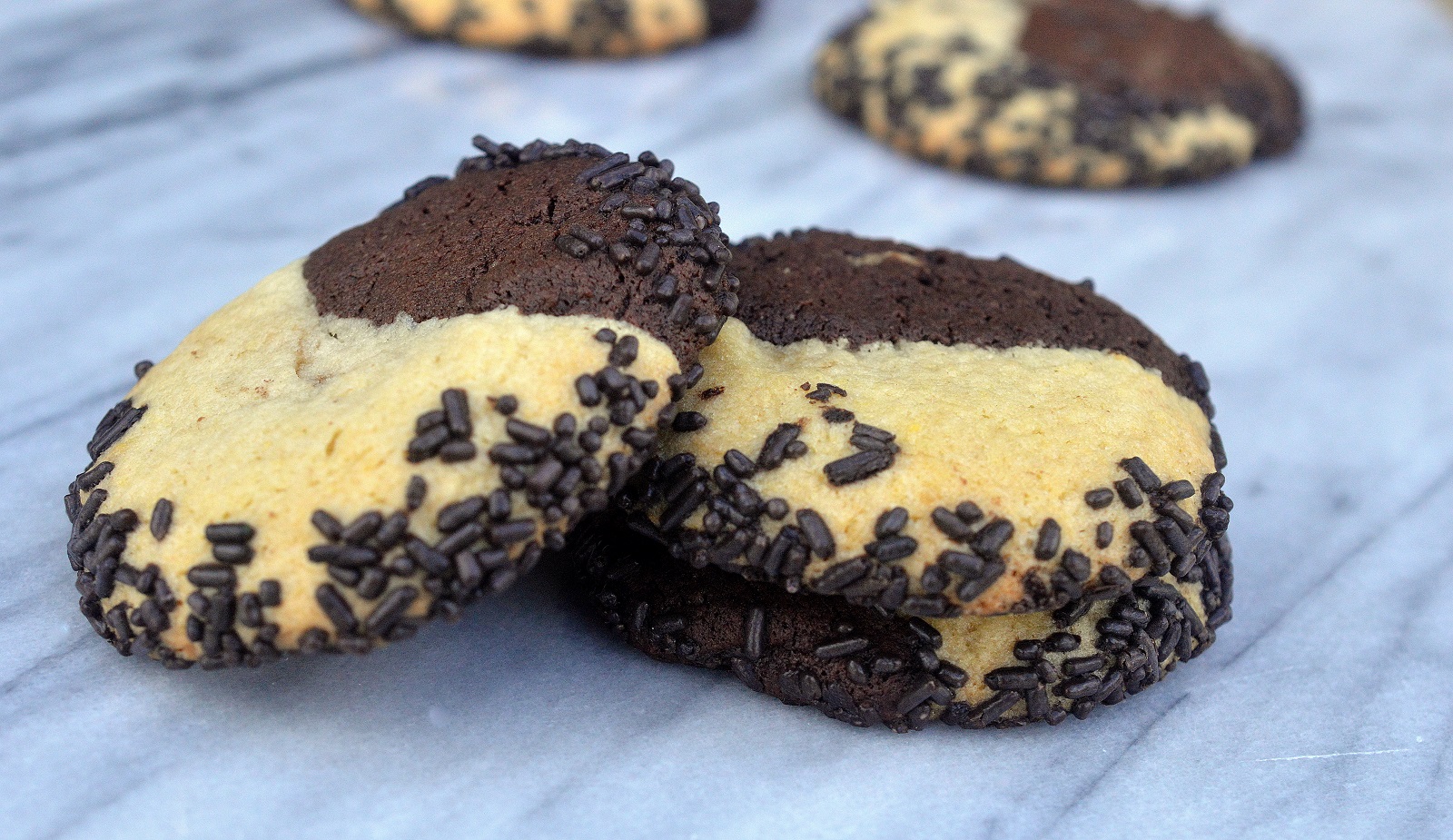 Oh and for you non-Philly folks…Jimmies are what many across the country call sprinkles, lol!  I asked on my Souffle Bombay Facebook Page a couple of years ago what people call them (sprinkles/jimmies) and was astounded by the number of responses! It was pretty much split down the middle…And let me tell you people were rather territorial over their answer and I loved that!
What do you call them?
Making these Chinese Marble Cookies is pretty easy, and the result is a fun and different cookie to enjoy! I made a big batch and donated them to the middle school to sell during the play dates this year…they sold out in 1 day 🙂
Hope you enjoy them!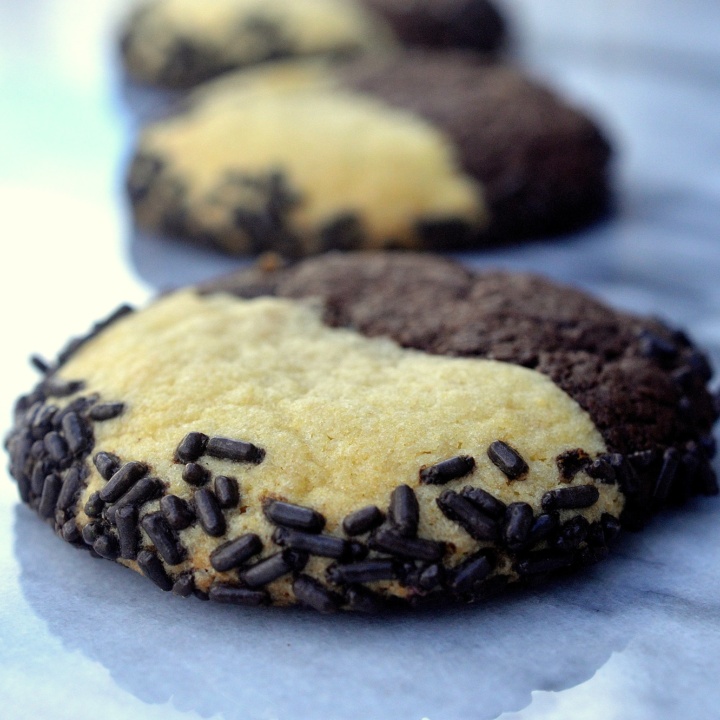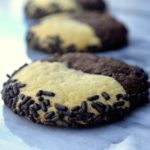 Print Recipe
Chinese Marble Cookies
Ingredients
2

sticks of butter

room temp

3/4

cup

sugar

3/4

cup

brown sugar

1

tsp

vanilla

2

eggs

1 1/4

cups

flour plus another 1/2 cup flour reserved

1/4

tsp

salt

1

tsp

baking powder

6

TBS

cocoa powder
Instructions
Preheat oven to 375 degrees.

In a mixing bowl, combine butter and sugars and mix until smooth.

Add in vanilla and eggs and mix until blended.

Add in 1 1/4 cups flour, sprinkle salt and baking soda over-top and mix until smooth.

Divide dough in half. add remaining 1/2 cup of flour to one half and mix until blended.

Add the cocoa powder to the other half and mix until blended.

Scoop the "vanilla" dough into balls using a small cookie scoop (fill scoop a little less than full) and place on a piece of parchment paper.

Do the same with the chocolate dough.

Take one of each, press them together, flatten them down into a fat disk and roll edges liberally in the chocolate jimmies.

Place onto a parchment paper lined lined baking sheet, one inch apart (I usually fit 7 per sheet).

Bake 11 minutes or so or until done to your liking. You don't want edges to brown.

Allow them to cool on tray for a couple minutes and then using a cookie spatula, transfer them to a cooling rack until completely cool.

Store in a cookie jar or airtight container and enjoy!