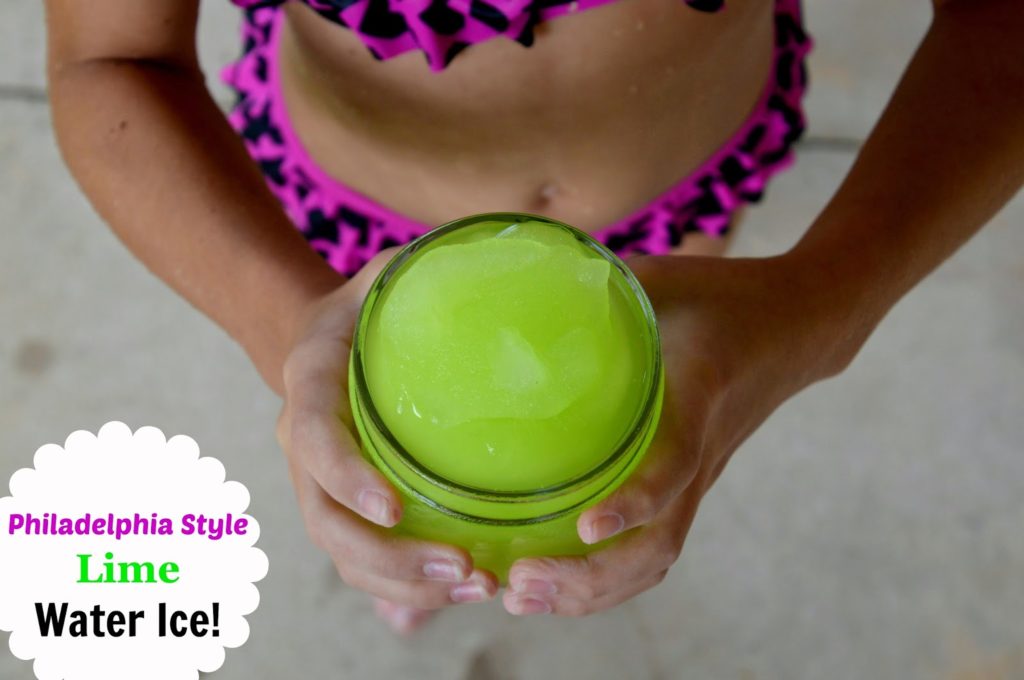 I was born & raised in Philadelphia.  I LOVED my neighborhood!  We never locked our doors. I was within walking distance of all of my friends yet had a huge yard where my dad had an enormous garden, cherry tree, apple tree, swimming pool and more. We had bats at night, snakes in the strawberry patch and the occasional surprise critter visit since we backed up to a wooded area.  I loved it!
When you think of Philly, you think of The Liberty Bell, The Reading Terminal Market, Rocky, Cheese Steaks and Hoagies...right??  But right up there with all of those are soft pretzels and water ice....Oh water ice, how I love you!  I have to say that water ice is at the top of my list when it comes to a dessert...actually any time of the year!  If you have never had it you will be in for a treat!
25 years ago a now famous water  ice company, started by a Philly fireman, opened their first and second shops not far from where I grew up...lucky for me their second shop was within a 15 minute walk from my house AND my friends and I walked right past it on the way home from high school! It was love at first bite for me!  Recently I decided to try to make my own DIY Philadelphia Style Water Ice...I though it would be a fun project to do with the kids over the summer...and boy was I right about THAT!
Enter The Spice House.  If you are a reader of my site you know the love I have for The Spice House!  It is my hands down favorite site to purchase...well anything (I am never without either their Vulcan's Fire Salt or their Chicago Old Town Premium Spiced Sugar)!  I don't think there is one other site that I have purchased more frequently from for the last 5 or so years.  I just knew I would find what I needed there to make water ice, and I did!  I ordered their Lime Extract and set out to make one of my favorite flavors of water ice - Lime!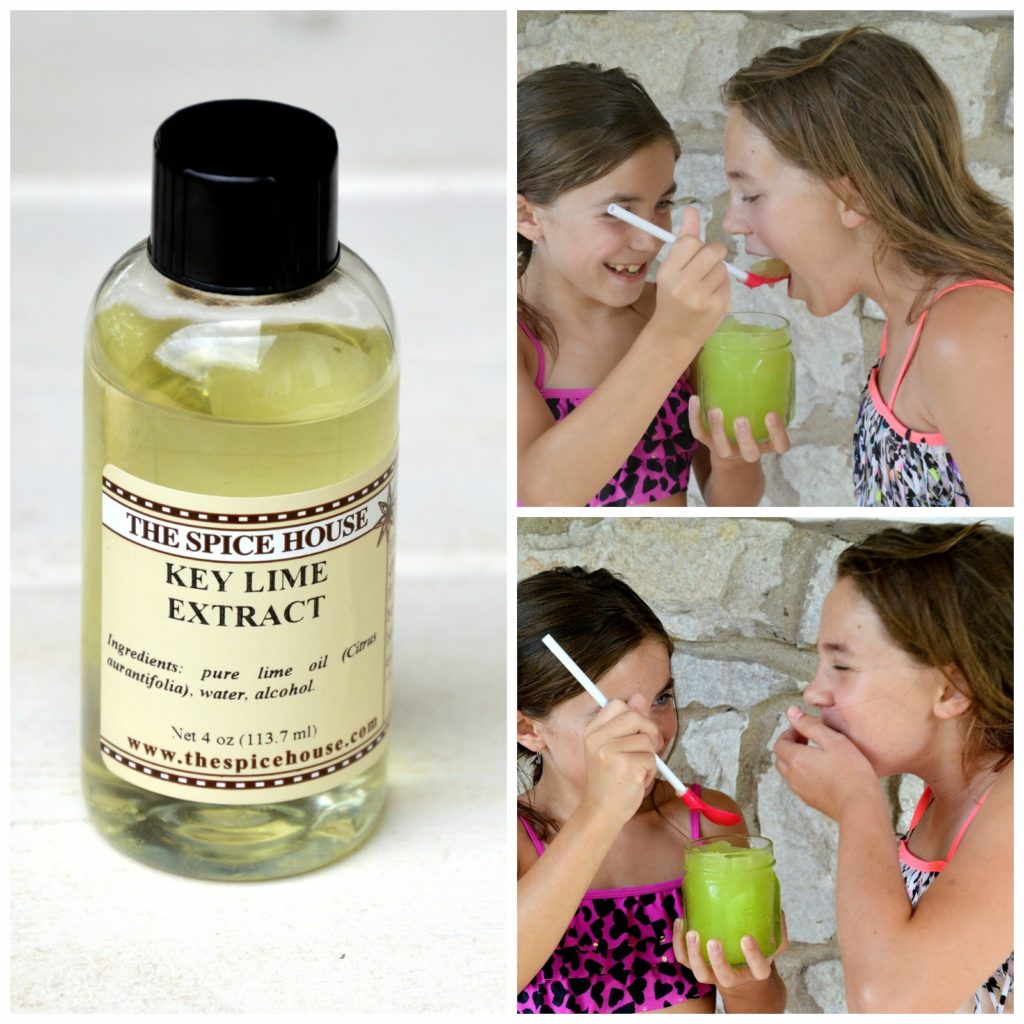 If you ever wondered where you could get quality spices for all of your cooking and baking needs look no further than The Spice House!
The Spice House 
opened its doors back in 1957, and today has both a robust online business as well as 5 locations throughout Chicago & Milwaukee.  They carry over 600 products from at least 50 different countries, including pure spices and herbs, spice blends, salts, and extracts and have caught the admiration of many home cooks across the country as well as some heavy hitters in the food world, including Alton Brown & Julia Child!
Alton Brown filmed his famous "Good Eats Fruitcake Episode" at their Evanston shop 15 years ago and recently had Patty and Tom on his Podcast – The AltonBrowncast Episode 23.  The Spice House also happens to make 3 special blends for Alton, which you can find 
here
.  
You know Alton Brown knows a good thing when he finds one!  
Many of Chicago's top chefs walk through The Spice House doors for inspiration, "secret ingredients" and all around quality spices.  
Julia Child once proclaimed The Spice House a "national treasure"!
Patty remembers Julia's visit to their Milwaukee shop:
We had cinnamon that came from Vietnam, a long log, real thick, and as hard as a baseball bat! The trade doors had just opened from Vietnam when she visited, and we couldn't wait to show her this bark, and then give her a taste in powder form. Julia took the bark right out of my hand and took a giant bite right out of it! My whole family was there and we all collectively sucked in our breath, and asked, "Do you want to spit that out?" But she kept right on chewing and chewing and chewing, and 10 minutes later she had chewed it enough to swallow it. Julia was just so gracious, and she said something like, "Oh my dear, you're absolutely right, this is delightful cinnamon, thank you for sharing this with me!" She signed the rest of that bark and today that bark is one of Patty's prized possessions.
Tom & Patty took over Patty's parents business back in 1993 and have built 
The Spice House
into what it is today...
A resource for incredible spices and seasonings, as fresh as you can get them at an affordable price
.  They scour the world for the best ingredients and spices.  From large farm collaboratives in exotic countries to boutique farmers who specialize in items not commercially produced, like one special connection they have with a friend's mother who just so happens to own a vanilla plantation in Tahiti, where only a limited amount of beans are produced and they're very…very expensive. "We have a really great connection with that farm, and we'll get maybe 20 pounds of Tahitian vanilla beans month".
To bring you the freshest ingredients possible The Spice House grinds and blends their spices and seasonings in small batches right in their stores which is why as you approach a store and walk through its doors you are greeted with an intoxicating aroma! 
Many of their spices come in pretty glass jars, however you can also order many varieties in bags (as well as in salt-free versions), and let me tell you...you will be blown away by their pricing! Their 
gift boxes
 are both gorgeous and well thought out.  The thought they put into their gift box packaging is something you really don't see these days. They include whole nutmegs, cinnamon sticks and more as packaging you can actually use!  Their delivery is always quick as well, which has always impressed me.  Take a few minutes and
 peruse their offerings
 and prepare to be impressed!
Once you try The Spice House…you just may fall in love with their quality, pricing and friendly service!  I know I sure have!

Check out what some of my foodie friends  created with ingredients they ordered from The Spice House:
2 incredibly lucky readers will win a delicious prize!!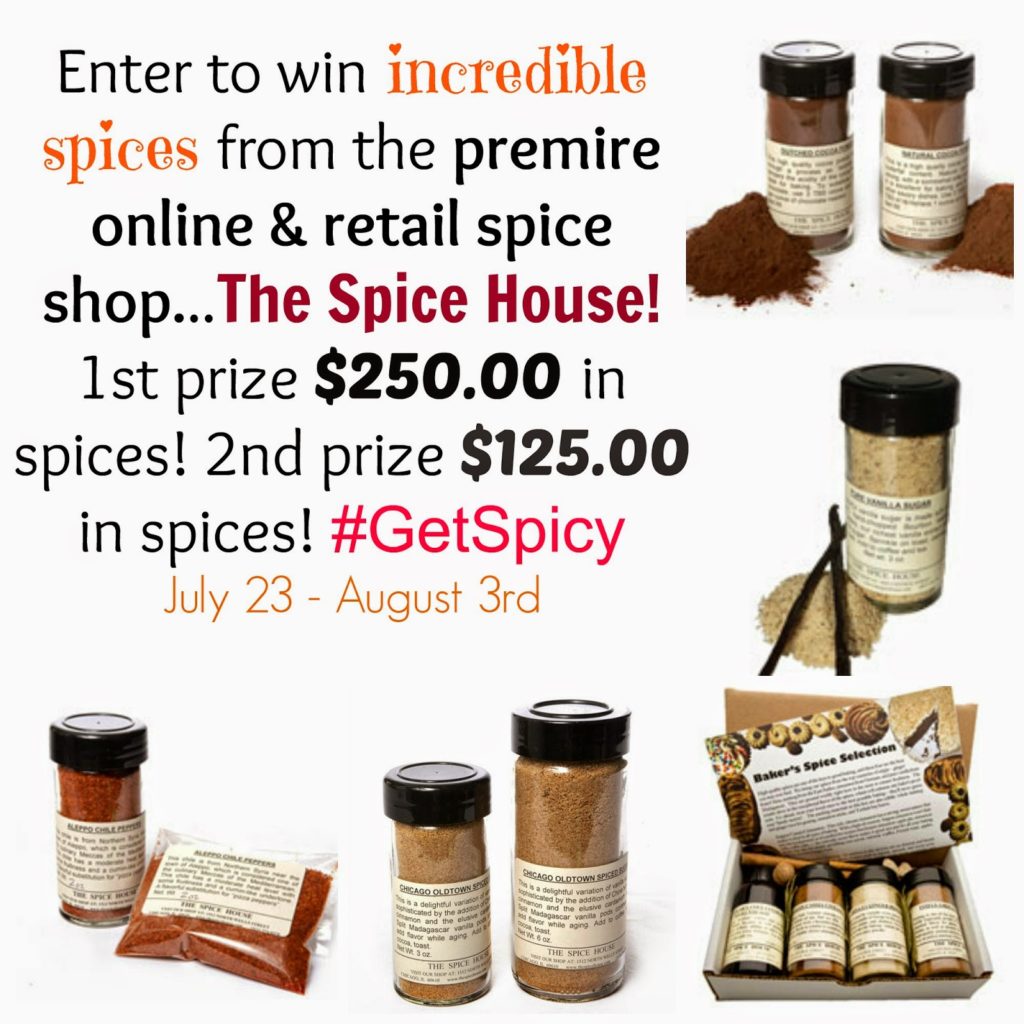 1st Prize - $250.00 in spices, which includes Grill & BBQ Deluxe Gift Box Set, Bakers Spices Gift Box Set, Vanilla Bean Sugar, Chicago Old Town Premium Sugar, Vulcan's Fire Salt, Chai Spices with Vanilla, Pumpkin Pie Spice, Dutched Cocoa Powder, Aleppo Pepper, AND a $100.00 gift card to The Spice House to find your favorites not on this list or try some new ones!
2nd Prize - The Signature Selection Gift Box Set, Chicago Old Town Premium Sugar, Fancy Onion Salt, Fancy Garlic Salt, Vanilla Bean Sugar, Tellicherry Black Peppercorns and a $50.00 gift card to The Spice House to find your favorites not on this list or try some new ones!
Contest open to U.S. mailing addresses, must be 18 years or older to enter.  Prizes will be fulfilled by The Spice House.
Disclosure: I was given a gift card to order spices as compensation for this post, however as always all thoughts and opinions are my own. 

If you have never had water ice you are in for a treat!! Its cool and refreshing, there is nothing quite like it! You can make cherry, mango, cotton candy and bubblegum to name a few! You can add flecks of real fruit as well.  If this is your first time trying water ice...I say you yell out YO Adrienne!! While you enjoy it...to get the full effect!! If you are a tri-state area local and don't want to wait in the long-lines of summer...making it yourself is easier than you ever would have thought!  Quicker for sure than hopping in your car and waiting in line...give it a try and let me know what you think!
Philadelphia Style Lime Water Ice
4 ½ cups of cold water
1 cup of sugar
1-2 teaspoons of The Spice House Lime Extract
4-5 drops neon green food coloring
In a small pot combine 1 cup of the water and your sugar.  Heat just until the sugar melts and the liquid is clear.  Stir occasionally until then.  Remove the pot from the heat and add in the remainder of the water as well as the extract and the food coloring.  Place your liquid into the bucket of your chilled ice cream maker bucket (I always keep at least one in my freezer, ready at a moments notice when the need for ice cream, sorbet and now water ice strikes) and churn until it becomes slushy-ish which should take about 20-25 minutes.  Perfect water ice is slushy, with some of it turning to juice again along the sides, you scoop it up with a spoon and sometimes sip on it...its magical!
When you store your just made water ice - do NOT store it in your ice cream bucket - it will harden like a rock and take forever to thaw.  Instead freeze it in mason jars (already per-portioned - a plus!) or a container.  Prior to serving allow it to once again become slushy, stirring it up as it begins to thaw.
Enjoy!!