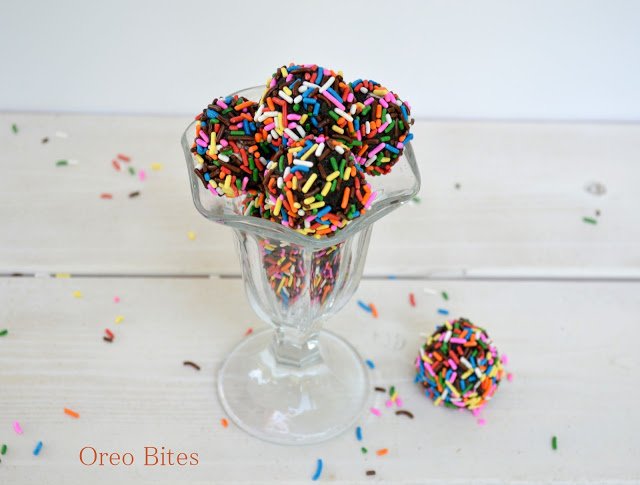 Yesterday was the end of the school year for my kids and let me tell you, they are ridiculously excited for summer break! I just love it! I was asking my husband the other day if he could "actually" remember the feeling, he said he definitely could!
Do you remember? Later in elementary school or in high school being filled with giddy anticipation of what was to come? The freedom of running amuck from just after breakfast to dinner with just a pit stop for lunch? I do, and I have to say it really was wonderful!! For some of us, those may be some of best memories of our lives.
I don't really run into anyone from my childhood neighborhood other than the few I am still friends with but then again Facebook has made it easy to "catch up" virtually. I've gotten to see their children, spouses as well as what they are up to and I have completely enjoyed that! You know what? I've always thought to myself..."If I ever win the lottery, I am SO mailing all the "kids" from my street a big check anonymously, wouldn't THAT be a hoot" that thought always makes me happy – I seriously would absolutely do that! That and I would get my old elementary schools fields fixed up and tricked out and well as a few other things for the school. I've rarely visited my old neighborhood in the last 12+ years but I really enjoyed growing up where I did. I especially loved my elementary school and the dynamics of those friendships back then, it was just so comfortable and fun!
I always try to make the last day of school (which for us is always a half day) special for my kids. I always cook them up a treat or two, have friends over or go somewhere special. Last year a friend had a bunch of us mom's and kids over just as school let out and it was great! This year another friend decided to host, many mom's took off or a half-day from work for the occasion and the day couldn't have gotten any better. The kids swam all day and well into the night. At one point I think I saw over 30 kids ages 11 and under in the pool and being such a food minded gal I kept calling the pool "kid soup", lol!
We had so much fun food for the kids yesterday, a huge pretzel tray with all kinds of dipping sauces, a mountain high pile of marshmallow fluff and fruits, Chick-fil-A nuggets (which are always a hit with the kids), huge slices of perfectly ripe watermelon and more. I made the Oreo Bites pictured above, which are a last day of school favorite and always requested in advance by my kids. I also made 2 types of sno-cone syrups and brought our fantastic sno-cone machine, I was in a sno-cone making frenzy for what felt like over an hour, I just kept looking behind me and the line was loooong! The kids were all patient as I quickly made additional batches of ice shavings…it was a hit! And guess what, I know it was silly of me but I wore a white pair of skimmers and SOMEHOW, they remained perfectly white after making all those sno-cones, my friends and I were impressed! However I can't say they stayed that way…darn that delicious Sangria my friend (and host) Maria made!!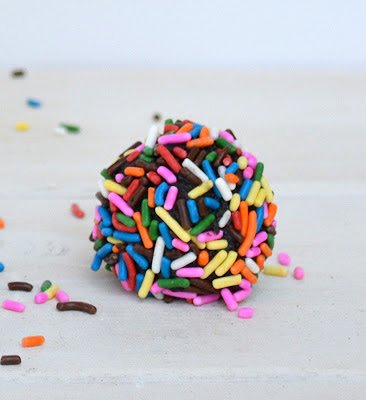 I have been making these Oreo Bites/Oreo Balls for what feels like forever. I think it was my friend Maureen who first introduced me to them back when we were considering recipes to include in the kids cookbook we co-wrote. I have no idea who came up with them originally. I decided back then I had no interest in dipping them in chocolate because A- I thought that was too much chocolate taste & B- Hello messy, mess, mess both in the making and the eating! Plus I LOVE err, I mean the kids love jimmies/sprinkles, don't you??
No matter how many I make, there are never enough. The kids are crazy for them and the adults are always grabbing for them as well, especially the men. I am always like "back away, back away…these are for the kids!!", lol!
These are a wonderful treat for the kids to make for their own parties, school birthdays, to give as gifts or just because. Even little hands can easily help operate the food processor and then roll them in the jimmies. They will have a big feeling of accomplishment! Plus who doesn't LOVE a 3-ingredient, no cook dessert??
Oreo Bites


1 1/2 packages of Double Stuffed Oreos
12 oz cream cheese, split into 6 chunks
Jimmies/Sprinkles
Place 1/2 of a package of Oreos in your food processor. Pulse until all are crumbs. Place crumbs into a bowl and , repeat with the rest of the Oreos. Combine all crumbs in your food processor, add in the cream cheese and process until a ball forms. Scrape the filling into a bowl, cover with wrap and chill for at least 30 minutes. When you are ready to make the balls/bites, roll about a walnut sized portion of filling in your palms until a ball forms, roll the ball in your jimmies to coat it then place it on a parchment lined baking sheet. Chill until ready to transport or enjoy.
Colleen's Notes: If you don't have a food processor you can place Oreos in a double bagged plastic bag and turn them into crumbs with a rolling pin or rubber mallet. Then have your cream cheese at room temperature and combine with a spatula or your hands.
You can make the balls any size you want. The Oreo Bites will keep well in the fridge for 3 days.
They do not need to be served cold, they stand up to room temperature well, I just wouldn't have them outside at a party on a hot day – keep them in the air conditioning.
Enjoy!!