Often, I make what I call sugared nuts, sometimes they are sweet and sometimes they pack some heat. When Fall rolls around, I love making Pumpkin Pie Spice Candied Nuts. These are just so festive, crunchy and flavorful! Seriously amazing!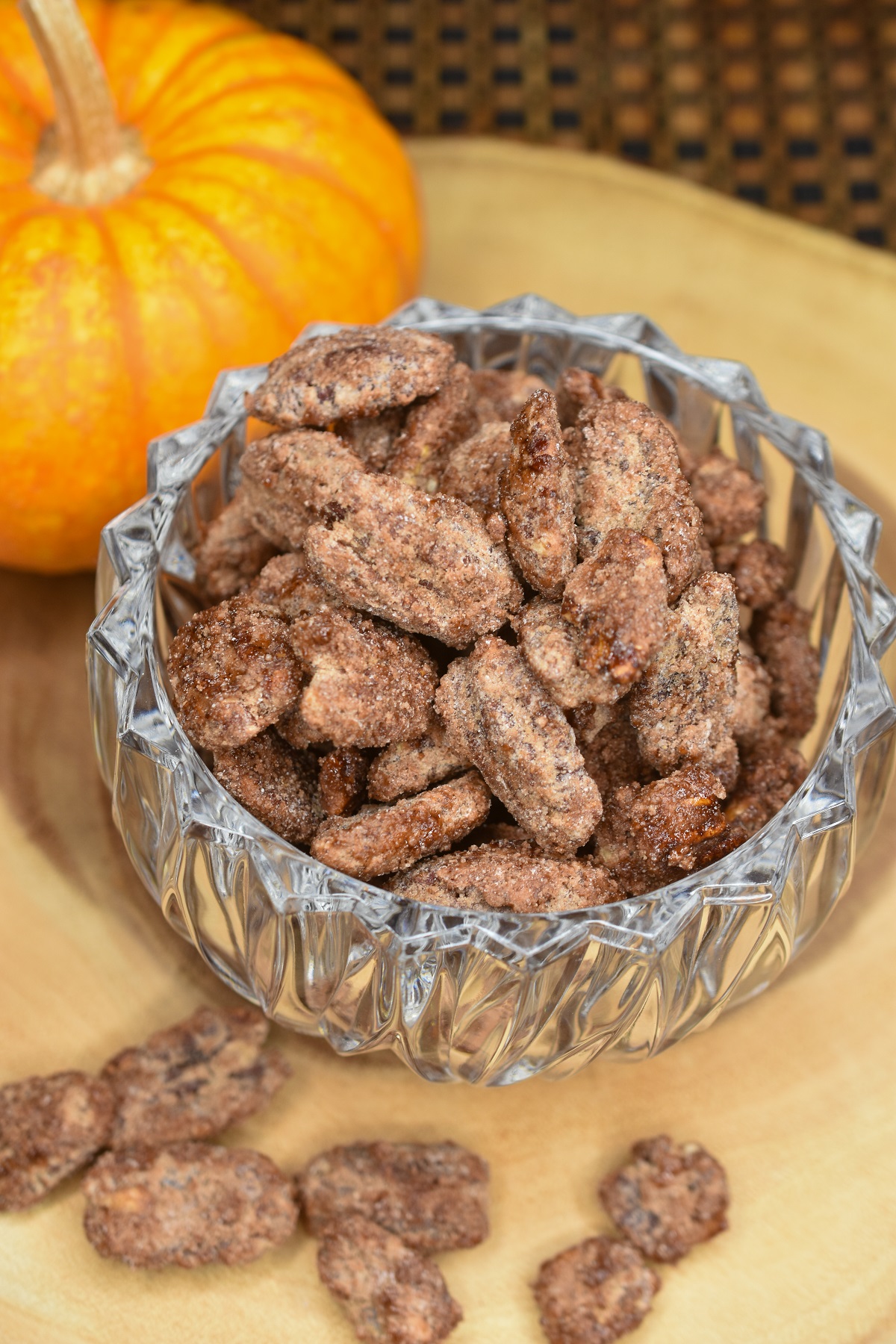 I make a variety of candied nuts and use them as a topping for salads, as gifts, for parties and for snacking in general. They are egg free, amazingly crunchy and taste like street vendor nuts. They also remind me of the candy Boston Baked Beans, yum!
My husband always gets excited when he knows I am whipping up a batch and I always make extra for him...whatever the occasion...it's either that or I hide them...you know how it goes!
The other day I bought 5 pounds of almonds at the "club" store I occasionally shop at. I had nothing in mind when I bought them other than snacking on them from time to time.
SO, I scratched what I was going to tinker with (a brownie/pumpkin layered treat) and instead tinkered with the almonds.
And this is what happened... I also make them with pecans, which somehow I prefer. You can use any nut variety to make these.
Ingredients Pumpkin Spice Candied Nuts
Water
Sugar
Pumpkin pie spice
Nuts (almonds, pecans, walnuts, cashews etc.)
These Pumpkin Spice Candied Almonds or Pumpkin Pie Spice Candied Pecans are perfect for fall, Halloween & Thanksgiving.
Candied nuts make a fabulous addition to cheese and charcuterie boards AND they are a fantastic food gift packaged in mason jars!!
I love food gifts, here are a few of my favs.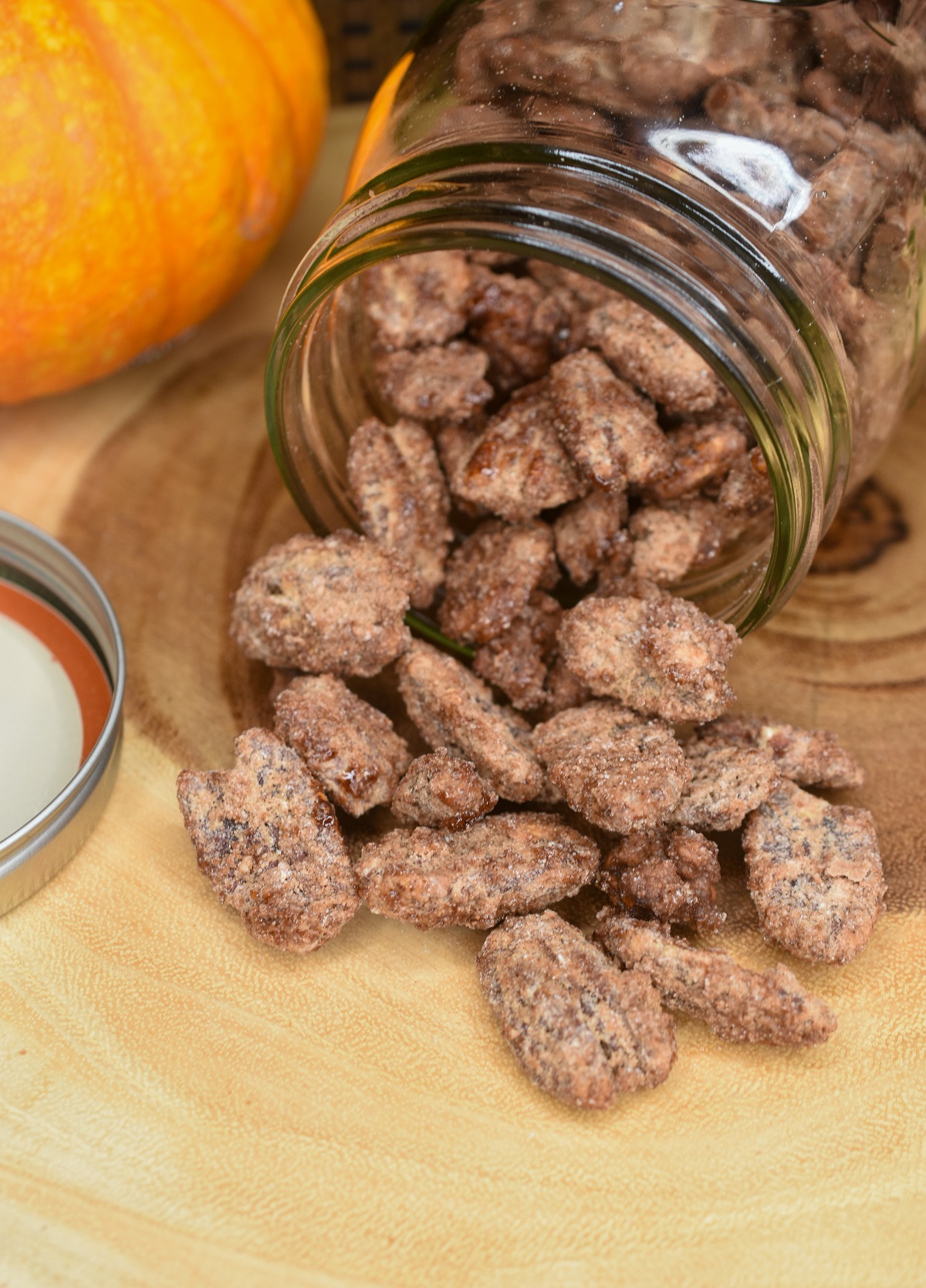 Instructions
Heat the water and first part of the sugar, stirring till bubbly. Add in the nuts and stir, stir, stir.
First the liquid will begin to thicken, then dry up. Once its caked on keep stirring it will begin to turn into caramel liquid in spots.
Never stop stirring. add the remaining sugar and stir, stir, stir until fully combined.
Quickly turn out onto a parchment paper lined baking sheet to cool.
Watch my 1 minute TikTok to see how to make these.
Tips
Use my Spiced Sugar recipe for a more intense flavor. It's amazing on so many things, especially candied nuts!
Use a large pot than you need. It's easier to manage the stirring that way.
Use a silicone or rubber spatula.
If your nuts are fresh, they may have some moisture in them, so they may pop a bit. Just keep stirring.
Never stop stirring.
This is a bit of an arm workout. Total time is about 5-6 minutes per batch.
Never more than double this. Make in batches, cleaning pot once cooled, for best results.
If you feel like its starting to burn, remove from heat from time to time, while you keep stirring.
Once you make this its easy the next time as you will have a feel and a rhythm for it.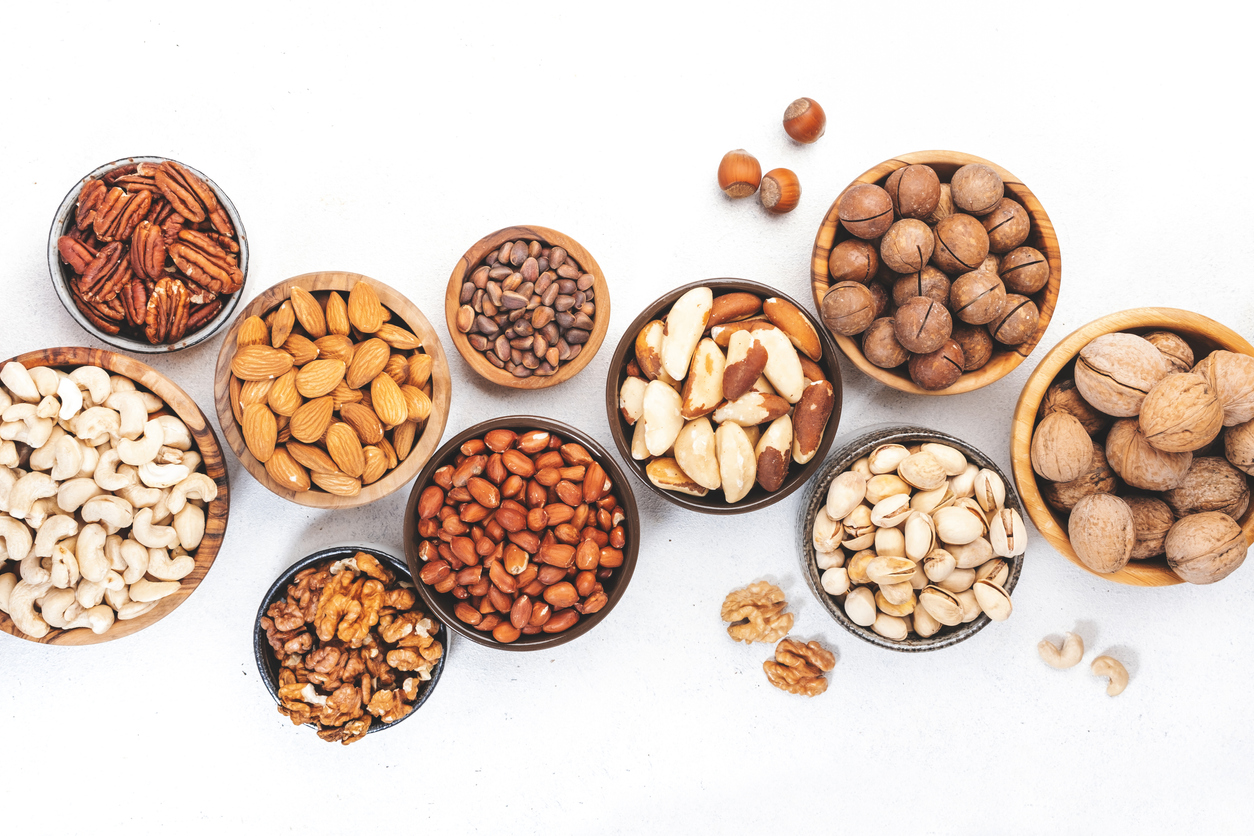 Variations
Switch the type of nut used or do a mix of your favorite nuts.
Add a 3-fingered pinch of kosher salt towards the end for that sweet, spicy, salty combo.
The ginger in the pumpkin pie spice mixture gives a little heat to these nuts, however if you want them spicier, add in a shake or two of cayenne pepper when you add the second part of the sugar to the nuts.
Storage
These candied spiced nuts keep fantastic for weeks in an air tight mason jar.
Pumpkin recipes to try
Enjoy one of my favorites!! xo Colleen
Recipe originally posted in September, 2012, updated October, 2023 with new photos and text. Nutrition info calculated on pecans,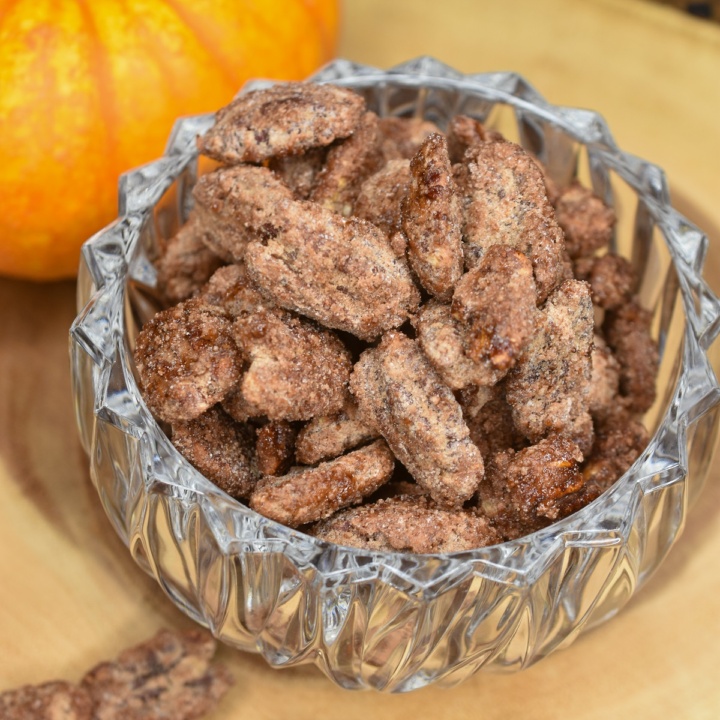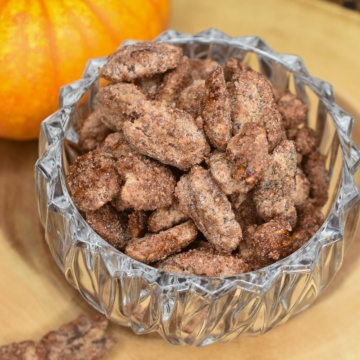 Pumpkin Spice Candied Nuts
One of the best snacks to make! Candied Nuts with Pumpkin Spice! Makes a great food gift or addition to cheese or charcuterie board.
Ingredients
⅓

cup

water

¾

cup

sugar

1 ½

teaspoons

pumpkin pie spice

2

cups

whole pecans

¼

cup

Spiced Sugar or cinnamon sugar

see notes for my recipe
Instructions
Add the water, ¾ cup of the sugar and pumpkin pie spice to a heavy bottom saucepan or skillet with sides. Use a larger pot/pan then you think you'll need, you want plenty of room and depth to stir without worry of splatter of nuts flying out.

As soon as liquid comes to a bubble, add in your nuts.

Stir almost constantly until the water is boiled away.

The sugar will begin to dry out a little and start to stick to the nuts, almost like a dust. Keep stirring them around vigorously, so that the nuts don't have a chance to burn on the bottom of the pan. If you think its burning at all, remove from heat and keep stirring until it cools a bit (heat conductivity of pans and stoves will vary)

One the pecans begin looking dry, turn the heat under the pan to medium-low, to keep the sugar from browning too fast. Keep stirring until the nuts start to get a little shiny in spots, like they are wet again.

You are getting a serious arm workout making these – but its all good! It means you can eat extra!!

Remove your pan from the heat for a minute, add in the additional sugar (and if you want a nice pinch of salt and another shake or two of pumpkin spice spice) Keep stirring.

At this point, there might be some noise coming from your pan. Some crackling and popping, but hopefully not to much. It depends on how fresh your nuts were. That's the water escaping from the fresher nuts. If the nuts are older, that will not really happen.

Keep stirring until the nuts are a little shiny in spots, but still a bit lumpy and coated.

The best ones are the ones that are shiny in some areas with some delicious lumps of cinnamon sugar on other parts of the nut. As soon as you see that happening, take them off the heat and transfer the pecans to a baking sheet lined with parchment paper. Spread them apart, but don't worry about some of them sticking together initially.

BE CAREFUL, however. These are extremely hot, so use a spoon. The coating on the pecans will harden up as they cool.

Once completely cool, store in a glass jar.
Notes
Watch for burning. Use a large heavy pot and silicone or rubber spatula.
Use my Spiced Sugar recipe for the second addition of ¼ cup sugar OR use it for the whole thing in place of plain sugar, the flavor will be more intense. So tasty! 
Nutrition
Serving:
8
servings
Calories:
233
kcal
Carbohydrates:
30
g
Protein:
5
g
Fat:
11.9
g
Saturated Fat:
0.9
g
Sodium:
1
mg
Fiber:
3
g
Sugar:
26
g
Calcium:
0.3
mg
Follow me on Tik Tok for 1 minute videos