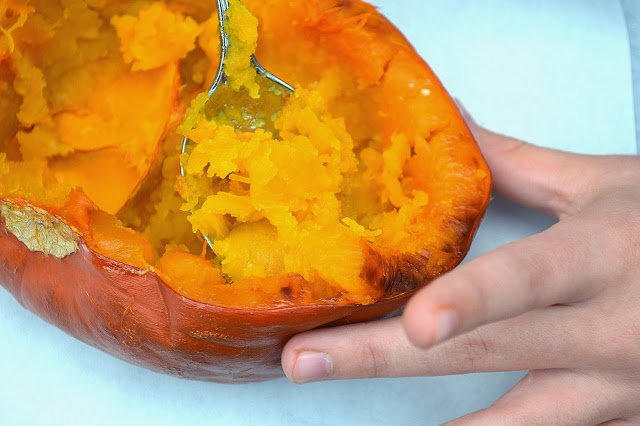 My 9 year old Little Chef, Samantha, is taking over again today!
Hi, it's me Samantha and today I'm telling you how to do something fun! THIS is how you roast a pumpkin!
First you either go to the pumpkin patch or a store and get a pumpkin. Don't get a giant one, look for a smaller one. Mom says to get a sugar pumpkin or baking pumpkin if you can...if not she told me that they all kind of taste the same after you add ingredients to them.
Next wash off your pumpkin and dry it, then you ask your mom or dad to help you cut it in half...its really hard to do that so be careful. My mom says that once you get started it's easy to slice through but sometimes she lifts the pumpkin when her knife is in the middle and wham's it on the countertop - that usually works for her but it is really noisy!
Then is the messy part and its fun! Scoop out all the seeds and "guts" with your hands and a spoon. You have to push hard with the spoon to get it all out. But if a little of the dark orange strands are still there it's ok. Save the seeds so you can roast them if you like to eat pumpkin seeds.
Then put a piece of parchment paper on top of a baking sheet and put your pumpkins, cut side down, on them. Bake for about an hour at 375 degrees or until the pumpkin looks like it is falling down (see what i mean in the picture?) on itself and its all soft.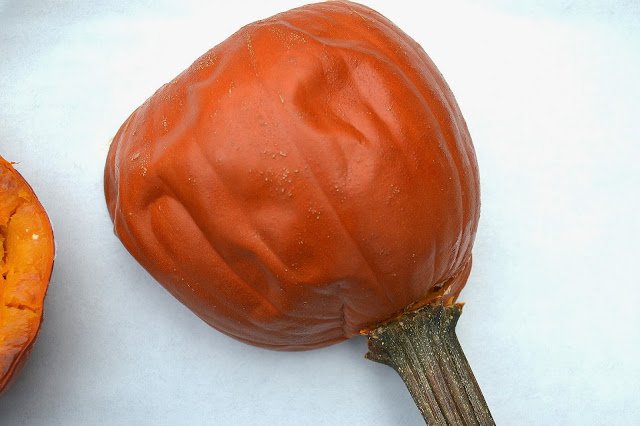 Let it cool, then scrape out the pumpkin and put it in a bowl. Then use it for whatever you want to make like pumpkin bread, pumpkin cookies or whatever you like. Here are recipes for our Pumpkin Donuts (these are my me and my brother's favorite), Pumpkin Scones and Pumpkin Muffins.
I think roasting a pumpkin is fun and everyone should try it! It actually tastes good if you take a little taste of it when you are scooping it out (mom says it is good to taste it because depending on how sweet that particular pumpkin was - you then know how much to sugar to add to your recipe). I like the seeds after we cook them up and I always want to keep the stem of the pumpkin but my mom usually throws that out.


What do you like to make with pumpkin?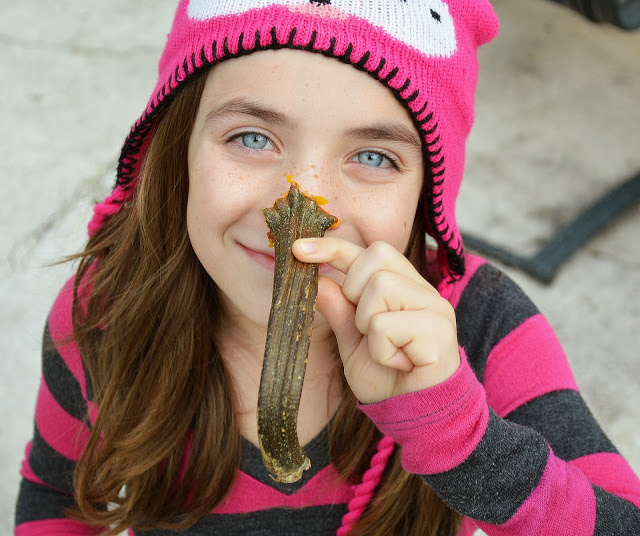 xoxo
Samantha!