Any coffee lovers out there? Ha! Silly question! What about cappuccino fans? I know there are a lot of you too! I've got something delicious to go with your next cup of coffee or cappuccino, how about a Caramel Cappuccino Biscotti (or two!) with Caramel Cappuccino Glaze?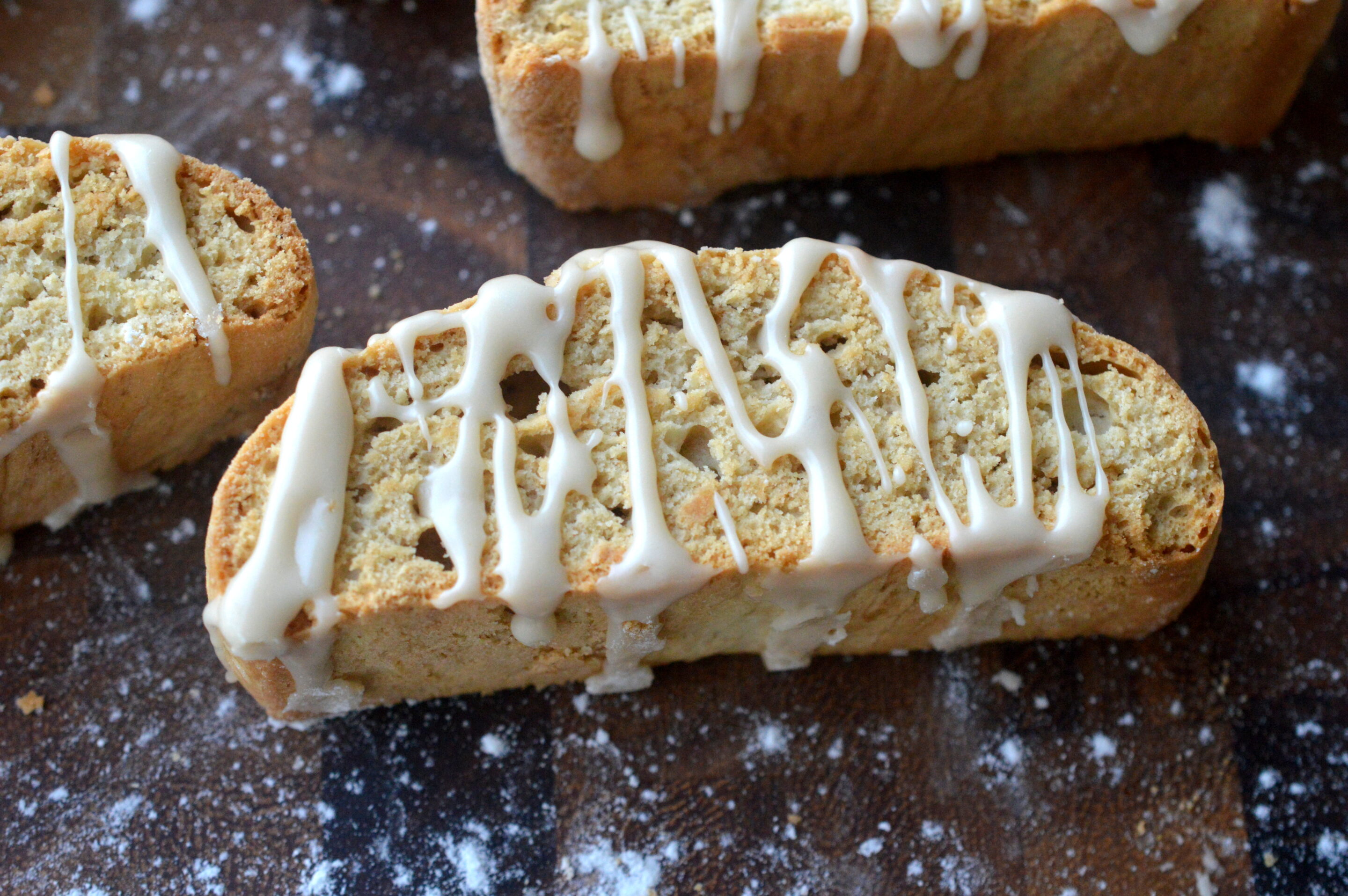 If you read my blog from time to time, you must know by now that this girl loves her biscotti! I mean I must have 5 or 6 biscotti recipes on here. This Biscotti will not disappoint!
As you gingerly (or not so gingerly) raise a biscotti cookie to take a bite, you get a subtle whiff of coffee that makes one's heart sing, then you take a crunchy bite and mmmm, mmmm!
Cappuccino flavor is in the cookie part and in the drizzle. I like lots of drizzle!! If you are doing it, I say go all in!
How to get Caramel Cappuccino flavor
To get the flavor I brewed a K-Cup of cappuccino, any brand with caramel flavor will work. I put the cappuccino in the dough as well as in the glaze.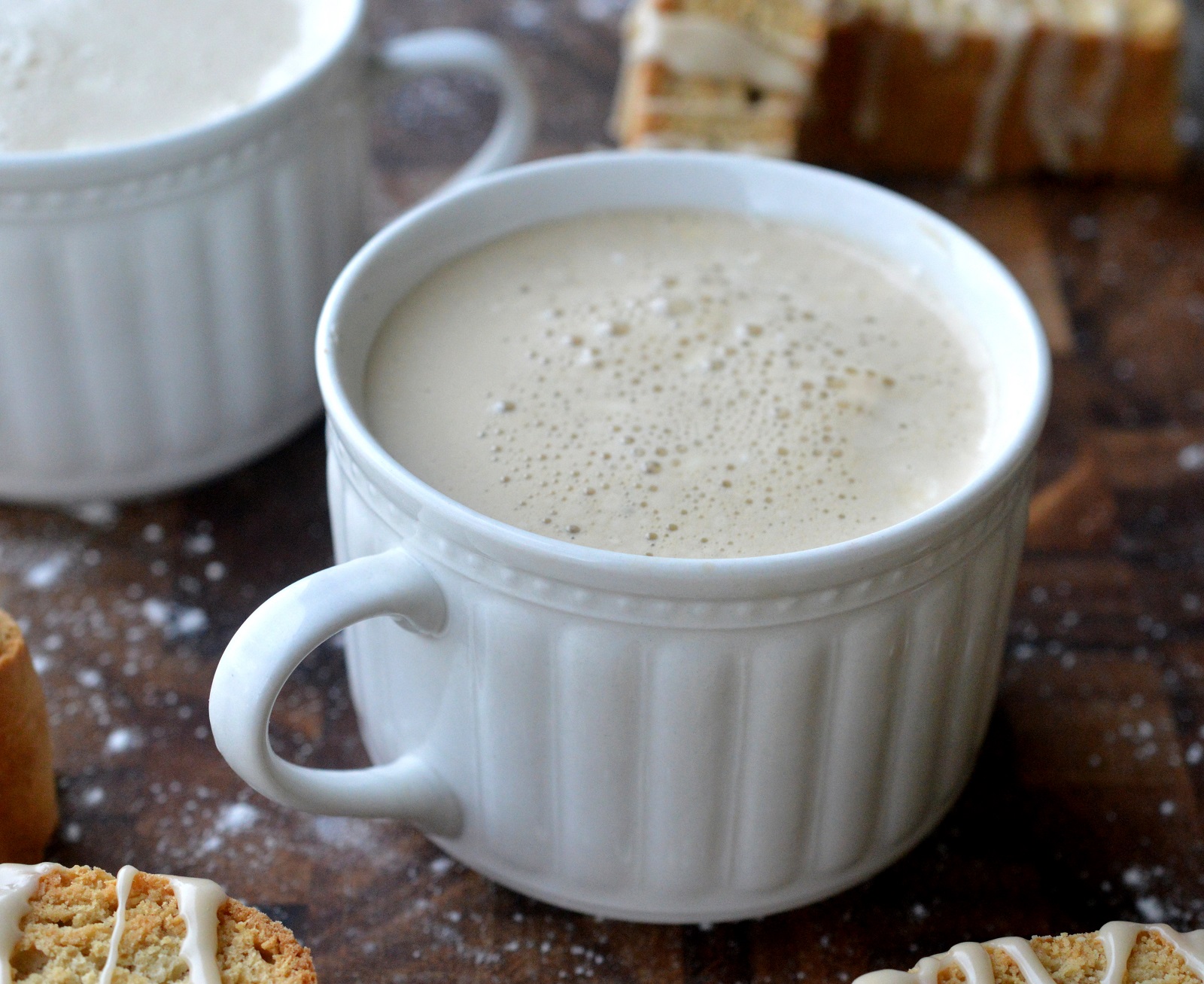 Ingredients
butter
sugar
eggs
cappuccino
powder a cappuccino K-Cup KCup
flour
baking powder
salt
powdered sugar
Tips
Make one large dough loaf and bake an additional 8 minutes initially. If choosing to bake one loaf for larger biscotti, be warned they need to be handled gently as you cut and flip.
I prefer to make two loaves and enjoy biscotti a bit smaller than what you may come across in a coffee house.
You can add additional spices if you like to get the flavor you enjoy such as cardamom, nutmeg and / or cinnamon.
We prefer these a little softer vs being rock hard. If you want yours very hard, leave in the oven a few minutes more per side after slicing.
Make glaze on the thicker side, so it hardens nicely on the biscotti.
You can make biscotti, cool and store and glaze on another day if you choose.
If you enjoy Biscotti, try my Peppermint White Chocolate Biscotti, Eggnog Biscotti, Carrot Cake Biscotti or Pumpkin Biscotti (I do like biscotti!!)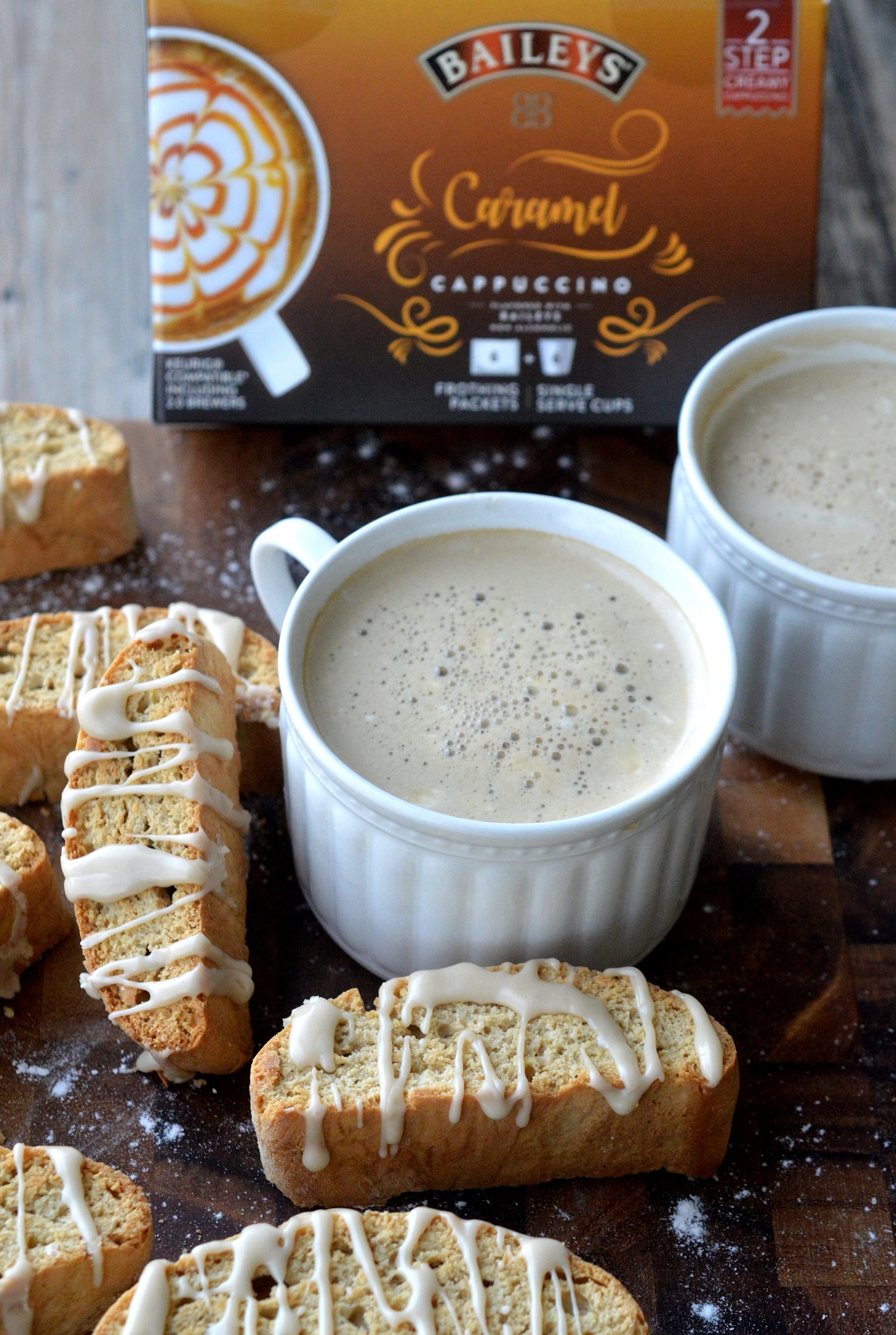 Storage
After biscotti cookies are completely cooled, and glaze is completely dried, store in an air tight container. You can layer them in between parchment paper so glaze stays looking nice.
Recipes to try
Recipe originally published in 2018, updated 2022. Nutrition information does not factor in cappuccino.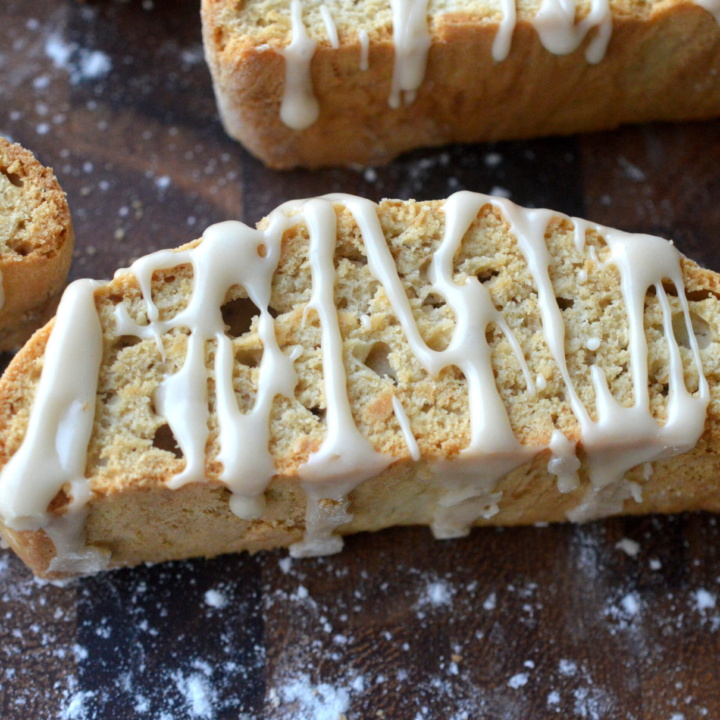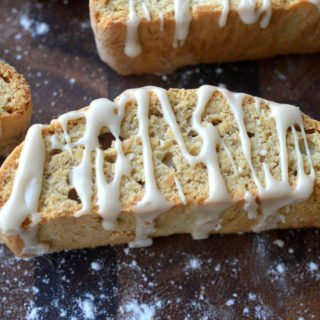 Caramel Cappuccino Biscotti
Caramel Cappuccino Biscotti recipe. Making biscotti is so easy! Enjoy with coffee, tea or on their own!
Ingredients
Caramel Cappuccino Biscotti

½

cup

butter

1 stick, softened

1

cup

granulated sugar

2

eggs

¼

cup

cappuccino

Powder from one any type of caramel cappuccino kcup

optional, just adds extra flavor

3¼

cups

all-purpose flour

2

teaspoons

baking powder

½

teaspoon

salt

Caramel Cappuccino Drizzle

1 ½

cups

powdered sugar

2-3

TBS

cappuccino
Instructions
Preheat oven to 350 degrees.

In a large bowl, combine butter, sugar, and eggs with a mixer (using a paddle attachment if you have one...if not no worries) for about 1 minute or until well blended. Mix in cappuccino until just blended.

In a separate bowl, combine flour, baking powder, powder from one KCup, and salt. Working in small batches, mix the flour mixture into butter mixture until all of the flour mixture has been added to the butter mixture and is well blended.

Divide dough in half on a floured piece of parchment paper. Shape each dough half into a long roll shape, about 12-14" long. Carefully lift rolls onto a baking sheet, 3-4 inches apart from each other. With your fingers, press down on each "log" so that they end up being about a ½" high.

Bake for 25 minutes or until golden brown. Carefully lift the parchment paper from the baking sheets and place on your cooling racks. Set aside your baking sheet, as you will use it again. When biscotti had cooled enough to handle, yet are still warm, carefully move them to a cutting board and cut crosswise slices (approximately ½" in size).

Place the slices cut side down, back on to the original baking sheet. Bake for 10 minutes (leave in an extra 5 minutes for crisper/hard biscotti). Then remove from oven and turn slices over. Bake for another 10 minutes (leave in an extra 5 minutes for crisper/hard biscotti) or until somewhat firm and lightly browned. Transfer to wire racks to completely cool, with tops facing up.

Glazing: space biscotti pieces no more than ½ inch or so apart from each other on either a wire rack or parchment paper (easy clean-up) dip a metal whisk into the glaze, allowing some of the excess to drip off. Then quickly drizzle back and forth, back and forth across sections of your Biscotti Continue until they are glazed as you like.

For Glaze

In a small bowl, mix together powdered sugar, and cappuccino. If needed, add more cappuccino or powdered sugar to achieve desired consistency
Nutrition
Serving:
24
servings
Calories:
162
kcal
Carbohydrates:
29
g
Protein:
2
g
Fat:
4
g
Saturated Fat:
3
g
Polyunsaturated Fat:
0.3
g
Monounsaturated Fat:
1
g
Trans Fat:
0.2
g
Cholesterol:
24
mg
Sodium:
120
mg
Potassium:
25
mg
Fiber:
0.5
g
Sugar:
16
g
Vitamin A:
138
IU
Calcium:
26
mg
Iron:
1
mg
Follow me on Tik Tok for 1 minute videos