Whether you are watching your carbs and are looking for low-carb snacks, love cheese or just love to crunch, this Parmesan Cheese Crisps Recipe is for YOU! I even did a little experiment to prove a point.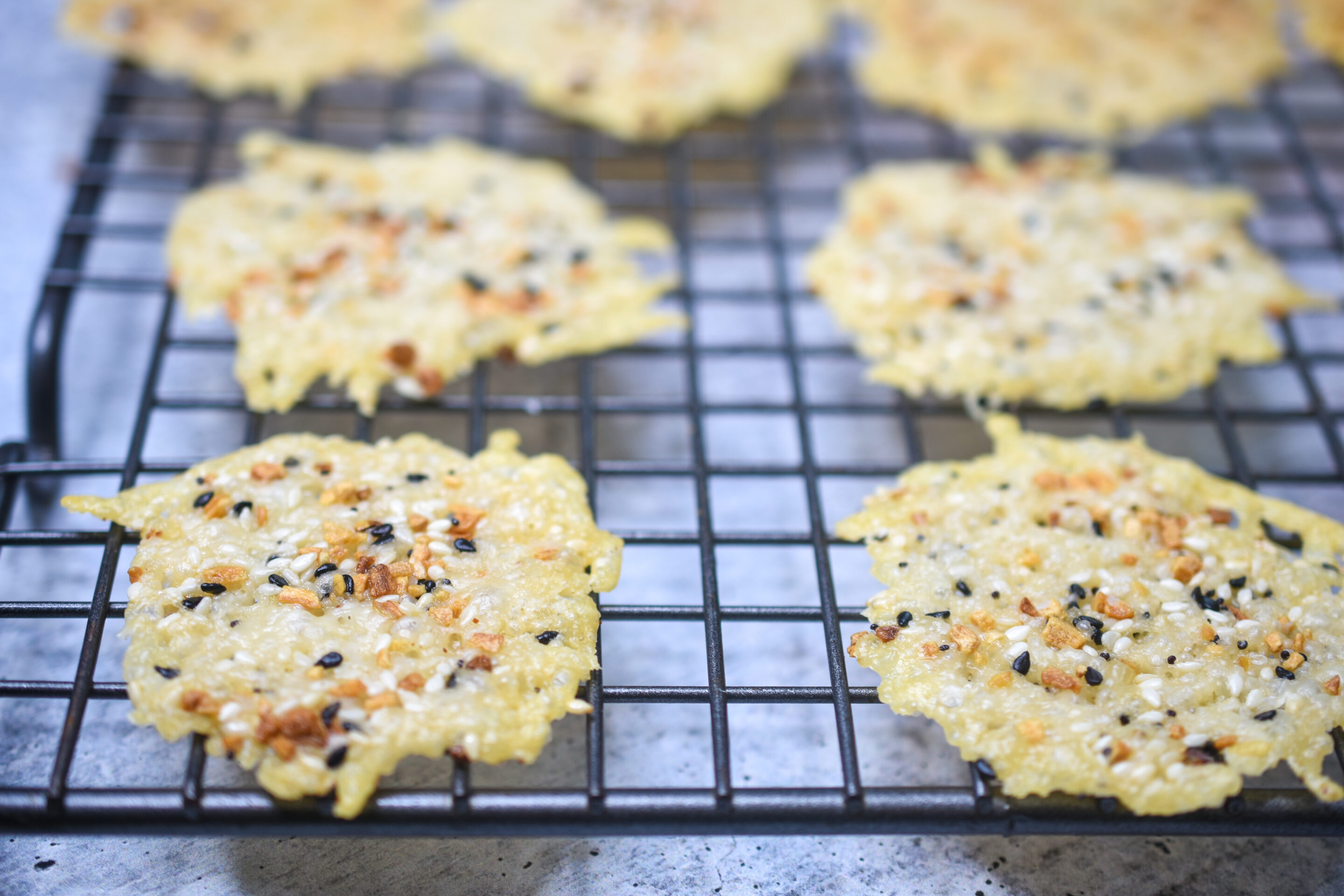 A recipe doesn't get any easier than this Parmesan Cheese Crisps Recipe. Seriously, all you need is a hunk of Parmesan cheese or Parmesan Reggiano cheese and with just that you can make these tasty crisps. Now if you want to make them even more interesting OR want to make a variety of tastes, well then I have some ideas for you!
For this recipe, please dear Lord in Heaven above, shred your own cheese. If you have been following me on this blog for years or just on social media you know I am sooooo not pretentious or uppity in any way. However sometimes right is right and wrong is wrong when it comes to food (and life), lol!
I even did an experiment for you to prove my point. I made some crisps from pre-shredded Parmesan cheese and then gave them to 6 different people who had had the crisps they way they should be made and every one, age 16-47 said YUCK when they tried to eat the crisps made with the pre-shredded cheese. What happens is the cheese becomes rubbery in the middle. The edges crisp up but the rest of it is not a good eating experience. SO save the pre-shredded stuff (which I do use for some things) for other uses. You're welcome 😉
Ingredients To Make This Parmesan Cheese Crisps recipe
Wedge of Parmesan cheese or Parmesan Reggiano cheese
Optional seasoning like Everything But The Bagel, garlic powder, Rosemary, Black pepper, etc
That is literally it!! You can of course experiment with additional seasonings. I list some ideas below in the variations area.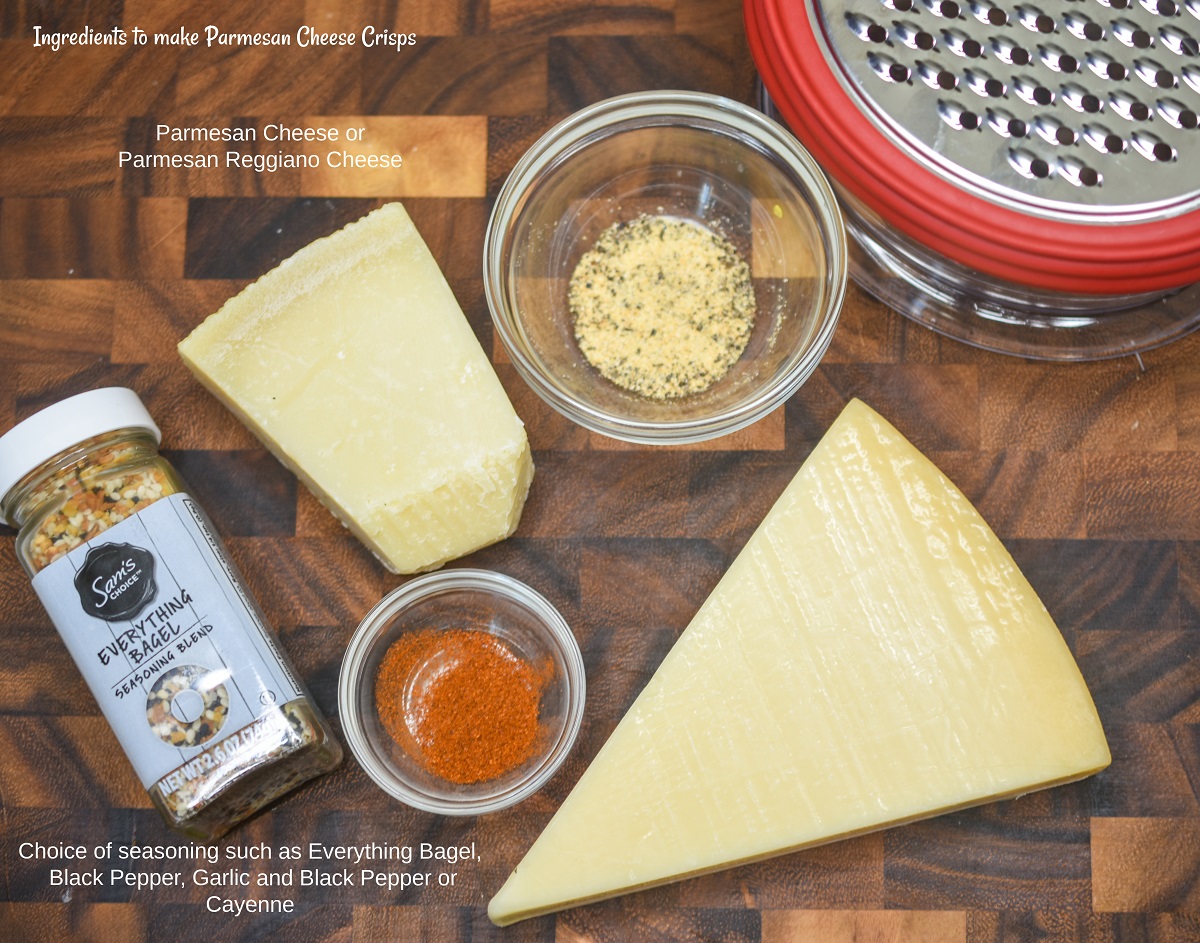 How To Make Homemade Parmesan Cheese Crisps / Crackers
First, you need to start with a wedge of Parmesan or Parmesan Reggiano cheese (not pre-shredded). Use a box grater, hand-held grater like this one I use from OXO, or a grater like this which I also use and shred your cheese. Whichever works best for you. These also come in handy when making breadcrumbs from old bread. Some food processors can also shred cheese with special attachments.
Expert Tips When Making Homemade Cheese Crisps
Like I said above, only use freshly shredded cheese for this. That is how you get a fully crisp cheese crisp.
Use parchment paper (I swear by these unbleached parchment sheets for everything, they are so inexpensive and worth every penny), or a silicone baking mat. I like using parchment better for these, just my preference.
Cooking Tip: When you are finished with the cheese wedge SAVE the end and put it in your next batch of pasta sauce (with or without meat), tomato soup, chicken soup or just about any other soup. It will melt into the sauce/soup and add a nice depth of flavor.
Spread piles of cheese 1 1/2 inches apart.
Spread out the shredded cheese, you don't want a mound. You want it flat with all cheese touching other cheese. Tighten up the edges.
Ovens will vary so find your perfect time and temp by experimenting a minute extra or 5 degrees higher etc. Just don't go too high of a temp or cheese could separate.
Make these any size you wish. if you make them larger, you will need an extra minute or so until its all crisp.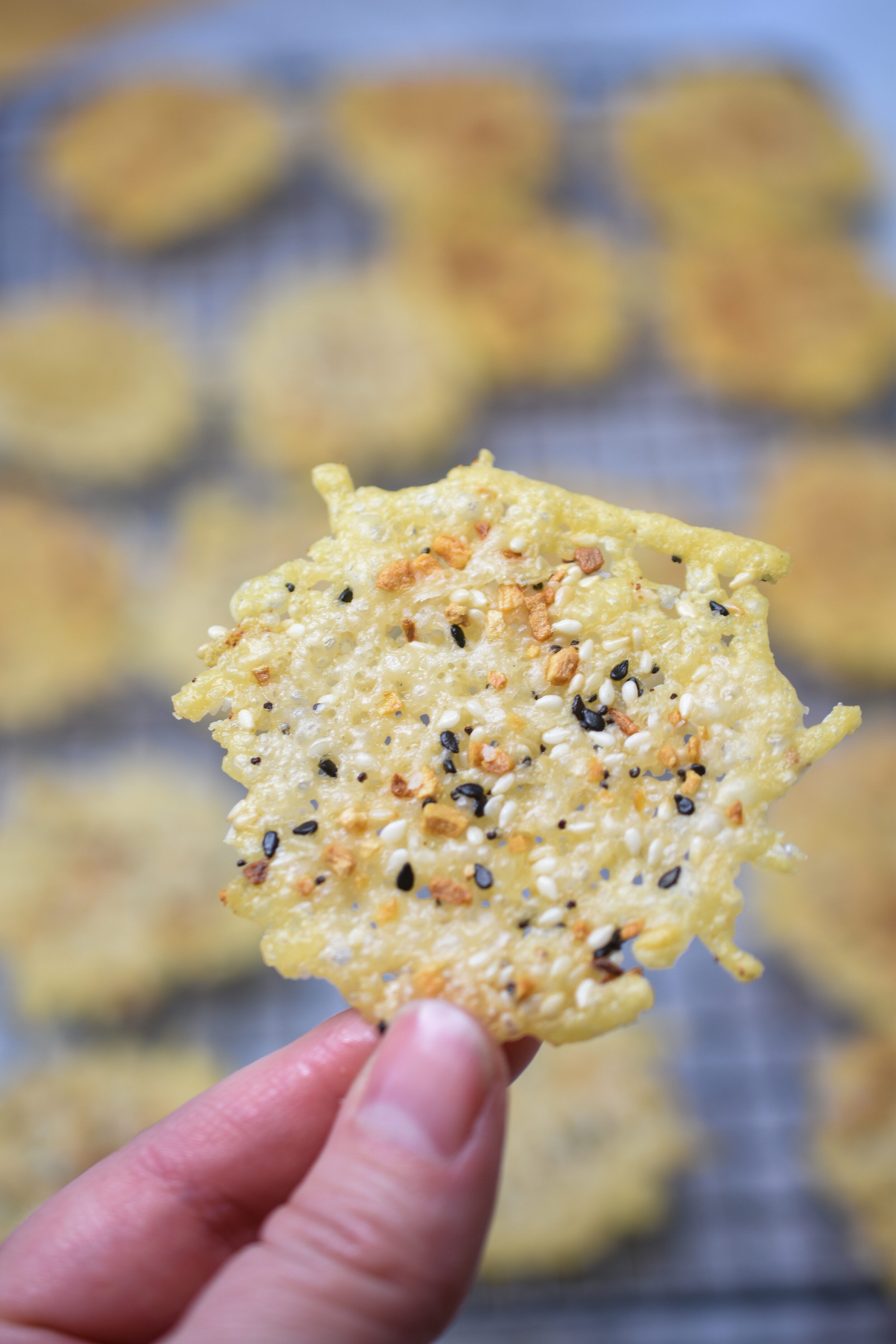 Variation Ideas
You can take these cheese crisps anywhere you want to flavor-wise. I have tried them all sorts of ways over the years. (Originally I would make these as bowls for Caesar salad). Besides those I am showing you today, you can try straight black pepper (fresh cracked is best for that), taco flavor, fresh Rosemary (minced super fine), Thyme, sour cream and onion (like I did here), sesame, parsley, Cajun, Old Bay. Basically, whatever you think will work. Just sprinkle overtop your choice before they go in the oven or the second they come out.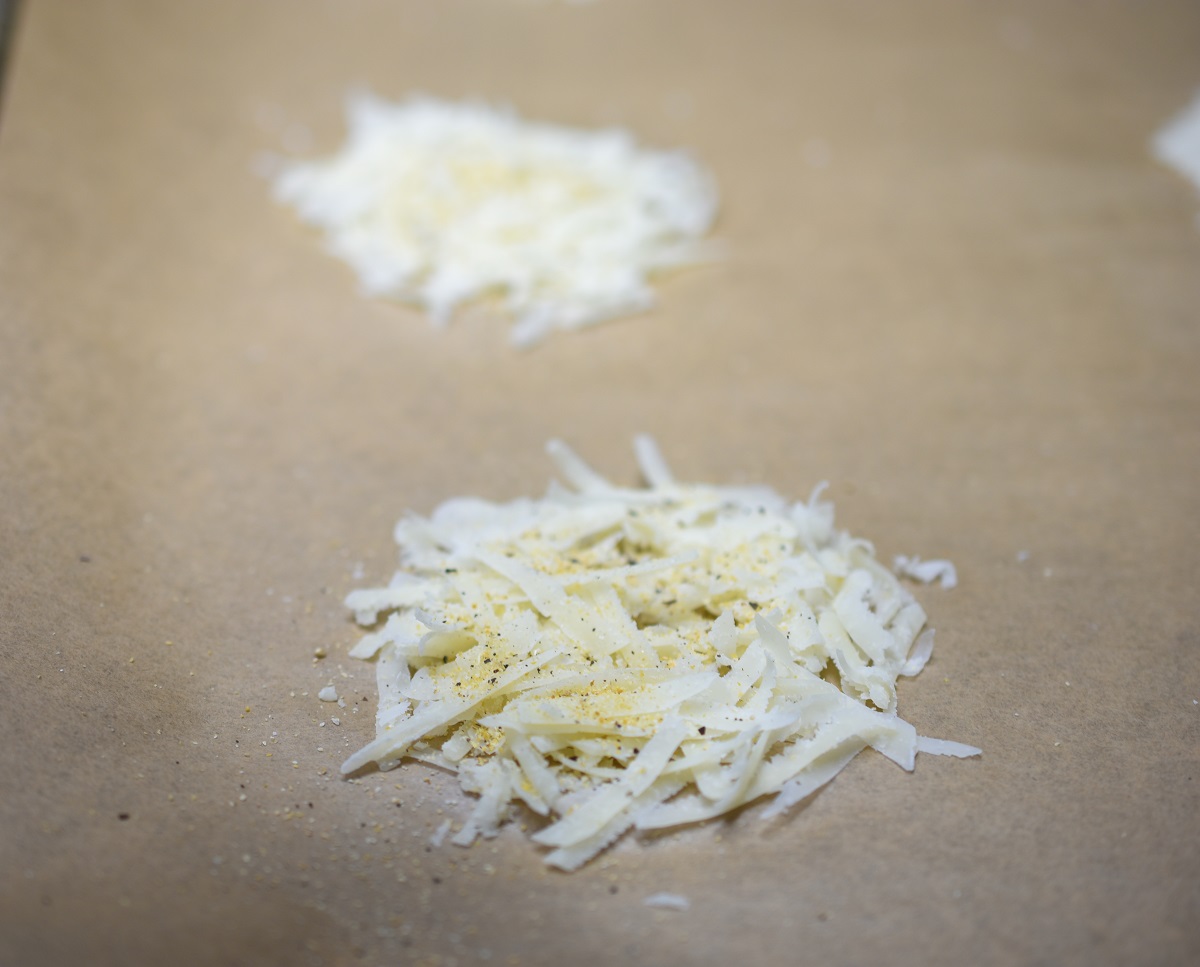 Parmesan Cheese Crisps Pair Well With
My Tomato Detox Soup is one soup you need to try and it pairs well with these Cheese Crisps! It is my go to when I want to drop 5 pounds or so in a week. It literally is one of the best-tasting soups I know as well. Hope you try it!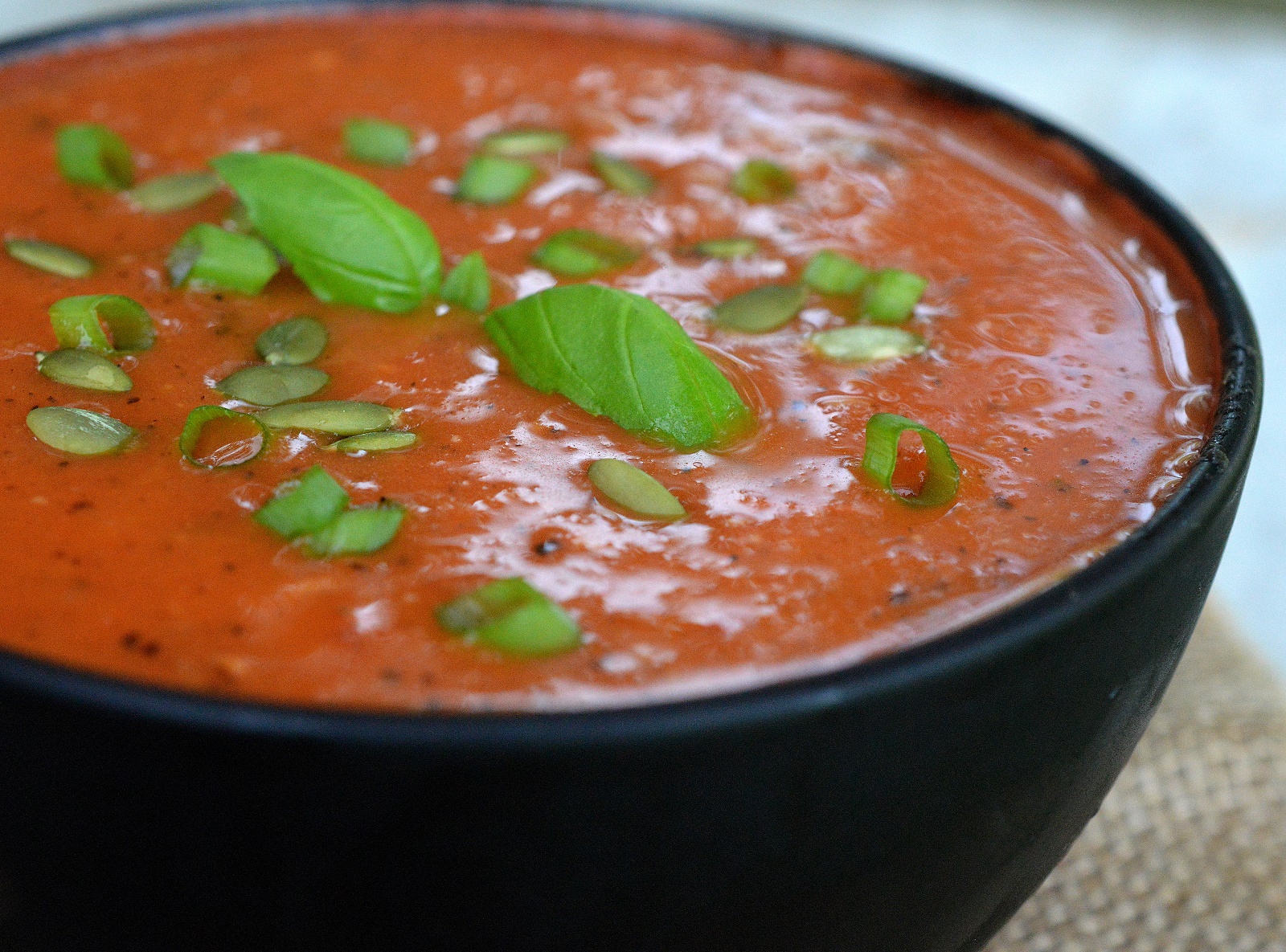 I hope you and your family enjoy these super crunchy, low carb crisps as much as my son (and the rest of us) do!! Follow me on TikTok and see the video of how I make these as well as lots of other recipes. Follow me on Instagram and Facebook as well for all sorts of recipes, giveaways and tips. xo

I'm not a registered dietician, I do my best to provide the most accurate nutritional values using a nutritional calculator. Any nutritional data I provide is an approximation. Actual dietary information can vary based on ingredients and portion sizes. Affiliate links are in this post which means if you choose to purchase a product I recommend, I may receive a few cents as a referral per item.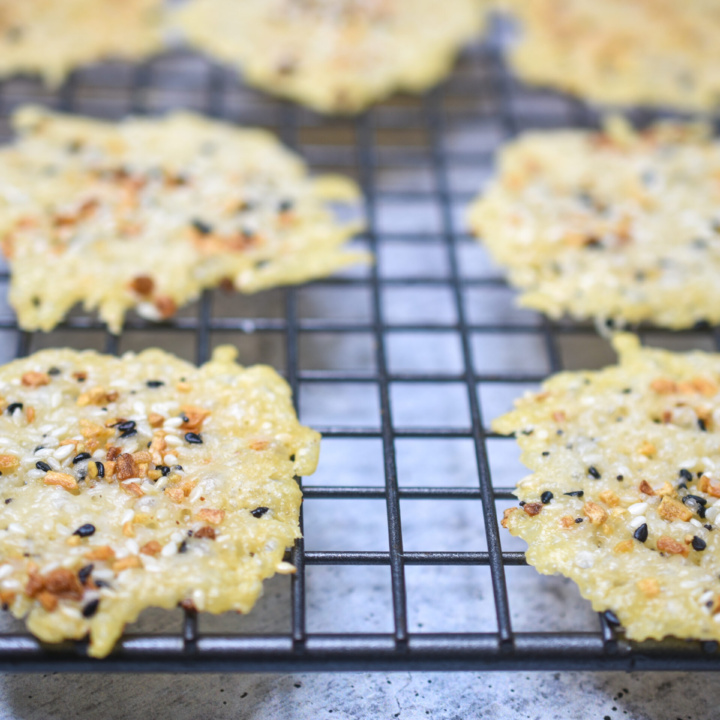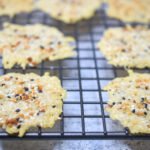 Print Recipe
Parmesan Cheese Crisps Recipe
If you love a good crunch, love cheese or are looking for low-carb or Keto-friendly recipes, this recipe for how to make Parmesan Cheese Crisps is for you! So delicious!
Ingredients
1

cup

freshly shredded Parmesan cheese

(Trust me, it needs to be fresh)
Optional seasonings
2

TBS

Everything But The Bagel seasoning

1

TBS

Black pepper and garlic powder combo

1

TBS

Dried Rosemary (or minced fresh Rosemary)
Instructions
Shred your cheese (as much or as little as you want)

Preheat oven to 385 degrees.

Line a baking sheet with parchment paper (or use a silicone baking mat). I do recommend parchment paper.

Make small piles of chees, spreading them away from each other (usually I can make 6 per sheet). Spread the mound of cheese our, you want it mostly flat. Tuck in the edges so all cheese overlaps other cheese.

Season with Everything Bagel or whatever seasoning you prefer. OR leave plain (still delish).

Bake for 6 minutes. Remove from oven, let stand 30-6- seconds and then using a metal spatula, move crisps to a cooling rack.

Ready to eat in just a few minutes.
Notes
Feel free to experiment with other seasonings. I have done some with red pepper, fresh Thyme, taco seasoning, sour cream & onion and more!
I have found that the perfect temperature for ME and my oven when baking these is 385 degrees. Ovens will vary. You will find your perfect temperature.
Remember cheese will "break" at too high of a temperature, which is why I tinkered until I found the lowest temperature to get the job done.
Nutrition
Serving:
3
servings
|
Calories:
131
kcal
|
Carbohydrates:
1
g
|
Protein:
12
g
|
Fat:
9
g
|
Saturated Fat:
5
g
|
Cholesterol:
23
mg
|
Sodium:
534
mg
|
Potassium:
31
mg
|
Sugar:
1
g
|
Vitamin A:
260
IU
|
Calcium:
395
mg
|
Iron:
1
mg