Are you ready?? I have been making this easy Make Ahead Frozen Margaritas recipe, forever!! I personally love to flavor these with Chambord, which is a raspberry Liquor. However you can omit that ingredient and simply make classic margaritas or choose to add in a flavor you enjoy.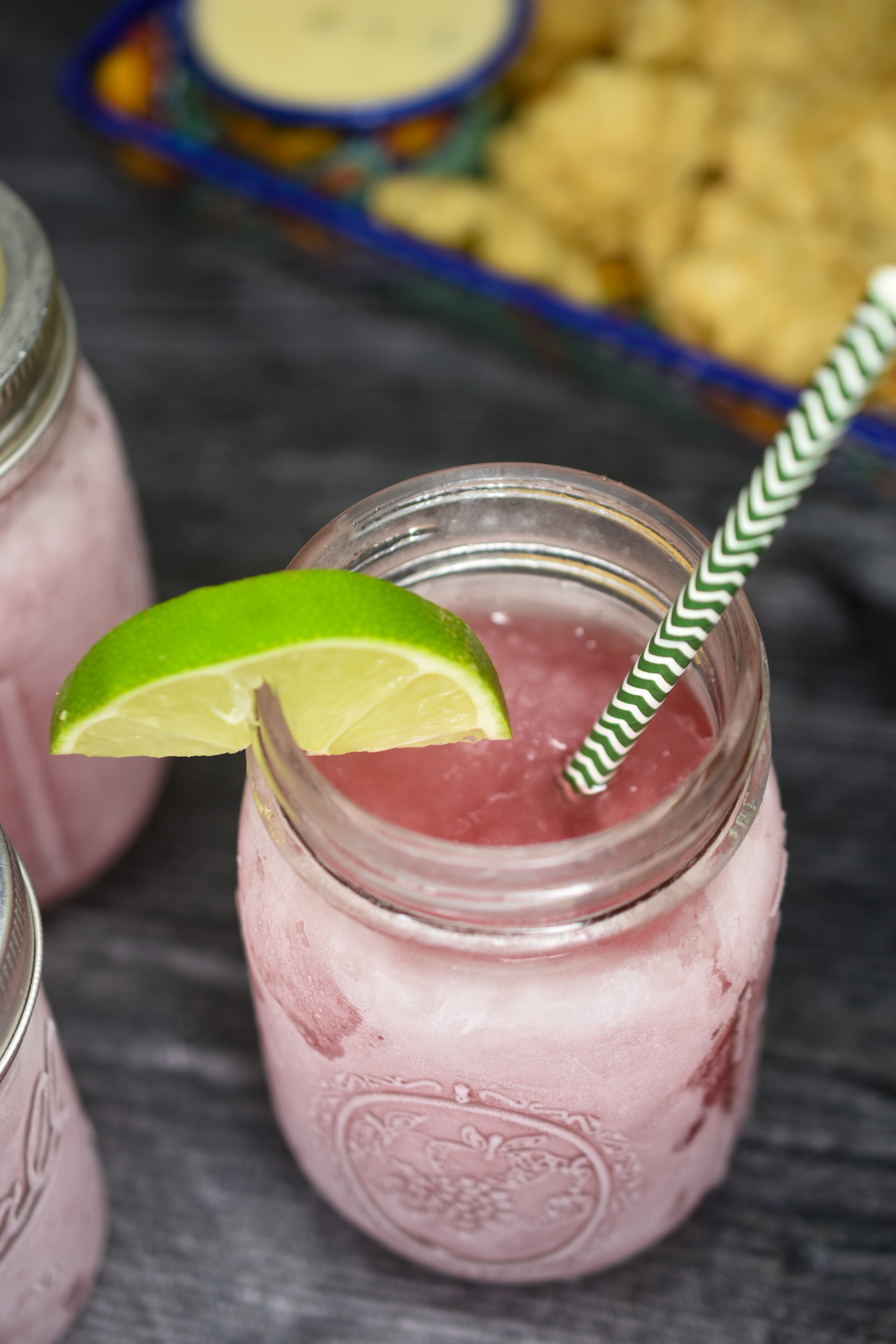 These delicious cocktails are a party in a jar! We call them Jargaritas!!
Check out my 1 minute TikTok video here to see how easy these are to make. PLUS!! No fancy machine is needed to make these! Winning!
To me, summer is about the simple things. Family & friend gatherings, good food, good drinks, and fantastic BBQ foods!
What's better than sitting out under the stars, satisfied from a great meal, cocktail in hand, talking and laughing the night away? (Especially when the kids are all out of the pool and snuggled down with a movie, nodding off one by one...lol) Adult time!
Not only is this Make Ahead Frozen Margaritas Recipe super easy to make. The BEST part is they are always waiting in your freezer, ready to be enjoyed at a moments notice. Make an army of them in 6, 8 or 24 ounce mason jars and they will be at the ready whenever the mood or need arises!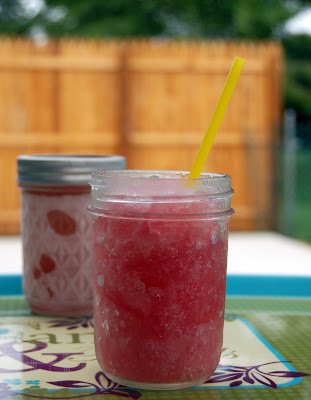 How My Margarita Recipe with Chambord Came To Be
At the start of the summer years ago, I was out for a couple of drinks at a Mexican place with some friends when I asked the bartender (Ramon) to pick out a drink for me. He handed me a Frozen Chambord Margarita and I was in Heaven! He said it was not on the menu, but he often made one for himself. Needless to say, I have been drinking and making them ever since! The addition of Chambord takes these to a whole new and delicious level!
These Chambord Margaritas are the cocktail of the Summer for me! They are cool and refreshing, and just so delicious. You can't have just one!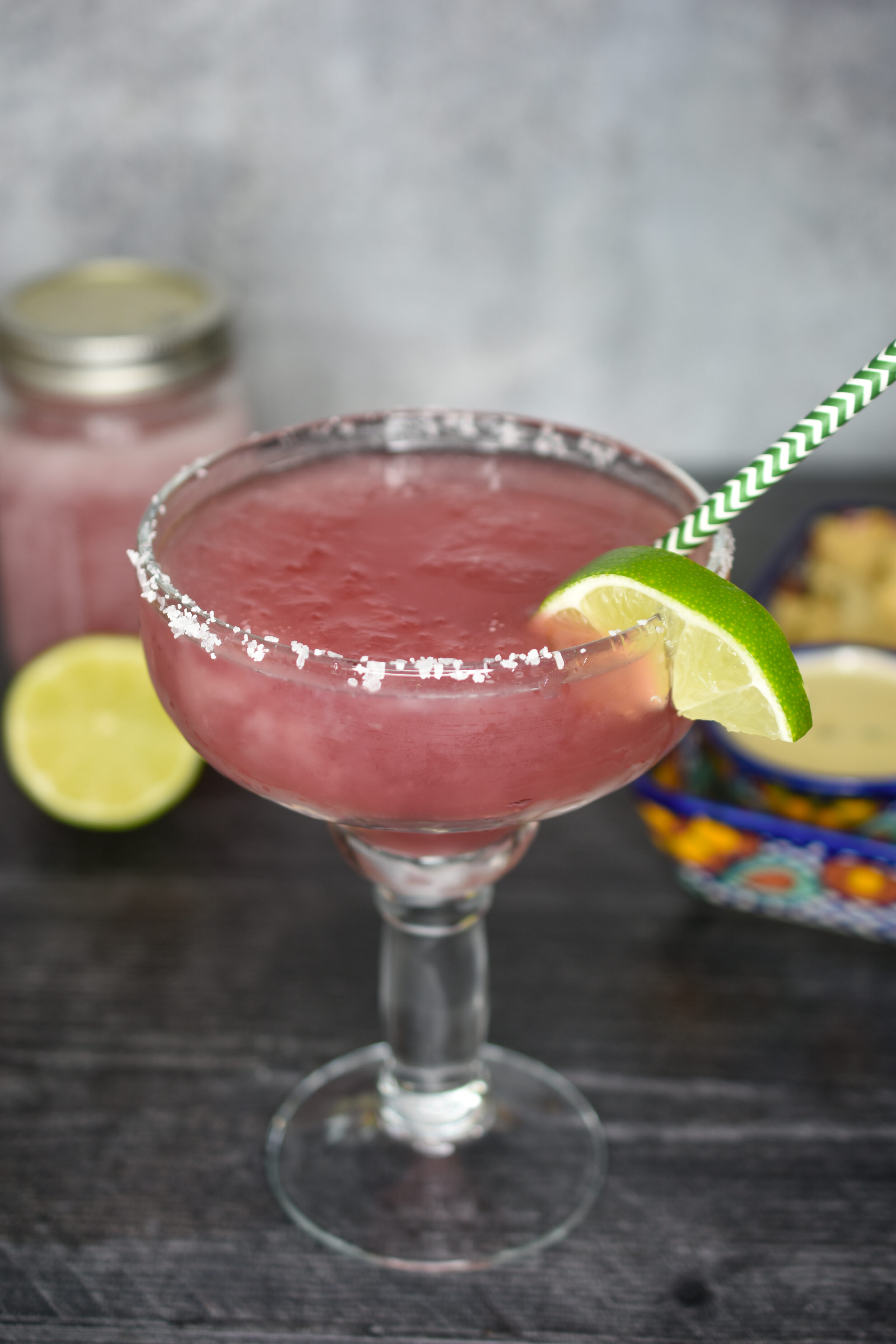 What Is Chambord?
Chambord is a black raspberry liqueur. Many bars use it as a top layer to their drinks. It is also added into baked goods for delicious flavor. While you can drink it straight it's sweetness works better in a cocktail... like my yummy Chambord Margarita! Many people also mix it with dry gin, vodka or rum or tequila like I did.
Can you make Margaritas by the pitcher or in a large batch?
The answer is YES! I tinkered around with what to do, then made a HUGE batch, poured it into mason jars, and loaded up my freezer...I am set for a while anyway!
The beautiful thing is...if folks drop by unexpectedly, or if you are just in the mood for an evening under the stars with your sweetie...they are there....just waiting for you!
Many years ago I brought these to The Big Summer Potluck, hosted by Pam Anderson of Three Many Cooks. It was the first time I had ever met other food bloggers in person. I brought a HUGE cooler full of these and handed them out to the attendees, and they were a hit! Amber from Blue Bonnet Baker named these Jargarita's after that day. They also ended up being photographed for a food magazine that day. It was so fun!
For big parties you can have these made in advance. Simply hand them out! You can make them a week or months in advance.
I am a big fan of freezing drinks to have them ready at a moment's notice...think Strawberry Daiquiri's, Margarita's, Sangria, vodka slushies, and lemonade for the kids - they are there ready for your company with no effort at all! And if you are looking for the best drink that isn't frozen, you have to try my classic margarita pitcher recipe!
Ingredients to Make Frozen Margaritas
Homemade simple syrup
Tequila
Triple Sec or Cointreau (orange liquor)
Fresh squeezed lime juice
Chambord (option but amazing - raspberry flavor)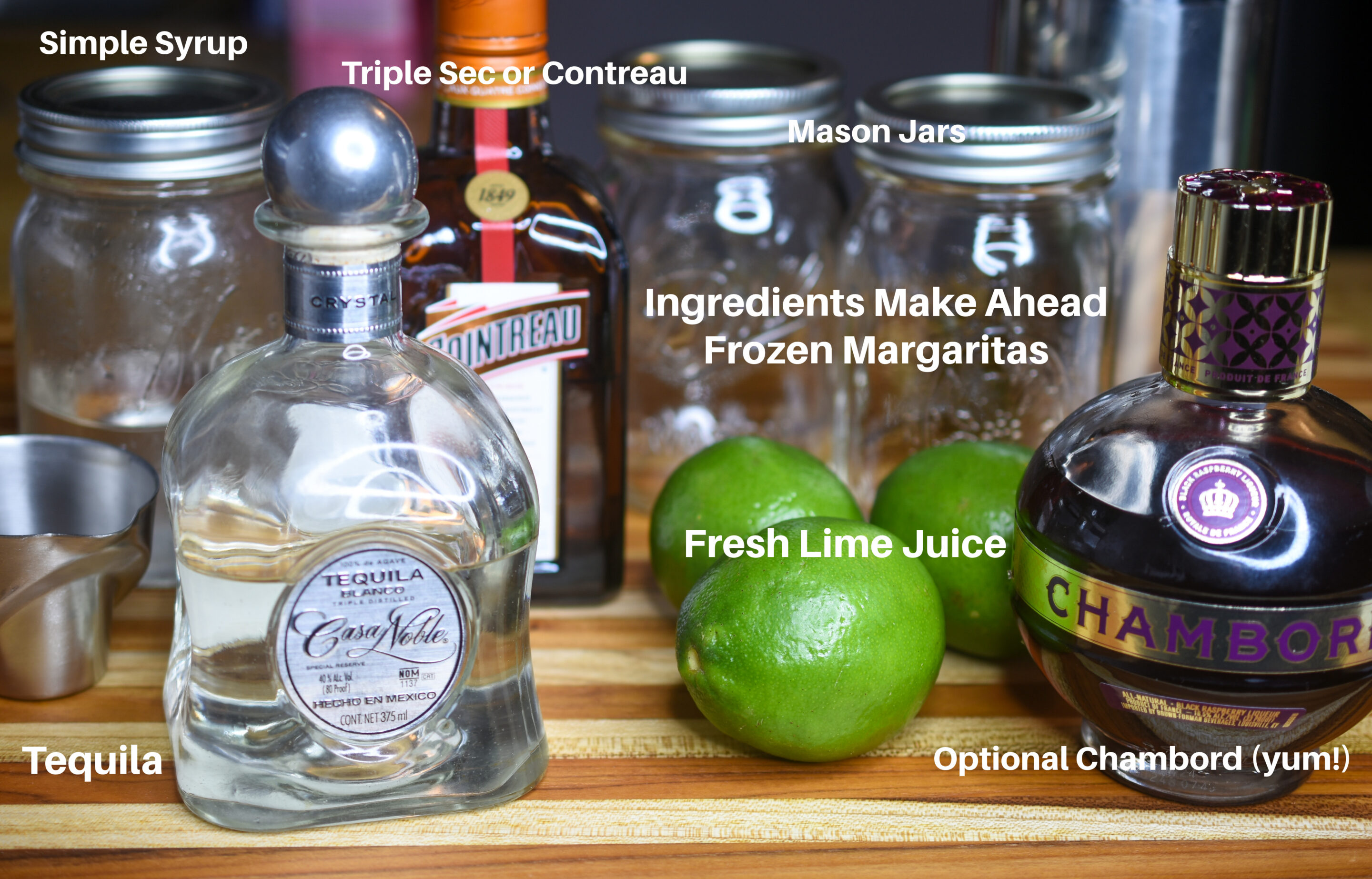 Variations
Omit the Chambord and make Classic Margaritas. Delicious! Swap Chambord for Watermelon Pucker and make Watermelon Margaritas. Or swap any fruit flavored liquor for the Chambord and make any flavor you enjoy. You can also add in fresh fruit puree or create flavored simple syrups to change up the flavor. Try jalapeno infused simple is a delicious twist to the classic margarita!
Try my Classic Margaritas By The Pitcher Recipe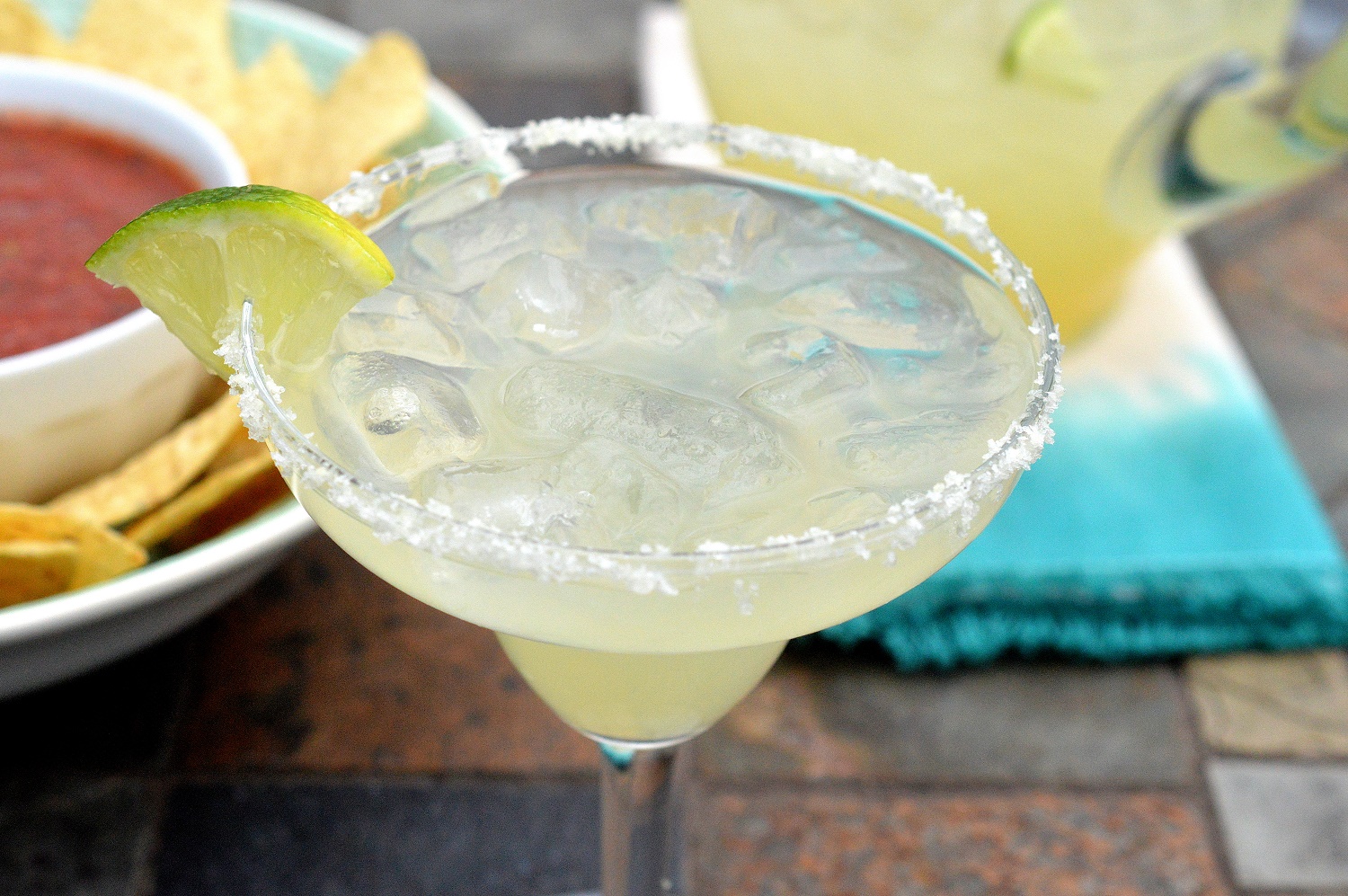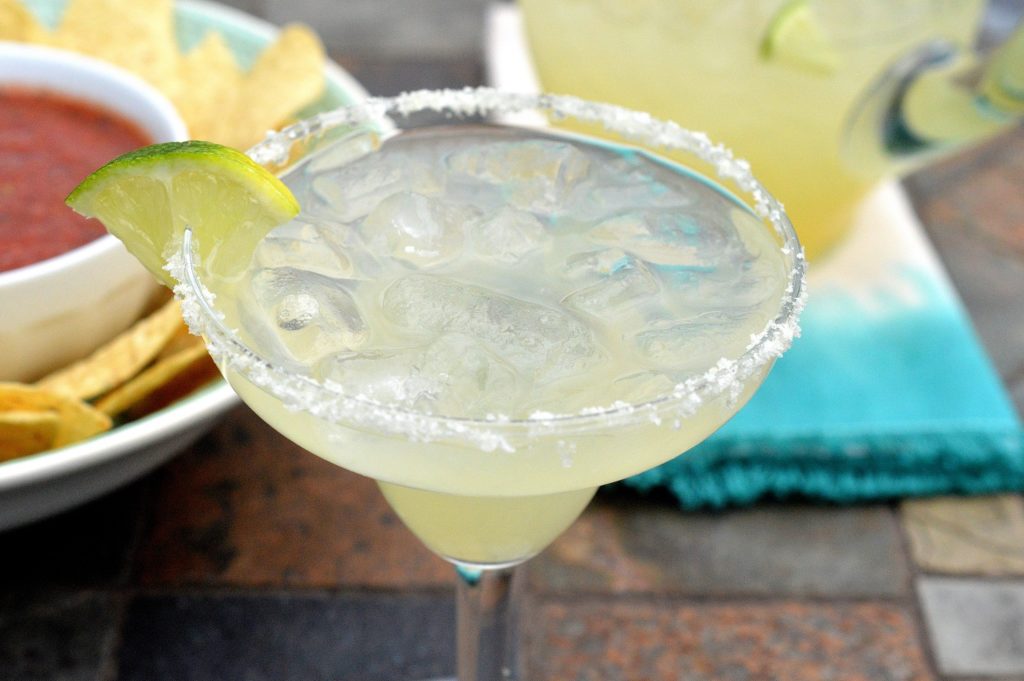 Other Refreshing Cocktails
Maybe margarita's aren't your thing? Not everyone enjoys tequila or Chambord or even frozen cocktails, so here are a few of my other favorite yummy cocktails:
I HOPE these Frozen Chambord Margaritas find a place in your life and that you enjoy them as much as we do! Tag me on Instagram when you make them, or duet me on TikTok!
Cheers!
Since I am not a Registered Dietitian or Nutritionist, I use a WordPress plug-in to calculate the nutritional information provided in the recipe card. Post originally published in July, 2011, updates May, 2021 with images and information.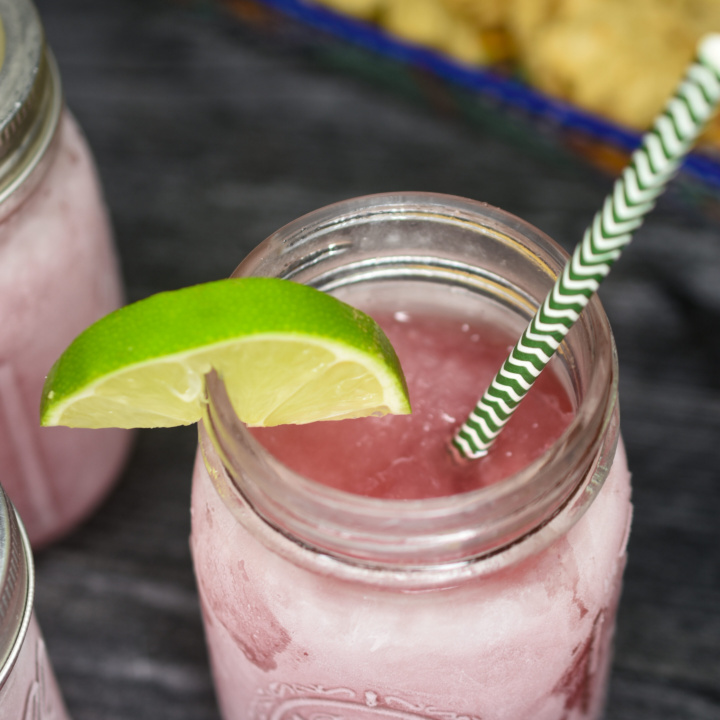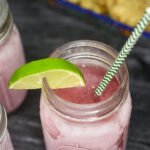 Print Recipe
Frozen Chambord Margaritas
Sweet and refreshing frozen margarita made with Chambord
Ingredients
1 ½

cups

simple syrup (see notes)

18

oz

tequila (I typically use a blanco or silver tequila for this)

more or less depending on how strong you enjoy it

1 ½

cups

lime juice

1 ½

cups

Cointreau or Triple Sec (orange liquor)

1

cup

Chambord
Instructions
In a pitcher or bowl, mix all ingredients, whisk together until completely combined.

Fill mason jars leaving room (headspace) at the top of each jar. These will freeze, so you want to leave extra space. Place the lids on and store in your freezer at least 24 hours or until ready to serve.

This will make enough to fill about 8 (eight) 8 oz mason jars or 4 - 24 ounce mason jars.

To make Simple Syrup

Make your simple syrup by combining 1 cup sugar and 1 cup water In a pot. Heat and stir just until the sugar is dissolved completely, Remove from heat, stir and cool. (See Notes)
Notes
You can omit the Chambord and just make Classic Margaritas. 
You can flavor your simple syrup with strawberries, lime or even jalapenos. Once you have the classic margarita recipe down, you can experiment with all sorts of flavors by tinkering with homemade simple syrups as well as a variety of flavored liquors. Adding Watermelon Pucker for example in place of Chambord will get you scrumptious Watermelon Margaritas. 
Nutrition
Serving:
8
ounces
|
Calories:
371
kcal
|
Carbohydrates:
49
g
|
Protein:
1
g
|
Fat:
1
g
|
Saturated Fat:
1
g
|
Sodium:
29
mg
|
Potassium:
78
mg
|
Fiber:
1
g
|
Sugar:
47
g
|
Vitamin A:
15
IU
|
Vitamin C:
9
mg
|
Calcium:
10
mg
|
Iron:
2
mg