Sangria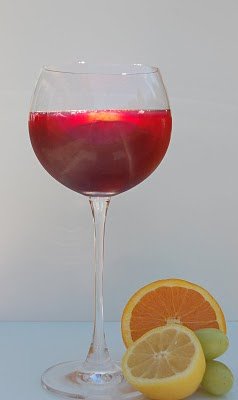 I don't know about you but I am the pickiest person when it comes to wine or cocktails, and I do not like beer…at all. Okay you caught me I have in fact drank beer when it was absolutely necessary in my youth – you know – drinking games and the like – I am a competitive person after all and I couldn't let me team down – but man…YUCK!!
I have always had a hard time finding something I actually like enough to have more than one glass of. So, for most of my life, I stick to Long Island Iced Teas and Tom Collins when out and about.
At home, I like Riesling, Gewurztraminer, and some Pinot Grigio's. However many of them I just don't seem to enjoy enough past one glass.
My curse is sweetness I guess. For example, I seriously could drink a whole bottle of a good Asti Spumante…that I just love.
Are you seeing the white theme here?
Imagine my surprise a number of years ago while in a Chaddsford Winery store when I samples a bit of it's Sangri-La Sangria a red wine non-the-less and fell in love!
When going to or having a Summer party I do my best to replicate a big batch of it for all to enjoy and for chilling at home with family and friends I uncork a bottle or two of the real stuff!
What's your summer drink?
Hope you enjoy my version of Sangria!! Cheers!
Red Sangria
1 750 ml bottle of Shiraz
1 750 ml bottle of Merlot
1 1/2 cups Blackberry Brandy
1/2 cup Triple Sec
1 12 oz can frozen lemonade concentrate
1/2 cup fresh squeezed orange juice, strained (or OJ without the pulp)
Combine all of the above in a large pitcher, stir well.
Optional – Add in a 1/4 cup to 1/2 cup sugar for a sweeter taste (I do not).
Add in 1 cup or more of ginger ale just prior to serving for a bit of fizz and to help it stretch (I do).
Float some fruit in the pitcher. Any or all of the following:
1 orange, sliced then cut those slices in half, 1 lemon sliced, grapes, blackberries, apple chunks – whatever combination you may happen to have on hand will work.
You can serve it right away or let the flavors mingle for up to 3 days.
Serve cold from the fridge or over ice.
Tip: Squeeze the juice from any leftover pieces of orange or lemon into the pitcher, don't be afraid to increase or decrease any of the ingredients – just taste it along the way to make it to your liking.
*Unless I am in a time crunch, I make simple syrup in place of the concentrate and add in 2 TBS of lemon juice. 1 cup water to 1 cup of sugar is the rule of thumb.  Bring it just to a boil, until all sugar dissolves.  Cool and use in place of concentrate. For the above recipe, I use 1 1/4 cup sugar and 1 1/4 cup water.  You can make this ahead and store in a tightly sealed container in your fridge for a few weeks.  If any parts crystallize, just rewarm.
Enjoy!!
Colleen