Buffalo Chicken Meatballs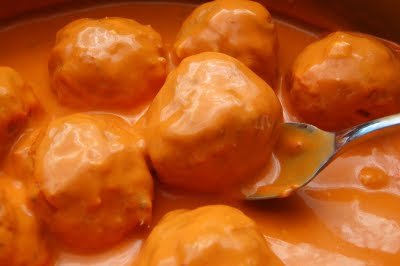 Is it just me or would you eat just about anything if it were made "buffalo" style???
One night I was at a party hovering over the hot and gooey Buffalo Chicken Dip a friend made with a number of other folks (see...just can NOT stay away!!) when a girlfriend of mine said "you should make some kind of Buffalo Meatball...hmmmmm, game on I thought!!
A couple of days later I tinkered around with making the meatballs and decided a "pub sauce" would be perfect for the sauce. I seriously can not, not, not get enough of these meatballs! I like them on rolls or by themselves and seriously...every time I think of them...even the same night I may have eaten them....my mouth waters! My tummy and tongue owe some serious thanks to the genius who first came up with the whole Buffalo Chicken idea!! Funny though a few friends of mine from Buffalo NY do not even want to hear about any food created this way...they say they are "buffalo-ed out"! Lol...more for me!
If you love Buffalo...anything as much as I do...Check out my recipes for Easy Buffalo Shrimp, Quick & Easy Buffalo Chicken Stromboli or these insanely delicious Buffalo Chicken Dip Balls!
Buffalo Chicken Meatballs
1 pound boneless chicken breasts
1 small egg
¾ cup bread crumbs (depending on the size of egg you use you may need to add a bit more)
2 TBS wing sauce
1 TBS milk
Couple dashes of salt and pepper
2 TBS crumbled blue cheese (optional)
Pub Sauce
12 oz or 1 ½ cups of your favorite wing sauce
¾ cup (more or less to taste) blue cheese dressing
Place chicken in food processor and pulse until chopped up (6-8 pulses should do it). (I am sure ground chicken will do just fine, but I wanted a firmer texture so I grounded it myself). Place ground chicken in a large bowl, add in egg, breadcrumbs, wing sauce, milk, salt and pepper and Blue cheese if using. Mix it all up well with your hands (my kids LOVE to help with this part). Form into balls (not to big) and place on a lightly oiled baking sheet. Bake at 350 for 15-20 minutes.
In a large pot combine wing sauce and Blue cheese dressing, heat it through, stirring often. Once meatballs are out of the oven to add them gently to the sauce and heat through for a bit. Serve alone or with a roll for a sandwich and enjoy!! Include a small bowl of crumbled blue cheese for folks to sprinkle on their sandwiches.
Note: Feel free to make your own wing sauce and or blue cheese dressing...depending on the time I have...I do or I don't. Also, if you are not a lover of blue cheese (like me) you can substitute ranch dressing for the blue cheese dressing in the pub sauce.