Quick & Easy Buffalo Chicken Stromboli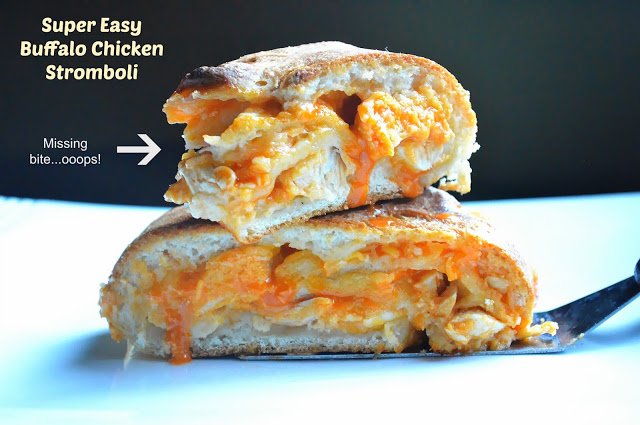 I'm not sure when I was first introduced to Buffalo...anything.  That sauce is magical, mmmm! It almost feels I seriously have a love-hate relationship with its creator since its just so stinking delicious.  I will never...ever tire of it.  You could put Buffalo sauce on just about anything and I would probably eat it!  No matter what time of year it, is if there is Buffalo Chicken Dip or Buffalo anything at a party...THAT is where the people are...am I right?
I've been making this stromboli for a LONG time.  It is SO easy!  You can make your own pizza dough (I don't...yeast and I are not very friendly) or grab some from your favorite pizza place or market.  I have never had a crumb of this leftover, and I make 2 or more when I make it. Why not switch from pizza to stromboli on your next Pizza Night? Hope you like it!
Over the next few weeks, some of us will be clustering together to watch football...Personally I cluster for the food and fun. Football gives me hives.  All I know is that men run away from each other and crash into each other...and to move 2 feet sometimes takes an eternity...that's about it.
I thought it would be fun to gather a dozen food bloggers I know and give you all some inspiration from all over the country as you gather for the football games, Olympics or any party for that matter, so that's what I did, I am excited to see what everyone comes up with!  Lucky for me my friend Heather is techie and figured out how to link us all together - I hope you have time to visit a few of blogs below to see their scrumptious creations!
Can you see the steam?? THAT and the smell are what made me take a bite while trying to get a pic, lol!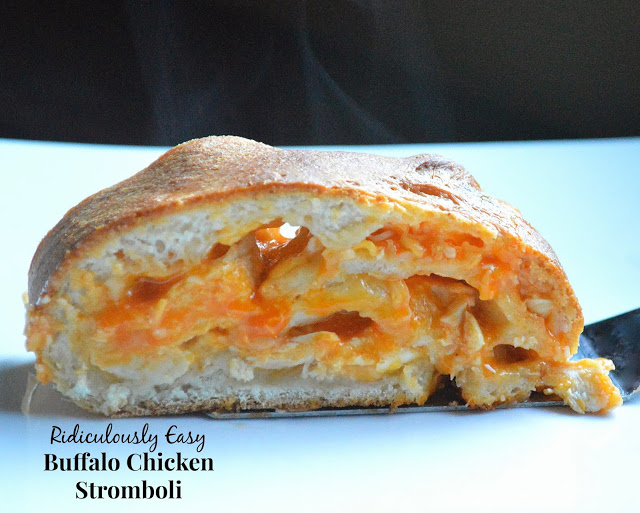 Buffalo Chicken Stromboli

Pizza dough (bought or homemade)
Blue cheese or Ranch dressing (I use Ranch)
1 ½ cups shredded Cheddar and Monterey Jack cheese blend
3 boneless chicken breasts, cut into 1 inch cubes
½ cup of your favorite wing sauce

Heat 1 TBS grapeseed or olive oil in a large nonstick frying pan over medium heat. Lightly cook your chicken pieces, flipping them so all sides get partially cooked 2-3 minutes.  You really only want to partially cook it, since it will finish up in the oven.  Otherwise it may be dry.  Remove chicken and toss with chosen buffalo wing sauce. Set aside  Shape or roll your pizza dough into a rectangle then place it on a parchment paper (not wax paper) lined baking sheet or oiled sheet.  Spread just enough Blue Cheese/Ranch dressing overtop your dough to coat it.  Sprinkle your cheese over the dough.  Scatter your chicken chunks tossed with wing sauce evenly over dough.  You might want to drizzle a little extra sauce overtop of it all.  Carefully, roll up dough lengthwise, forming one long roll. (Tuck & roll people, tuck & roll) Tuck in the ends/sides and pinch the  seams shut. Make 2 small slices across the top of the Stromboli to vent.  Brush the top lightly with a bit of oil

Bake according to your chosen dough's instructions...usually 30-35 minutes or until the dough is golden brown.  Let it rest for 10 minutes prior to slicing.
Colleen's Notes: Dough size will vary depending on what you use, Pillsbury will probably only need 2 chicken breasts to do the job.  If your dough is from a pizza place you will most likely need 3 chicken breasts (they vary in size too).  Make sure you get some chicken/sauce/ranch/blue cheese/cheese towards the edges or you will just be eating empty crust - that happens from pizza places too when you order a stromboli...ever notice that?  Your parchment paper will brown - that's fine, don't worry about that.