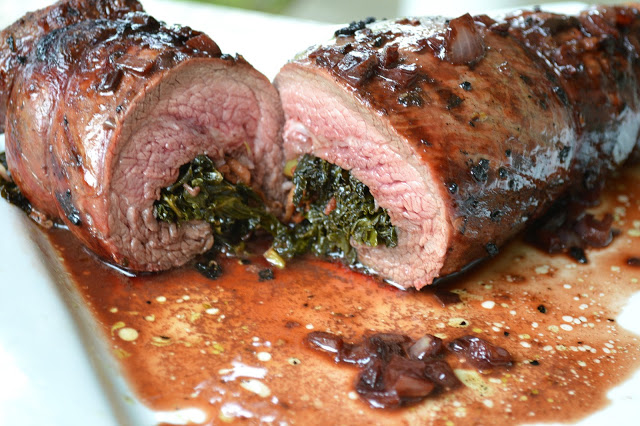 Last month I was fortunate enough to go to an amazing dinner hosted by Jessica – the founder and CEO of Philly Cow Share or as she likes to call herself  "The Chief Wrangler" of Philly Cow Share, lol!
The fabulously talented Chef Linda of New Jersey's Highview Farms (and a member of Les Dames d'Escoffier Philadelphia)  cooked Philly Cow Share meat for 5 of us lucky local bloggers. We had, great conversation, delicious food and wine and really learned some interesting information when it comes to something that I know graces my table a couple times a week – beef.
Check out the menu from that night: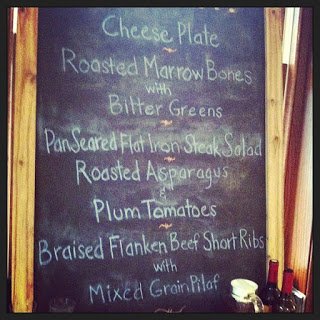 Everything was delicious!  Linda's short ribs were seriously out-of-this-world (I could have kept eating them allll night) and the asparagus were picked at her farm just that morning…it doesn't get any better than that!
Are you ready for a good story??  
Jessica moved Philadelphia from the midwest to attend the University of Pennsylvania for her Masters Degree.  Shortly after moving here, she went to her local butcher asking about buying a quarter a cow – something that "back home" was routine thing to do…everyone has a chest freezer and they stock it up she explained to me when I asked her about that.  The butcher just looked at her and was like…"what?"  Right then and there Jessica decided she would find a way to get her growing family the good quality meats she was accustomed to.  And she did.  Her new Philadelphia friends were curious about this practice and for 6 years Jessica organized the buying and distributing of meats for her friends and neighbors.
"At Philly Cow Share We challenge the consumer to eat meat more mindfully. Eat healthy meat. Eat less meat. Eat all the cuts from the animals and not just the high-end steaks. Some of the best beef dishes are made with less popular cuts. Using the whole animal reduces waste, simplifies the logistics of getting beef to you, and returns more money to the farmer and butcher. We make sure the farmer and butcher are paid fairly and the animals are raised in accordance with their nature and in harmony with the land."
While pursuing her Doctorate at U Penn, the lightbulb went off and she thought, why am I still in school?? THIS could be the thing I am meant to do, so she decided to get to know local beef farmers and their practices as well as look for more people interested in quality meats and in 2010 Philly Cow Share was born!
I am no stranger to the practice of friends or groups of people buying a half or quarter cow.  One of my brothers has been doing just that for years through a co-worker who on the side did as Jessica did back in the beginning.  Every BBQ, we ask my brother Ed to bring the meat for the burgers – because it is head and shoulders above anything you will get at your local food store.
You can order an 1/8, 1/4, 1/2 or a whole cow – ordering a whole cow with some friends saves you a good bit of money, which is fantastic in my book!  They have begun selling pigs as well and soon hope to sell lamb!  Another way you can get some of this meat is by stopping at Williams Sonoma in Philly (at the Bellevue, 200 S Broad St)  – they are so smart…they have teamed up with Philly Cow Share so that on weekends as you head to the beach, mountains or plan for a BBQ – you can grab a few packs of certain cuts and be good to go!  Brilliant and convenient!
Click here for pricing as well as what you get with each order.
I soaked up the information we learned that night and decided then and there that I am getting a cow!  Then a pig!  I have already spoken with some of my friends and we are placing our order – we actually might need 2 cows!

Here's the top 3 reasons I am super-sold on this:
1.  The meats come from 8 local PA/NJ farms – so I know where my meat is coming from and at the same time I feel really, really good supporting my  local farmers.  You can read about each Farm/farmer here.
2. With all the negative talk and speculation about GMO's and how in the dark we truly are when it comes to being told/disclosed what the full impact of those modified seeds/foods are or could be and feeling "kept in the dark" about truths that we as citizens and consumers should be told.  I feel good that the beef I give my kids will be grass-fed and not corn fed.  That is all I am going to say about that.  Do your own research and see how you feel.
3. It's easy – you put your order in and BAM, you get your delivery and split it up. Less trips to the store – gotta love that!
I have to say, I did have a concern about frozen meats.  I don't freeze meats, I buy what I need as I need it.  After tasting all the meats last month, then trying the 3 sample packs I was sent home with.  I didn't taste a difference.
We each went home with various cuts of meat – I went home with ground beef, chipped beef and flank steak.  My family and I have eaten all three and they were delicious!  The chipped steak made incredible cheesesteaks!  I could absolutely taste the difference in that cheesesteak meat from a typical "take out" cheesesteak.
I decided to do something special with the flank steak and saved it for Father's Day.  I marinated it, stuffed it with Kale and Bacon, grilled it and made a finishing sauce for it.  It was spectacular!  See below for the recipe.
Soon, Philly Cow Share may be offering franchise opportunities across the country (love that).  Already a childhood  friend of mine in Ohio (who lives on 100+ acre farm) is very interested.  At the end of the day, I just think this is a really good thing for all involved.  I hope you do too!
Disclosure: I was not compensated to write this post, I felt that what I learned, I really wanted to share both by talking about it and writing about it, I really do love to share what I think are great things – all opinions expressed in this post are my own.
Kale & Bacon Stuffed Flank Steak with a Red Wine-Shallot Reduction
2 pound piece of flank steak
1 cup red wine
2 shallots, minced
1/4 cup olive oil
8 strips of bacon, chopped into 1/2 inch pieces
1 big bunch of kale, chopped (about 2 cups after its cooked)
2 TBS red wine vinegar
Salt and pepper
Marinate your meat for 4-12 hours, wrapped and in the refrigerator.  When ready to cook your meat – remove it from the refrigerator and blot the meat dry.  Discard the marinade.  Allow the meat to rest on the counter for 30 minutes. Meanwhile, in a large pan with 2 inch deep sides, cook your bacon until crisp.  Remove the bacon, and in the pan with the drippings add your kale tossing  it gently in with the bacon drippings.  Saute your kale over medium heat for about 20 minutes or until it is the tenderness you enjoy.
Move the kale around often, cover the pan when you can to help it cook quicker.  after 12-15 minutes add in a couple splashes of red wine vinegar and season it well.  Add in a few TBS of water and cover to continue cooking.  Once the kale is done, remove it from the heat, toss in the bacon, adjust seasoning if necessary and when it is cool enough to handle, stuff your flank steak.
To stuff your steak – have 6-8 pieces of kitchen twine cut.  Lay your meat out and down the middle, pile your kale and bacon filling.  Pulling the meat in the middle on either side, wrap it around the filling until the ends overlap and tie it up tight and quick.  Work your way out to the ends doing the same thing.  The meat is malleable, just work/pull it until your get a good wrap – no filling should be sticking out anywhere except at the very small ends.  make sure you secure each end with the twine.
Fire up your grill and cook the meat over medium high heat for about 8-10 minutes per side or until done to your liking.  (Since the beef is tied up and stuffed it will take a bit longer to cook.)
Red Wine Reduction Sauce
1 TBS olive oil
2 shallots, chopped
2 cups of red wine (a Cabernet or Merlot work nice)
1 TBS honey
1 TBS Worcestershire sauce
Salt & pepper
Saute the shallots in the olive oil for 2-3 minutes.  Add in the rest of the ingredients, bring to a boil, then reduce by half.
Spoon the sauce over the finished meat and serve.
Marinade and reduction inspired by Bobby Flay.
Enjoy!!