Kale & Bacon Stuffed Flank Steak with a Red Wine Reduction is a delicious idea for a weeknight or weekend dinner!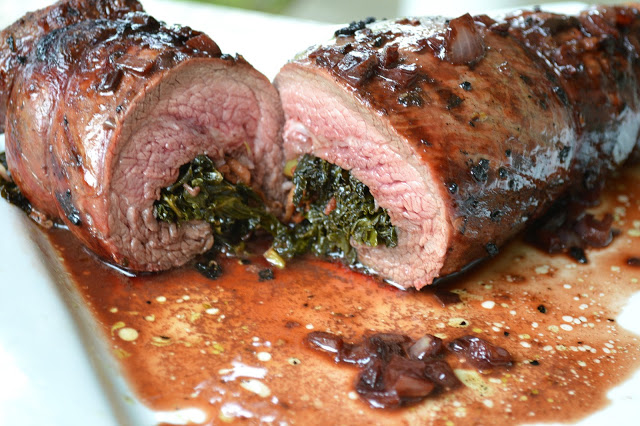 This Kale & Bacon Stuffed Flank Steak with a Red Wine Reduction recipe is not complicated and is chock full of good ingredients. Tons of protein and nutrients, plus a delicious taste!
Flank steak is becoming more and more mainstream. You can do a lot with a nice piece of flank steak but for me, where it shines is when you stuff it like I did here. It's juicy and flavorful and leftovers, if there are any, are delish!
We all know how good kale is for us. The trick to making kale taste its best is massaging it. Whether you are cooking it or serving it raw, massage it first with a bit of oil or bacon fat. It makes all the difference. Also, cut out hard stems from the larger leaves.
Enjoy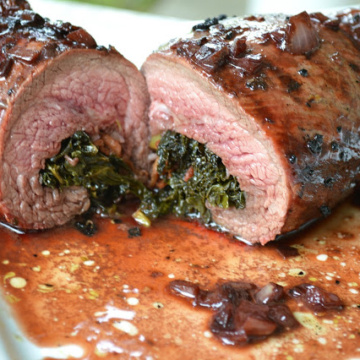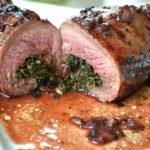 Print Recipe
Kale & Bacon Stuffed Flank Steak with a Red Wine Reduction
Ingredients
Steak

2 - 2 1/2

pound

piece of flank steak

1

cup

red wine

2

shallots

minced

1/4

cup

olive oil

8

strips of bacon

chopped into 1/2 inch pieces

1

big bunch of kale

chopped (about 2 cups after its cooked)

2

TBS

red wine vinegar

Salt and pepper

Red Wine Reduction Sauce

1

TBS

olive oil

2

shallots

chopped

2

cups

of red wine

a Cabernet or Merlot work nice

1

TBS

honey

1

TBS

Worcestershire sauce

Salt & pepper
Instructions
Combine red wine, shallots and olive oil and marinate your meat for 4-12 hours, wrapped and in the refrigerator.

When ready to cook your meat - remove it from the refrigerator and blot the meat dry.

Discard the marinade.

Allow the meat to rest on the counter for 30 minutes.

Meanwhile, in a large pan with 2 inch deep sides, cook your bacon until crisp.

Remove the bacon and leave the drippings,

Add in your kale tossing it gently in with the bacon drippings.

Saute your kale over medium heat for about 20 minutes or until it is the tenderness you enjoy.

Move the kale around often, cover the pan when you can to help it cook quicker.

After 12-15 minutes add in a couple splashes of red wine vinegar and season it well. Add in a few TBS of water and cover to continue cooking. Once the kale is done, remove it from the heat, toss in the bacon, adjust seasoning if necessary and when it is cool enough to handle, stuff your flank steak.

To stuff your steak - Lay out 6-8 pieces of kitchen twine cut 6 inches in length.

Season your meat inside and out with salt and pepper.

Lay your meat out and down the middle, pile your kale and bacon filling.

Pulling the meat in the middle on either side, wrap it around the filling until the ends overlap and tie it up tight and quick.

Work your way out to the ends doing the same thing.

The meat is malleable, just work/pull it until you get a good wrap - no filling should be sticking out anywhere except at the very small ends.

Make sure you secure each end with the twine.

Fire up your grill and cook the meat over medium-high heat for about 8-10 minutes per side or until done to your liking. (Since the beef is tied up and stuffed it will take a bit longer to cook.)

Saute the shallots in the olive oil for 2-3 minutes.

Add in the wine reduction ingredients, bring to a boil, then reduce by half.

Spoon the sauce over the finished meat and serve.

Marinade and reduction inspired by Bobby Flay.