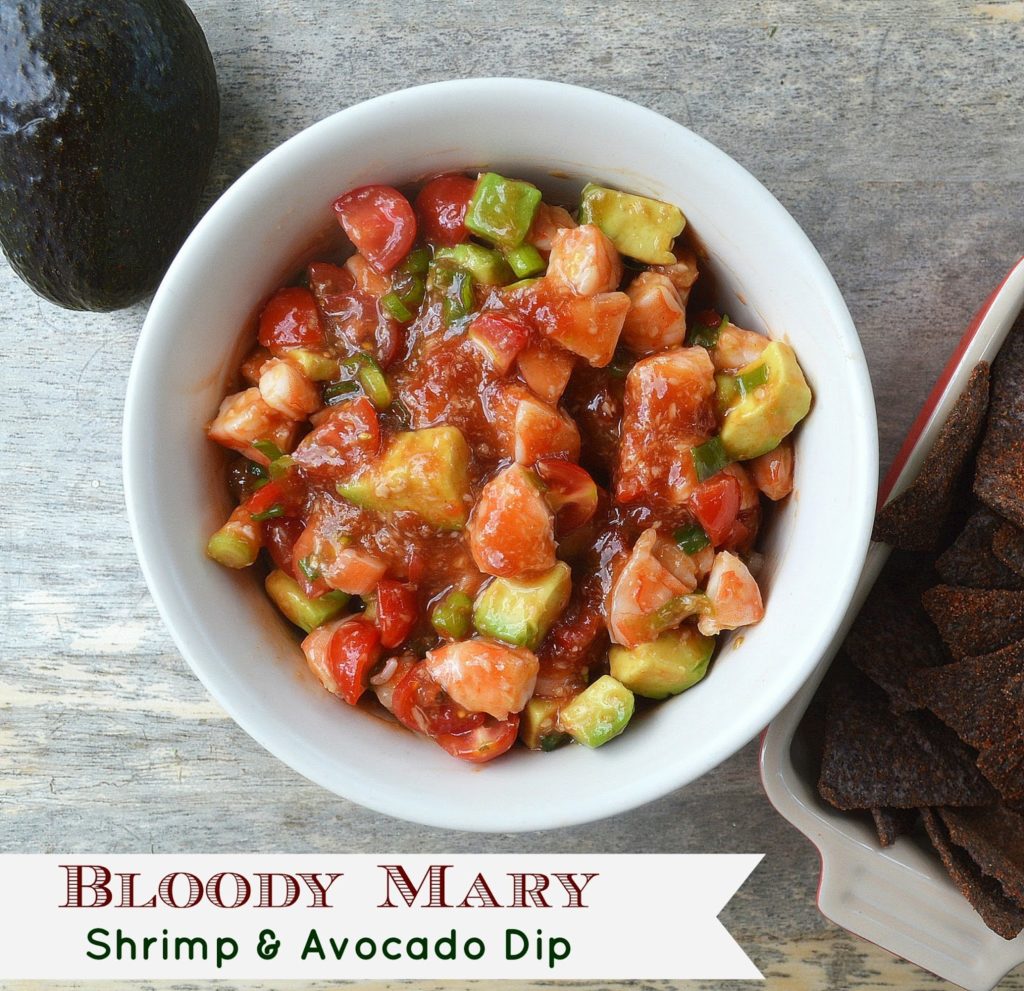 How about something a little different for a dip?  At first glance you might be like "meh".
However this addictive dip bites you back bite after bite after bite.
It quickly becomes irresistible and you find your yourself drawn back for more again and again.
Avocado, tomato, shrimp and scallions bathed in a super delicious vodka, tomato, horseradish sauce, similar to a Bloody Mary, is a wonderful grouping and a nice change from traditional mayo-based dips.
I personally think avocado chunks are delicious in a cold or warm tomato soup, so in my "head" this was a perfect marriage.  Two bites confirmed that for me, then I took it to a BBQ and everyone was crowded around the bowl and poof!  Just like that it was gone!  That is all the proof I need, lol!
You could add in chunks of celery, serve it in mini shot glasses, eat it as a salad over lettuce or do like I do, just use some tortilla chips and scoop it right up...Yum!  This, served ice cold, on a warm day is magical, enjoy!
Bloody Mary Shrimp & Avocado Dip


2 pounds of large cooked shrimp, cut into chunks
2 avocado's cut into chunks
¾ cup of thinly sliced scallions
¾ cup diced tomatoes (I like grape tomatoes for this)
¾ cup ketchup
½ cup ice cold vodka
¼ cup lemon juice
2-3 TBS horseradish, to your taste (I only use Kelchner's - the best!  Find the spiciest you can.)
1 teaspoon Worcestershire sauce
5-6 dashes Tabasco

Combine shrimp chunks, avocado, tomatoes and scallions in a medium bowl. Set aside.
In another bowl combine all sauce ingredients, whisk until fully incorporated.
Pour over shrimp mixture. Mix well and serve.

Colleen's Notes: If making this ahead of time, prepare sauce, cover and refrigerate.  Prep shrimp, tomatoes and scallions, cover and refrigerate.  Just before combining, peel and dice avocado, you want to save that till the last minute.
I always make this with Tito's Vodka so my gluten-free friends can enjoy it (plus that vodka is delicious!).
Enjoy!