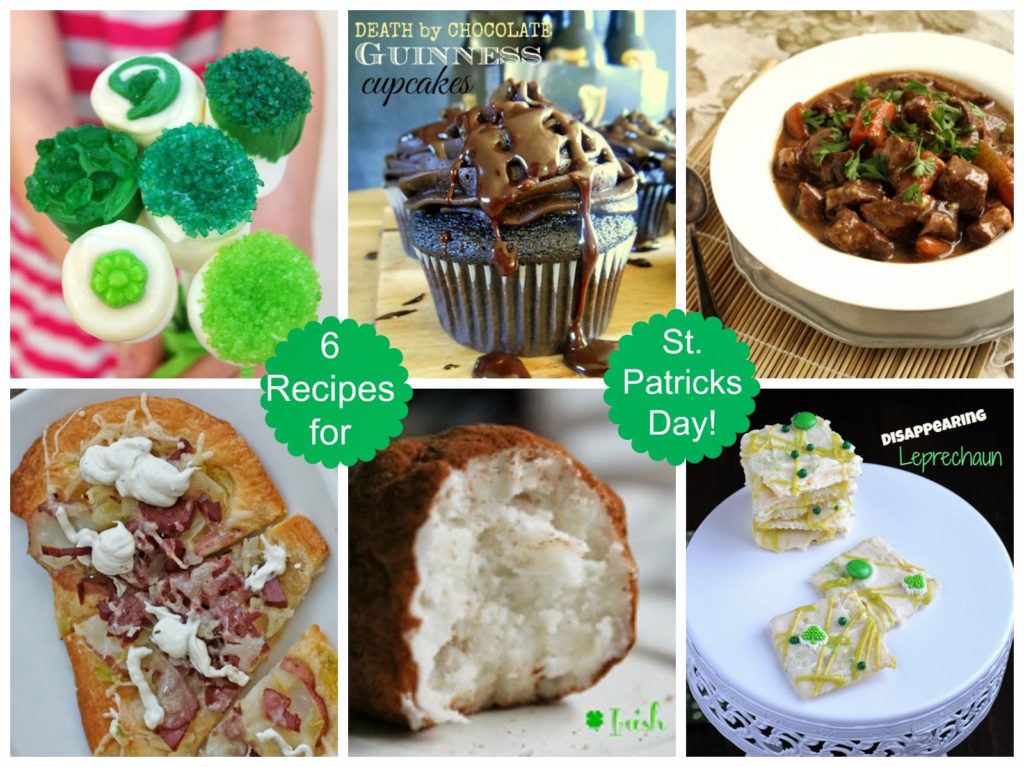 With a name like Colleen Kennedy you KNOW I just love it when St. Patrick's Day rolls around!
My husband & I both embrace our Irish heritage and we teach our kids to do the same but when 3/17 rolls around it's just time for fun food, fun drinks and fun friends! Aaaand of course lots of green and a touch of mischievousness...after all its not every day you get to play Leprechaun and trash your house a bit!
I asked a few of my foodie friends to share a a recipe to kick the festivities off. We've got the oh so essential Irish Potatoes (my Grammy's favorite), a really cool Corned Beef and Cabbage Flatbread (love flatbreads), a beautiful and delicious Slow Cooker Beef and Ale Stew (that I am sure will make the house smell delicious) and ridiculously decadent Death By Chocolate Guinness Cupcakes (swoon). I added a holiday cookie favorite of my kids, Leprechaun Cookies and I also have my daughters favorite Marshmallow Treats - both of which are perfect to customize to any holiday - Gotta love that! Links to each recipe are below.
Do you have a favorite St Patrick's Day recipe to share? I would love to find out what that is.
When it comes to authentic Irish cooking, I always turn to Darina Allen, thanks to my friends overseas, I have a number of her cookbooks and throughout the year I try out different recipes. Some of those recipes are just so different from anything we would normally eat and some of them remind me of when I spent the summer of my 15th year over there. Her daughter Rachel Allen is also a popular cookbook and TV figure. Check either of them out online. Darina's world renowned Ballymaloe Cookery School is on my bucket list.
Just thought I would share Ireland's top food personalities with you this St. Patricks's Day 🙂
Slainte!!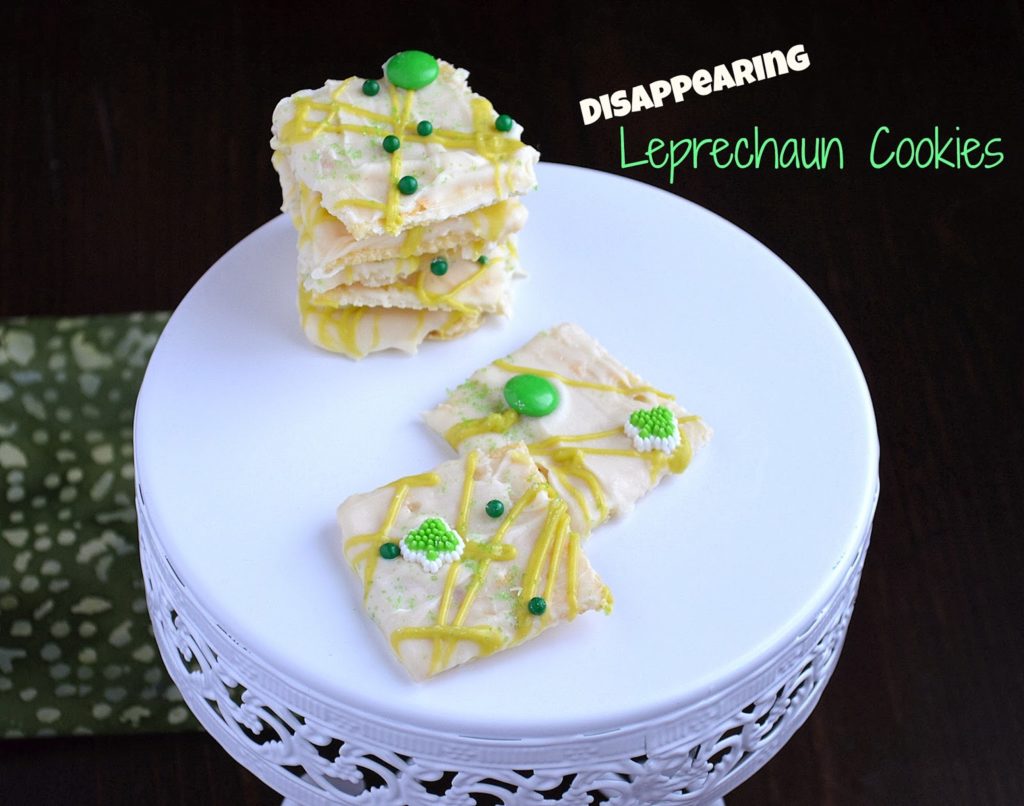 My kids love talking these Leprechaun Cookies into school to trade with their friends at lunch - they are very "popular" on those days....gotta love elementary school!
I first came across these "cookies" in NYC a couple of years ago, my friends (Maggie and Pam) from Three Many Cooks brought them to a cookie swap we were having, and I thought they were so fun! Since then I have been whipping them up for Valentines Day, Christmas, Easter.
Leprechaun Cookies


6 TBS butter
4 TBS sugar
½ teaspoon vanilla
24 Saltine crackers
6 oz of white chocolate, chopped coarsely
3 oz Wilton green (chocolate) melting disks, melted (found at craft stores)
Decorations of your choosing like sprinkles,colored sugars, etc
Preheat oven to 375 degrees.. Line a baking sheet with parchment paper, and line up your Saltine crackers, close together (touching). Heat butter and sugar in a small saucepan over medium heat until mixture comes to a rolling boil, remove from heat and stir in your vanilla.
Slowly, pour the butter mixture over your crackers, spreading it evenly with a rubber/silicone spatula or silicone brush. Bake until butter-sugar mixture starts to darken to a caramel color and bubble, about 7 to 9 minutes.
Scatter your white chocolate over the crackers, allow it to soften from the heat of the crackers and begin to spread the white chocolate over all of surface of the crackers. Immediately sprinkle with a decoration if you are choosing to do so. Transfer crackers to a wire rack to cool. Place a piece of parchment paper under your cooling racks and drizzle the crackers with the melted chocolate & decorate as you wish. I used a small pastry bag to drizzle the chocolate, you can also just snip a tiny corner off of a sandwich bag. Whatever works 🙂 Allow these to cool completely to harden, I keep them in my cool garage.
Colleen's Notes: You can choose to make these like a bark and break them apart into odd pieces or you can keep them as full squares. If your choose to keep them as squares, gently separate your crackers from one another just after you spread the white chocolate over-top (and sprinkle with a decoration if you are choosing to do so). Use a couple toothpicks to help you get the job done. Then once the chocolate hardens, place your crackers/cookies on parchment or a cooling rack and drizzle each separately.

I have found that I do not need to bake these - They still turn out perfect. I allow the sugar/butter/vanilla mixture to boil for 2-3 minutes, then I spread the mixture over the crackers. I melt the chocolate, spread over the crackers and separate them (which is way easier than after they are baked). Then the kids and I decorate.
One of the best things about these are how long they last (if they last) 5 days later they taste just as good!
Enjoy!!