Orzo with Roasted Pine Nuts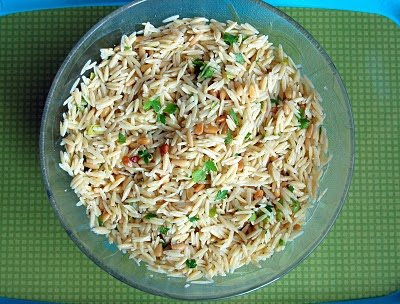 Orzo with Roasted Pine Nuts is a simple side dish that is one of my favorites.
If you are not familiar with Orzo…it is a pasta (not a rice as it may appear).
Did you know pine nuts are a very good source of protein – the highest of most nuts.
I like to serve this warm or at room temperature. Normally I would have much more parsley in the dish than you see here – my parsley in the garden has not been happy with the 100+ temperatures…and this was as good as it was going to get.
It's perfect for buffets, picnics or a weekend dinner.
By keeping the ingredients minimal, it allows the flavor of the roasted pine nuts to shine.
Orzo with Pine Nuts
1 pound box of Orzo
1 cup chopped parsley
1 1/2 cups pine nuts, roasted
1/2 cup olive oil (more to taste)
Salt and pepper to taste
Spread the pine nuts out on a baking sheet and bake at 350 degrees for 10 minutes, move the nuts around and return to the oven for another 5 minutes or until the nuts begin to turn golden brown. Remove from the oven and let them cool on the baking sheet.
Cook the orzo according to box directions. Drain and immediately run under cold water until the orzo is completely cool. Drain completely.
Toss the orzo with olive oil in a large bowl or the pasta pot. Add in the pin nuts, parsley, salt and pepper. I am generous with the salt and pepper on this dish.
Serve warm or at room temperature and enjoy!!
Colleen