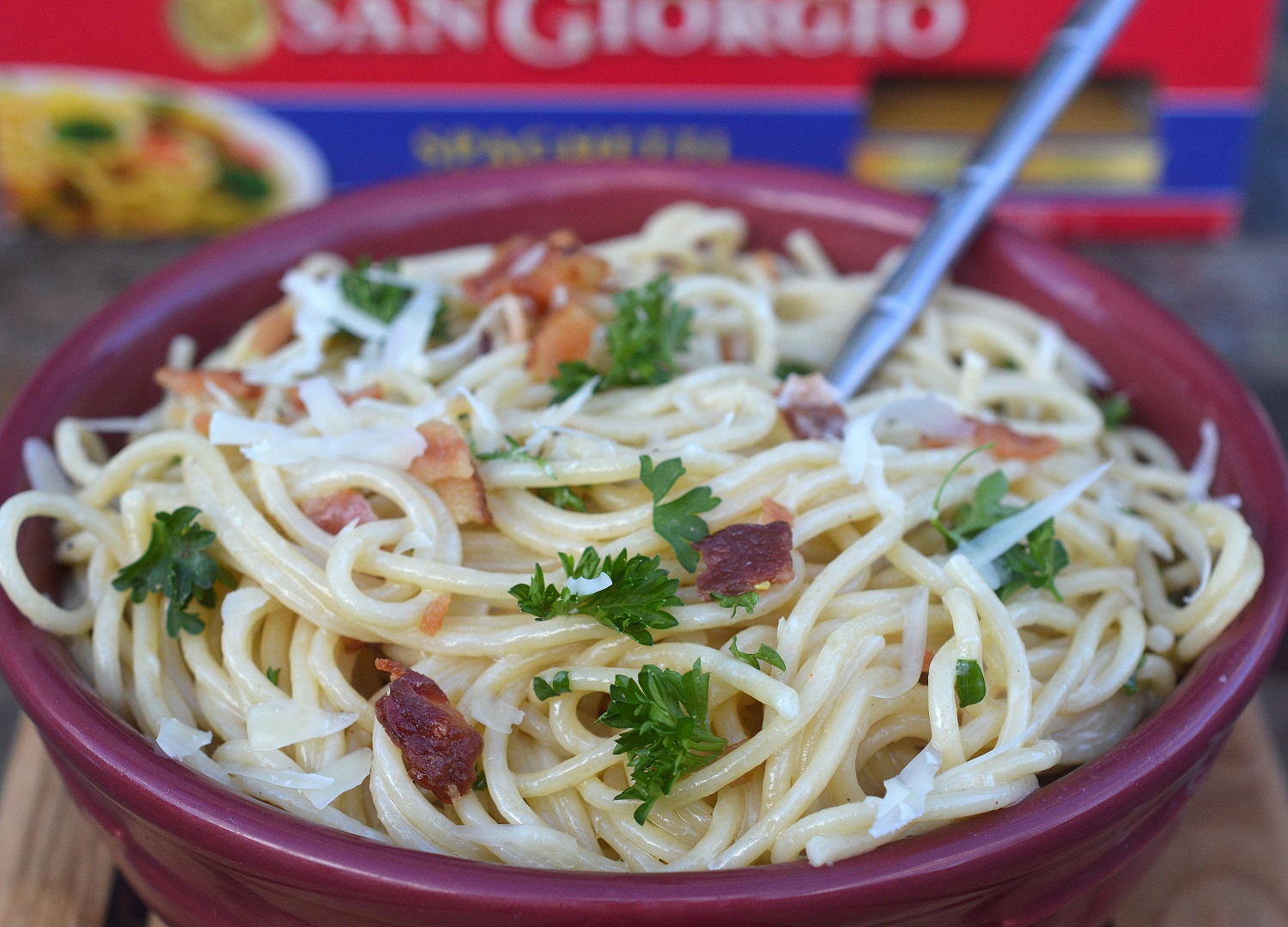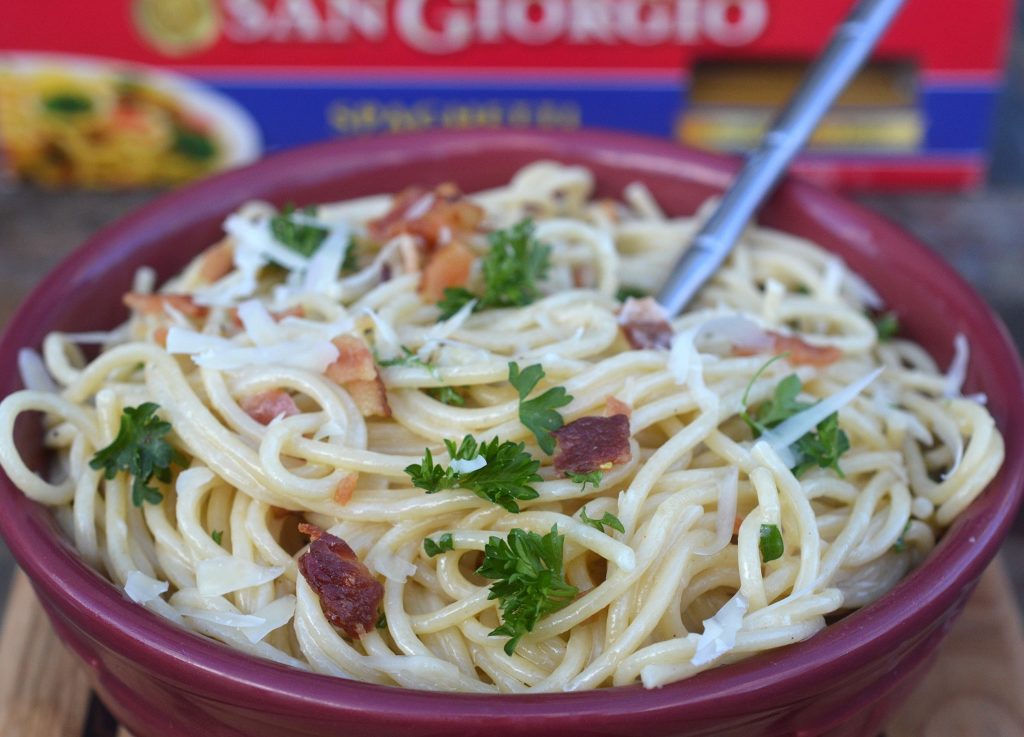 Pasta, butter, bacon and cheese?? Yes please!
This Creamy Bacon Parmesan Pasta is a 20 minute dinner the whole family will enjoy.
When I was a kid, my mom was a stay-at-home-mom. There were 5 of us running around and we kept her on her toes!  When my dad came home from work each day, he looked forward to an ice cold glass of homemade iced tea as well as a hot meal.  I remember flavors, smells and tastes from my childhood and they make me so happy.  I hope my children will look back…and a smile will grace their faces as they remember the smells, tastes and meals of their childhood.
One brand that was always there in my youth was San Giorgio Pasta®. As a matter of fact, I am almost positive that San Giorgio® is the only pasta brand that ever came into our house.  I grew up with that red and blue box! As a kid I really didn't like most meats (oh the stories of how I would pretend to eat meat, smuggle the remains out of the kitchen and cause chaos with where I hid it are still told) so whenever it was pasta night this girl was super excited!
Flash forward to today…I have my own family and that red and blue box fills my pantry and our plates.  Just like the chold her mother once was, my daughter doesn't eat most meats, however pasta runs through her veins!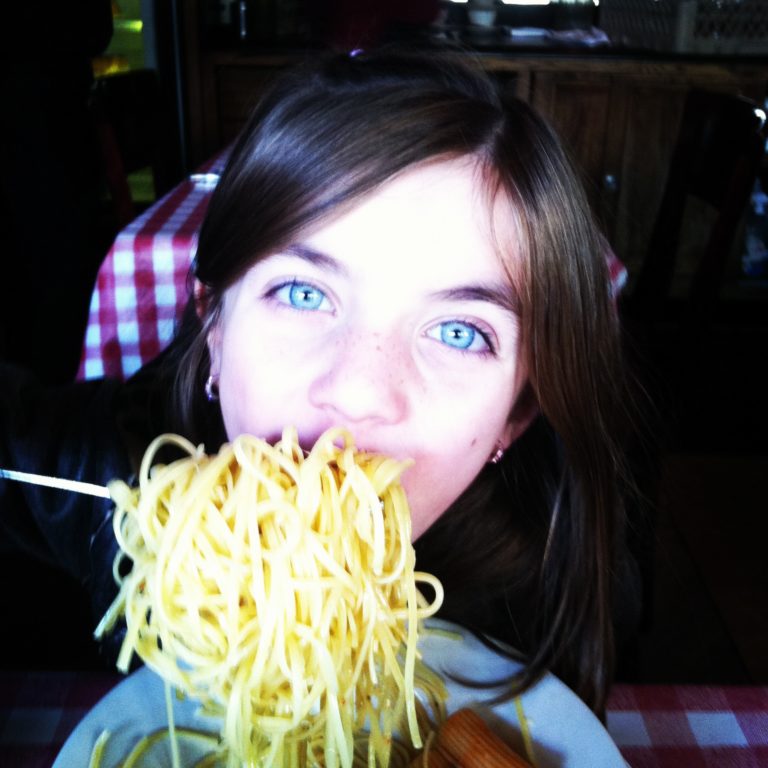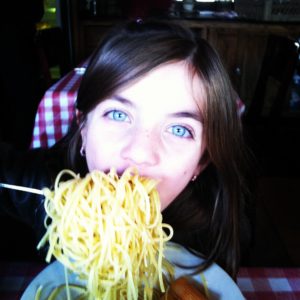 So when I heard San Giorgio® was doing something wonderful right here in my area, I had to get involved! The same pasta that's been there for me my whole life is now helping those in need via their #PastaforGood Campaign.
Your help is needed to make the good Sand Giorgio® wants to do be as BIG as it can get! All it takes is a few minutes of your time and a photo!
All you need to do is snap a photo of of anyone enjoying a "Pasta Moment" Just like I did with my daughter above and upload it to the San Giorgio® Facebook Page and tag it #PastaforGood.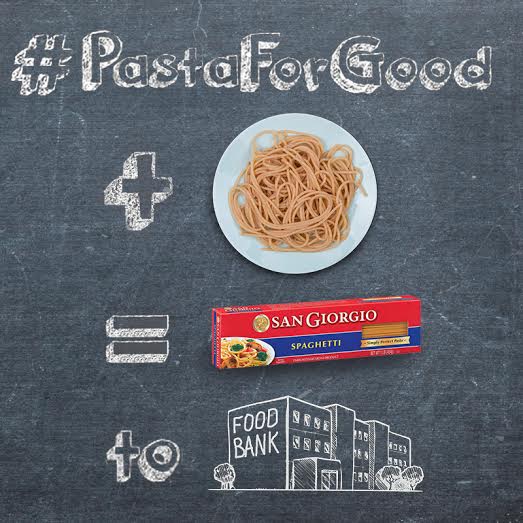 Through #PastaforGood, New World Pasta Company, manufacturer of San Giorgio®, will donate 25,000 boxes of pasta to non-profit organizations dedicated to serving those in need across Maryland, Pennsylvania and Washington, D.C.
From December 15, 2015, through January 15, 2016, New World Pasta Company, manufacturer of San Giorgio® Pasta is asking people to take a photo of their favorite pasta mealtime moment – whether they're dining out, sitting around their own dining room table or at a friend's house – and share it on the San Giorgio® Pasta Facebook Page using the hashtag #PastaforGood.
For every pasta mealtime moment photo posted to the San Giorgio® Facebook Page with #PastaforGood, New World Pasta Company, manufacturer of San Giorgio® Pasta will make a donation of one pasta box to a local food bank.
The San Giorgio® pasta brand is partnering with five non-profit food banks throughout the mid-Atlantic region and will be donating up to 25,000 boxes of pasta (5,000 to each organization) through Pasta for Good. Partners include:
How awesome is that?? A day doesn't go by that someone in your household doesn't snap a pic of something... so get everyone involved and make your photo mean something this holiday season!  We all lament on the troubles of the world, we feel we can't affect anything.  Well here is one thing you can do…so quick, grab your phone and some pasta and give a family in need a meal!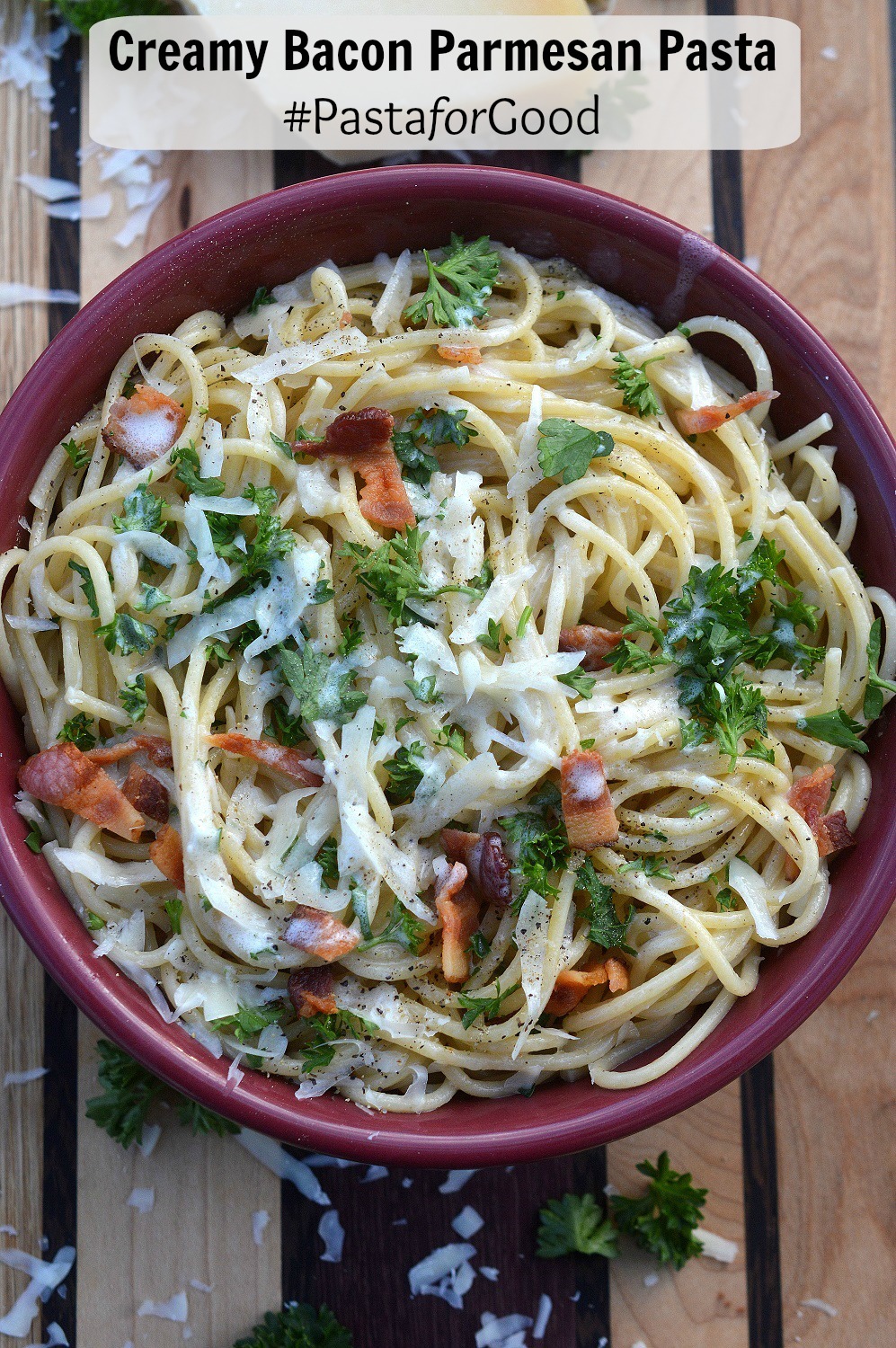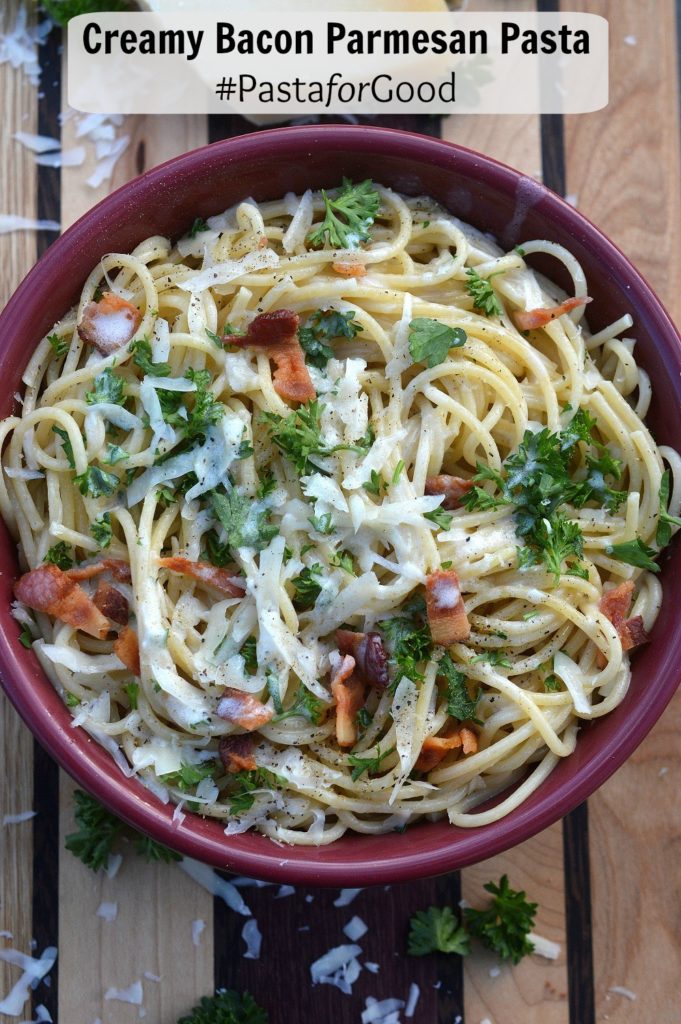 If you need a dish to make…try my Creamy Bacon Parmesan Pasta. 20 minutes until dinner lands on the table! 20 minutes until pasta and BACON!! Man do I ever love bacon. You can omit the bacon of course (gasp!) and it will still be delicious, feel free to add in scallions, shrimp or whatever you like.  The way I made it is they was everyone in my family will eat it.  Hey, when you have kids, making one dish without multiple variations is a treat! Add a hunk of hot bread or a nice salad and maybe even a glass of wine and you have yourself a wonderful meal!
The trick with this dish is allowing the pasta to sit in the sauce for 5 minutes or so after you make it to allow the sauce to cool a bit and thicken.  Then simply re-toss the pasta and add in the parsley, bacon, seasonings and any extras you like and dig in! This Creamy Bacon Parmesan Pasta is not heavy like an Alfredo Sauce, its just perfect and my daughter was especially crazy for it!
Don't forget to snap a photo between December 15th and January 15th to do your part and help via #PastaforGood, get everyone you know with a Facebook Account involved! Many, many families will thank you!
xoxo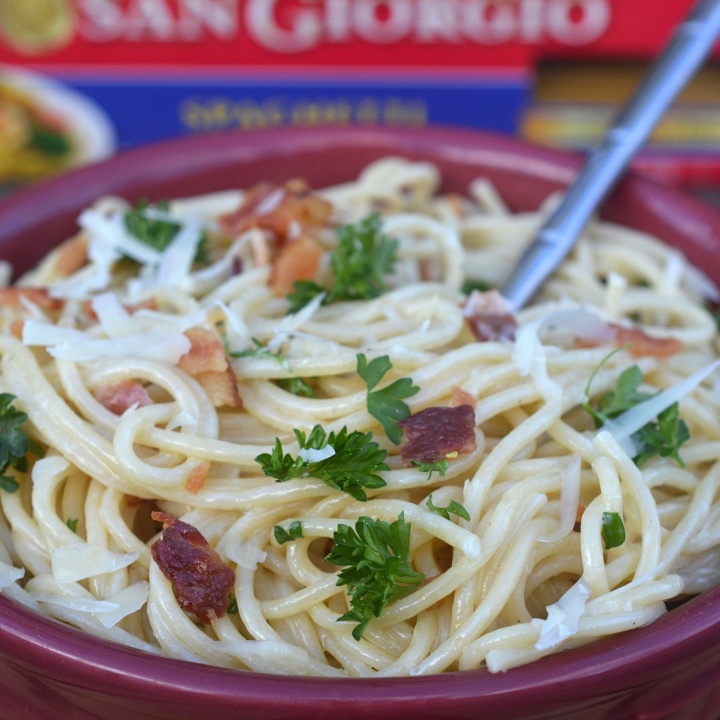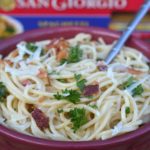 Print Recipe
Creamy Bacon Parmesan Pasta
Ingredients
1

pound

spaghetti

1/3

cup

olive or grapeseed oil

1/3

cup

butter

3

cloves

garlic

minced

1

cup

chicken stock

1

cup

heavy cream

8

strips crispy bacon

1

cup

freshly grated Parmesan cheese

1/2

cup

chopped parsley

Kosher salt & pepper
Instructions
Cook your spaghetti according to packages instructions.

While pasta is cooking. In another medium pot, heat butter and oil until butter melts. Add in garlic and saute 1 minute.

Add in chicken stock and bring to a boil. Continue cooking 3 minutes, reduce heat to low and add in cream. Cook 3 minutes longer. Season with salt & pepper and set aside.

Strain pasta, add it to the pot of sauce. Heat over high until just a boil. Remove from heat, cover and let sit for 5 minutes.

Toss pasta, season it, place it into a large serving bowl, sprinkle with the bacon, cheese and parsley and serve.
Notes
Feel free to add in scallions, seafood or whatever else you enjoy. You can of course omit the bacon (gasp!), if so I'd add in more cheese.