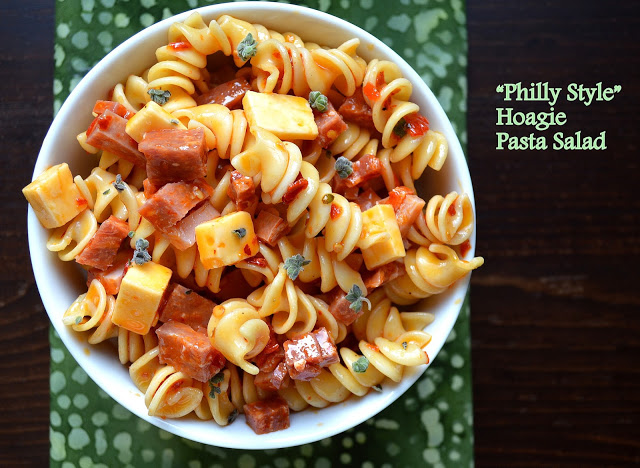 Have you ever had a Philadelphia Hoagie??
Maybe you call it a sub or a hero. From what I have heard most of my life from friends and family across the US, nothing compares to the Philly Hoagie. Where I'm from, it is a staple. Many, and I mean many, people never get through a week without at least one.
I was born and raised in Philadelphia and I loved it! I loved my house, my yard, my neighborhood, my friends, my school...all of it! It wasn't what people's minds envision when they "Philly". I was on the outskirts, near Bucks County, we never locked our doors. We lived in a large twin home (luckily, since I am the first of 5 kids) and it was on a nice piece of property. We had a few fruit trees , a huge garden, a pool, bats, the occasional snake and all kinds of furry visitors. We even had chickens for a while. Life there was really good and from a kids perspective...really fun!
Hoagies have been a staple in my life since I can remember (cheese steaks too). One set of my parents best friends, who live in Ohio, never left town after a weeks visit without a cooler full of hoagies to take home (and then we drove there...yup, you guessed it we brought a cooler full of hoagies along). Later a store in their town started selling subs but they said they just were not the same. They were obsessed with the Philly Hoagie. I always thought it was the rolls - nobody seems to have rolls quite as good (just the right combo of hard and soft) as the Philadelphia area.
Funny, while our Ohio friends were smitten with the hoagie...my family was obsessed with their corn - when we would arrive in Ohio an enormous pot of water was ready to boil and in would go the just picked corn (from their 100 acre farm). THAT is all us Philly people needed...I think my dad's record was 13 ears in a row! What a great memory!
Years ago, former Philadelphia mayor, Mayor Ed Rendell, named the Hoagie "The Official Sandwich of Philadelphia". He then went on to be the governor of Pennsylvania...coincidence?? I wonder...
I am a spicy turkey hoagie kinda gal - but that is not what the majority wants - they (and my man) want the more traditional Italia flavorings. A few weeks ago I was thinking about the hoagie flavor that my husband is drawn to and decided to make him a Chopped Hoagie Salad and pack it up for lunch for him as a surprise. I tossed chopped lettuce, cubes of Provolone, Sopressata , Capicola and Salami. I also included some halved grape tomatoes and an very flavorful dressing. It was a hit. Then I decided to try it as a pasta salad and he thought that was even better.
Many people put both oil and mayo on their hoagies (I know I do) however for the pasta salad, I opted to just go with oil.
As I sit here typing this, I can' help but think that if I asked 100 people what The Official Sandwich of Philly is...I would get a variety of answers - most of which I think would be cheesesteak, hoagie and roast pork sandwich. Me however, I usually order a chicken parmesan sandwich - ha!! You see I have had waaaaaay too many hoagies and cheesesteaks in my life. A former employer (one that I worked at for almost half of my life) ordered in 137,000 to many trays of hoagies, pizza and cheesesteaks over the years - I stopped eating all of them, I was DONE! My husband thought I was nuts. He is also completely beside himself that I have never watched more than 5 minutes of any Rocky movie. He says that one thing alone in could be grounds for divorce in our neck of the woods! I do now occasionally order a turkey hoagie (and love it) but pizza and cheesesteaks, not-so-much.
This salad however, I totally enjoyed, give it a whirl...I am sure the men in your life will especially dig it!
Philly Hoagie Pasta Salad


1 pound box of rotini pasta, cooked to your preference
1 cup chopped Provolone
1 cup chopped Salami
1 cup chopped Sopressata
1 cup chopped Capicola
1 cup chopped tomatoes (optional)
½ cup onions, sliced very thin, then halved (optional)
3 TBS fresh Oregano (you can used dried as well)
Salt and pepper to taste
½ cup olive oil
2 TBS red wine vinegar
2 - 3 TBS hoagie spread (I used extra hot Cento Calabrese Peperoncino from my Italian Deli)
In a large bowl, toss your cooked and cooled pasta (run it under some cold water and strain again) with a drizzle of olive oil. Add in your meats and cheese and if you choose your tomatoes, onions. Sprinkle in the oregano salt & pepper. In a mason jar shake up your dressing and pour over the pasta. Allow it to sit at least 20 minutes, then serve.
Colleen's Notes: The red hue of the pasta salad comes from the hoagie spread aka Calabrese Peperoncino.
I asked my deli to give me chunks of the meats and cheese, cut about an inch thick, that way I was able to chop them as I liked.
You can make this a day ahead. Just be sure it is covered tightly, also do not add in the tomatoes or onions (if using) until the day you are serving it. You can refresh the pasta by drizzling it with some additional olive oil or you can save half of the dressing from the day before and refresh it with that.
Enjoy and please don't hate me abou the whole Rocky thing...the whole a guy getting punched in the face thing is so not for me...I actually typed Rockey - that is how bad I am...even spell check knows about Rocky. Shhh!! Don't tell our former governor or my husband...yikes!