The most consumed vegetable in the U.S. happens to be the humble potato. Did you know that? Think about it, potatoes are incredibly versatile. It seems to me that the most popular ethnic food in the US is Mexican, so  I decided to marry the two and came up with this Potato Fajita Bowl. I think you will enjoy this...we sure did!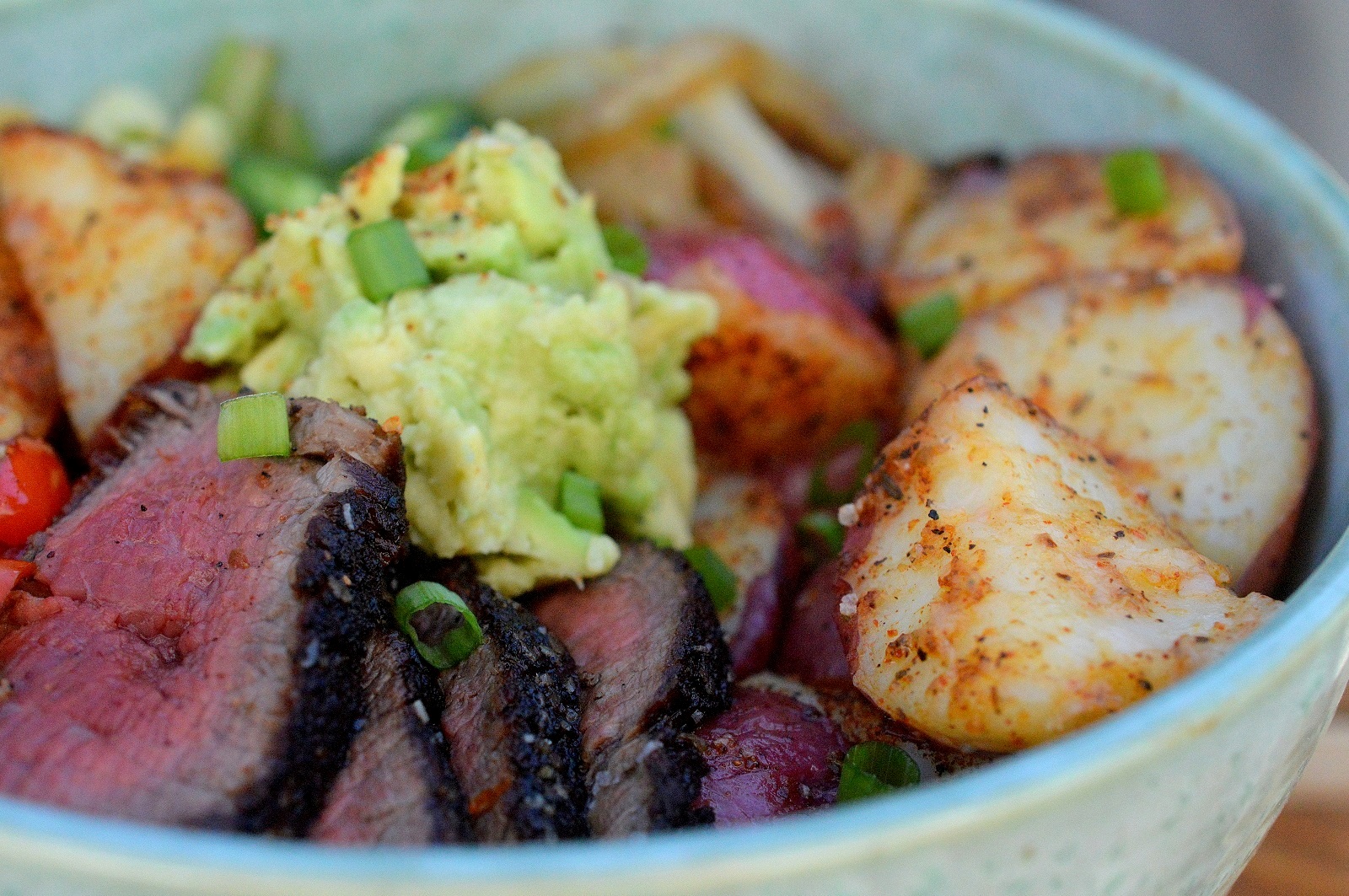 This Potato Fajita Bowl is a flavor explosion! It's filled with a variety of colors and textures. The meal comes together quickly and the flavors harmonize well together.
Have you tried Side Delight Steamables?  If you have not, you are in for a treat!
Raise your hand if the scrubbing of potatoes is not at the top of the list for your favorite part of meal prep. Yup, me either! What if I told you that the potato varieties of Side Delights Steamables are triple-washed and ready for you and that all you need is 8 minutes until perfectly cooked potatoes are steaming hot and ready to be enjoyed. Perfect every time, no guessing if your potatoes are cooked through and ready. Plus, no pot to clean. Woot! It's true!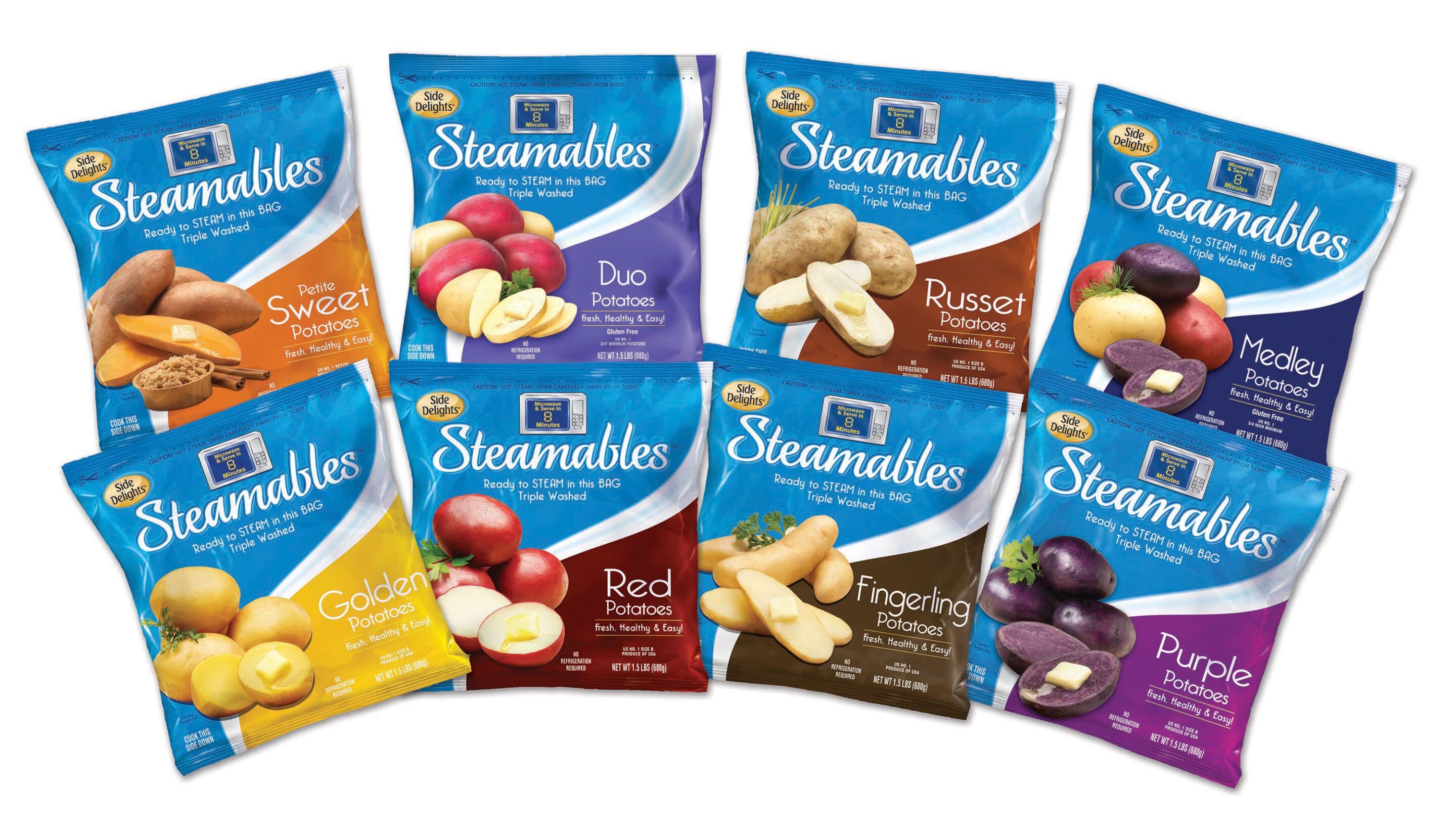 No dirty hands, no dirt to rinse off your scrubbie, no wasted paper towels. Just easy breezy potato goodness! Steamables Potatoes come in Red, Golden, Fingerling, Russet, Purple, Sweet, Medley and the new Duo. Today I have once again partnered with Side Delights Steamables in the creation of this recipe and the sponsorship of this post.
While you cook the components for the Potato Fajita Bowl, the smell that fills your kitchen is intoxicating. Onions and peppers simmering, steak searing, potatoes being tossed butter, salt, and seasoning and if you like some Cajun corn and guacamole or avocado slices. Mmmm!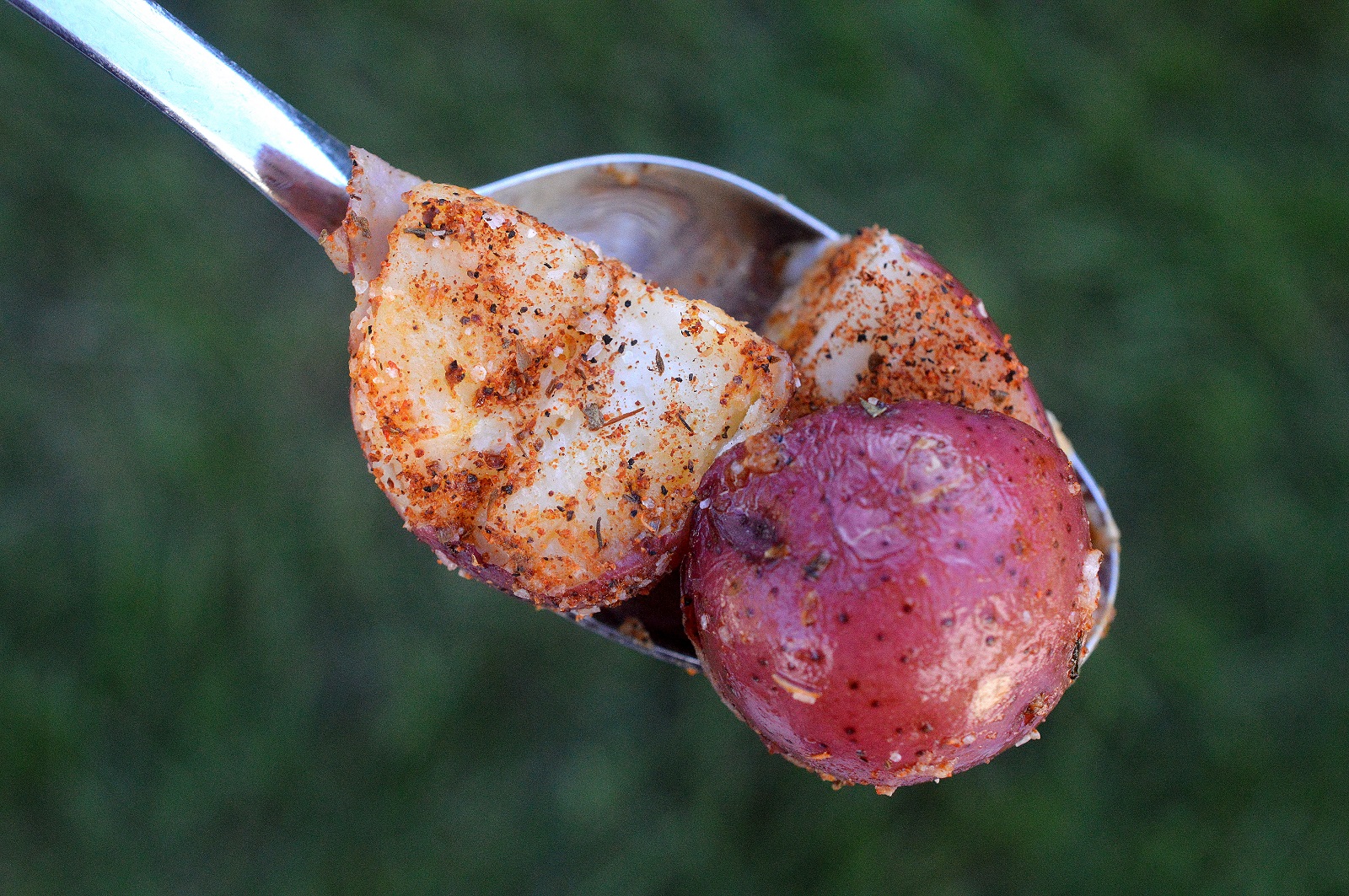 Once you try the Spiced Potatoes, you will be making them again and again on their own! I couldn't stop eating them from the bowl as I prepped and yes...I ate these right off of that spoon, lol! All I did was toss the hot potatoes with butter and some blackening seasoning (or Cajun seasoning) and added them to the bowl. My mouth is literally watering as I type this and think about those potatoes. Why have I never thought to do this with potatoes before?? 
Up your meat and potatoes game with this deliciously robust Potato Fajita Bowl or make the Potatoes on their own and let me know what you think of Side Delights Steamable Potatoes. Visit their website for all kinds of potato recipes.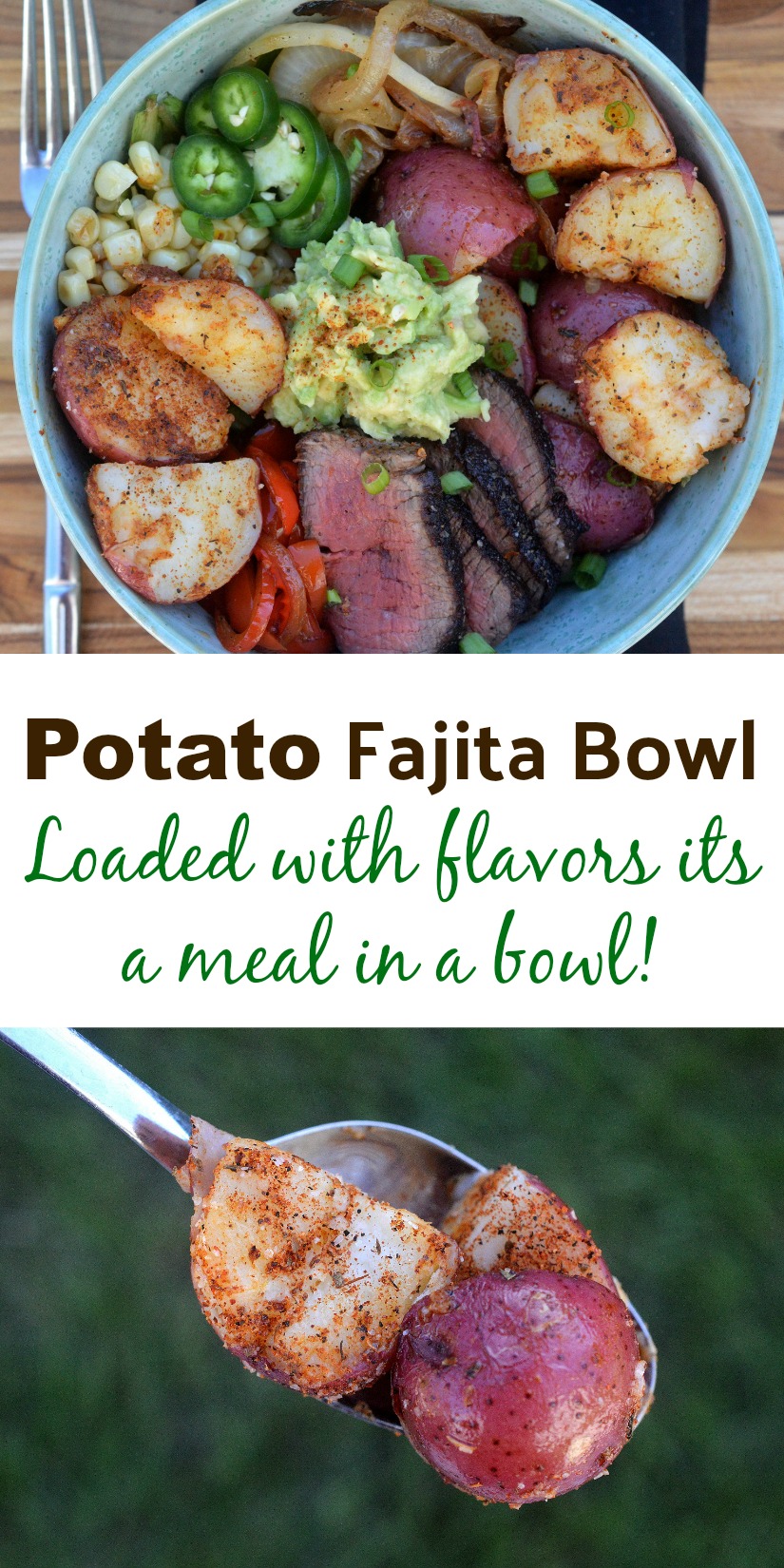 Enjoy!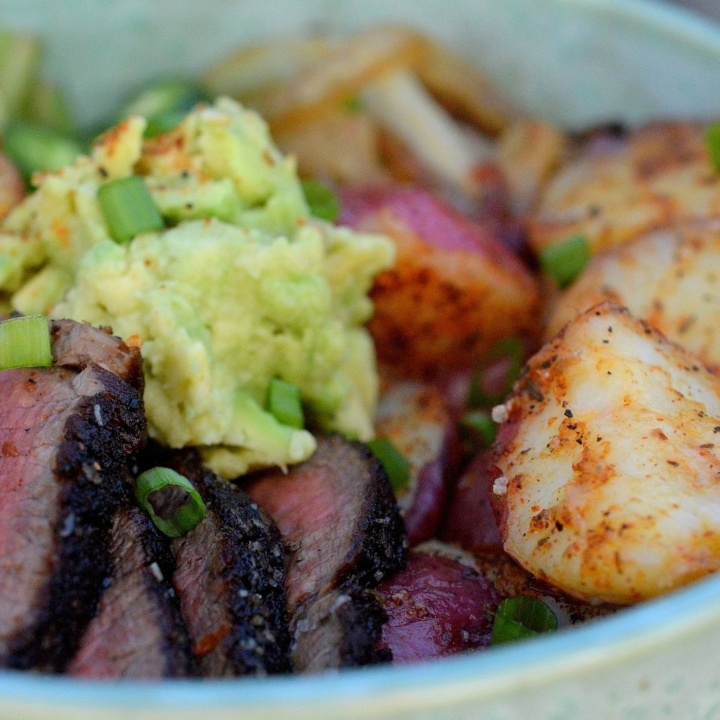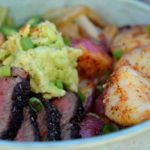 Print Recipe
Potato Fajita Bowl
Ingredients
1

avocados

1

lime

Kosher salt & black pepper1 large Vidalia onion

2

red peppers

2

ears corn

optional

1

package Side Delights Steamables Red Potatoes

or your favorite variety

One 1-1 ½ pound piece beef tenderloin

filet mignon

1

jalapeno sliced thin

Scallions for garnish
Instructions
Make a quick guacamole with your avocados by slicing them open, scraping out the flesh (discard the pit). and mashing it to a creamy texture with the back of a fork. Squeeze about 1 TBS lime juice, Kosher salt and some Cayenne pepper if you like heat. You can also choose to add a teaspoon of minced jalapeno.

Slice your onions and peppers and saute them individually or separately in some butter.

Season

As they cook, cut the corn off the ears and saute in butter in a separate pan. Season with blackening or Cajun seasoning.

Once finished, remove both from heat and keep warm.

Pace a bag of Steamables Potatoes in your microwave and cook according to package directions (8 minutes). Once the potatoes are done, toss with 1-2 TBS butter, season liberally with blackening/Cajun seasoning and toss.

Cook your steak to your desired doneness. I decided to coat the steaks with Koser salt, pepper and blackening season and cook them "Pittsburgh Medium" for this recipe. That is how my husband and son both likes their steak. Crisp on the outside and med-med-rare on the inside.

The key to a great indoor steak is to start with a very hot pan with about 2 TBS grapeseed or olive oil. Pat your steak dry, season it and let it hit the pan sizzling.

Allow the meat to rest for 5-6 minutes

Slice it down and assemble bowl.

Enjoy!